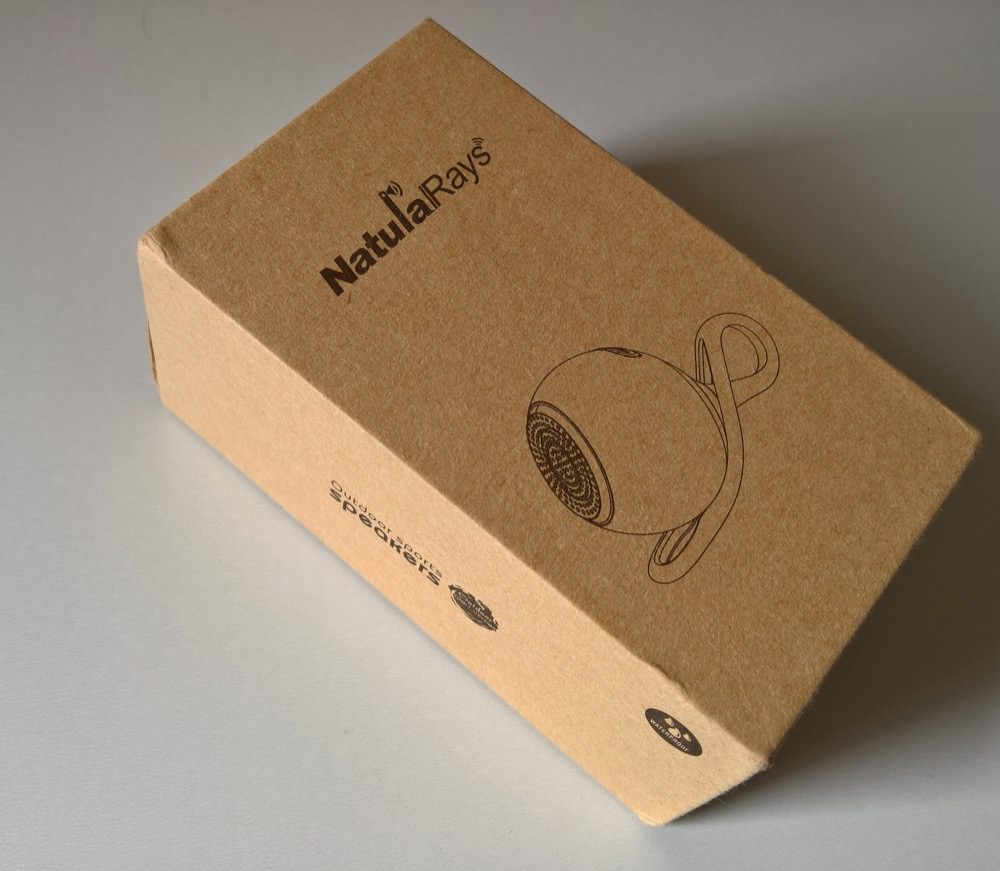 Most of us, however good the speakers on our smartphone, would also carry around a decent Bluetooth speaker for those 'room-filling' moments - except that most speakers are too big to carry everywhere with you, even in a pocket. Now, truthfully, this doesn't really fill a room with sound as well as the bigger devices, but it's still pretty good and, best of all, it's tiny - around 47mm in diameter: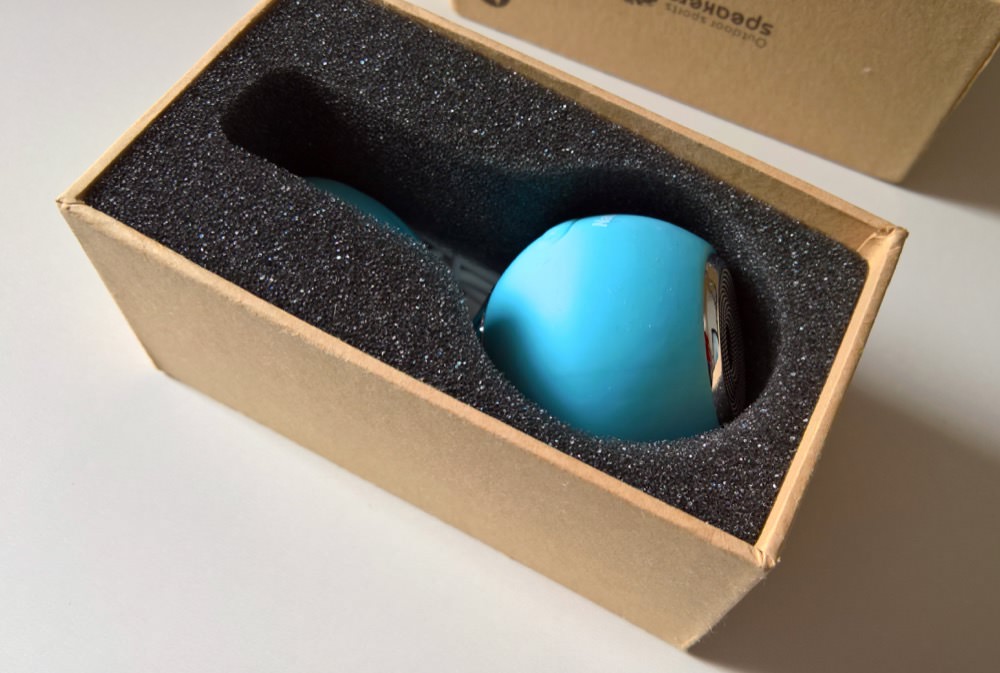 The exact name of the product seems to be up for grabs slightly. 'NatulaRays' on the hardware is probably a stylised form of 'NaturalRays', but it's a touch confusing!
Available in blue or green, it comes with a charging cable, but also a 3.5mm to microUSB lead (which seems topical in these days when 'digital audio' input and output seems to be a 'thing'):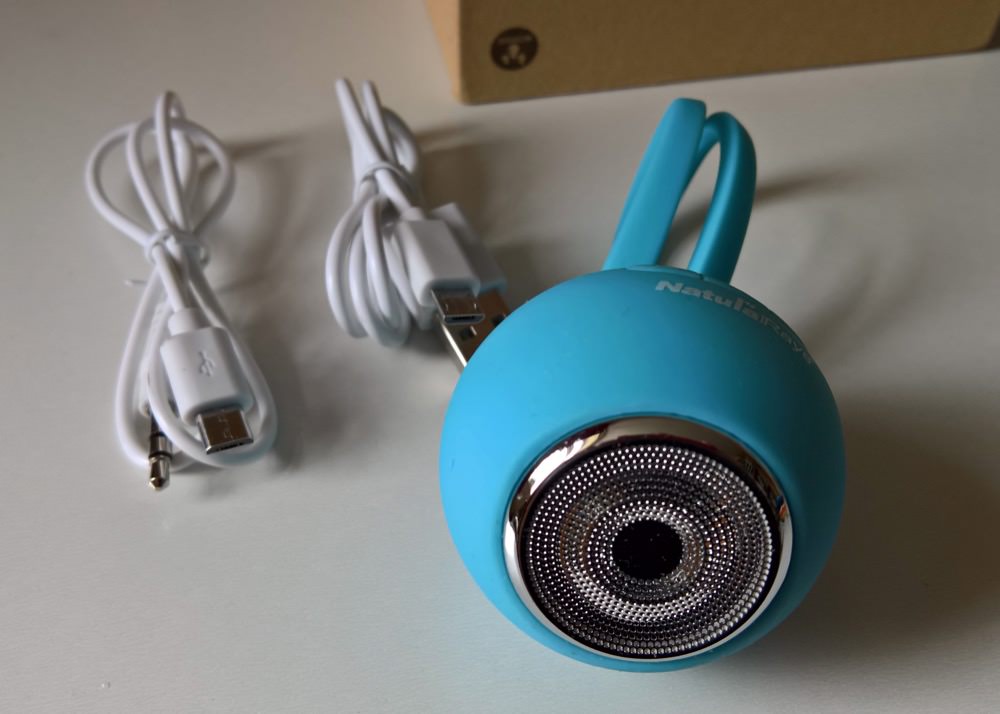 Turn the NaturalRays on and a lady's voice informs you that it is 'ready for Bluetooth pairing'. Very helpful. There's also a flashing blue LED built into the soft rubber stretchy hanging loop: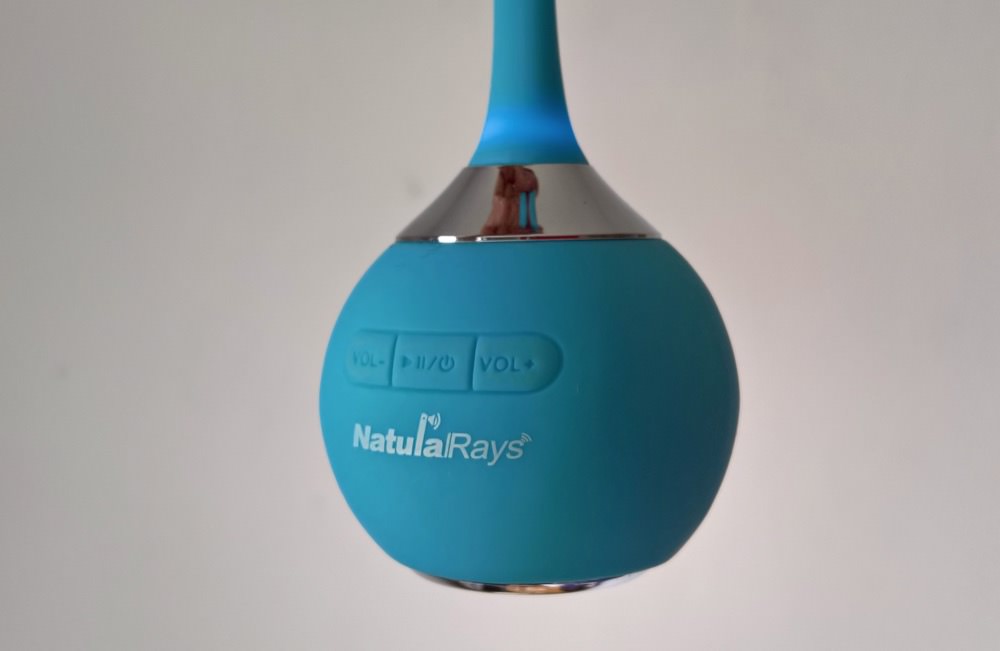 The idea behind the loop is that you hang this in the shower or kitchen (being waterproof), from any convenient fitting. In the office, I hung it from a bookcase, but it's really up to you.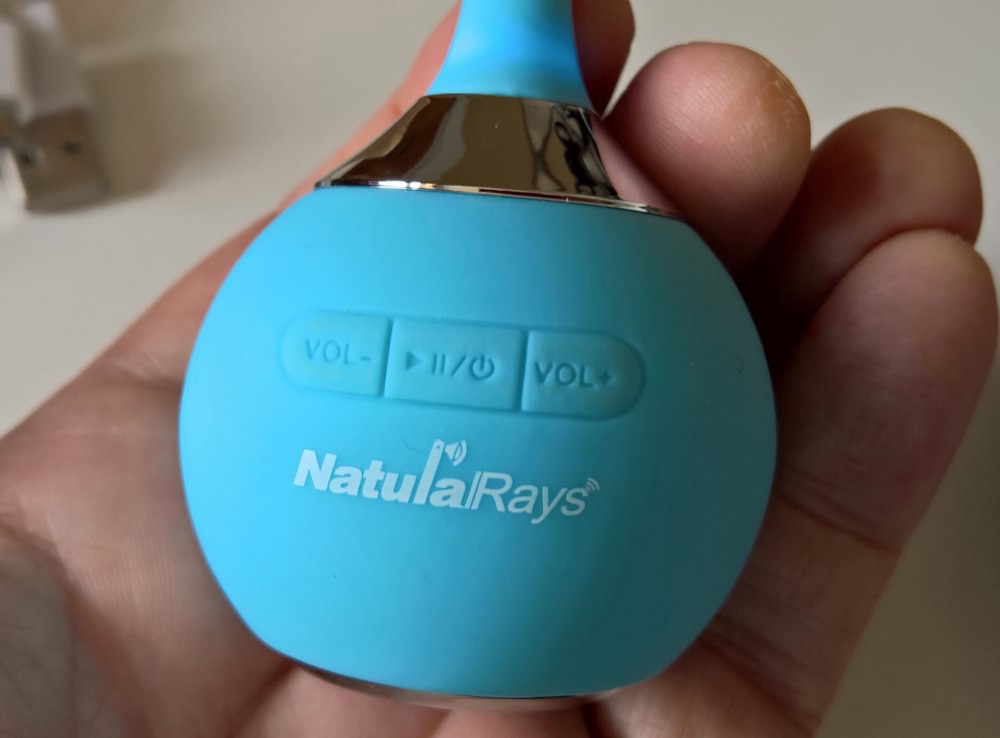 On the front surface of the sphere are controls for power on, playback and volume. Again, they're sealed and waterproof. The electronic connections are under a flap on the back: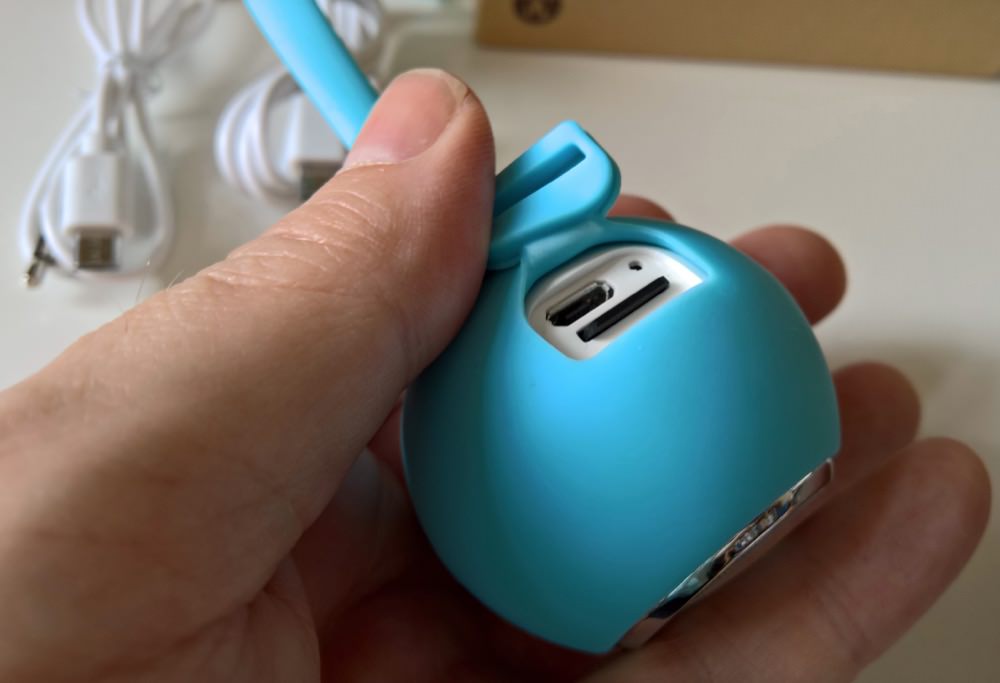 And it's here that a 'What??!' moment takes place. Up until now this has just been a small and waterproof Bluetooth speaker. But there's a microSD slot here! Put in a card of music (the Chinese voice announces 'TF card mode'), close up the seal and then it'll play through your tunes in order with no need for a connection to a phone. You can skip tracks using long presses on the volume buttons and it's something of a handy backup music facility. You could even leave a 512MB card in, as I did, all the time, ready to be a family music player when camping, outside the tent or at an event, with no need to keep a smartphone nearby.
The small hole is a reset button, by the way - given the music 'smarts', there's the potential for the basic OS to get confused - hence a way to reset it. The other main mode is 'AUX mode' - insert the 3.5mm-to-microUSB lead supplied and this activates automatically, letting the NaturalRays accessory become a conventional wired speaker, albeit without the waterproofing - obviously.
The only functional hole is that this doesn't let you pick up phone calls - there's no microphone included. But that's being picky - how often do you pick up calls using a speaker?
In terms of audio quality, I was impressed - there's obviously very less true bass, because of the speaker cone size, but the low-mid frequencies (e.g. on a male voice) were all there, as were the higher frequencies needed for true fidelity. The NaturalRays speaker is £22 in the UK as I write this and it's a cracking (genuinely) little product to add to your bag if you're trying to travel 'light'.
PS. Watch this space for something similar that's even lighter and smaller - coming soon on AAWP!