Here are the two modes at work on a Lumia 950. Firstly, showing a little black arrow in the direction in which was facing at the time: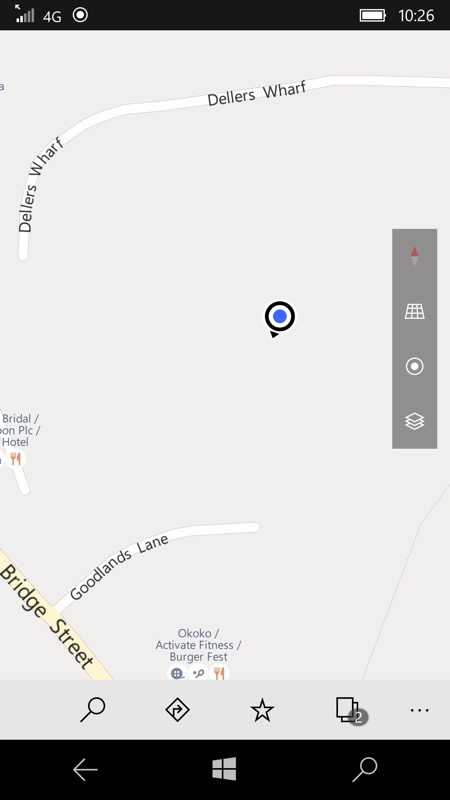 In the second mode (tap the circle control on the right to toggle), your viewpoint stays firmly 'up' the screen (i.e. what you'd see if you held the phone up in front of you) and the map itself rotates around you, in sync with your actual environment: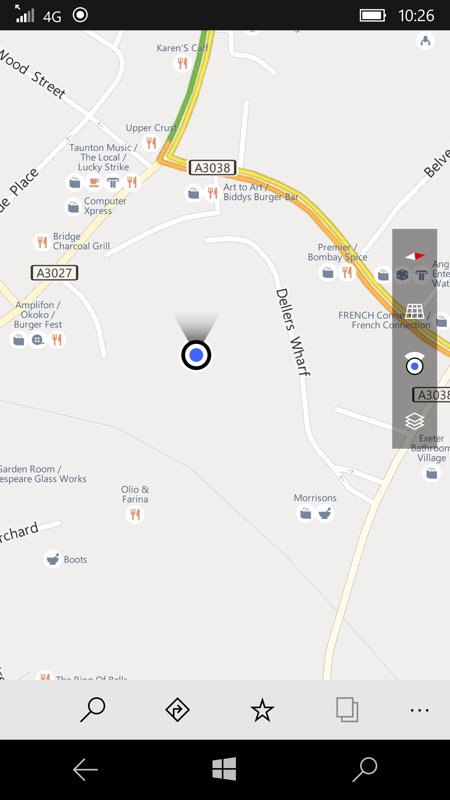 You can update Maps in the usual way, within the Store client. As usual, this latest version of Maps seems to only be for Fast Ring Insiders, do please comment if you can add data points here, but it'll roll down to all Windows 10 Mobile-running phones very soon, if it hasn't already by the time you read this!
PS. I also wanted to point you to a couple of the highlights of this latest generation of maps on Windows Phone/Windows 10 Mobile, using the best of the HERE data and code, when combined with Microsoft's software intelligence. This is from the Windows blog a few weeks ago:
Guided navigation updates: We have improved our overall guided drive experience. Specifically, the experience of turn-by-turn instructions is now optimized for glanceability, including phone landscape mode. It is also easier to use the Windows Maps app on phone with one hand now that we have positioned navigation at the bottom. Finally, we have also improved our guided transit experience, including notifications to get off the bus. You no longer have to worry about missing your stop even if you don't have the Windows Maps app actively open.