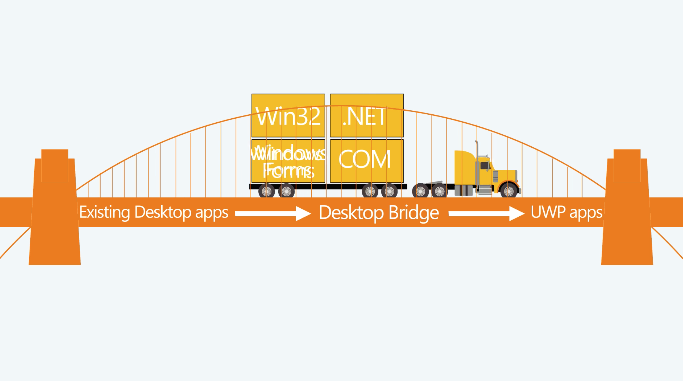 From the Microsoft launch article:
A few months ago, during Build 2016, we announced the Desktop Bridge, enabling developers to bring their existing desktop apps and games over to the Universal Windows Platform (UWP) by converting their app or game with the Desktop App Converter and then enhancing and extending it with UWP functionality. This then enables the path to gradually migrate the app or game to reach all Windows 10 devices over time, including phones, Xbox One and HoloLens.

Last month, along with the Windows 10 Anniversary Update SDK, we announced a process for you to start bringing these converted apps and games to the Windows Store for easier and safer distribution to customers.

Today we're pleased to announce that new apps including Evernote, Arduino IDE, doubleTwist, PhotoScape, MAGIX Movie Edit Pro, Virtual Robotics Kit, Relab, SQL Pro, Voya Media, Predicted Desire and korAccount will become available in the Windows Store within the next few days for Windows 10 customers running the Anniversary Update (if you haven't updated yet here's how you can). As the apps become available in the Store, you will be able to find them in a full collection of apps built using the Desktop Bridge in the Windows Store.

These are the same apps that customers know and love, but are now available for download in the trusted Windows Store. For your customers, the Windows Store is the safest and most secure place for them to find and manage content across a range of Windows devices, including PCs, phones, Xbox One and HoloLens. For developers, the Desktop Bridge enables you to make use of the new functionality available to UWP apps right out of the gate, including access to a host of new APIs like Live Tiles, Cortana and Action Center that provide best-in-class support for thousands of scenarios across all of Windows. Evernote is already taking advantage of the new APIs to bring innovation to customers.
Good to know. On my Windows 10 PCs, I'm still trying to transition, mentally, from looking for applications 'on the Web' to looking in the Store first, but we'll get there eventually! Apple faced exactly this battle with the App Store arriving on Macs and it's clearly a multi-year process - again, even three years later more than half my Mac applications are from manually-downloaded disk images and installers.
The theory for these Win32/.NET-converted applications is that, once in the Store, developers can go back and start adding in UWP and Windows 10-specific features, maybe even one day enabling compatibility with Windows 10 Mobile (and HoloLens and Xbox etc.)