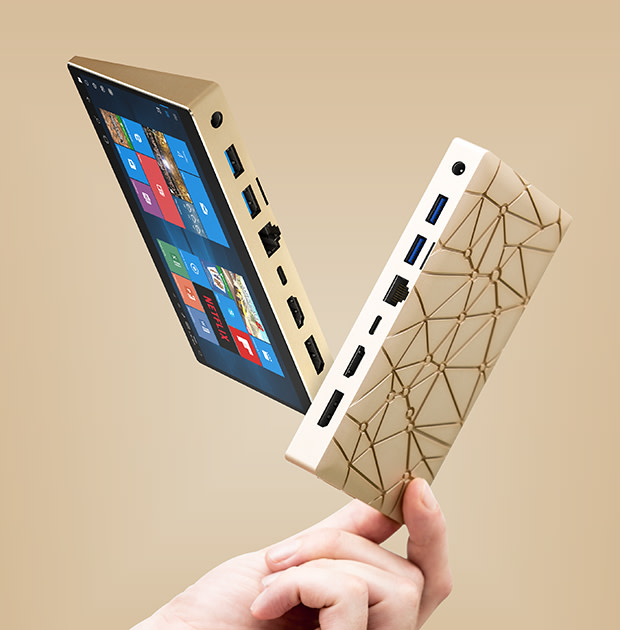 From the Indiegogo page:
The Ockel Sirius A runs all Windows programs. The majority of Android, iOS and Windows Mobile devices run on ARM compatible architectures, but this architecture cannot run the same software as laptops or desktop PC's. And in case you have a mobile device that does run on the x86 compatible architecture, you often have to hand in on the options to connect peripherals. The Ockel Sirius A however doesn't compromise on the architecture used to make your software run and it doesn't sacrifice connectivity. It's equipped with a full Windows 10 Home version (64-bit) and gives you the real desktop experience with the benefits of a mobile device.

The Sirius A is equipped with the latest WiFi AC and Bluetooth technology for fast and wireless connection, but also includes all the ports you want to have when you are working on a desktop PC:

The Ockel Sirius A is equipped with powerful hardware components, ready for optimal performance. The Intel Atom x7-Z8750 processor, 4GB of LPDDR3-1600 RAM and 64GB of eMMC flash storage enable you to work, play games, watch movies and run almost any program or executable you want.

The latest Intel 3165 Bluetooth and WiFi AC chip give you the fast and wireless connection you expect from today's technology.
So - unashamedly a tiny all-in-one PC rather than a smartphone - there's no telephony or mobile data (though of course you could plug in a 4G USB dongle). But an interesting gadget to be sure, and in the same perceived class as a full wired Continuum kit, since the wires and bits and pieces you'd need to make this a full desktop are about the same.
Anyone interested? Here's the well done promo video from the Indiegogo campaign: