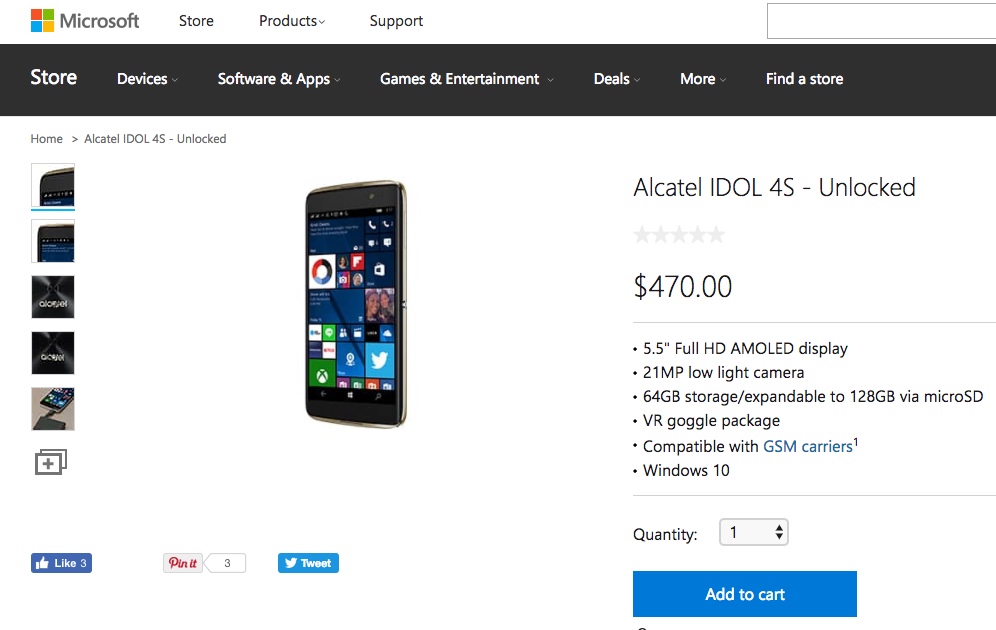 The T-Mobile exclusive was therefore for two months and this is now up. As a reminder, here's the original T-Mobile promo for the phone, along with specs:
Specifications:
Windows 10 Mobile, including access to Continuum and Microsoft Office apps
A fingerprint sensor that enables Windows Hello for added convenience and security
In-box virtual reality bundle included
Brilliant 5.5-inch Full-HD (1920×1080) AMOLED display that delivers a great viewing experience, even in direct sunlight
Powerful Qualcomm Snapdragon 820 processor (2×2.15GHz + 2×1.6GHz) with Adreno 530 GPU for smooth multitasking and video processing
21MP main camera with Sony IMX230 sensor + 8MP front camera with 84-degree wide angle lens
3000mAh Battery for up to 20 hours of talk time and USB-C charging featuring Quick Charge
4GB RAM + 64GB ROM (with MicroSD support up to 128GB)
Dual 1.2W multi-directional speaker featuring Hi-Fi audio for a more immersive sound experience
See also Alcatel's website for more information and full product specifications. This looks very decent indeed, competitively specced and priced. It's slightly odd that the screen is 1080p and not QHD, given the VR pretensions, but I'll reserve judgement until I've tried it (when it makes it across the pond to Europe).
It still feels odd to see non-Nokia, non-Microsoft hardware leading the charge for Windows on phones - and in many ways I'd still rather have a Lumia 950 XL but hey, Microsoft in its short sightedness infinite wisdom, decided to stop making the latter, meaning that it can now only really be found in clearance sales and second hand. Still, let's stay optimistic, the IDOL 4S does have some great attributes of its own.