From the Qualcomm press release:
Attendees at Computex will be able to experience a Windows 10 PC prototype, for the first time powered by the flagship Qualcomm Snapdragon 835 Mobile PC Platform. With the first-ever launch of sleek, innovative, fanless devices running Windows 10 PC devices powered by Snapdragon 835 are expected to be available from Asus, HP, and Lenovo.

In December at Microsoft's Windows Hardware Engineering Conference (WinHEC), Microsoft's Terry Myerson (EVP, Windows and Devices Group) invited Qualcomm Technologies' Cristiano Amon to the keynote to announce that Windows 10 is coming to the premium-tier Snapdragon platform.

Consumers will get the Windows 10 experience they know and love. With Snapdragon, hardware makers can create Windows 10 PCs that are thin, light, fan-less, and designed to deliver long battery life. With the integrated Snapdragon X16 LTE modem, your Windows 10 device can support blazing fast Gigabit internet speeds for a virtually anytime, anywhere experience.

The device on display at Computex is running on our small development platform, but it's set up like a desktop PC. We attached a 46-inch monitor, wireless keyboard, and wireless mouse, and loaded it with familiar apps like Microsoft Office and other great apps so attendees can experience productivity and entertainment on Windows 10 powered by Snapdragon. We've also set up a Gigabit LTE network so attendees can experience the extreme speed supported by the integrated Gigabit LTE modem.

Stay tuned for more information as we launch sleek, innovative, fanless devices running Windows 10 PCs powered by the Snapdragon 835 Mobile PC Platform.
Interesting stuff. But what about when NOT 'set up like a desktop PC'? In other words, how will this fare when set up as an ultra-mobile, as a phablet, etc? I guess we just don't know yet what's involved.
The prototype/demonstrator was interesting, as usual, shown below. It clearly has a phablet like form factor, with large touchscreen and smartphone front camera, flash and sensors, though the prototype is crazily thick. I wonder how much this could be slimmed down for production use one day?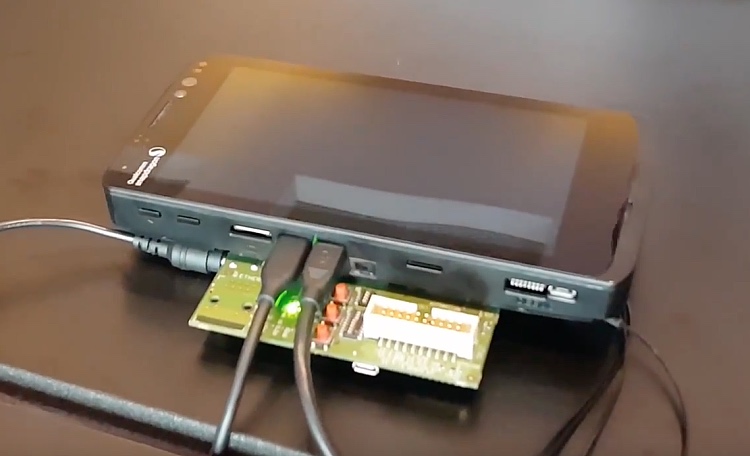 The still above is from the video embedded below, showing more of Windows 10 running on this ARM portable demonstrator: