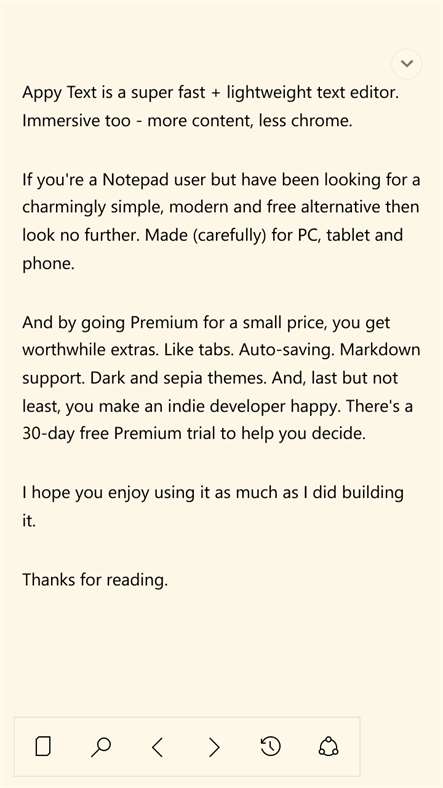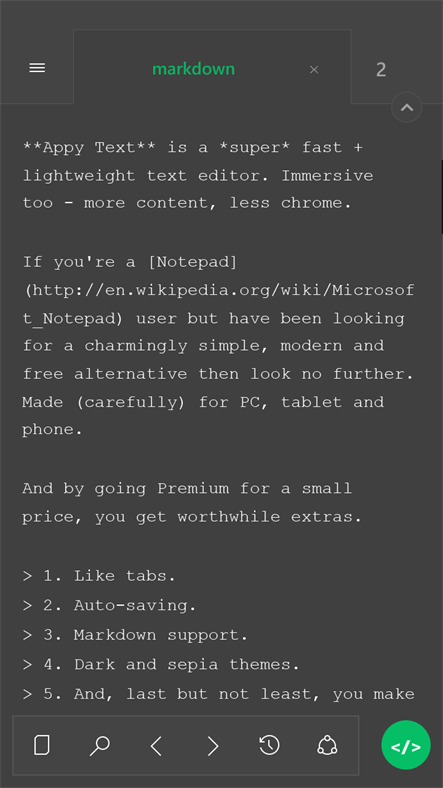 The aim of this update was to support one of the most popular feature requests, as well as giving users more nuanced control through new settings on how the app should both behave and look. Here's the changelog for v1.3: (and note that some items are desktop only)
Added Chinese (Simplified) and Chinese (Traditional).
Based on popular demand, can now open any text file type.

Added new setting that determines whether to automatically delete untitled files that were not saved before you closed the app.

Added new spellchecker setting. On by default, but can now be turned off.

Added new setting that sets the mode to start the app in: default, full-screen or focus (Premium only).

Added new setting for Premium users to turn tabs on/off.

Added new setting for Premium users that determines what should happen when you open the app: pick up where you left off or create a new text/markdown file.

Can now tab key inside a file (previously it would change the focused UI element).

This is beside a host of changes since you first/last covered the app that included:
Added Dutch, Polish, and Russian language support.

Added new Markdown Live Preview setting to enable a basic side-by-side preview of your Markdown file beside the file's text area (off by default).

Can now decrease text size down to 8pt (was 12pt previously).

State saving of your session (files open) works on mobile now too.

Added Focus Mode for Premium users, for those of you who want no UI at all when writing.

Can now rearrange tabs using drag-and-drop.

Added Status Bar that displays word count/reading time (can be turned off).

Can now have the Filebar be moved to Hamburger Menu resulting in less UI in the text area.

Settings screen refreshed for easier discovery of options.

New Help screen added.

Last but not least, should seem faster.
Users whose Premium trial expired but didn't buy Appy Text can now try out Premium again for another 30 days. Given the number of updates that have gone out since the app launched, the developer suspects that some of the changes that have been introduced (most recently the ability to open any text file) may mean some people will be more likely to go ahead with a Premium purchase this time around.
You can grab Appy Text here in the Store.