Here's the banner, one of three that cycle through the Store today, at least in the UK here: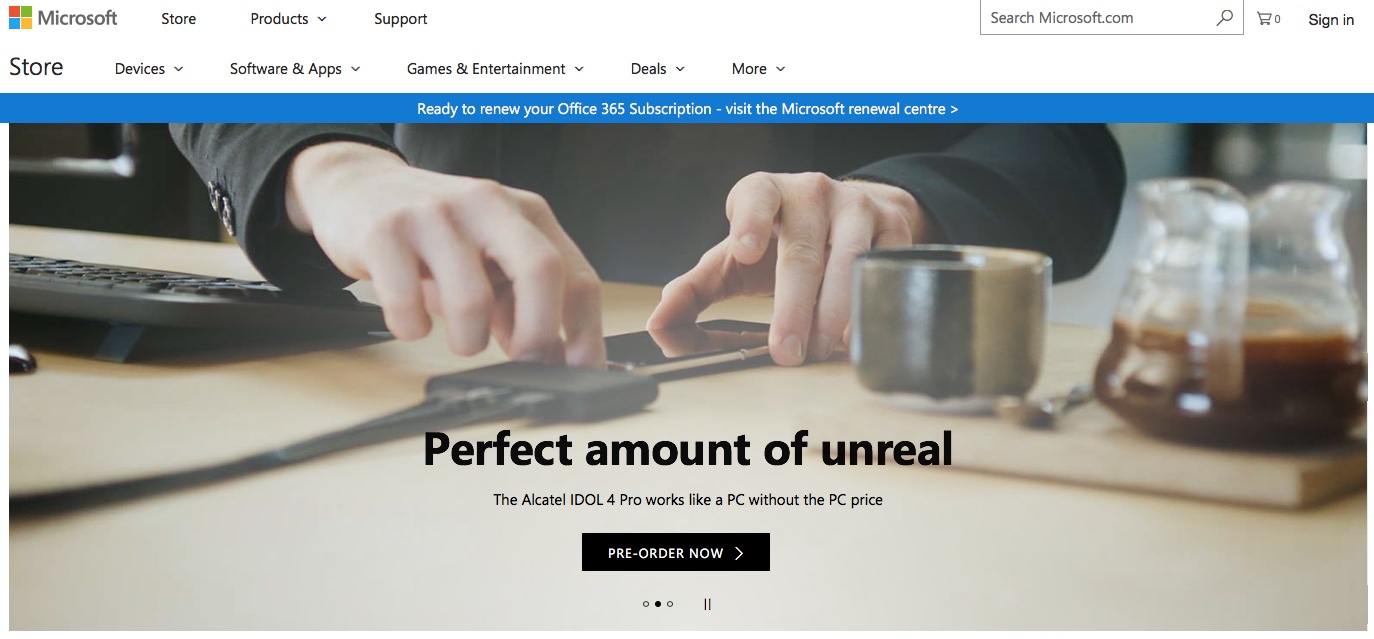 Am I being thick here? What is the slimline dock that is being used above? Anyone know? Tell me in the comments below.
It's always interesting to see the marketing for a smartphone, here's what's being pushed for the IDOL 4 Pro:
Perfect amount of unreal

The Alcatel IDOL 4 Pro is a high-powered, multi-purpose phone designed for the boardroom and beyond. It delivers indispensable business features like Windows 10 and Microsoft Continuum, which give it PC-like power.

PC-like power

Powered by Windows 10, you can sync your Office documents across all your devices and get work done from anywhere. And with integrated access to your OneDrive online storage, files are always up-to-date and accessible from all your devices.

Brilliance on display

The beautiful 5.5-inch Full HD AMOLED display brings your pictures, films, apps and games to glorious life—even in direct sunlight. With Capacitive Touch Technology, 10-touch points and Dragontrail durability, the screen is both easy to use and tough to destroy.

Microsoft Continuum

Connect the Alcatel IDOL 4 Pro to a Microsoft Continuum-compatible accessory and use it with an external monitor, keyboard and mouse. Office apps and Outlook scale up beautifully to create a big-screen-optimised work environment for increased productivity anywhere.

Picture perfect

Capture every moment with the stunning 21MP main camera featuring fast-focus and improved low-light performance. And look your best in video conference calls thanks to the stunning 8MP wide-angle front camera.

Music to your ears

Bask in a gloriously immersive sound experience thanks to the built-in, dual multi-directional Hi-Fi speakers. Increase your speaker volume without compromising the clarity. And take all your music with you no matter where you go with Microsoft Groove Music.

Enterprise-grade security

Windows 10 is the most secure Windows ever with enhanced safeguards against malware and malicious websites. The fingerprint reader and Windows Hello system provide a password-free experience that is faster, personal, more secure and tailored for today's mobile work style.
Not bad. A pretty nice summary of the IDOL 4 Pro's advantages, though I think there may be a little license taken in the imaging prose - I'll return to this in a head to head with the Lumia 950 XL in due course - I wonder if the IDOL 4 Pro can get close enough to the 950 XL that the new handset's newer chipset and audio smarts will make it a sensible upgrade? Right now, a few days before availability, my gut feel is that this is a perfect upgrade for anyone with a Lumia 830 or 930 - the decision for 1520 and 950 series users is less clear... yet!