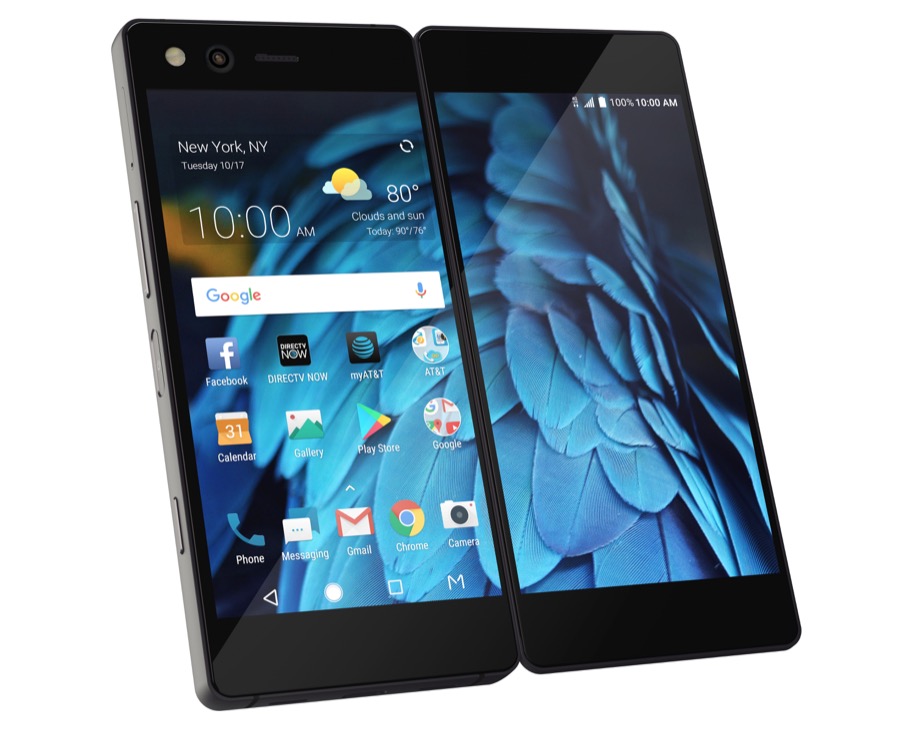 First impressions are that the bezels look slightly too big, even considering the Extended Mode 'tablet' use case, plus the side bezels, essentially forming the dividing line between the two screen halves when opened, definitely need to be thinner.
Interesting, though - here it is in one of its various hardware modes: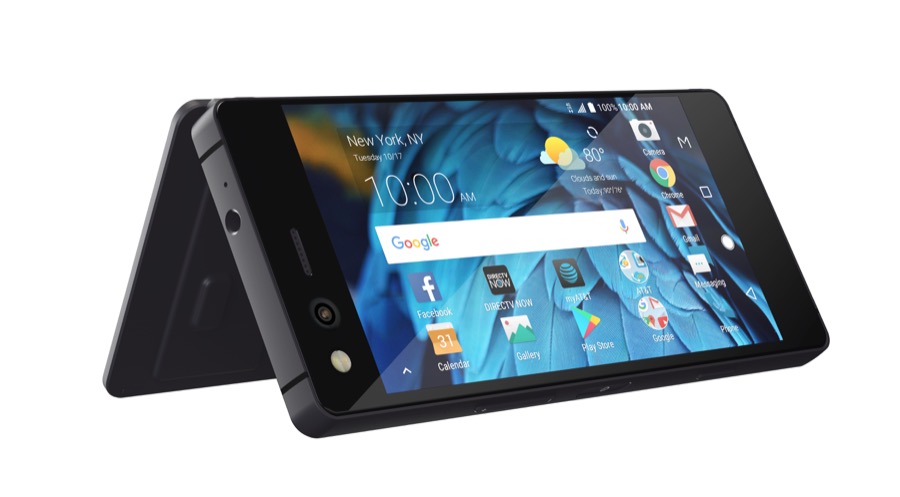 From ZTE:
Today, ZTE USA introduced the new, highly anticipated ZTE Axon M, available next month exclusively through AT&T for $24.17 for 30 months. With unique features like a foldable, dual screen, Axon M lets you multitask like never before.

The ZTE Axon M can be used as a traditional smartphone, but once unfolded, you get the capabilities of two smartphones. ZTE Axon M allows you to never miss a beat.

The ZTE Axon M can be used in a variety of ways that simply make your life easier. A few unique use cases below that you will only be able to utilize with this device.

Dual mode: Provides unlimited potential in app combinations so consumers can do more, all at once. With Dual mode, you can watch your favorite professional basketball team or PGA TOUR tournament on one screen, while ordering a pizza online on the other.

Extended mode: Stream, email and play games on a full 6.75-inch Full HD display. Extended mode lets you watch your favorite DIRECTV shows and movies on a larger screen, when and where you want to.

Mirror mode: Sit across from your friends and watch the same content on one device. Simply fold the device in Mirror mode and place it on a table for easy viewing from two separate sides.

Traditional: When you aren't watching sports, catching up on your favorite shows, or surfing the web, Traditional mode gives you a great everyday smartphone that's easy to use and hold in one hand.
'Extended mode' is where it gets interesting, of course. Can a humble phone form factor double as a tablet? There are numerous compromises, not least the mechanical integrity and, well, where do you put the rear camera - it seems as though the main camera is 'on the front' and then you use the reverse screen as viewfinder - could get confusing!
How close to this do you think Microsoft might pitch a Surface Mobile? Hopefully it will leap frog it by some margin!
Official specs are listed below, in case they're of interest, resolution in tablet mode will be 2160 x 1920, which is pretty high resolution and higher than what's quoted in the press release above, unless there's some downsampling going on.
Plus it's an odd aspect ratio and with that divider bar getting in the way - when you're viewing a game or image or web page, do you 'miss out' content that's 'under' the bar? Surely not, but that would mean a big 'jaggie' on diagonal/graphical content. I estimate the divider above in tablet mode to be around half a centimetre - I think this needs to get down to 2mm (i.e. 1mm side bezels on each display) before a tablet mode would be really practical for more than trivial and productivity tasks.
Specs:
Weight: 230g
Dimensions (HxWxD): 150.8*71.6*12.1 mm
Battery: 3180 mAh
Quick-charge 3.0
Display: 5.2" TFT LCD Glass 2.5D
Resolution: Dual 1920 x 1080 FHD
Platform: Android 7.1.2
Processor: 2.15 GHz Quad-Core Qualcomm Snapdragon 821 (MSM8996 Pro)
Supports MicroSD expansion
Memory 4GB RAM + 64 GB ROM
USB: 2.0 + Type C
Wi-Fi: 802.11 a/b/g/n/ac 2.4 GHz/ 5 GHz
VoLTE: Yes
Music Headphone Jack (3.5mm): Yes
Photo & Video Rear-Facing Camera: 20MP --PDAF, F/1.8
Dual Speaker, Dolby Atmos
Audio headphone jack 3.5 mm