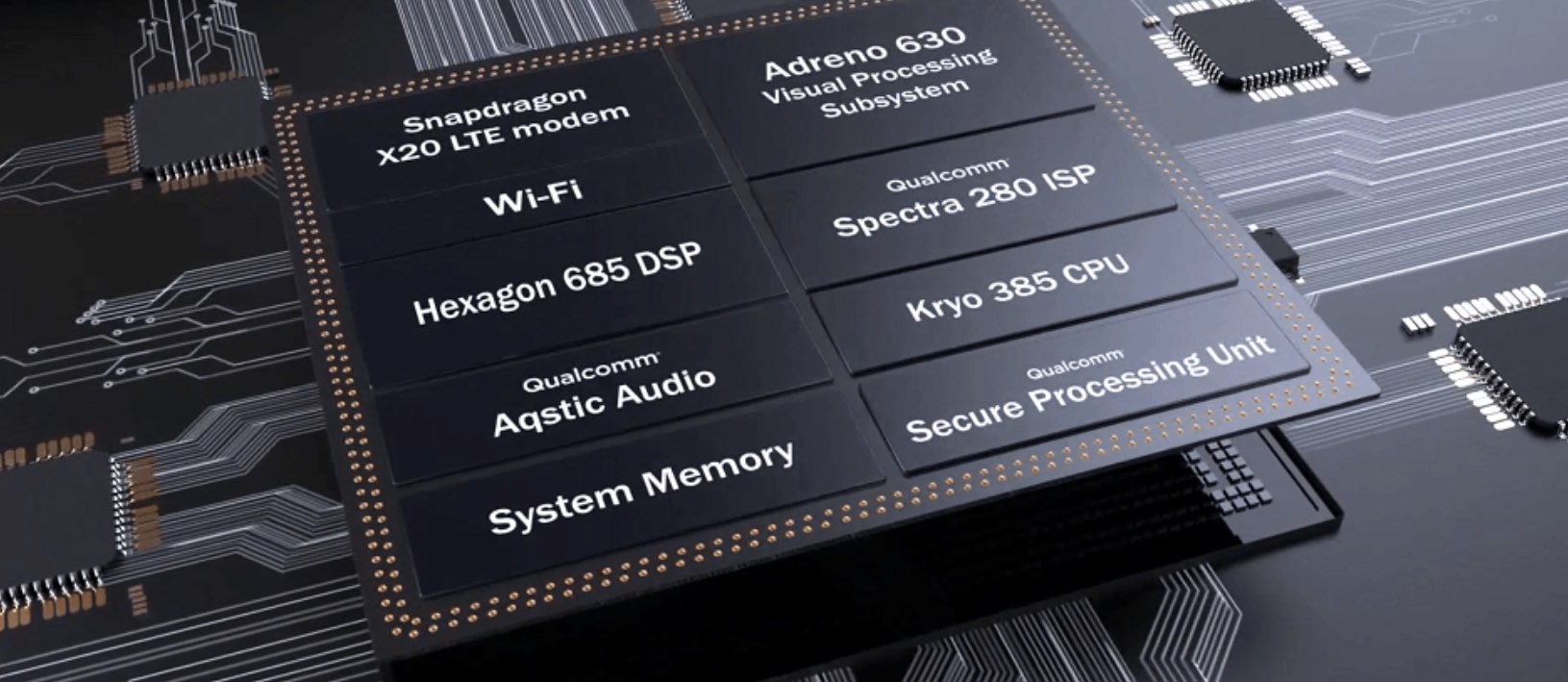 After a formal announcement yesterday, Qualcomm has provided detailed specs on its Snapdragon 845 mobile platform which will power the next-generation of smartphones in 2018. It's built on Samsung's 10nm LPP FinFET node, offering 10% performance improvement and 15% improvement in power efficiency.
It has Qualcomm's custom Kryo 385 CPU, based on ARM's Cortex-A75 and A55 CPU designs. Overall, this allows for a 25% improvement in performance compared to the Snapdragon 835. The four performance cores of the octacore chip can reach as high as 2.8GHz while the power efficiency Cortex-A75 cores can reach speeds of 1.7GHz.
The Snapdragon 845 also features the Adreno 630 Visual Processing Subsystem (i.e. a GPU) which promises a 30% improvement in performance while consuming less power than the Adreno 540. And the Hexagon 685 DSP has been optimised for AI and imaging and offers a 3x performance boost in AI tasks (over the Snapdragon 835). The Spectra 280 ISP inside the Snapdragon 845 is now capable of recording slow-motion videos at (wait for it) 480fps in 720p resolution along with 4K videos at 60fps. It can now capture up to 64x more colour information than before and makes use of multi-frame noise reduction and accelerated software image stabilisation to reduce the load on the GPU.
On the comms front, the Snapdragon 845 features Qualcomm's X20 LTE modem, which has download speeds of up to 1.2Gbs and upload speeds of 150Mbps, 4×4 MIMO, dual-SIM and dual-VoLTE. There's also Bluetooth 5.0 support along with integral aptX and aptX HD support.
Finally, to improve security, the 845 chipset features a Secure Processing Unit (SPU) which has its own dedicated discrete chip. It is used to store any important biometric information.
All of this is pie in the sky at the moment, of course, it'll be at least mid 2018 before ultra-light Windows 10 S laptops and hybrids are based on this, possibly a few months earlier for Android-powered smartphones. And if Microsoft's rumoured folding phablet design finally Surfaces (see what I did there?) then again think about mid-2018 availability.