I've already covered my thoughts on the Go here, explaining four ways in which Microsoft 'missed' as a customer. But don't let my own personal buying decision sway you too much - there's still a lot to like. I'll embed the engineering launch video again (it's worth a watch), so that you can remind yourself of the design and specs:
Things I really liked about the Surface Go design:
The similar materials and build to the Surface Pro.
The variable/infinite angle hinge for the kick stand.
The use of front facing speakers with Dolby (of some variety) enhancement.
An LTE option, even if it's not available until later in 2018.
The fanless design means that the device is effectively made dust proof (and hopefully splash resistant as well).
Many commentators have been sniffy about the lower RAM, lower (eMMC) storage option, but I've tried it and for typical on-the-go computing (browsing/web mail/social networking/media consumption) it's absolutely fine. And is at least affordable, while the higher spec Go is in the pricing realms of some quite serious ultra portable laptops (we have an excellent Acer that I must feature here at some point).
You do, of course, need a Type Cover, i.e. the clip on keyboard, though I can see why Microsoft quotes prices without this, in case a tablet really is just what's needed - and yes, to make the starting price seem lower! The Type Cover prices seem high too, which is where you/we need to look for sellers bundling the Go with the keyboard. There aren't too many at the moment, but I'm sure more deals will evolve as the Go gets beyond its launch period.
The 'basic' Type Cover is still pretty good, in vinyl and with good key travel and backlighting - what you get by opting for one of the 'Signature' covers is the Alcantara material finish. Which is something of a 'marmite' aspect and you'll either love it or hate it. It's resistant to abuse, but does get dirty with age, as anyone with an Alcantara keyboard from a year or two ago can attest.
Microsoft offers a 'custom' bundle building wizard that does save money if you wanted to buy the Go plus keyboard plus Office 365 - not a bad deal overall.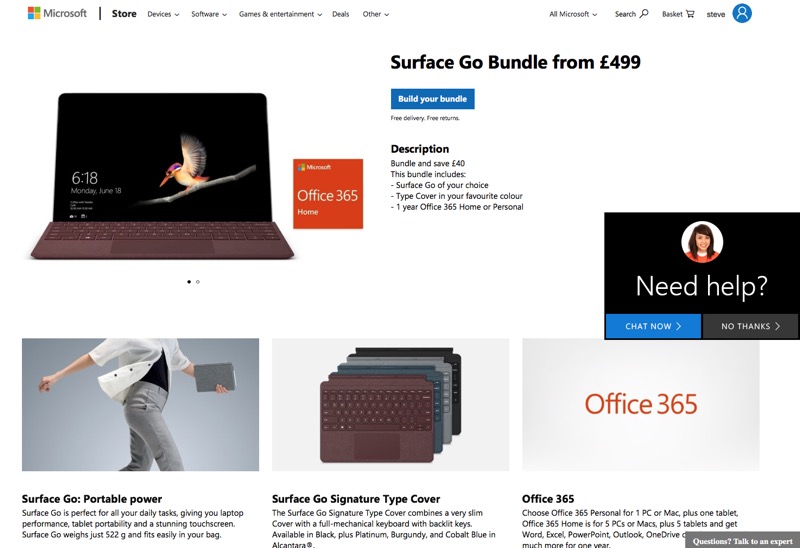 Amazon sells each variant and each Type Cover, of course, start here.
But from Microsoft direct, of course:
| | |
| --- | --- |
| 64GB/4GB RAM | £379 inc VAT |
| 128GB/8GB RAM | £509 inc VAT |
| Type covers | £99 to £125 inc VAT |
Obviously, if you're buying these for a business that's VAT registered, then you can knock off 20% for each of these prices, and it's also worth mentioning that you can get roughly £25 off as well if you (or a family member) is involved in education or with the armed forces.
Microsoft does offer a 'create your own bundle' system on its web site, but you only save money if you buy everything and the savings are quite small.
Have you bought a Surface Go yet, or are you possibly hanging on for the LTE version later in the year? Comments welcome!