The Microsoft UK page currently has this options panel for the Go: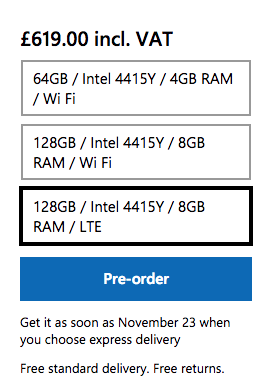 The 8GB RAM, 128GB SSD is the same spec as the one I'm reviewing and I'd recommend it - the LTE price here is £110 more than the Wi-fi only model, which seems like a fair bump up for cellular data.
It's a fascinating trade-off though. The Wi-fi only model is cheaper and will cost less to connect, since you're using data from your existing phone's plan. But you do have to spend 20 seconds or so activating the hotspot feature on your phone and then making sure the Go connects to this. Every time. So it all comes down to how many times a day you need the Go to be online outside of regular Wifi coverage. More than a handful of times each day on average and the LTE model starts to make sense.