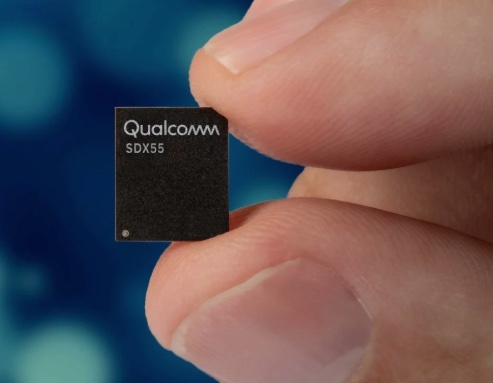 Windows Central has the story, excerpted here:
As Mobile World Congress 2019 (MWC 2019) prepares to kick off in Barcelona, Qualcomm is heating things up early. The chipmaker today took the wraps off of the new Snapdragon X55, a 5G modem built for everything from smartphones to hotspots and, for the Windows crowd, Always-Connected PCs (ACPS), laptops, and tablets.

According to Qualcomm, the seven-nanometer single-chip modem can support download speeds of up to 7Gbps and upload speeds of 3Gbps over 5G. The modem supports "all major frequency bands," including both mmWave and sub-6GHz, as well as spectrum sharing between 4G and 5G, which allows carriers to use their existing 4G spectrum to support dynamic 4G and 5G services.

Snapdragon X55 is expected to make its way to commercial devices by late 2019, Qualcomm says.

Both 5G and ACPCs are in their relative infancies. While 4G has made an appearance on a number of laptops as part of the ACPC push – including those powered by Qualcomm's own ARM processors, like the HP Envy x2 and the Lenovo Yoga C630 – the category hasn't exactly taken off just yet. Meanwhile, it's still early days for 5G, which has quite a road ahead of it, in terms of carrier support (no, 5GE doesn't count) and device adoption, before it's as prevalent as LTE is today...

...For Windows 10 on ARM PCs leveraging Qualcomm's Snapdragon platform, in particular, being early to adopt 5G could increase their draw with consumers. As Qualcomm prepares to pepper its "extreme" 8cx processor across the market, in addition to the Snapdragon 850 PCs out there, it already has multi-day battery life and enough computing power for most needs on lock. But even LTE connectivity on the current crop of PCs can remain a pain point, depending on how congested the network in your area is, and 5G's speed potential.
Interesting times. With the varied connectivity mechanisms in 5G, a future (e.g.) Surface Go 5G will let us be always connected at decent speeds, with all the battery benefits of Windows 10 on ARM too, so pervasive desktop computing almost anywhere we choose.
As usual, there's the obligatory note that there's no sign of anything phone-related that runs Windows - even a glimpse of Andromeda returning to the drawing board would be nice at this stage. Mind you, with 5G in our ultra-mobile Windows laptops, maybe it really doesn't matter what our 'voice phone' of choice is?