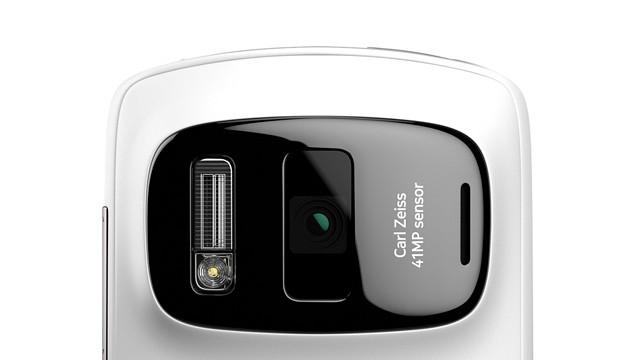 From GSM Arena:
The Nokia 808 PureView stunned the world in early 2012 with its insane 41MP sensor. We've covered the megapixel wars before – long story short, before the 808 showed up, the highest resolution smartphone sensor was 13MP. The 41MP resolution wouldn't be surpassed until late last year (Nokia's own Lumia 1020 matched the resolution, but that's not the whole story).

The original PureView phone still holds the record for the largest image sensor ever at 1/1.2". For comparison, the 108MP Samsung ISOCELL Bright HMX sensor is 1/1.33" and the Lumia 1020 had a 1/1.5" sensor. PureView's pixels were suitably large too – 1.4µm compared to 0.8µm for the current brand of 48MP, 64MP and 108MP sensors.

Flashback: Nokia 808 PureViewIt's not just the megapixel count that made the Nokia 808 truly a glimpse of the future. It used pixel binning to produce 5MP or 8MP images by default, combining several sensor pixels into one image pixels (and increasing the image quality in the process).

Today's high resolution sensors also lean on pixel binning to boost their image quality (and they need it too with those tiny pixels). Note that those are exclusively Quad Bayer/Tetracell sensors while the Nokia used a traditional Bayer filter – meaning it colleced more color information.
GSM Arena then goes on to chat about the innovative PureView lossless zoom, before making a small error:
Nokia was also clever in how it processed the raw data to create the 5MP final image. It worked non-destructively (saving the full sensor output), allowing you to zoom in or out and even reframe the shot after it has been taken with no loss in quality.
Umm.... they're thinking of the Lumia 1020 here, so shout out to that iteration of the Nokia 41MP concept!
Anyway, more praise for the 808 to finish:
It wasn't just imaging, videos recorded with the PureView had audio that could rival semi-pro hardware. Nokia Rich Recording captured sound from 25Hz to 19kHz and could easily handle loudness up to 145dB without distortion – something that became very evident when you try to record a video at a concert or other similarly noisy venue. The PureView just blew other phones away.

It took six years for smartphone cameras to catch up to the Nokia 808 PureView. The new models are undoubtedly better with new tricks like one-shot HDR and image stacking, enabled by the much faster image processors. Still, the 808 feels like a time traveler, it was just so different from anything else around it.

Indeed. The Nokia N8 and then the 808 quoted really got me excited for smartphone photography. And while I prefer the 1020 overall because of the OIS, reframing and more advanced sensor, the Nokia 808 PureView thoroughly deserved yet more praise, even retrospectvely.