From the Store description:
Accidentally deleted an important file? Wiped clean your hard drive? Unsure of what to do with corrupted data? Windows File Recovery can help recover your personal data. For photos, documents, videos and more, Windows File Recovery supports many file types to help ensure that your data is not permanently lost. Recovering from a camera or SD card? Try Signature mode, which expands beyond NTFS recovery and caters to your storage device needs. Let this app be your first choice for helping to find what you need from your hard drive, SSD (*limited by TRIM), USB drive, or memory cards.

Good stuff.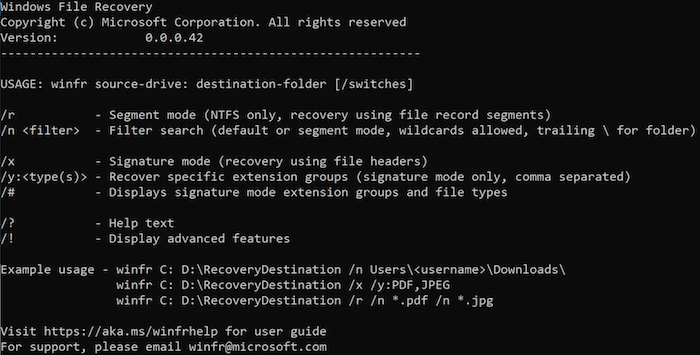 As an example of how this might be used, here are some of the official tips:
Always use drive letters in the source and destination path, don't forget the colon (:) after the drive letter, and make sure there is a space between the source and destination.
If a switch has a colon, such as /y:, don't add a space between the colon and the rest of the value.
When you specify just a folder name, such as /n \Myfolder\, add a backslash (\) at the end of it.
If a file or folder name has spaces, surround it with quotes. For example:


winfr C: E: /n "\Users\<username>\Documents\Quarterly Statement.docx"

To stop the recovery process, press Ctrl+C.
You can grab this in the Store here on your laptop/desktop/hybrid. It's free, of course.