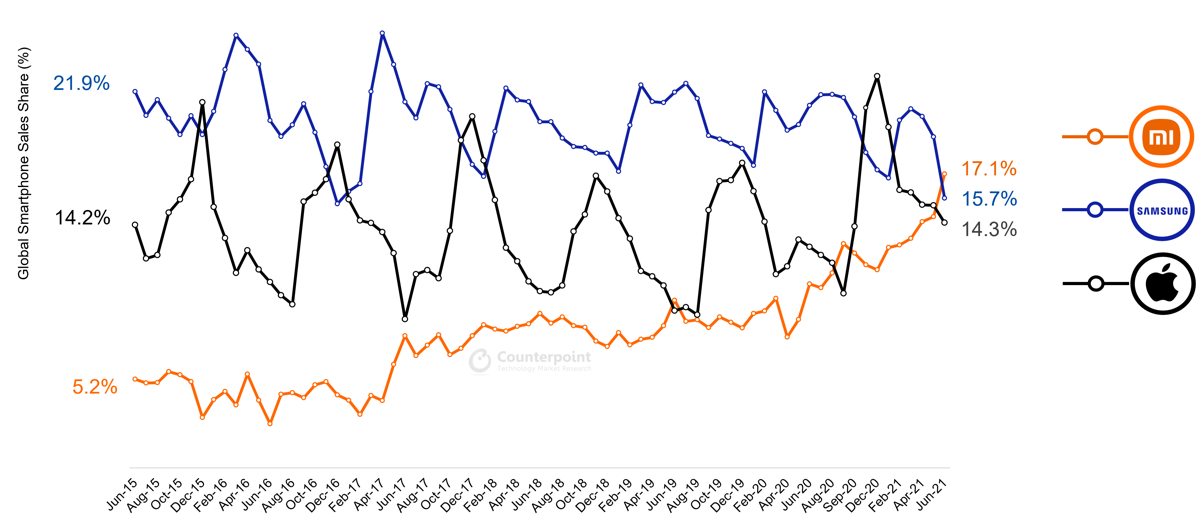 From the press release:
Xiaomi surpassed Samsung and Apple in June 2021 to become the number one smartphone brand in the world for the first time ever, according to Counterpoint Research's Monthly Market Pulse Service. Xiaomi's sales grew 26% MoM in June 2021, making it the fastest-growing brand for the month. Xiaomi was also the number two brand globally for Q2 2021 in terms of sales, and cumulatively, has sold close to 800 million smartphones since its inception in 2011.

Commenting on the market dynamics that led to Xiaomi attaining pole position, Research Director Tarun Pathak noted, "Ever since the decline of Huawei commenced, Xiaomi has been making consistent and aggressive efforts to fill the gap created by this decline. The OEM has been expanding in Huawei's and HONOR's legacy markets like China, Europe, Middle East and Africa. In June, Xiaomi was further helped by China, Europe and India's recovery and Samsung's decline due to supply constraints."
Having reviewed a number of Xiaomi smartphones in video and text form, I have to say that I'm not all surprised. The value proposition for the whole of Xiaomi's phone range is astonishing, in terms of speed, imaging, and battery life. Feature for feature, they come in at 75% the price of most of the Android competition in each sector, and under 50% the price of relevant iPhones.
Of course, this is unit sales - if we look at profit generated or sales revenue then Apple is way out ahead, as usual, because of their huge margins. But then again, Apple has to maintain a worldwide support network of physical stores, so it all evens out. I've no experience of needing Xiaomi support, but would welcome comment if you've had need to call on it!
And yes, much of this is helped by Huawei's woes, see here for comment on Huawei's ongoing software and ecosystem strategy.