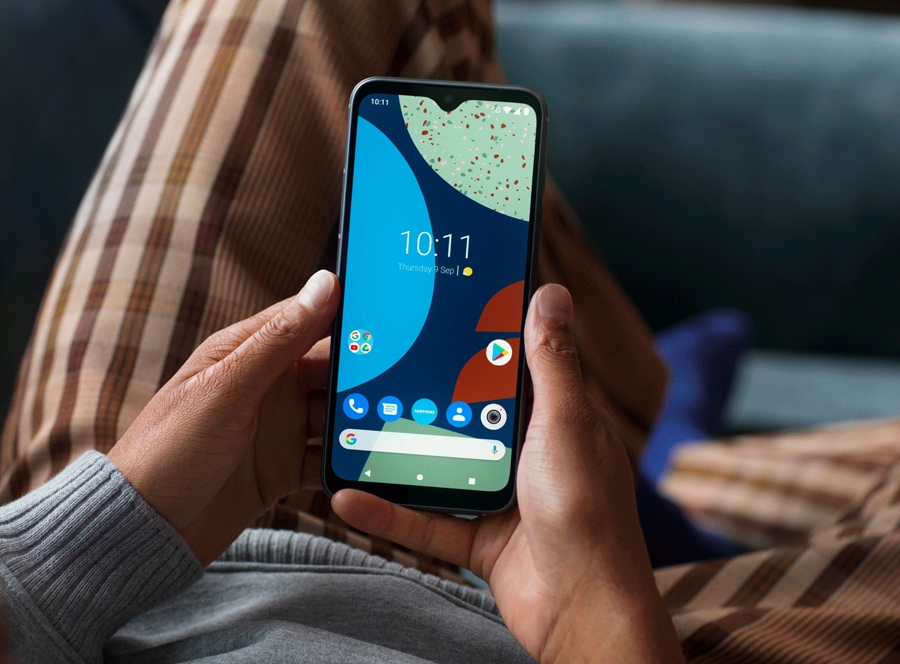 From Fairphone:
For Fairphone 4, software support is guaranteed until the end of 2025 and includes upgrades to Android 12 and Android 13, but the company aims to extend it even further, until the end of 2027, with upgrades to Android 14 and Android 15 despite support from the chipset supplier expiring. With this unparalleled ambition, Fairphone is aiming to repeat what it succeeded in doing with a previous model: six years of software support from the launch of an Android device.

Fairphone's holistic approach to sustainability is what truly sets it apart, making the Fairphone 4 a leading sustainable device on the market. Unlike other industry players, Fairphone focuses not only on its environmental impact but also on its social impact on the electronics supply chain, working towards systemic change. Sustainability and longevity are at the heart of everything Fairphone does, and with every new phone it launches, it sets an example for the smartphone industry.

Fairphone 4 is the first electronic waste neutral handset released. The company will compensate users' phones and spare parts by responsibly recycling one phone (or an equal amount of small electronic waste) for every Fairphone 4 sold. Alternatively, Fairphone will take back and refurbish at least one other phone to prevent the production of a new one. The phones used for this programme are sourced from Fairphone's European take-back efforts or from countries without formal recycling infrastructure, and are brought to Europe for environmentally sound recycling.

Fairphone has expanded its list of fair materials, adding six new ones, and is now focusing on 14 key materials from sustainable and fairer sources. For Fairphone 4 they include; Fairtrade-certified gold, aluminium from Aluminium Stewardship Initiative (ASI) Performance Standard certified vendors, fair tungsten from Rwanda as well as recycled tin, rare earth minerals and plastics. Fairphone is the first smartphone brand to have a back cover made of 100% post consumer recycled polycarbonate. Fair sourcing means engaging and tackling issues in supply chains, such as child labour and unsafe working conditions, while driving opportunities for positive impact. For miners and workers, this means fair working conditions, such as a safe and healthy working environment, and access to personal protective equipment. Fair sourcing also empowers communities to thrive and protects the environment. Fairphone has made significant progress on this front; about 56% of its original eight focus materials have been fairly sourced in 2020, up from 25% in 2018 and 32% in 2019.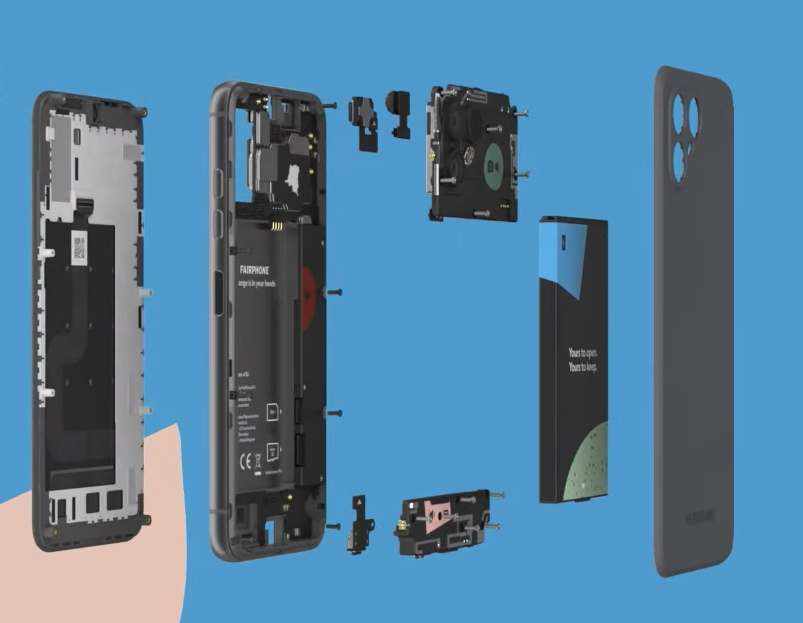 In terms of specifications:
6.3" 1080p IPS LCD display, Gorilla Glass 5
Snapdragon 750G 5G chipset
6/8GB RAM
128/256GB storage
microSD expansion (or slot for second nano-SIM)
IP54 for dust and water (for water: '

Protected against water splashed from all directions, limited ingress permitted')

Capacitive fingerprint sensor on the side power button

Main 48MP f/1.6 1/2" camera, OIS, time of flight sensor
Ultra-wide 48MP f/2.2 camera
25MP selfie camera

Stereo speakers

NFC, Bluetooth 5.1
3900mAh replaceable battery (spares are £26 each)

QuickCharge 4.0, PD 2.0, 20W charging will get you 50% charge in 30 minutes

Speaker, USB port, earpiece, main cameras, and selfie camera modules are all available separately for user replacement

Launches with Android 11, with 12 and 13 guaranteed, plus 14 and 15 'aimed for'

Pricing at 579 Euros and 649 Euros, pre-ordering immediately (or very soon) from fairphone.com, for availability on 25 October 2021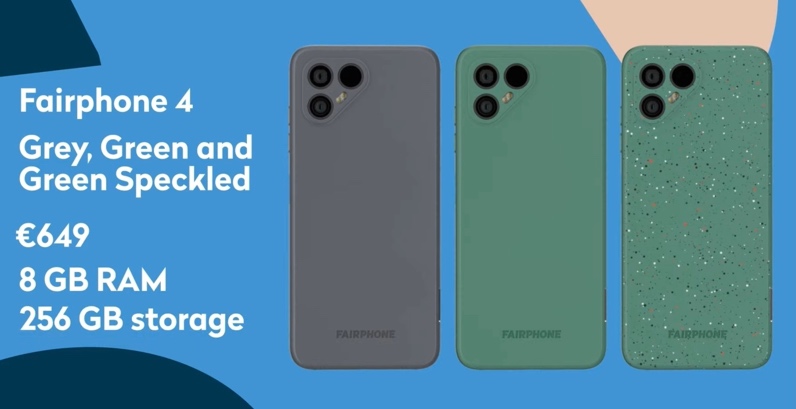 Terrific stuff and there should be a loan Fairphone 4 heading my way for formal review soon. Meaning that I can run my usual tests, including imaging, with this Fairphone looking like it could put up a better fight against the best of the current day than its predecessors.
As ever, there's a promo video to go with the phone:
PS. See also my look at the Fairphone 3+ a year ago, exploring the repairable and even upgradeable aspect.