Speaking after Joe Belfiore (a hard act to follow!) in the Smart Talk stream at Nokia World 2011, Nokia's Marko Ahtisaari and Microsoft's Albert Shum took part in a panel entitled "Designing Smarter Phones". It was an insightful session, describing the development process from both the hardware and software points of view, and of course where the two overlap.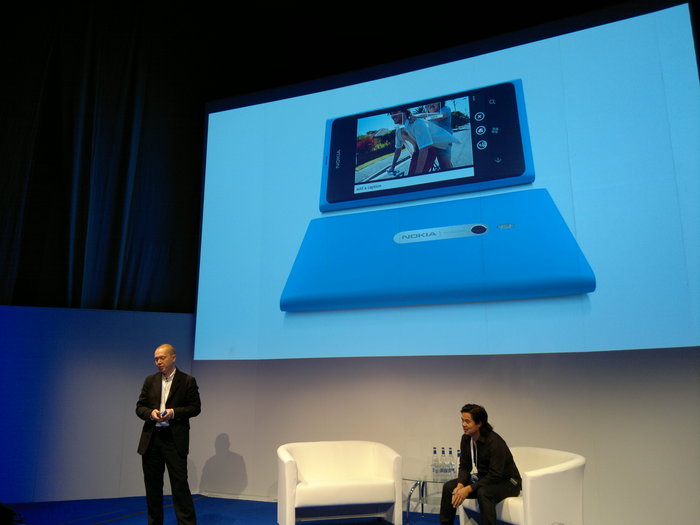 Marko Ahtisaari & Albert Shum at Nokia World 2011

Marko spoke first about the design of the Lumia 800, which dates back to the MeeGo Harmattan Nokia N9, prior to the parternship with Microsoft. Then, Albert spoke about the design ideas behind Windows Phone Mango, and how the partnership with Nokia has influenced its development. The session wrapped up with the two discussing their views on Metro UI, followed by a question and answer session.
Marko Ahtisaari ...
... started by reaffirming the partnership between the two companies, quoting a line from Elop's keynote, "Better Together". By this, he was suggesting that while Nokia were better off with a new software platform, Microsoft will also benefit from Nokia's input into the development of Windows Phone. Nokia is an expert handset maker, and so can guide Microsoft when it comes to integrating software with each device.
Marko reminded the audience that the Lumia 800's design went back to that of the Nokia N9. Externally, the two devices are almost identical. However, the Lumia 800 has an added camera key, but sacrifices screen area for the standard three Windows Phone buttons. He described the design "as a reductionist process, leaving only what was absolutely needed".
N.B. One could argue that the N9 is a better reductionist design than the Lumia 800 because of the extra buttons required by Windows Phone.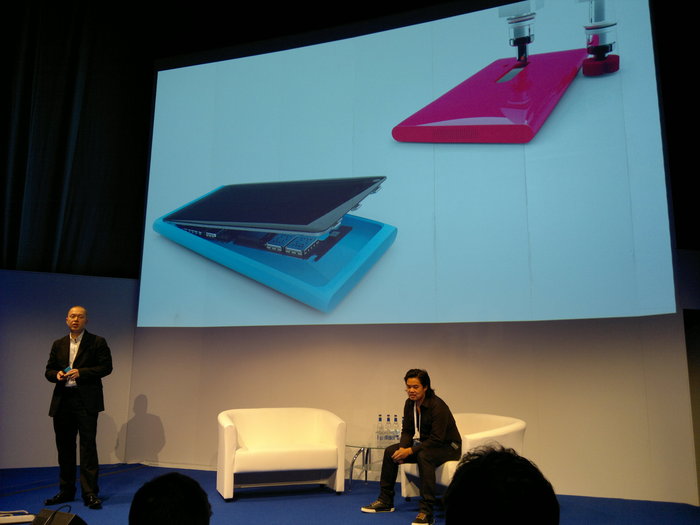 Extreme processes
He went on to explain that just because the design process strips away all unnecessary elements, the result doesn't have to be "de-humanising". Things can always be reduced in such a way that they still feel natural, rather than "artificial and impersonal". This is certainly reflected in the N9/Lumia 800, with its gently curved back and front glass.
Even though the design is stripped down to bare essentials, it isn't boring to look at. Marko elucidated to the audience how the design looks very different from various angles. From the front or back, it's a hard rectangle. However, the back has a "complex pillow-like curvature", whilst the sides are semi-cylindrical. The curved glass screen complements the curvature by blending in smoothly with the body.
Marko went on to describe how the polycarbonate uni-body required "extreme product making", and that it was not at all easy to manufacture. There was a lot of attention to the craftsmanship involved, and that each process was "extraordinary". For those who don't know, the body of each N9 and Lumia 800 is made from a single piece of polycarbonate, which is precisely milled to the required shape. There is a great deal of attention to ensure that no production marks are left on the body. He also commented that the final assembly (which is done by hand) was like "putting a ship in a bottle".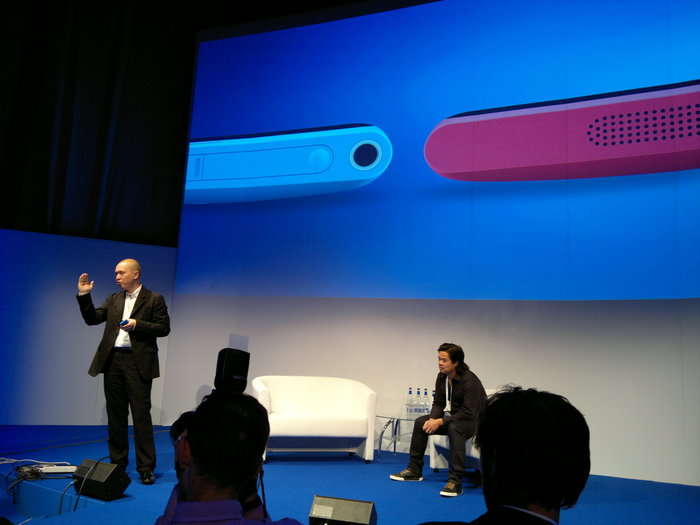 Perfectly symmetric placement of the headphone socket

He then went into some finer details of the design. As seen in recent Symbian devices, Clear Black Display technology works by inserting polarising filters and is then further enhanced by removing the air gap between screen and touch layer. This gives greater contrast and makes the user interface look like it's "floating on the surface of the screen". Indeed, after having used HTC Windows Phones and then seeing the Lumia 800, I concur with that description!
Apart from the Nokia name, no other product information is shown on the exterior of the device. Instead, it is printed on the inside of the Micro SIM card tray. Those with an acute attention to detail will notice that even the headphone socket is placed (radially) symetrically inside one of the cylindrical edges of the handset.
Finally, Marko made a sideways dig at the competition. He pointed out that everything else on the smartphone market has rounded corners and comes in grey or black, while the Lumia 800 design is the complete opposite. That is, it comes in bright colours and has square corners.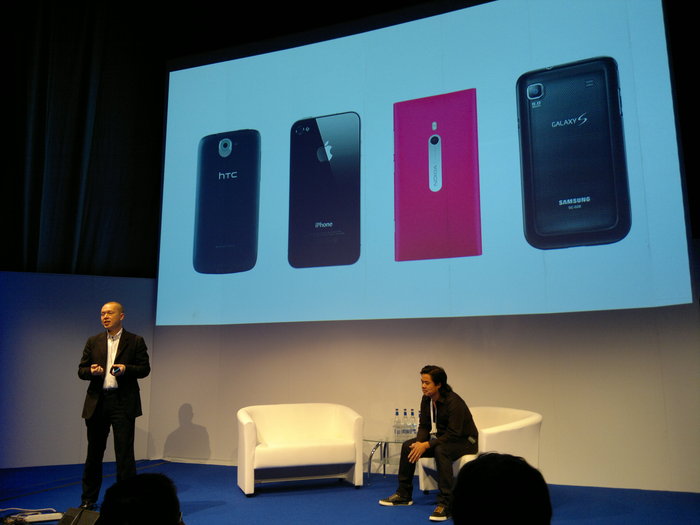 The N9 / Lumia 800 standing out among the competition

Albert Shum ...
... started by telling the audience that even though the partnership was only eight months old, "both teams have worked together very well". He explained how each had introduced itself to the other by summarising its core values. Both groups soon saw that those values "aligned very well", as shown below.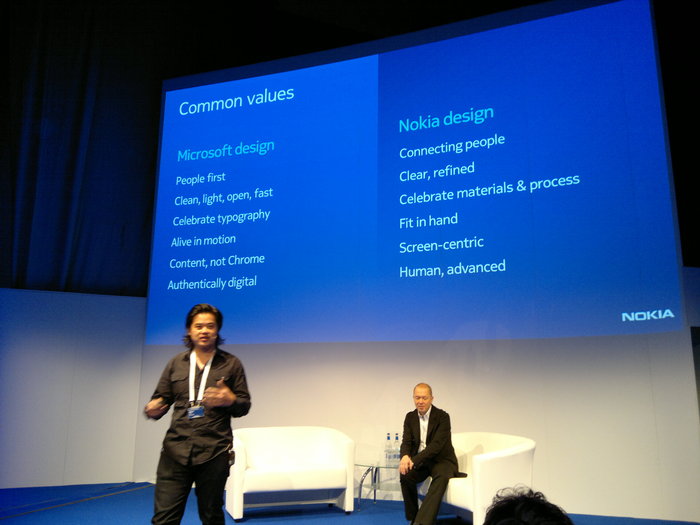 Common design values

Albert discussed the design principles of Windows Phone, citing the line "People First", as we'd heard several times from Joe Belfiore; and matching with Nokia's "Connecting People" value. He also explained that Microsoft has conducted lots of case studies, which enabled it to build four archetypal "personas" for which it is designing Windows Phone.
Another common value between the two teams is "craftsmanship", balancing the needs of science and art. An example of this was working with Nokia to optimise the touch screen drivers for individual handsets.
Albert talked briefly about how important typography was to Windows Phone. It has to be "artistic, yet facilitate finding information quickly". This is one claim that I take issue with, given that the oversized font sizes cause some non-obvious text to be clipped off the side of the screen. In short, it often does the opposite of helping me to find information!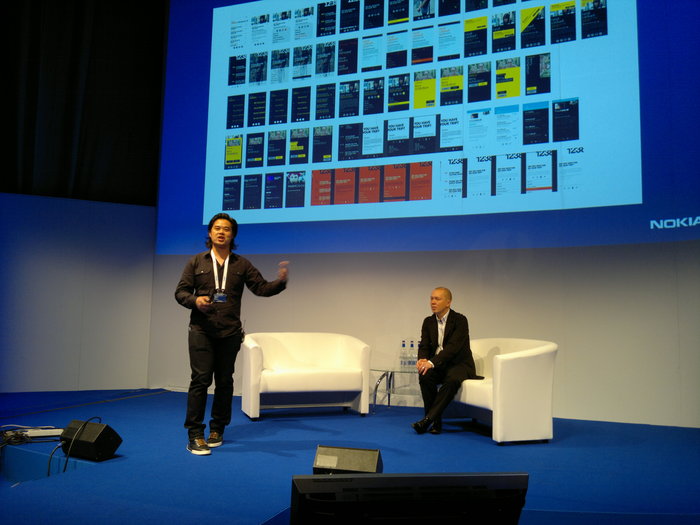 In-depth checking of typography in Windows Phone

Albert then reflected Marko's reductionist point of view. He stated that the Windows Phone development studio believes in "Content, not chrome". Furthermore, a design philosophy that his studio finds useful is, "You're never done with a design until you've removed all you don't need". Therefore, a lot of the Windows Phone design process has been removing and simplifying elements. This is reflected in the set of Windows Phone icons, which was shown on the slide below.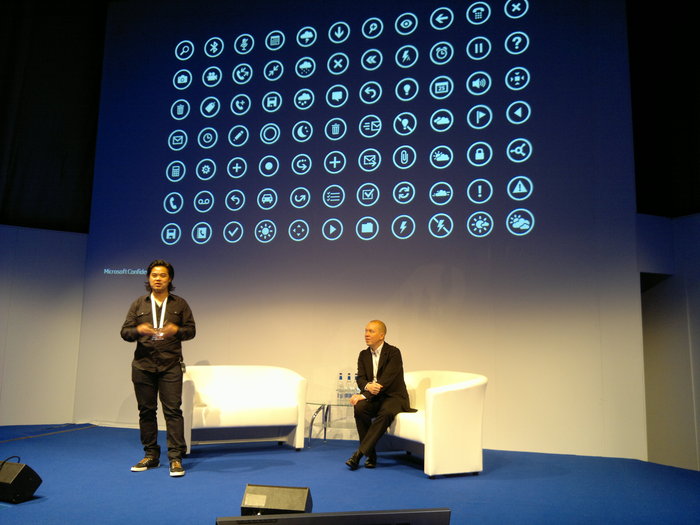 The Windows Phone 7 icon set

Albert finished by discussing how Microsoft is trying to improve the Windows Phone ecosystem. One way is to "bring diversity to its services and applications". Of course, he cited the software and services that are exclusive to Nokia as a way of doing this. The team are also looking ahead to other opportunities for expanding Windows Phone. To illustrate this, he showed a chart with phones, tablets, televisions and other nondescript devices.
Dicussion
After both had given their speeches, they sat down for a discussion about their views on user interface (UI) design. Marko opened with his view that UIs should allow people to have their "heads up again", rather than down in their phones. This is the idea that UIs should give you quick glanceable information, rather than having you tap through applications. He believes that Live Tiles are a good way of achieving this, because information "bubbles up" when you need it. I agree in principle, but we can still get stuck with our heads down in Windows Phone, because some tiles take a little while to cycle through all of their data!
Consistent ways of navigating through Windows Phone

Both of the designers agreed that Windows Phones need to be tried before you buy one. Albert made the analogy that you "wouldn't buy a car without trying it first". I agree that Metro UI cannot be fully expressed in screenshots. However, I wonder how well the try before you buy recommendation will work in practice. Consumers are not able to get loan devices, and I'm not confident that a five minute fiddle in a phone shop with an eager sales assistant breathing down your neck will provide a worthwhile experience. That is, assuming your local phone shop has an active demonstration model, because most don't!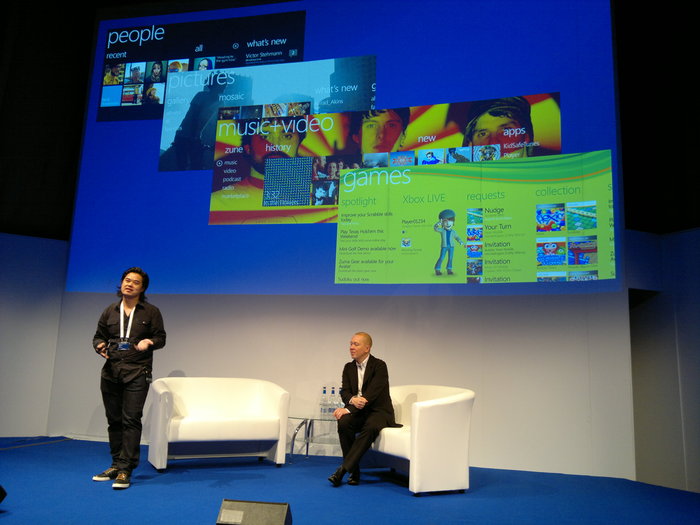 Various 'scenes' in Windows Phone

They wrapped up the discussion by echoing Joe Belfiore's comment, that the Metro UI grid is a consistent way to present information to the user in each "Scene". The mention of Scenes was the real piece of new information here. It turns out that this is the term given to the section of the UI that is currently on screen. One can think of an application page as a panorama, and we drag horizontally from scene to scene within the panorama.
Closing thoughts
Overall, it was interesting to see how well the two teams were presenting a united front, and seemed genuinely enthusiastic about working together. On February 11th, Stephen Elop stated that Nokia would be a preferred partner of Microsoft and have more access to Windows Phone than any other OEM. That promise, and parternship, is implemented by the design teams that were represented in this talk. So far, things look promising.
David Gilson (and Steve Litchfield) for All About Windows Phone, 2nd November 2011.