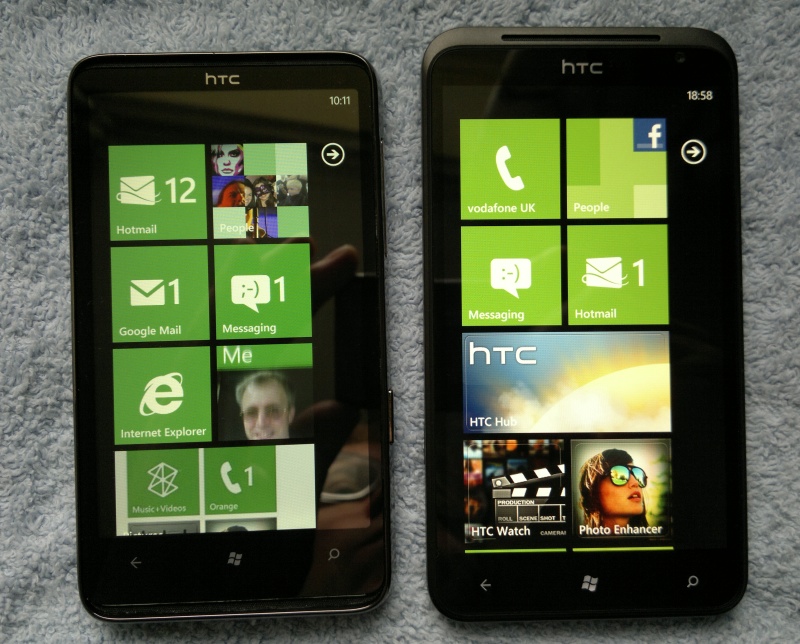 The HD7 dates back to the first wave of Windows Phone launches, of course, with first generation hardware from HTC, though with the recent Mango update it's surprising how well it can still hold its own as a smartphone in late 2011. The Titan is the flagship second generation Windows Phone from the same manufacturer - taking the same concept but supersizing it a little and upgrading several of the core components. In this feature I'll look at the technical details of the improvements - is the Titan an automatic upgrade for someone who loves the HD7 - and what about those coming from other platforms?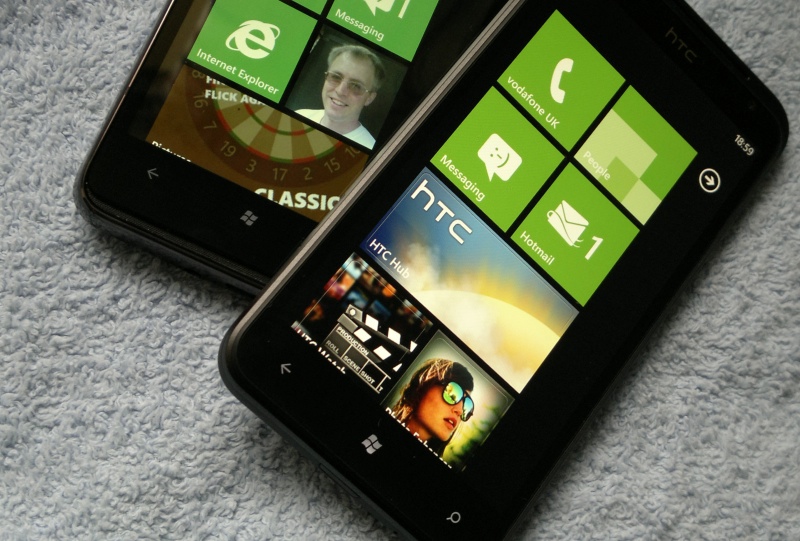 HTC HD7
HTC Titan
Form factor, dimensions
122 x 68 x 11mm, 162g. Just about possible to unlock the screen one-handed (power button then swipe up)
131.5 x 70.7 x 10mm, 160g, doesn't feel significantly larger than the HD7, it's just the extra centimetre of length. Very hard to unlock the Titan one handed
Materials, build quality
All plastics, apart from metal fashion strip on back and camera surround/kickstand, reasonably solid construction, Gorilla Glass for screen
A mainly aluminium back cover with plastic inserts, the phone innards don't sit perfectly inside the back 'shell', with a really, really annoying creaking in the review unit. Possible to 'twist' the phone significantly, despite rigid materials being used. 'Shatterproof' glass (not scratch-resistant/Gorilla) for screen, reputedly easy to scratch.
Screen aspects
4.3" LCD, WVGA, somewhat indistinct colour rendering indoors, display washes out in sunlight
4.7" Enhanced "Super-LCD", WVGA, stunning contrast indoors, the LCD has been raised so that there's no air gap (in similar fashion to Samsung 'Super' AMOLED and Nokia 'ClearBlack Display') and the pixels are clear, colourful and almost painted on. Visibility in sunlight is slightly better than HD7, though still not brilliant - there are no CBD-like polarising filters. Pixels per inch is 199, but still high enough for most peoples' eyes - zoomed out web pages are the only occasions where the lowish resolution is obvious - normal UI text is fine.
Processor, chips
1GHz Scorpion processor, Adreno 200 GPU, Qualcomm QSD8250 Snapdragon chipset
1.5GHz Scorpion processor, Adreno 205 GPU, Qualcomm MSM8255 chipset, upgrades on every front and it shows, anything processor or graphics intensive (e.g. web page rendering) is at least 50% faster
Operating System
Windows Phone 7.5 (Mango), after update
Windows Phone 7.5 (Mango), plus a few custom HTC tweaks for the Titan (and Radar), e.g. 'Sound Enhancer' and 'Attentive phone' ('Flip to silence' etc.)
Connectivity
HSDPA 7.2/14.4 Mbps; HSUPA 2/5.76 Mbps (depending on carrier); Wi-fi; Bluetooth 2.1
HSDPA 14.4 Mbps; HSUPA 5.76 Mbps; Wi-fi; Bluetooth 2.1
Memory/Capacity
576MB of RAM, 8GB or 16GB internal flash memory, depending on model (6.5GB or 14.5GB available)
512MB of RAM, around 13GB internal flash memory available, this hard limit on storage will only really be a problem for those capturing video on the Titan. Other than that, general use is unlikely to find a serious issue since third party videos have to be transcoded, which is a huge, huge time consuming pain. Most video consumption here will then be via streaming, leaving the 13GB for images and music and other needs.
Camera/Camcorder
5 megapixel, poor results, noisy, limited dynamic range, dual LED, 720p video capture
Decent F2.2 8 megapixel still camera capable of good results, dual LED, 720p video capture, plus front-facing secondary camera for video calling and Internet conferencing
Multimedia
3.5mm out, DLNA, tinny and quiet loudspeaker
3.5mm out, DLNA, loud and much higher quality loudspeaker
Battery capacity, life
1230mAh, replaceable, 1 working day maximum
1600mAh, replaceable, 1 working day quite practical, 2 days with careful use perhaps!
Distinguishing features
Flip-out kick stand on the back makes it easy* to use the HD7 for movie watching.
*aside from the usual caveats about interminable video transcoding to get movies on in the first place!

Rather than have a clip-on battery cover, the entire wrap-around back detaches, revealing the innards. Pairs of gold connectors link through to RF aerials stuck onto the inside of the back.

Sharp edges, especially at the top and bottom of the back cover/shell, have attracted comment from others but I didn't find these a problem.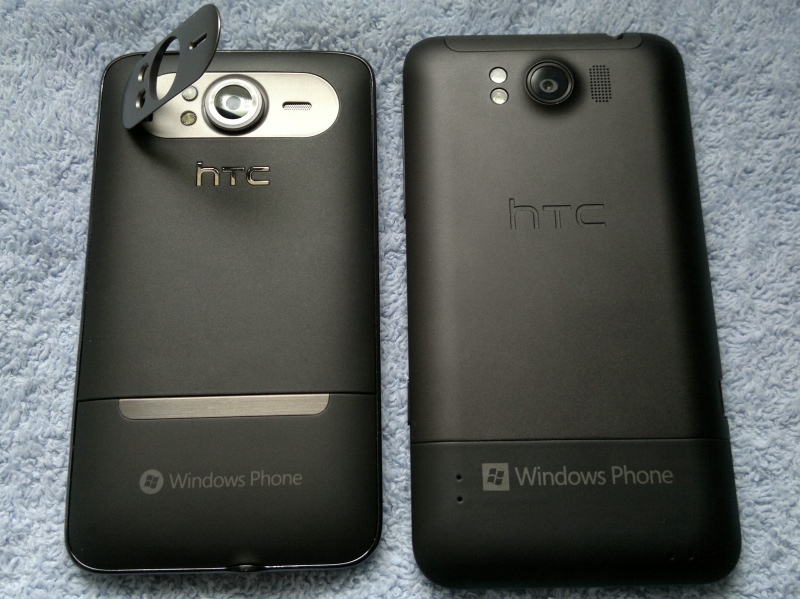 With the Windows Phone platform largely standardised (and the updating of even the oldest hardware to current software), it's easy to compare different devices, thankfully. In this case, I'd characterise the Titan as being the device which received big upgrades across the board in terms of components but which did so at the expense of build quality and long term reliability.
Everything in the smartphone world is a trade-off and this is a tough call. The Titan impresses massively with its high contrast screen, faster processor and graphics, far better camera, far better speaker and far bigger battery, but the scratchable, large glass screen, the two-piece construction leading to creaks and possible long term RF unreliability all somewhat bring the comparison back towards level pegging.
Yes, I'd take the Titan over the year old HD7 if offered either, but I'd have to think about it first for a moment. Which is quite telling.
Next from me will be a full, in-depth review of the HTC Titan for All About Windows Phone and for The Phones Show. Watch this space.
Steve Litchfield