The Unified Contact History
SXSW is all about meeting people, especially as I moonlight on the SXSW Baby blog. While a quick ping on a social network might be enough for someone at the Interactive strand, Film and Music delegates are a bit more old fashioned, with lots of phone calls, texts, emails, press releases, and other details going back and forwards. Keeping all of these different conversations in mind is very hard - but the integration in the People Hub to show all my contact with someone in a timeline is probably one of the easiest ways of 'searching' for something on my smartphone while running between venues.
Live Tiles
I think that the basic UI element that catches peoples eye is the Live Tiles, and two functions have stood out for me in the Austin streets. The first is the ability to deep link into a certain part of an application to save speed, most notably in 4th and Mayor. This Foursquare client has a tile that takes you straight to the check-in screen, listing venues close by. There's no need to navigate to that part of the app, it's just presented to you when you hit the tile. It makes the check-in process very seamless, and is encouraging me to carry on checking in.
The updating information on Live Tiles means that anything really important will be presented to me, be it an email from my wife, or the latest Google Analytic stats on my websites, letting me keep an eye on the traffic.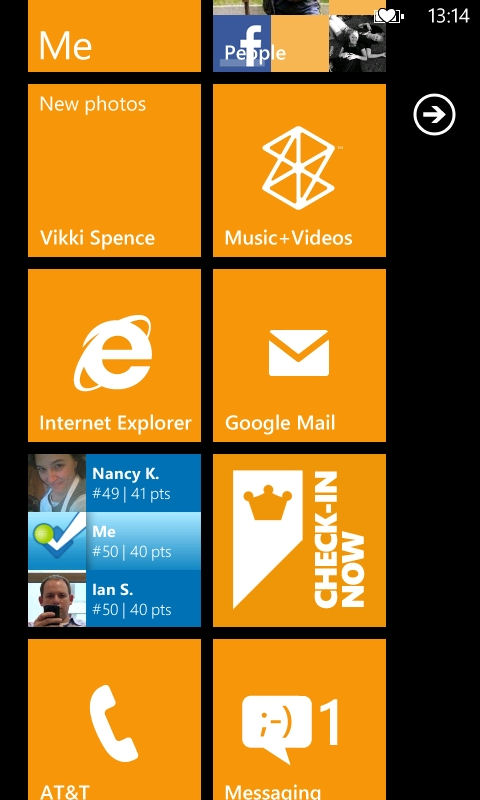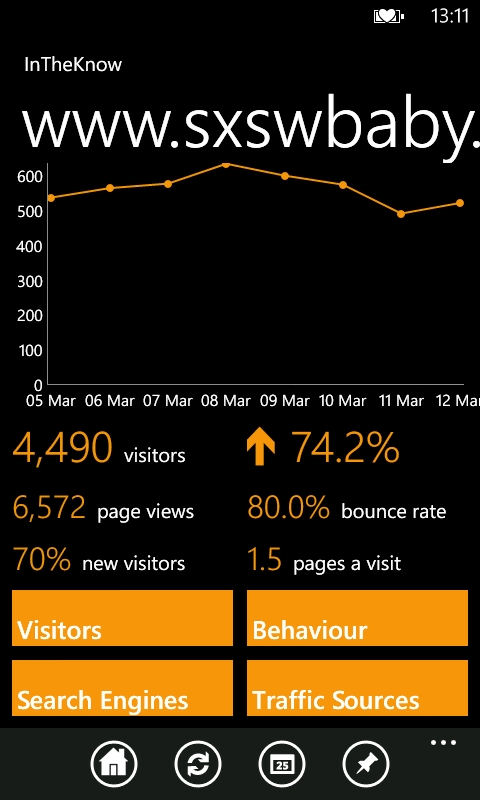 Having a Share button everywhere
One of the advantages of Windows Phone is that it was designed after the boom in social media and the world of sharing content online. That means almost every app or piece of content has a "Share..." option either on a long press on the object, or in the menu. SXSW is about sharing ideas, tips, and more, so the ability to simply hit the share button and have it zapped to someone means that it can be done quickly, right after talking to them. No need to remember to forward a YouTube video when I get home - all I need to do is the follow up when I come across their business card in my pocket!
Quick example: talking about a book I had read, it was a simple matter to open up the Kindle app, find the book on Amazon, and send the link to a friend... while talking about the book. There's no chance of something being forgotten if you can do it there and then.
Battery Saver
Every day is a long day at SXSW, and once 3pm hits, you can see everyone anchored around the power points in the Conference Center. Mostly with Android devices, it has to be said. There's something wonderful about the Battery Saver mode in Windows Phone that will reconfigure the Internet calls, data handling, and background tasks to extend your battery life. It's enough to let me stay connected to get to the end of the day with a little bit of battery time left for calls and emergencies.
Arguably it's a full day, although a full day at maybe 80% capability, but I'll take that.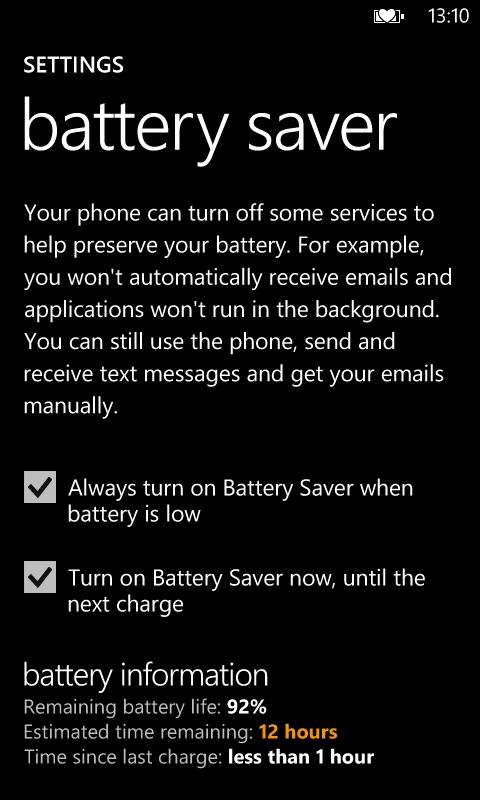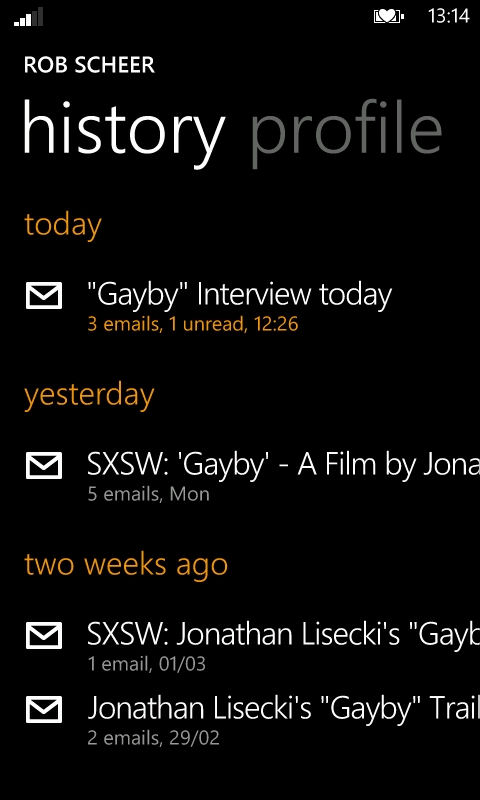 Bing Local Search
Everyone at SXSW is either brand new (in which case will know very little of the local restaurants, bars, and streets), or been there before (in which case probably has an out of the way favourite place that nobody else has heard of). Search engines will help you, for example, find "Z Tejes" but it's the results I get in Bing Search, and specifically the Local Search that have been almost magical. Punch in a restaurant name, swing the panorama to local and the contact details, location, direction (and website) are presented on one screen. It just works, it's fast, and one of the pain points of previous years has been removed.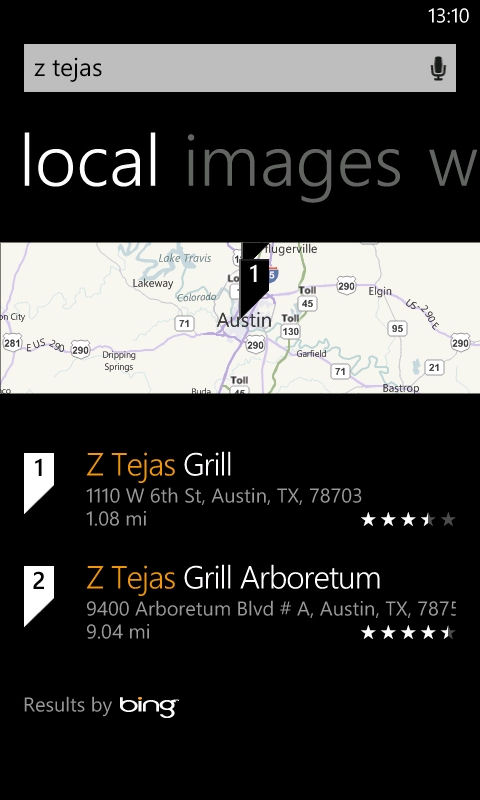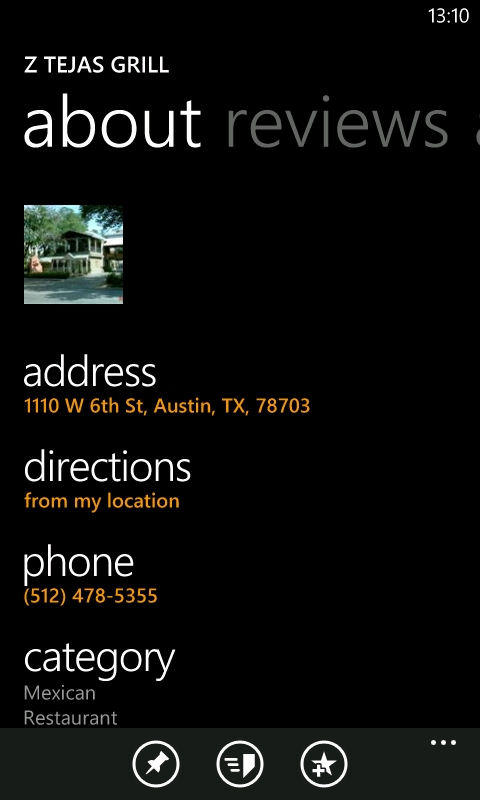 Every phone has advantages and disadvantages, and I'm sure I could do a similar article for Symbian, Android, and iOS, but right now I'm really happy with what Windows Phone is doing for me.