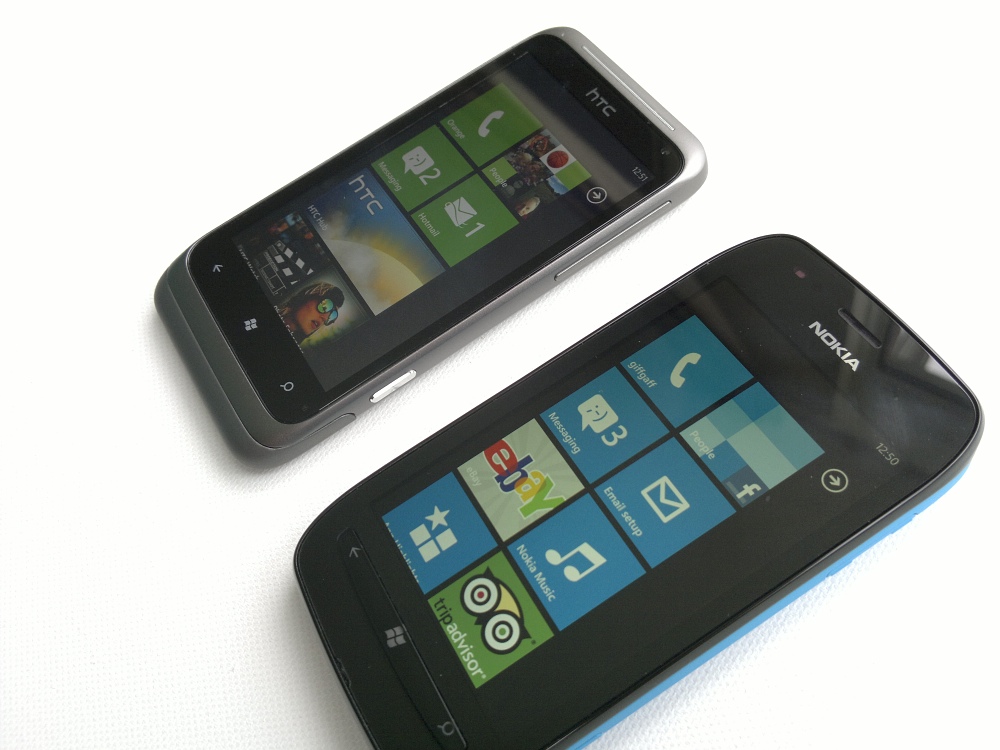 Both of these handsets launched with Windows Phone 7.5, of course, and are generally similar in ambition and form factor, making them good candidates for one of my infamous head-to-heads. As usual, the table is part reference, part subjective opinion. And where appropriate, I've allocated a row winner, in green.
| | | |
| --- | --- | --- |
| | HTC Radar | Nokia Lumia 710 |
| First sold | November 2011 | January 2012 |
| Price | Around £240 SIM-free in the UK | Around £130 on pay-as-you-go in the UK |
| OS | Windows Phone 7.5 | Windows Phone 7.5 (Nokia firmware ending in '12070') |
| Form factor, materials, SIM | Aluminium unibody construction touch tablet, with just a plastic end panel that contains the RF antennae and which pops off to reveal a SIM card slot, 137g | Solid plastic construction touch tablet, entire back/side cover comes off for cosmetic replacement, and for changing the battery or inserting the microSIM, but in-situ the 710 feels very solid, 125g |
| Dimensions | 120 x 61 x 11mm | 120 x 62 x 12 mm |
| Connectivity | Dual band 3G, Wi-Fi b/g/n, Bluetooth 2.1, wi-fi tethering built-in | Tri band 3G, Wi-Fi b/g/n, Bluetooth 2.1, wi-fi tethering built-in or coming soon (according to market and network) |
| Input mechanisms | Excellent virtual qwerty keyboard in both portrait and landscape modes (where appropriate), with writing aids. | Again, excellent virtual keyboard. |
| Display | 3.8" (480 x 800 pixels) Super-LCD, pretty good indoors at full brightness, with good viewing angles, quite reflective and with poor contrast in bright sunlight | 3.7" (480 x 800 pixels) TFT with ClearBlack Display polarisers, great indoors at full brightness, pretty decent in bright sunlight |
| Interface and controls | Windows Phone 7.5, flexible homescreen/launcher system with genuine 'live tile' concept, showing one or more live stats relevant to the app concerned; multi-touch where needed, portrait mode enforced most of the time. Windows controls are all capacitive spots, fitting in well with the flowing nature of the general UI. | Windows Phone 7.5, exactly the same as for the Radar, left. However, Windows controls are on a solid plastic rocker key which requires significant pressure to operate - somewhat jarring the user out of the smooth capacitive touch experience. |
| Speed | A 1GHz processor and a full 512MB of RAM is used to good effect, ensuring that built-in applications are speedy but, crucially, there's no multitasking of third party applications, so each has to either start loading from scratch after every interruption or, if fast app switching is used via the 'Back' icon, pick up its state as best it can. | Faster than the Radar, there's a 1.4GHz chip inside, giving a slight speed bump to all operations, whether web browsing, navigating or emailing. Plus the same 512MB of RAM. The other Windows Phones issues of pseudo-multitasking are the same as for the Radar. |
| Memory capacity (storage) | 8GB internal disk, no expansion. In practice, this may be enough for casual users as long as heavyweight media is streamed in rather than stored locally. There's no disk mounting support, all transfers have to go via Zune Desktop (or Windows Phone Connector) and its proprietary protocols/dialogs. | Similarly for the Lumia 710. 8GB is a bit tight for some users, especially if they've come from the Nokia Symbian world, where larger disks and microSD have been the order of the day for years. |
| Camera (stills) | Poor 5 megapixel camera, typical pre-2012 HTC quality. Everything's over-sharpened and with horrible coloration and artefacts once you look at captured images closely. Almost unusable. | An average 5 megapixel camera, good enough results for casual snappers in good light. In low light, the camera struggles, with only LED flash. |
| Camera (video) | Relatively poor 720p HD capture - Windows Phone lends the Radar continuous auto-focus, but otherwise it's average video quality at best and very poor, hissy, low bandwidth audio. | HD (1280 by 720) video is OK, though the dynamic range of the tiny sensor isn't great and sunny highlights get blown out. Plus the continuous auto-focus is a bit over-zealous. Audio capture is in mono and acceptable as long as noise levels are kept within range. |
| GPS and navigation | Good GPS, backed by Bing Maps and HTC Locations, the latter now having Route 66 real time sat-nav grafted in, albeit in commercial 3-day trial form only. Afterwards, you have to pay per month or per year for both navigation and traffic avoidance. | Good GPS, plus digital compass, backed up by Nokia Wi-fi location, with Nokia Drive worldwide free sat-nav. Driving maps can be pre-loaded by continent, country or area, though Nokia Maps doesn't share the same data, curiously. |
| Audio out | Quietish and quite tinny mono speaker, distorts horribly for loud voice or music playback. 3.5mm jack, plus A2DP. | Also quiet and disappointingly tinny (for Nokia) mono speaker. 3.5mm jack, plus A2DP. |
| Multimedia playback | Video playback is good, but is crippled by all videos having to be sanitised (resampled) by Zune Desktop or Windows Phone Connector, a process which can take hours in extreme cases. There's a decent YouTube experience available via m.youtube.com, plus several third party clients or varying legality, which add extra options. | Similarly for the 710, though Nokia's TFT/CBD display is noticeably crisper and clearer for displaying videos, plus the faster processor helps avoid any decoding traffic jams. |
| Web browsing | Browser is fast and fluid, though with only partial Flash support, so few embedded videos work. There's multi-touch and also some intelligent reflowing of text blocks after double-tapping to zoom in. | As with the Radar, I've been generally very pleased with Internet Explorer on Windows Phone - the faster processor on the Luma 710 brings up pages slightly faster than the Radar, but there's (surprisingly) not that much difference and it'd be unfair on the Radar to call a winner here. |
| Email | Tightly integrated Hotmail client, plus a general purpose POP3/IMAP/Exchange client, mailboxes appear as their own 'applications' in the main pick list. Performance is generally very good. | Identical as on the Radar, generally very good. |
| Other application highlights out of the box | Pocket Office, including OneNote, Word, Excel and (in read only form) Powerpoint, Twitter and Facebook integration throughout, commercial HTC Watch video store [very expensive], HTC Hub, Notes, Flashlight and other useful utilities, plus Xbox Live integration. | Pocket Office, including OneNote, Word, Excel and (in read only form) Powerpoint, Twitter and Facebook integration throughout, TuneIn radio generic Internet radio client, Nokia Music 'mix radio' streaming [free playlists of commercial music], Creative Studio, Xbox Live integration and games. |
| Application store and ecosystem | Windows Marketplace is now pretty well stocked, thousands of high quality apps. Application updates can be all installed in one go, silently. | Again, access to the full Windows Phone Marketplace, plus Nokia seem to be picking up momentum in stocking up the exclusive 'Nokia Applications' section of the store. |
| Battery | 1520 mAh, sealed, microUSB, casual use will last 2 days, though this will diminish with time as the battery ages and may then need servicing after a year or two. Although saled, the extra capacity just wins out here. | 1300mAh, easily replaceable standard Nokia cell, microUSB charging, casual use will last 2 days. |
| Ongoing firmware support and OS updates | Prospects are good for this new device and new platform, we've had several updates in the last six months and I'd expect several more throughout 2012 and 2013. Updates have to be applied via Zune Desktop or Windows Connector for Mac. | As for the Radar, plus there seem to be extra firmware updates in between major OS ones that are exclusive to Nokia's hardware. My confidence in the future proofing of the Lumia range is quite high. |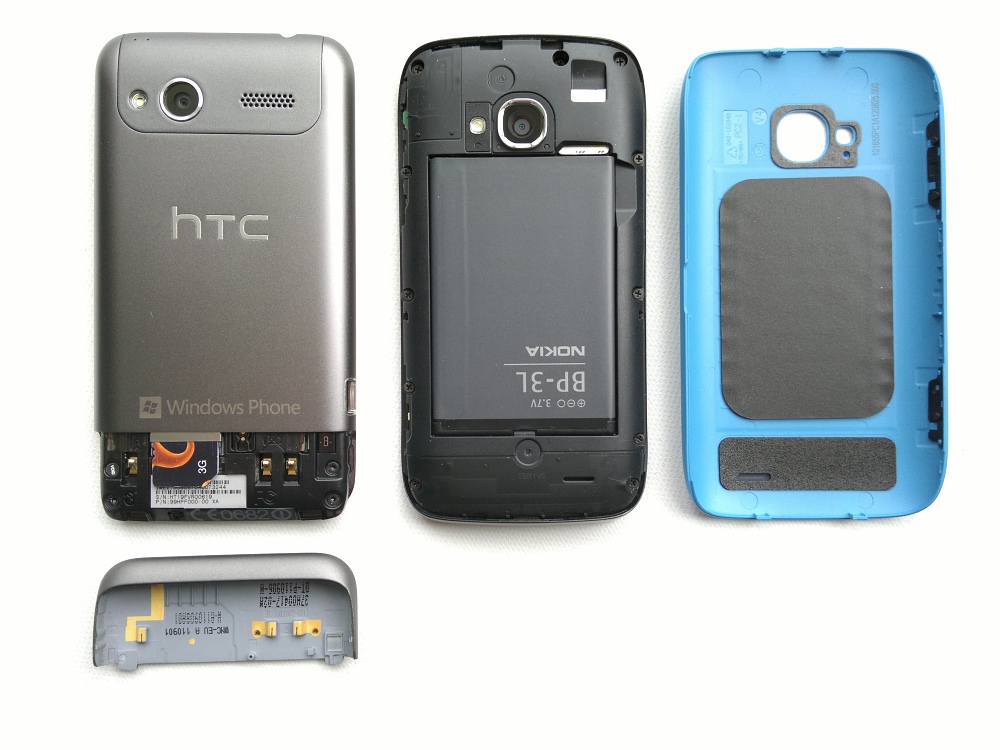 (all images on this page copyright All About Windows Phone)
As ever, it's interesting to add up the green 'wins': Nokia Lumia 710 has 8, to the HTC Radar's 3. However, this big difference is actually rather misleading in this case because the devices are so closely matched yet with different use cases.
If you're more concerned with email, browsing and general applications while wanting something that screams 'professional' in look and feel, for a pure, capacitive, smooth Windows Phone 7.5 experience then the HTC Radar is definitely the better device. See also David's detailed long term review.
On the other hand, if you want to make use of camera features, if you rather fancy the free world satellite navigation and if you're more into cheaper, 'funner' (to use Nokia's own marketing word) and more flexible smartphone ownership, then the Luma 710 wins out by some margin.
And, in this regard, it's handy to have the choice - it would have been rather boring if I'd had to really struggle to find differentiating factors here! Comments welcome as usual.
Steve Litchfield, All About Windows Phone, 30th April 2012