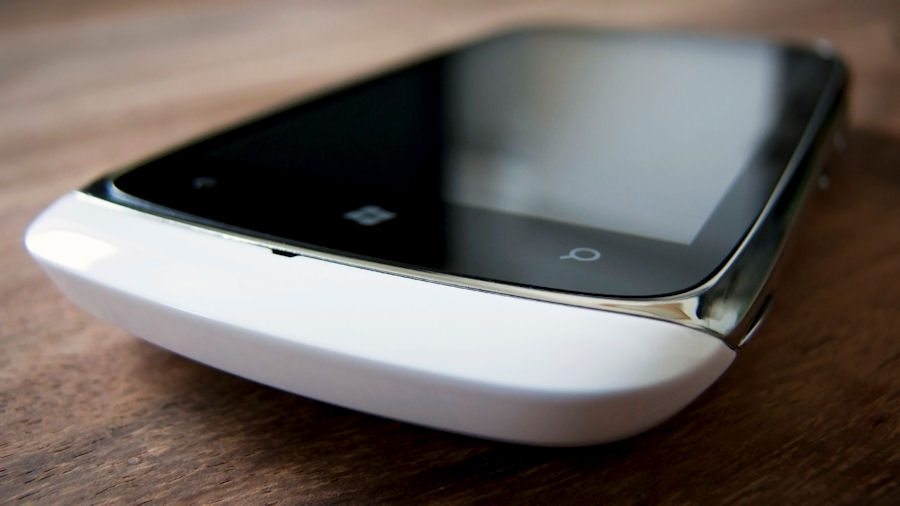 Nokia Lumia 610 - the reason for Tango
The Nokia Lumia 610 is a device aimed at bringing the Windows Phone platform to a wider selection of users. In order to push Windows Phone out to a more budget conscious consumer Microsoft have optimised the Windows Phone 7 platform so that it is able to run on a lower end device specification. This was the major feature of the software platform update codenamed Tango and the Nokia Lumia 610 is the first device that is built specifically to take advantage of the lower specification requirements. What is Tango all about anyway? That's what we're going to find out...


The Entrance
Once you open up the standard high quality Nokia packaging you'll find the Lumia 610 sitting proudly atop. The version I have for review is in white with chrome trim running along the side and up onto the front. The Lumia 610 is visually impressive, with smooth curvy lines and interesting angles it beckons to be picked up and touched. In the hand, it has a nice weight balance, the smooth plastic combined with some sensible angles and details means it feels secure in the hand and very nice to hold, being neither too sharp or too rounded. The white, silver and black finish on the handset looks rather smart, flip it over and the entire back is a single sheet of smooth white plastic with only a glimmer of chrome at the very top. In some ways the Lumia 610 feels like it has some of the DNA from the Nokia Lumia 710 design but took on some welcome tweaks in order to soften the overall look. The construction is nice and solid, with no traces of squeaking plastic and the body is nice and rigid.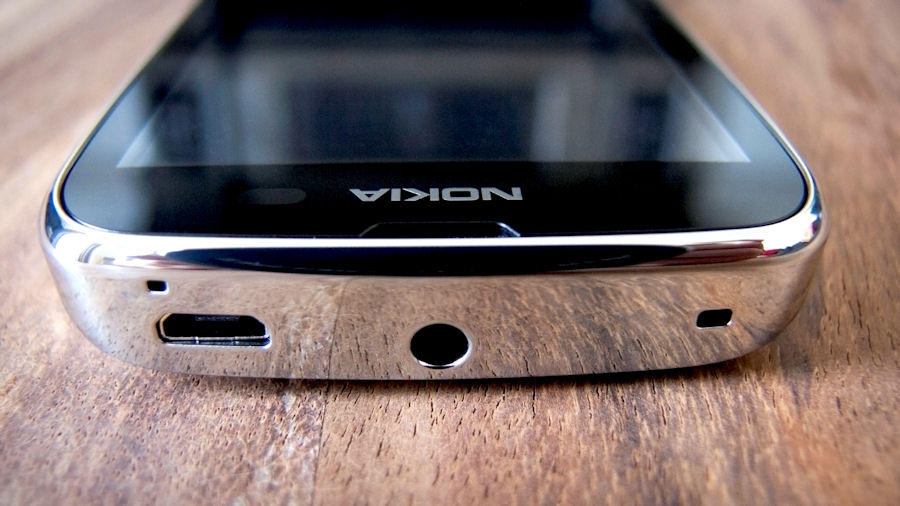 The Impression
In the box, you'll find a charger, USB cable and headphones. Everything is very normal until it gets to phone itself, as it represents a new wave of devices that are designed from the ground up to be of a lower cost. The Lumia 610 comes tricked out with a Snapdragon CPU running at 800MHz and 256MB of system memory. Other than a few minor details, this is the main divider between this handset and the Lumia 710, 800 and 900, all of which come with a 1.4GHz CPU and 512MB of system memory. Does it make any difference? We'll get back to that...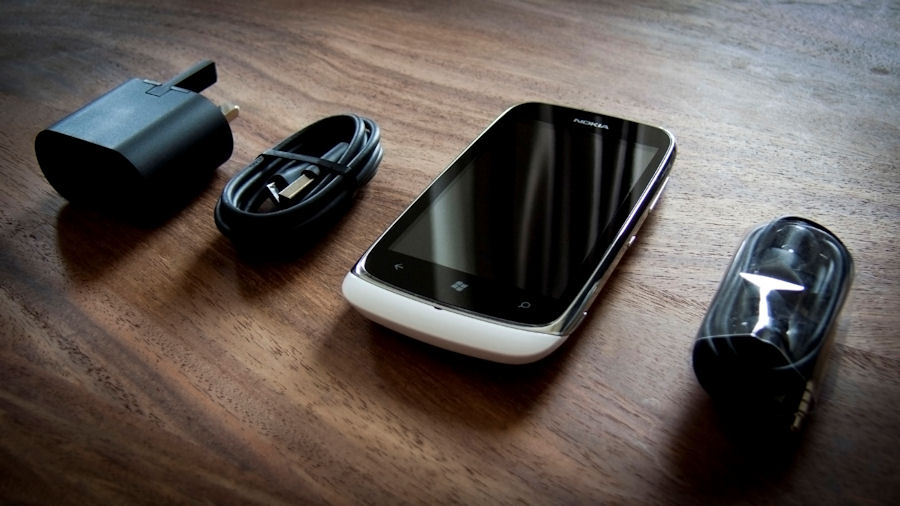 The Lumia 610 sports a standard TFT screen, which to my eyes looks to be the same as that found on the Lumia 710. When using the Lumia 610 I didn't really notice any major difference to that of the Lumia 710. In reality, if you place a Lumia 710 side-by-side with a Lumia 610, you will notice a difference, with the Lumia 610 screen looking a little more washed out than the Lumia 710. For obvious reasons though, that's not something most consumers will be doing.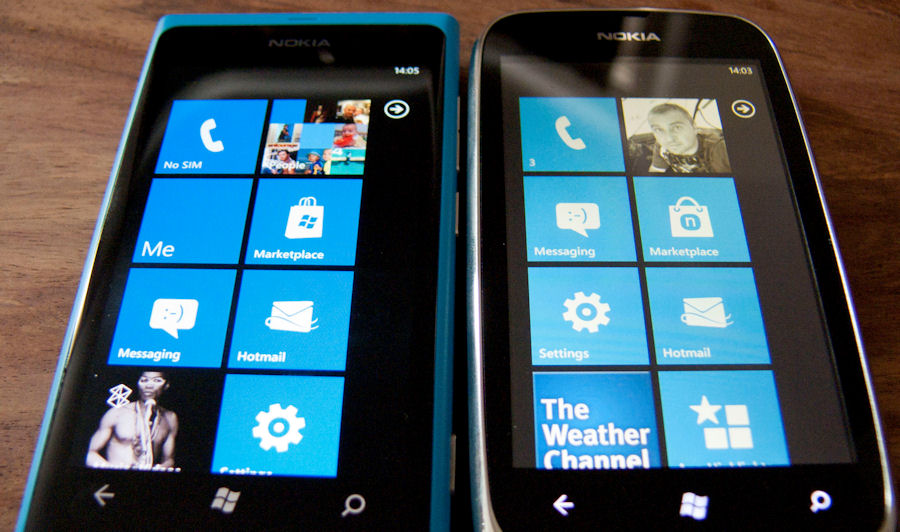 The other area you may pick up on in a direct comparison is the display of gradients. On the Lumia 610 they are not as smooth as on other Lumia devices and it's possible to see some visible banding. This is due to the colours being rendered at 16bits, rather than 32bits. This is most noticeable in third party applications where the graphics have not been optimised for the Lumia 610. Incidentally, this reduced colour depth is a way to help lower specification devices get a little speed improvement, and given the context, I think it's a reasonable trade off.
One final point that's worth considering with regards to the screen, is that the Lumia 610 does not use Corning Gorilla Glass. This helps cut costs, but does mean the screen is more likely to be prone to surface scratches.
The Lumia 610 is using the same replaceable Nokia BP-3L battery as the Nokia Lumia 710, but, according to Nokia's spec sheet it is rated to exceed the Lumia 710 in standby and talk time. That's due, in part, to the lower speed CPU and less RAM giving the Lumia 610 a lower energy consumption profile. As ever, the quoted standby times don't quite translate into real-world usage. My experience was that the Lumia 610 has a better battery life than the higher specification Windows Phone devices.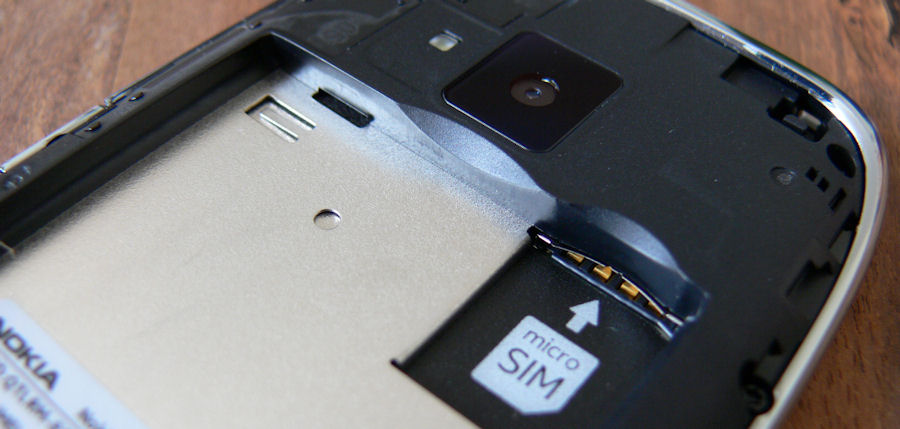 The Moves
Due to the reduced CPU and RAM I was expecting performance to be significantly degraded, but this wasn't the case. The Tango software update brought very little in the way of new features, but it's clear that a lot of work has gone into optimising the platform so it maintains performance on lower specification hardware. From using the Lumia 610 I can tell you that everything built into the OS, such as Mail, Music, Calendar, Pictures & People all work great, with performance at least on a par with my first generation HTC Mozart (which has a higher clocked processor) and only a small difference with how quickly they work on my Lumia 800.
That's a very impressive achievement when you consider the underlying hardware. That means, for the average user, there's no real slow downs with the built-in apps, with Windows Phone 7's characteristic fluidity still very much in evidence.
However, the story is different for third party apps as they take longer to load than my other Windows Phones. The increase of load time varies from app to app, but as an example the Xbox title "Bullet Asylum" takes around 20 seconds on the Lumia 800, but around 32 seconds on the Lumia 610. Similarly, Carbon (a third party Twitter app) takes around 15 seconds to load and fetch current tweets on the Lumia 800, whereas on the Lumia 610 it takes around 25 seconds.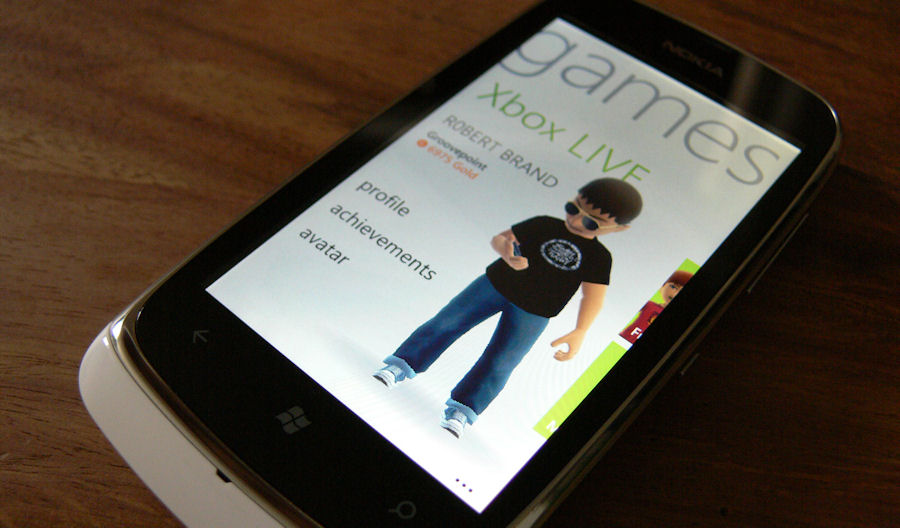 I also noticed some slowdowns while third party apps were running, but this was far more variable than the loading time performance. Some apps run with little or no difference between devices, while others were noticeably slower in certain areas, such as swiping through large panoramas, scrolling through long lists, or switching between app views.
So the Lumia 610 is a little slower, but I'm not sure if that's really a game changer. I suspect that if you're looking for the best possible performance then you probably would not be looking at the Lumia 610 in any case. Nevertheless, my overall impression is that this is certainly acceptable enough in daily use and I hope the third party app performance will improve as developers optimise for lower specification devices.
The Nokia 610 has a tethering ability, a very handy feature if you are on the move, allowing you to setup a Wi-Fi hotspot for your other Internet hungry devices (be careful with that data plan though lest you incur some unexpected charges). It is easy to configure, with options to name your hotspot and set a password, after which you can switch it on and off as needed. Other Nokia devices will be getting this feature when they are upgraded to Tango (officially known as Windows Phone 7.5 Refresh), the roll out of which started this week.

The Lumia 610 and App Compatibility
I would be remiss if I did not address one of the biggest concerns about devices that are entering the market based on the lower specifications. The big one here is that some marketplace apps won't work, or if they work they don't run as quickly as they should. The two most cited here being the Skype VoIP application and Angry Birds. Please check this AAWP article for a complete list. However, estimates are that only 1.6% of Apps that won't run.
I think it is likely that there are apps in the Marketplace now that will be updated in short order. However, I would advise that if these apps fall into the "must have" category, then you should look to another device or wait until the apps are updated before jumping on board. Most apps I tried installed fine, I was actually a little surprised that Bullet Asylum was compatible and was very playable too, so some apps might just need a little tweaking to run better on lower specification devices.

Having any incompatible apps is a concern, but it's also worth remembering that this is an issue on other platforms too. For example, you do not get the same selection of apps on a low end Android device than you do on a high end Android device. The compatibility issue on Windows Phone has, perhaps, been made more visible, precisely because Microsoft and its partners have made it very clear that some apps will not be compatible (and are showing them as such in the Marketplace). They've also made a commitment to work with developers to make as many key apps as possible compatible with the lower specification devices, including the much loved Angry Birds.
Editor's Note: Our latest app tracking data shows that just 1.49% of the total number of apps in the Marketplace are incompatible with the Lumia 610 (down from 1.6% a month ago).

In the last 30 days 0.03% of the apps published are incompatible with the Lumia 610. The same figure for the last three months is 0.54%.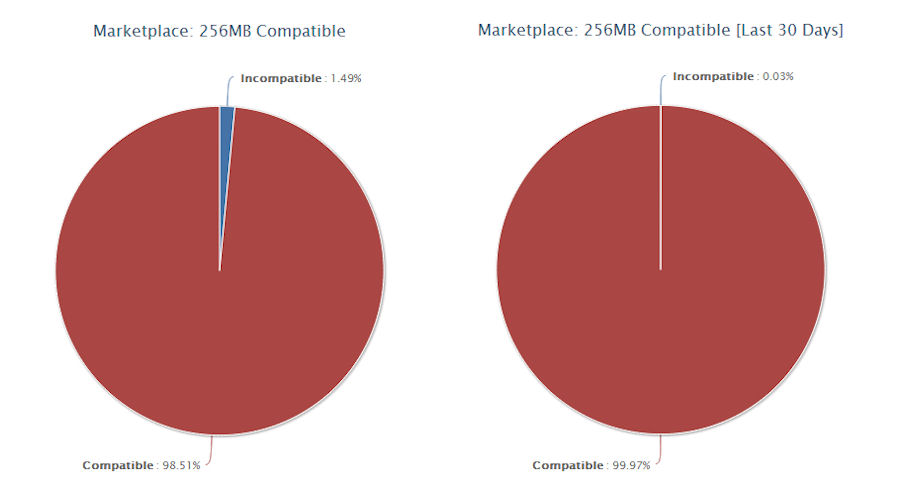 Conclusion
The Lumia 610 is aimed squarely at a lower end of the scale so in some ways I feel it is unfair to compare directly to the Lumia 800 or Lumia 900. The overall package is decent, with USB connectivity cable and headset included in the box. The in-ear headphone and microphone combination is both comfortable, sounds decent and gives you a very usable hands free option. The device feels natural in the hand and is really rather striking, especially when you compare it to other smartphones at this price.
The Lumia 610 is the first device to take advantage of the lower specification requirements (256MB RAM and 800 MHz processor compared to 512MB RAM and 1GHz+ processor) enabled by Windows Phone 7.5 Refresh (code name Tango). I was initially concerned that this would have a major impact on performance, but in everyday usage the Nokia Lumia 610 really doesn't feel that much different to any other Windows Phone handset. Third party apps, especially their start up time, do see a significant performance difference and some apps aren't a smooth as on the higher specification device.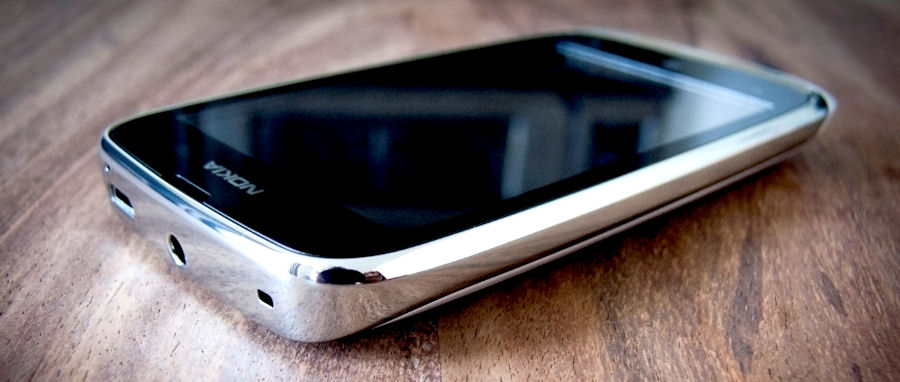 However, before we get too excited about this speed difference, we need to look to whom this phone is aimed. Nokia are pitching the Lumia 610 towards a more budget conscious buyer. The overreaching aim is to increase the number of potential customers who have the option to buy a Windows Phone in their price category.
I think that whilst the Lumia 610 is not going to break any speed records it's a great value handset that's packed with features, giving you access to both the Windows Phone ecosystem and the excellent Nokia exclusive apps (e.g. Nokia Drive and Nokia Music). I doubt very much if any handset in this category can offer up a similar level of features out of the box. That makes the Lumia 610 well worth considering for those looking for a smartphone on a budget.