When Nokia announced the Lumia 920 and Lumia 820 at the beginning of the month, the specifications listed the Bluetooth version as 3.1 (and continue to do so on Nokia's website). However, the listing on the Bluetooth Special Interest Group, the industry trade body that oversees the development of Bluetooth standards and ensures interoperability through a qualification process (effectively a certification program), list the Lumia devices as supporting Bluetooth 4.0. It's reasonable to assume that the devices will launch with Bluetooth 3.1, but may be upgraded to Bluetooth 4.0 at a later date.
The Lumia devices are listed as having Low Energy Controller capabilities. This means they can act as a host to, and retrieve information from, Bluetooth low energy devices, and would be branded as "Bluetooth Smart Ready" devices.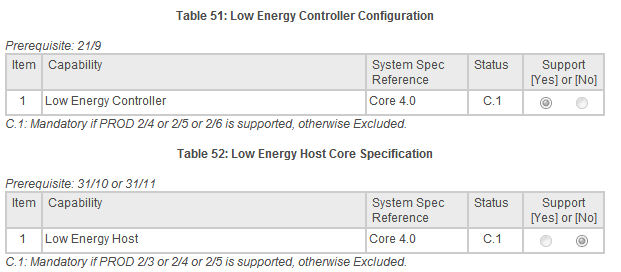 Bluetooth 4.0 and Bluetooth low energy
Bluetooth 4.0 includes a number of improvements (e.g. support for faster speeds), but the most significant is support for Bluetooth low energy (BLE) devices. BLE allows for devices that use a much smaller amount of energy than traditional Bluetooth devices and thus are expanded to broaden the range of available Bluetooth devices. For example, it should be possible to run a BLE accessory for up to a year on a standard watch battery. This would allow for remote sensors (e.g. thermometers), smart energy meters, home automation devices, security appliances and many other device categories.
However, the biggest initial growth area is likely to be in the personal fitness and health markets, where Bluetooth low energy could be used to connect to watches, heart rate monitors, pedometers, and other wearable computing products. It could significantly simplify the user experience of existing products like the Nike FuelBand or Fitbit Ultra.
Bluetooth low energy originated as a project in the Nokia Research Center, and was released to the public in October 2006 with the brand name WiBree, but in June 2007 an agreement was reached to incorporate it into the Bluetooth specification, and in 2009 it became the lead feature in Bluetooth 4.0, which was formally released in 2010.
Bluetooth hardware in the Lumia 920 and 820
The Bluetooth hardware in the Lumia 820 and 920 is part of the SoC (system-on-a-chip) provided by Qualcomm. The specific version of the Snapdragon S4 used in the Lumia devices is the MSM8960 (dual core version), clocked at 1.5GHz. Specific Bluetooth support is provided by the WCN3660 "Combo Chip", which also provides WiFi and FM radio functionality, and is a piece of companion silicon to the main central processing unit. Both Bluetooth 3.1 and Bluetooth 4.0 are supported by the WCN3660.
As an aside, thanks to the WCN3660 chipset, the WiFi functionality in Nokia's Lumia 820 and 920 devices is improved (compared to first generation Lumia devices), with support for WLAN IEEE 802.11 a/b/g/n (previously only b/g/n), WiFi Channel bonding and WiFi Direct. WiFi Direct provides a way for two devices to connect with each other without the need for a router, thus allowing direct data transfer with greatly reduced setup. WiFi Direct holds some intriguing possibilities for accessories (e.g. printers, media servers etc.), but at least initially is likely to be used for device to device transfer, with the set up facilitated by an NFC tap.
Incidentally the WCN3660 chipset also provides support for both FM transceiver (FM transmitter) and WiFi Display (streaming video) functionality, but Nokia is not, currently, using this in its Lumia devices. That seems a shame, especially in the case of FM transmitter, as it is a much loved feature on some on Nokia's Symbian devices and might help Nokia convert its existing customer to its new smartphone line up.

More information
Nokia Lumia 920 Bluetooth certification page
Nokia Lumia 820 Bluetooth certification page