The new functionality is controlled from Nokia's custom display+touch Settings app module and is a good illustration of how Nokia is customising Windows Phone to differentiate its devices from its competitors. The new features are in addition to the existing screen-related functionality and settings that are available on most existing Lumia devices (sunlight readability, battery saver brightness, and touch sensitivity).

Lumia colour profile
Most smartphones, including all of Nokia's Lumia line up, will let you adjust screen brightness, but Nokia, in adding a Lumia colour profile option to the display+touch Settings app module, have taken this a step further, allowing users to change the way colours are displayed on the screen. A 'colour saturation' control offers a range from 'natural', through 'enhanced', to 'vivid'; while a 'colour temperature' control offers a range from 'cool', through 'neutral', to 'warm'. Both the colour saturation and colour temperature options have 10 gradations, allowing a fine level of control.
A carousel of example images is displayed at the top of the screen, allowing you to see the impact of any changes made. The differences are relatively subtle, but by winding down both the saturation and temperature controls it's possible to reduce the false-colour vividness that is typically associated with AMOLED screens (i.e. making it look more like an LCD screen). Similarly, if you like your screen warm and vibrant, you can move both options to the maximum.
Which settings you opt to use are going to be down to personal preferences, but the key point is that it offers more choice, and should help get around complaints about the screen being "too warm" or "too cold". Goldilocks and the three bears will no doubt be delighted that their smartphone screens can now be "just right".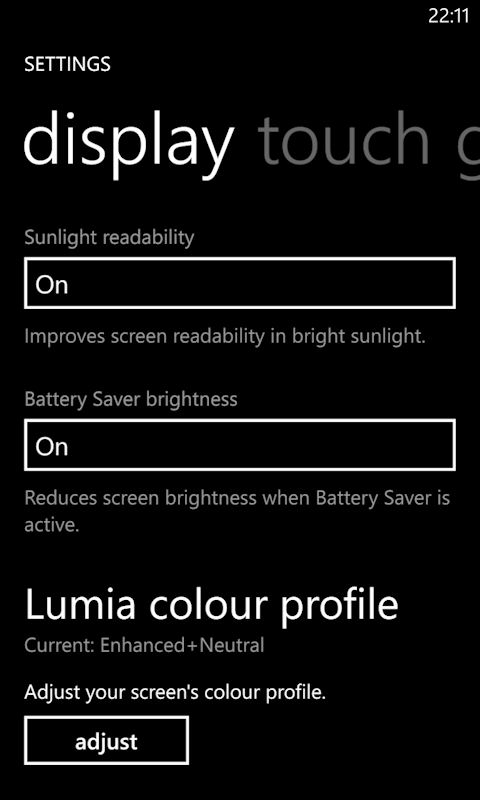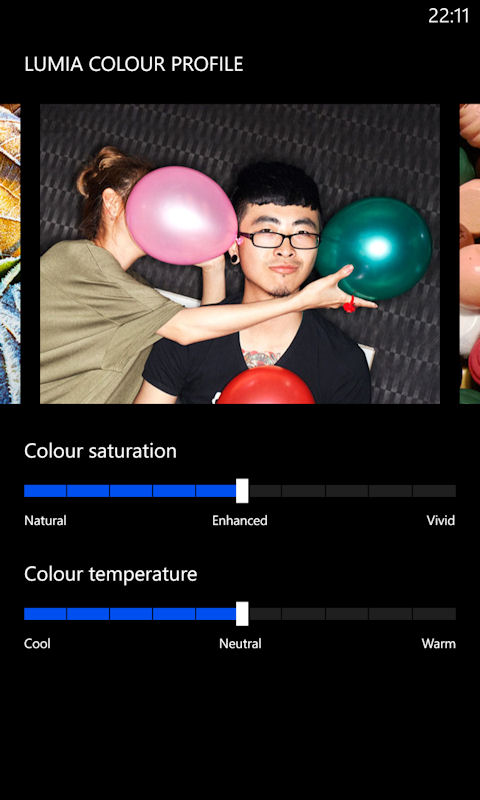 Nokia Glance Screen and double tap to wake
Nokia Glance Screen ('glance' in the display+touch Settings module) offers the option of having an always-on clock displayed on screen when your device is fully locked (i.e. when the screen would have previously been blank). It's similar to the "Big Clock" and "Sleeping Screen" features of Nokia's AMOLED equipped Symbian devices, which are also seen on the MeeGo Harmattan-powered Nokia N9.
The main utility is that you can glance at your phone and see the time without having to touch or unlock the device. For those who no longer wear a watch, something that's become increasingly common in the age of the smartphone, it's a real boon.
Strictly speaking, the always-on clock isn't always-on. If you put your phone in your pocket (or cover up the ambient light and proximity sensors at the top of the device) then the screen is switched completely off. The software is intelligent enough to draw a distinction between a sudden change in light (e.g. putting in your pocket) and a more gradual change in light (e.g. getting dark and night), which does suggest that it is may be the proximity sensor that's doing the hard work here.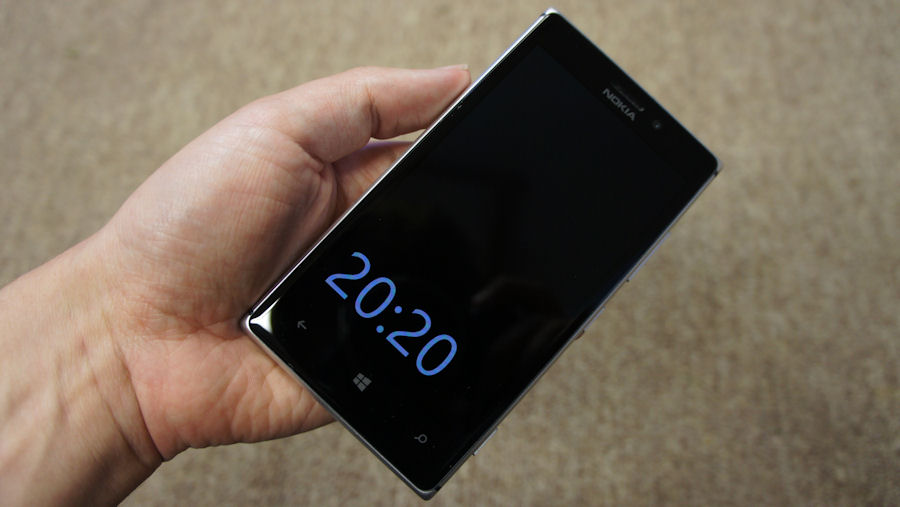 In addition to the time, Nokia Glance Screen will also, where applicable, show a number of icons. If the phone is being charged then a battery status and charging indicator is shown, if the phone is in vibrate mode then the standard Windows Phone "wavy line" is shown, and if the phone is set to silent then the standard "struck-through bell" icon is shown.

At this point you may be wondering what the impact of an always-on clock is going to have on battery life. The answer? It depends on the screen technology used in your phone. Phones with LCD screens generally have a backlight that must be switched on for the screen to be visible and this is a significant power drain. However, this does not apply to phones with AMOLED screens, which are made up of pixels that "glow" for themselves.
In essence, it is possible to turn on just part of an AMOLED screen (i.e. enough pixels to show the time), rather than the whole thing, as is the case with LCD. As a result, AMOLED screens can provide an always-on clock feature that results in only a relatively small power drain (maybe 1% to 2% of total battery capacity in typical usage).
It is, of course, possible to have an always-on clock on an LCD screen, but in reality it's not really practical because of the impact on battery life. This is one of the reasons Nokia has opted for an AMOLED screen on the Nokia Lumia 925 (and 928).
In implementing the Glance Screen functionality, Nokia has recognised that users are likely to be concerned about power usage and offers three options for Glance Screen: 'Off', 'Timed', and 'Always On'. For the Timed option, the clock will be displayed for 15 minutes after the device has been locked, which is likely to be just about practical in day-to-day usage even on an LCD screen (we'll revisit this topic once we can test out Nokia Glance Screen on an LCD-equipped device). On screens with an AMOLED display, we recommend going with the 'always on' option.
Update: We've now had a look at Glance screen on the LCD equipped Nokia Lumia 920. A clever implementation (keep backlight low, or possible even off, means power consumption is reasonable. See our article: Nokia works a LCD miracle - Glance on the Lumia 920.
Nokia has also implemented a night mode for Glance Screen, with an option to set a time interval (a period for which night mode applies). In night mode, the Glance Screen clock will be coloured red, rather than white. In a darkened room, the red colour is still visible, but is less intrusive, ensuring that your always-on clock doesn't keep you up all night.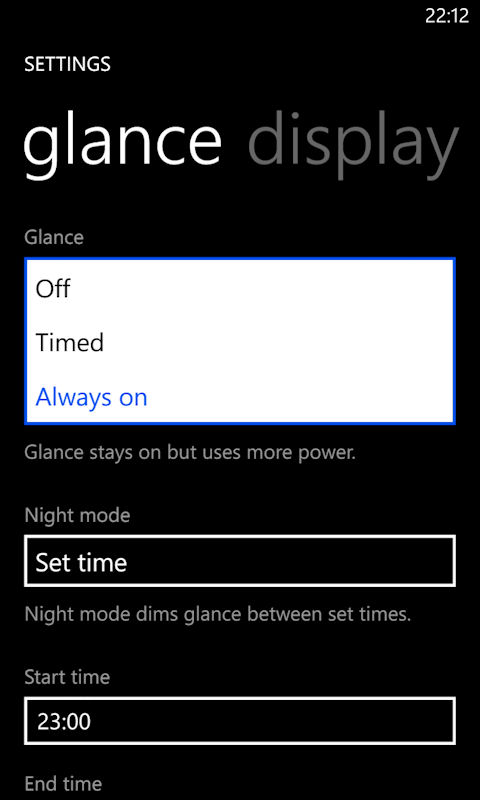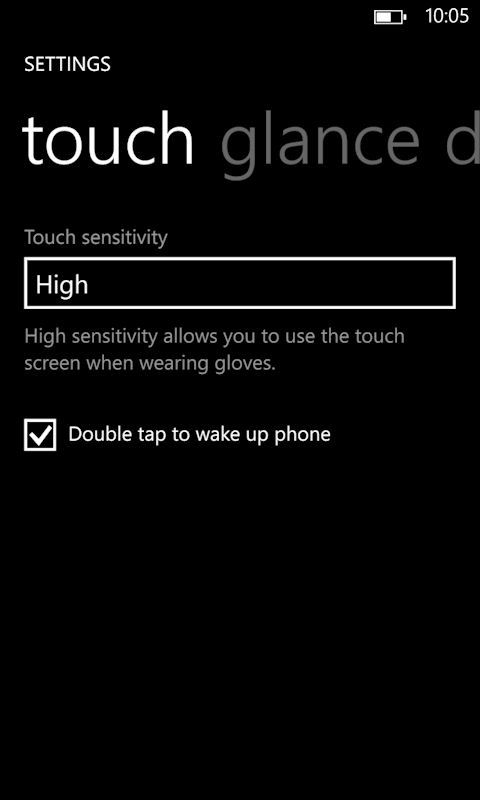 There's room for improvement in the implementation of Nokia Glance Screen. For example, it would make sense to include the same notification icons as on the standard lockscreen (e.g. for new messages, missed calls, and similar). These would make perfect sense for a glanceable screen, which makes us suspect their absence is down to the limitations of Windows Phone, rather than a deliberate exclusion on Nokia's part.
The implementation of Sleeping screen on Nokia's Symbian devices was significantly more sophisticated than on Windows Phone. It offered custom graphics (i.e. images) and rich visual notifications, perhaps pointing the way for future versions of Nokia Glance Screen.
Also new is an option, shown in the touch section of the display+touch Settings app module, to double tap to wake up the phone. When switched on, this provides an alternative to pressing the lock key on the side of the device. It's a clever extra as it means you double tap and then slide your finger up in a single motion, to fully unlock the device.
Incidentally, the settings for the Lumia 925's Super Sensitive Touch are also found on this touch page. Although Nokia has not made a big deal out of it, the Lumia 925 incorporates the second generation of this technology, allowing a greater range of objects to be used on the screen and improving sensitivity for objects that worked on earlier devices.
Availability
The enhancements to the display functionality and the related 'display+touch' Settings app module are part of the Lumia Amber software update. This software update ships with the Nokia Lumia 925, but will also be coming to existing Nokia Lumia Windows Phone 8 devices as part of an over the air software update.
The update will be delivered on top of (i.e. at the same time as) the Windows Phone 8 GDR2 update. Nokia have said that the Lumia Amber update will start rolling out for existing devices (Lumia 520, 521, 620, 720, 810, 820, 822, 920) in the "summer months", which would suggest a July or August initial release date.
Do note that operator approval will be required for some variants, so, as with other software updates, it may take some time for the roll out to be completed.