Specification comparison
As with any lower cost device some specification cuts have been made for the Nokia Lumia 625, when compared to high end devices. The most obvious of these is the WVGA resolution of the screen. It's a particular point of interest because the large physical size of the screen means it is relatively easy to see the individual pixels (4.7 inches at 480 x 800 gives a density of 201 pixels per inch). The importance of screen resolution can be over-played, especially given the fact that, on Windows Phone, there are no experiences that absolutely require a higher resolution. Even so there's no denying that a higher screen resolution is easier on the eyes, so it's something that you may want to factor into a purchase decision.
Screen resolution gets plenty of attention, but, in our opinion, a more important factor is screen quality. It's notable that Nokia's ClearBlack display branding is absent from the Lumia 625's specification list, and that's reflected in the slightly muted blacks seen on the device's IPS LCD screen, a pattern that carries across to colour reproduction more generally. Comparing screens across different sizes is tricky, but, on balance, the Lumia 625's screen can be judged as superior to that found on the Lumia 520 (better viewing angles, Gorilla Glass 2 protection), but is slightly inferior to the screens of the Lumia 620 and 720 (less colour vibrancy).
The Lumia 625's 1.2 GHz dual-core processor (MSM8930) is slightly faster than the 1 GHz dual-core processor (MSM8227) found in the Nokia Lumia 520/521, 620 and 720, but they all have 512MB RAM, marking them out as low specification Windows Phone 8 devices. In real world terms there's very little difference between 1 GHz and 1.2 GHz, although it is just enough to boost the maximum resolution for video recording from 720p to 1080p.
More likely to be noticeable in day-to-day usage is the absence of compass and gyroscope sensors, something that has an impact on augmented reality experiences, such as those found in Nokia's HERE Maps and HERE City Lens apps. Similarly, the omission of an NFC chip means the removal of the "tap+share" (NFC) option from Windows Phone's standard sharing framework. NFC's absence also means it is not possible to "tap to connect" with Nokia's Bluetooth accessories (NFC-mediated Bluetooth pairing).
Also notable is that the Lumia 625 carries just a single standard microphone. This has an impact on voice calls and video recording as a second microphone is used on the other Lumia devices for noise cancellation, although it's a relatively minor concern as it is possible to do the majority of this noise cancellation in software alone.
The Lumia 625 has the MSM8930 processor, mentioned above, due to Nokia's decision to include LTE connectivity in the the device, a first for a mid-tier Windows Phone device. LTE (4G) connectivity means faster download and upload speeds, though it is of course dependent on network support and availability. The inclusion of LTE does mean that other areas of the Lumia 625's specifications will have been cut more aggressively that might be the case for an equivalently priced non-LTE device, but, just as with the other specification points, that is the essence of how a mid-tier smartphone is a set of competing compromises.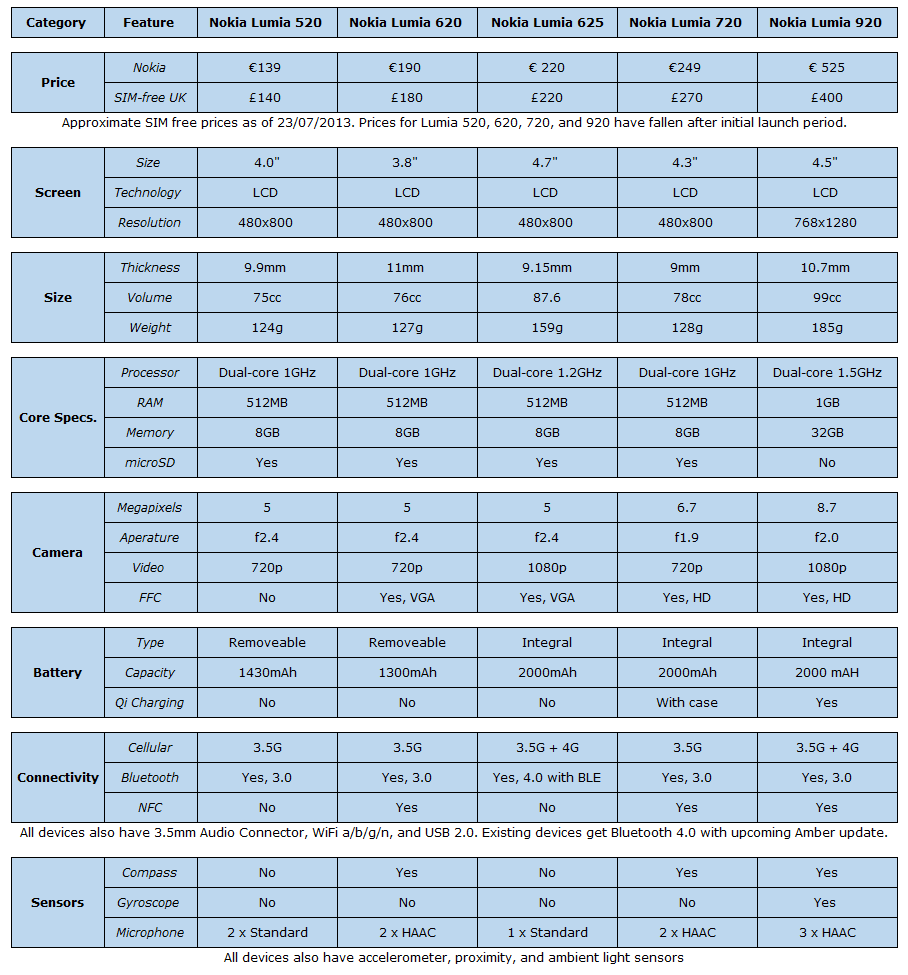 See also
I'm expecting a lot from the fashionable 4G Lumia 625
Nokia unveils Lumia 625 with 4.7 inch screen and LTE connectivity