The latest Lumia has a semi-transparent design, with changeable shells, similar in concept to the dual shot design first seen on the Lumia 620. The overall size of the device (133.25 x 72.25 x 9.15mm) reflects the 4.7 inch screen size, but is impressively slim for a mid-range handset. At 159g, the Lumia 625 is a relatively heavy handset mainly due to the use of IPS LCD technology in the screen.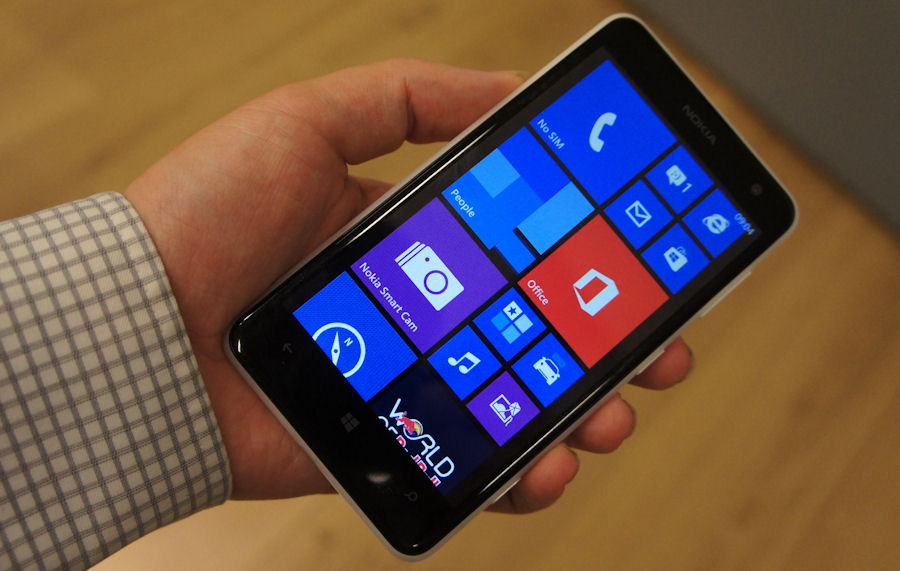 The Lumia 625 will cost £200 / €220 / $310 before taxes and subsidies and will start shipping in September. It will be available in the Asia Pacific, Middle-East, and Europe regions, and comes in five different colour variants (orange, bright green, yellow, white, and black).
The UK SIM-free launch price is likely to be around £240 (unsubsidised price, plus 20% VAT), but Nokia expects the device to drop to a sub £200 price on pre-pay for the autumn. This puts it at the upper end of the PAYG market, but will also mean it will be available free on almost any contract tier (e.g. £15 per month). By way of comparison, the Nokia Lumia 620 launch price was €190 and the Nokia Lumia 610 launch price was €189.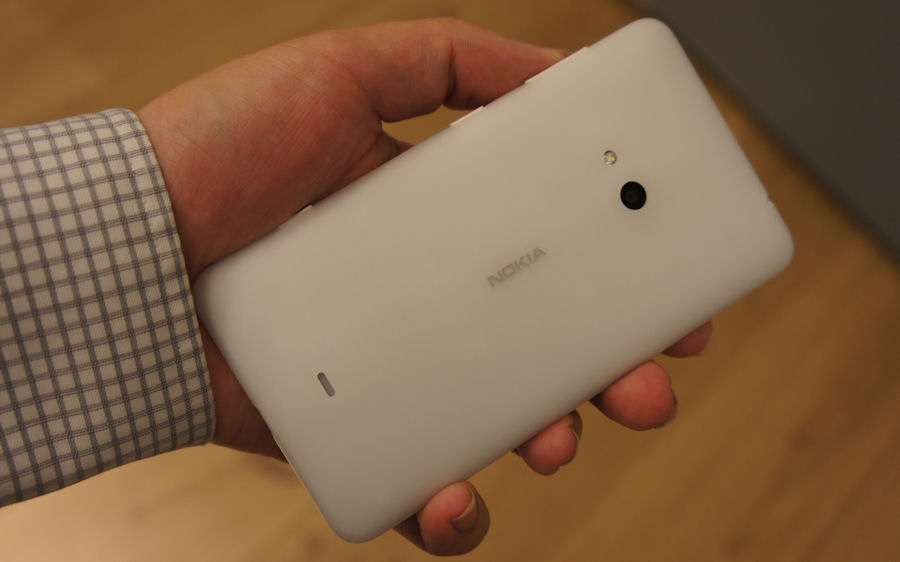 The design of the Lumia 625 is striking and, while it is clear that some corners have been cut in the material specifications, as you would expect in a mind tier device, it retains a sense of robustness and quality that makes it feel more like a more expensive device. Key to this is both the weight, which provides a sense of solidity and density, combined with the gentle curves that are used throughout the device, from the "pillowed" back to the curved edges on the protective Gorilla Glass over the display.
Nokia says that it has refined it uses of polycarbonate by further experimenting with layering to create the Lumia 625's semi-translucent back shells. The back shells, like the dual shot shells of the Lumia 620, are constructed of a "single piece of translucent polycarbonate, layered with an inner colour", which Nokia says is "designed to amplify and bring to life your final colour choice". The translucent element means that, in certain conditions, portions of the back shell almost seem to glow, a somewhat ethereal effect. All the colour variants, which are drawn from Nokia's core "pure colour range" (or mixes thereof), have a matte finish.
The orange and green colour variants are certainly the most eye catching and vibrant, but business users looking for something more conservative will likely prefer the black and white variants, with the yellow variant, somewhat surprisingly, being something of a half way house.
The shells are primarily cosmetic, wrapping around a solid device construct that hides away the integrated battery and other internal components, a contrast with some of the more open designs used in other Lumia products. The microSD card and and microSIM card slots are found towards the top of the the right-hand-side of the device block.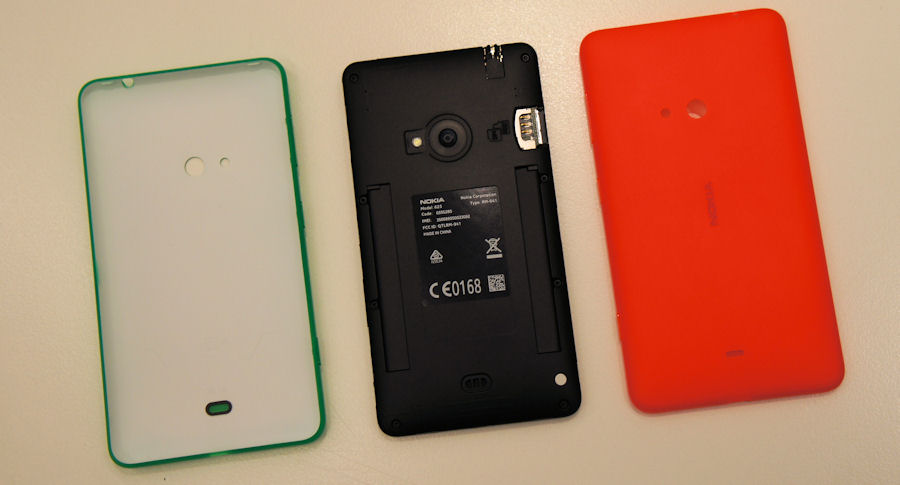 The other major talking point for the Lumia 625's design is the 4.7 inch screen. With a WVGA resolution (480x800) it's no surprise that it is possible to see individual pixels (201 pixels per inch), but that should be set against the price point and the sense that Windows Phone's Live Tile and related user interface items make the most of such screens. The quality of the IPS LCD screen is something of a mixed bag, with colours being somewhat muted, but viewing angles being decent, and most of the usual range of Nokia screen technologies (super sensitive touch, high brightness mode, sunlight readability enhancements) being included. Overall it's fair to say that the screen, while not a highlight, does hold its own against the displays found in similarly priced and specified competing devices.
As with Nokia's other mid-tier and low-end Windows Phone devices what stands out with the Lumia 625 is the sense of value for money. The software experience, complete with the usual HERE Suite and Nokia Music offerings, is very similar to that found in the more expensive high-end devices. What's more the Lumia 625 includes LTE (4G) connectivity, a first for one of Nokia's lower specification Windows Phone devices, and something that should strongly appeal to operators looking to push LTE's faster data speeds to as many of their customers as possible.

Key hardware features
133.25 x 72.25 x 9.15 mm, 159g in weight; monoblock touch form factor
LTE, HSDPA and GSM connectivity: LTE 800 (20)/ 1800 (3) / 2600 (7); WCDMA (900/2100 or 850/1900); GSM (850/900/1800/1900).
Processor: Dual-core 1.2GHz (Qualcomm Snapdragon S4 MSM8930) with 3D Graphics HW accelerator, RAM: 512MB
4.7" IPS LCD touchscreen; 480 x 800 pixels resolution; protected by 2.25D (curved) Gorilla Glass 2; support for Super Sensitive Touch, Lumia colour profile, and sunlight readability enhancements
5 megapixel auto-focus camera, with LED flash; front facing VGA camera
GPS, accelerometer, proximity and ambient light sensors (note no compass, as with the Lumia 520)
3.5mm audio out (AHJ + WP controls); HD Audio support; Dolby Headphone support; single microphone
2000mAh integrated battery (BP-4GWA)
WiFi: WLAN IEEE 802.11 a/b/g/n (2.4Ghz + 5GHz); Bluetooth 4.0; microUSB (USB 2.0) for PC connectivity and charging
8GB mass memory, plus microSD card slot (supports up to 64GB), and 7GB of SkyDrive cloud storage.
In box contents: Nokia Lumia 625 handset, Nokia Charger (AC-20), Nokia Stereo Headset (WH-108), Connectivity Cable (CA-190CD), Nokia Battery BP-4GWA, User Guide
Available in five colours: Orange, Bright Green, Yellow, White, Black
Key software features
Runs Windows Phone 8.0 with GDR2 and Lumia Amber updates
Nokia apps pre-installed include: HERE Maps, HERE Drive, HERE Transit, Nokia Music (select markets), Smart Camera (first time on a low end device; takes 7 shots rather than 10), and Cinemagraph
Additional Nokia apps available from Marketplace: Nokia Transport, Nokia Reading, and more...