Reflecting its source, the leak is focused around developer features and details, rather than consumer-facing features, but there are a number of tidbits hinting at new feature additions and UI changes.
The key reveal for developers is that the Windows Phone 8.1 SDK will support "Universal Apps" and that Windows Phone will continue the move to the Windows Runtime, enabling developers to more easily create shared code-base apps that run on both Windows Phone 8.1 and Windows 8.1.

It is worth noting that early versions of the SDK are typically incomplete and do not include all the elements that you might find in a consumer ready Windows Phone 8.1 device. This applies particularly to those features that have a online service layer, but may also apply to some built in apps and platform features. For example, it appears that the SDK does not currently include the updated voice control / personal assistance features ("Cortana") that are thought to be part of Windows Phone 8.1. There's also no mention of the Action Center that emerged as a leak this weekend.
Update: Further screenshots, also from the Windows Phone 8.1 SDK, have been posted by Twitter user @AngelWZR. We've integrated these into the story below (see update 1 section).
Update 2: Documentation associated with the SDK indicates that Windows Phone 8.1 will be available as a free update for all existing Windows Phone devices. Windows Phone 8.1 apps, because of new and updated APIs, will only run on devices running Windows Phone 8.1.

Consumer information (platform and user interface)
The thread on reddit includes various comments and screenshots posted by the leak originator (wpthroaway), many of which are revealing about the additions and changes consumers can expect to see in Windows Phone 8.1.
Major new features include battery power sense and storage sense, which like the existing data sense feature, are designed to make the platform more accessible and easier to use for less technical savvy users. Battery power sense enables users to see which apps are using battery power, making it easier to identify battery-draining apps. Similarly, storage sense will indicate how much space apps and files are using and will let users adjust storage related settings (i.e. an updated version of the current phone storage settings module).
It will also be possible to install apps on to an SD card, although app developers can opt to block this in their app manifest (for security reasons). This is particularly useful for devices with limited (8GB or less) internal storage.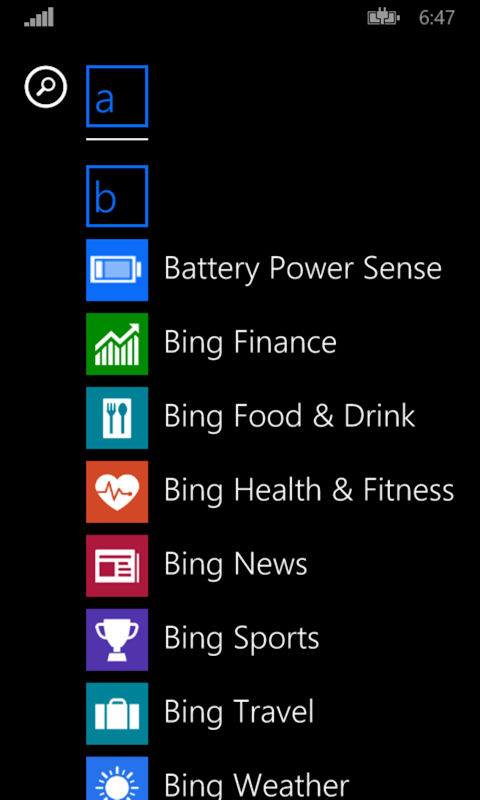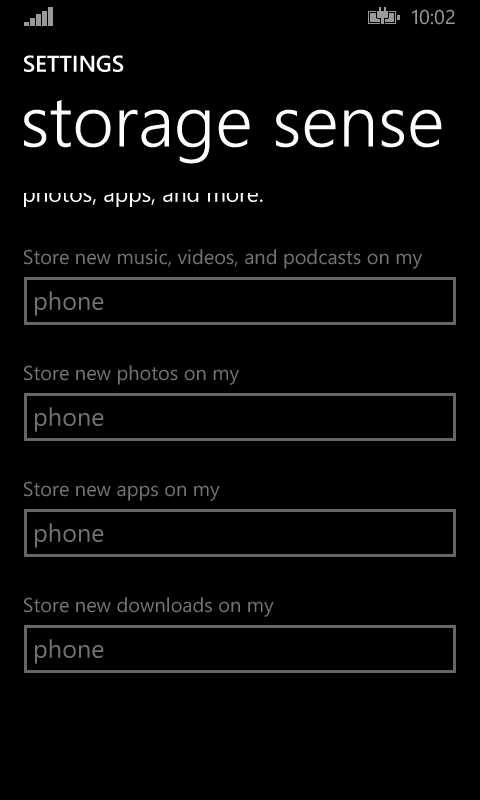 In the app switcher, a slide down gesture will close apps, complementing the existing close button. There are also changes to the way multi-tasking works, which is described as being similar to to way Windows RT works (e.g. press Windows button to go to Start screen, press it again to go to the last used app). There are also new background tasks (i.e. more ways for apps to multi-task in the background).
While there may only be one or two new accent colours, a minor UI customisation change is support for setting the navigation bar colour (assumed to be the on screen version of the standard capacitive /physical keys). It will be possible for this to be set to always dark (current behaviour), match background (transparent or semi-transparent), or to match the accent colour.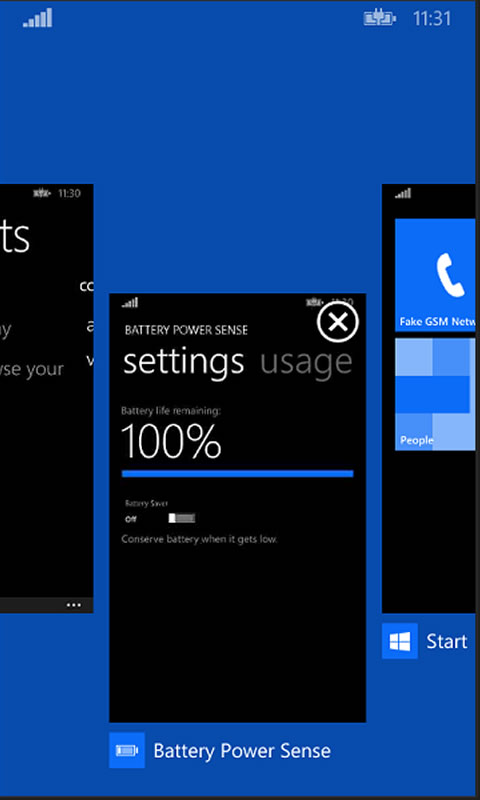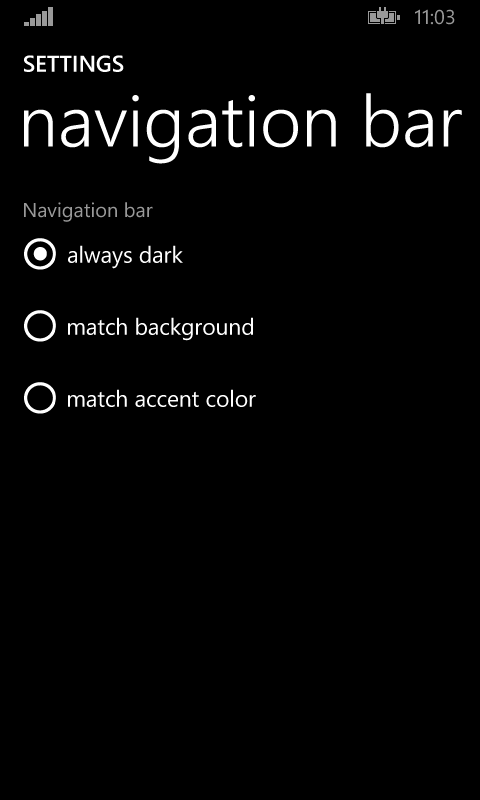 The SDK documentation makes reference to a "file picker", which suggests Windows Phone 8.1 will have better access to files and data. This is likely to take the form of a SkyDrive / OneDrive based file manager, similar to that found on Windows RT (i.e. access only to user data files and folders).
The built-in Camera app has been updated with a style reminiscent of Nokia's Camera app, making it easier to access lenses, to toggle flash settings, review recently captured photos, and switch between camera modes. Once Microsoft's acquisition of Nokia's Devices & Services business is complete we would not be surprised to see the Nokia app become the default app, so the new camera app may be something of an intermediate step.
Another new feature is support for VPN, including support for multiple profiles. It will be possible for 3rd party apps to extend the supported VPN controls.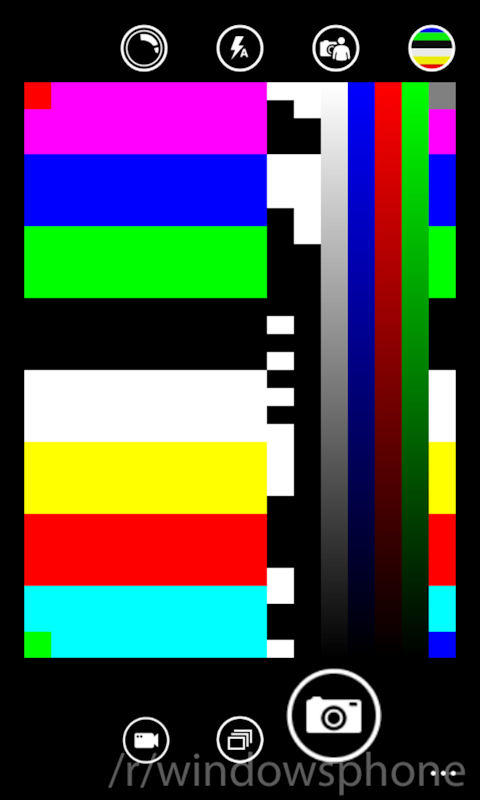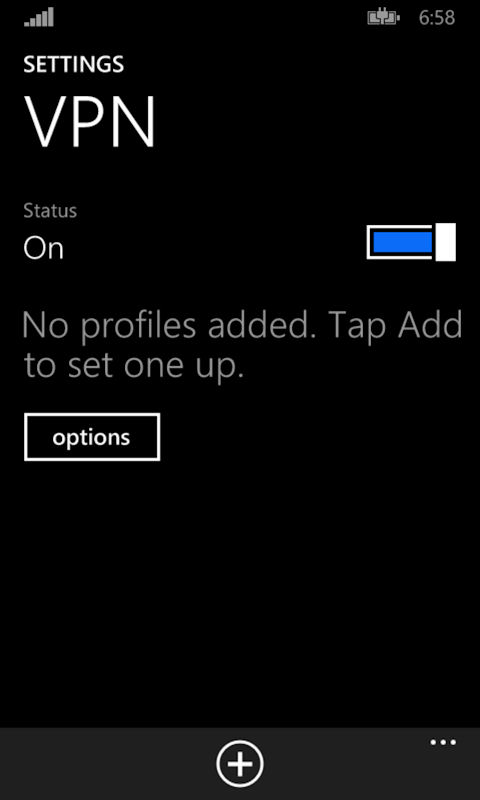 Many new settings, reflecting new and updated features, are included in Windows Phone 8.1 in both built in apps and the dedicated Settings app. A new USB settings module controls the behaviour of the phone when connecting a USB cable. This includes the ability to have the phone notify you if you connect to a slower charger, a reflection of the increasing availability of Quick Charge technology and the variance in USB charger output.
The settings for messaging now include the ability to specify which app handles incoming texts (i.e. similar to the current photos+videos setting that lets you specify the default camera app). It is likely that a similar setting will be added to some other apps and also indicates significant improvements in API access to key personal data (we expect to see better programming interfaces for messaging, contacts, and calendar).
The leak notes that the Facebook account option is no longer found in the Settings app, but this may reflect a log-in via Microsoft account and/or the moving of the setting into the Facebook app (the latest version of the Windows Phone Facebook app allows others apps to use Facebook as an identity provider).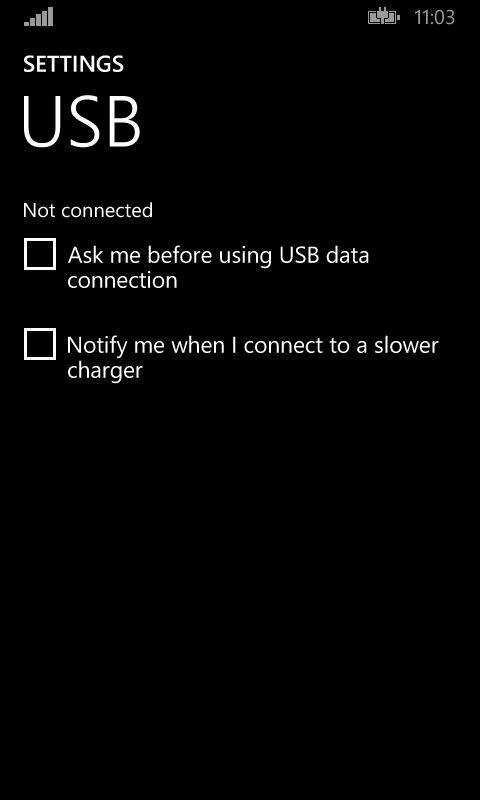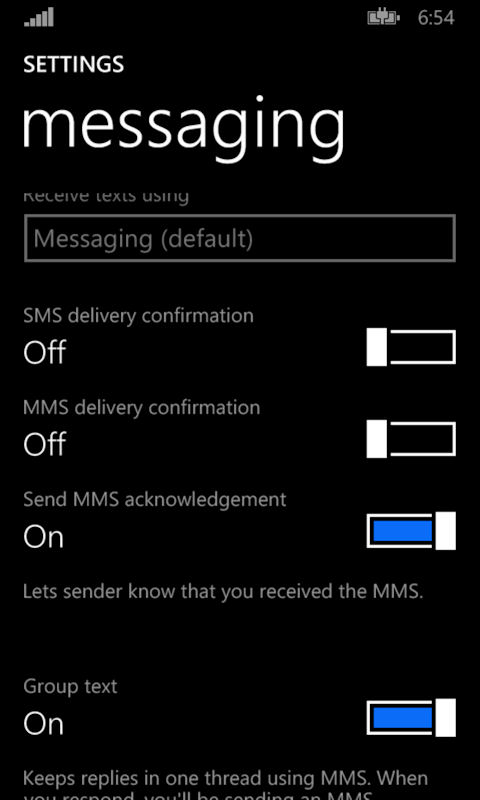 In line with the recent release of the Xbox Video and Xbox Music apps for Windows Phone 8.0, the music+video app is replaced by separate Xbox Video and Xbox Music apps. Similarly, SkyDrive becomes OneDrive, reflecting the upcoming name change to Microsoft's cloud storage service.
Internet Explorer is upgraded to a new version based on Internet Explorer 11. This gives an improved HTML 5 test score and includes WebGL support (i.e. faster more accurate rending of web pages). The leak also suggests there's a new YouTube player, but this appears to be Internet Explorer getting integrated support for HTML 5 video.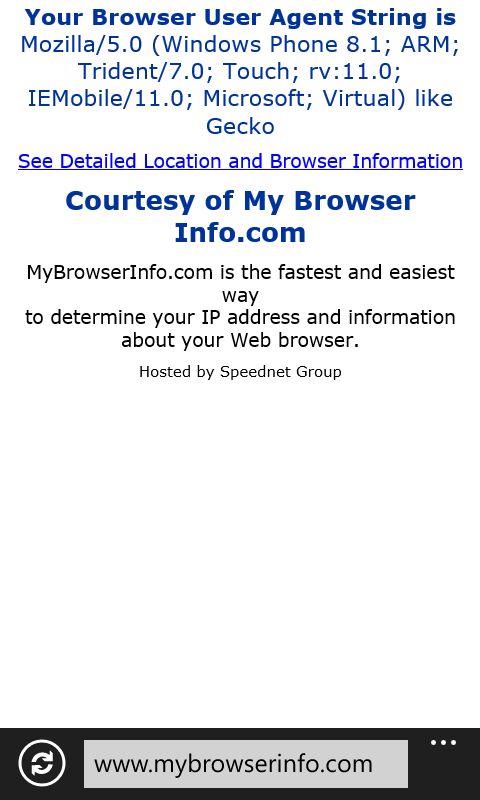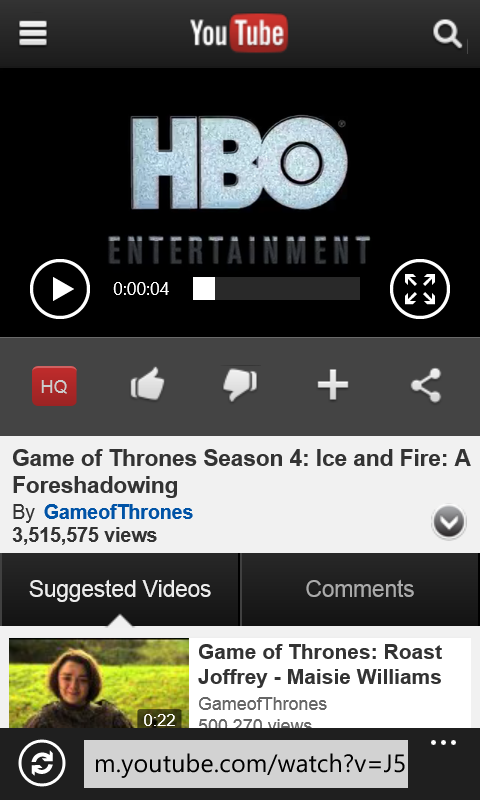 The list of new features here is not comprehensive, but rather what is included in this SDK-based leak. We've already talked about other features rumoured and/or thought to be part of Windows Phone 8.1, including separate volume controls, new Bluetooth features, a notification center, and more.
There are also a number of rumoured features that we have not been able to confirm, including settings for self updating apps (like Windows 8.1), a new larger Live Tile size (now looking unlikely), support for WiFi Direct and Miracast, improved Microsoft account sign-in for built-in and third party apps, deeper OneDrive integration (alluded to in the file picker above), and more.
No doubt others will emerge between now and the official launch of the platform. We would also expect Nokia and other manufacturers to be adding their own features as they have done for previous version of Windows Phone.

Update 1: Additional screenshots from Twitter user @AngelWZR have provided further details from the Windows Phone 8.1 SDK.
Windows Phone 8.1 will have two separate volume controls, one for "Ringer + Notifications" and one for "Media + Apps". The volume controls shown when you use the physical volume keys (on the side of the device) are context sensitive. For example, in the Xbox Video app the "Media + Apps" control will be shown. In some cases (e.g. Start screen) both set of controls will be shown and in this case it will also be possible to switch silent mode on or off and access the full sound controls.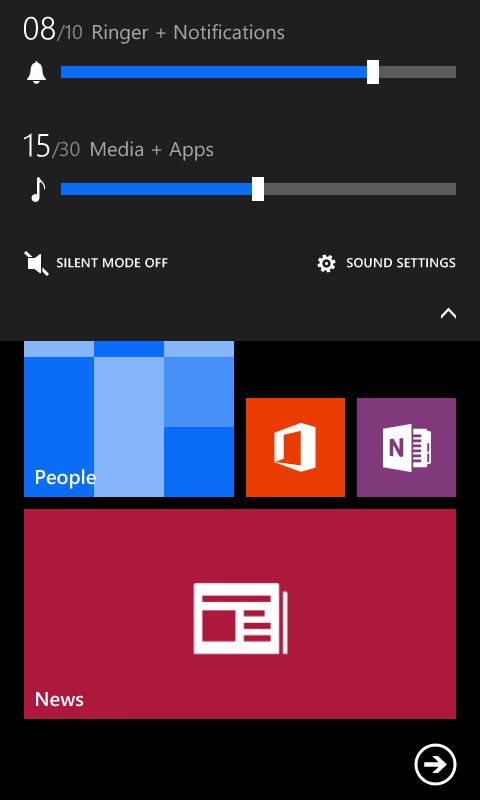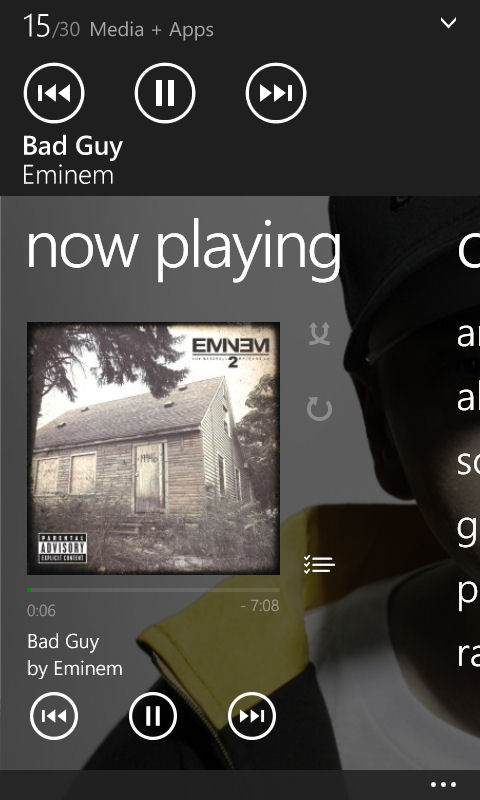 A new project my screen settings module allows you to control and set up the screen projection / external viewing. Some Windows Phone 8.1. devices (hardware dependent) will have support for wireless external display (likely through WiFi Direct based technologies). It also appears devices can connect to external displays / screen via a USB connection.
The built in Calendar app gets a new week view. This pivot based view shows seven days of appointments / events, plus a mini month calendar. It also appears that Calendar will get integrated weather information as shown by the inclusion of temperature information in the week view screenshot.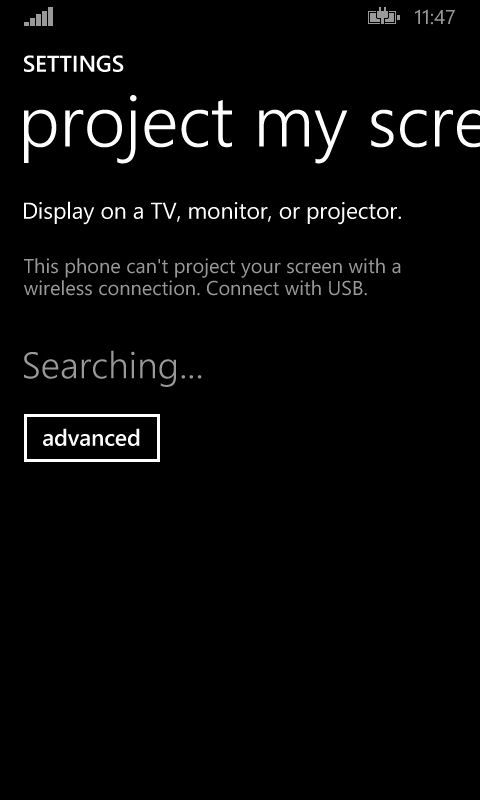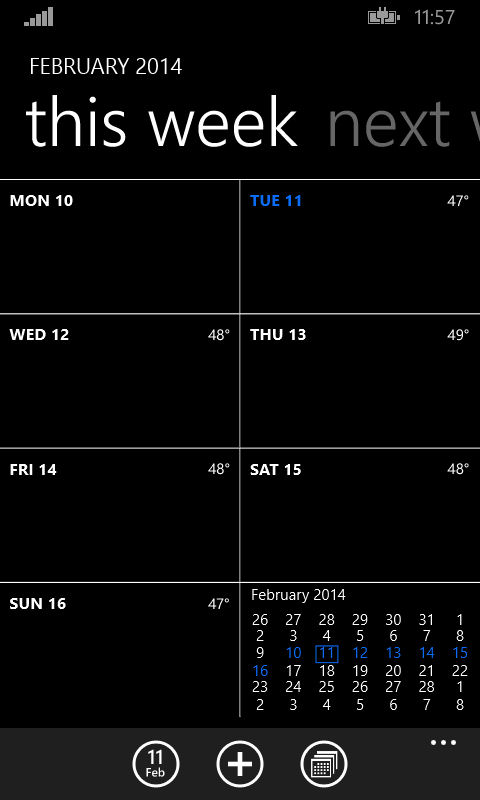 The ringtones + sounds settings module is updated to add an option to turn vibrate while ringing on or off. Currently, Windows Phone devices will only vibrate when in silent mode.
A new advertising id setting allows users to control the information shared by apps with advertisers (i.e. tracking information so that advertisers can track interests / behaviour over time). This is generally used to make in-app advertising more relevant, but understandably many people prefer to have control over this.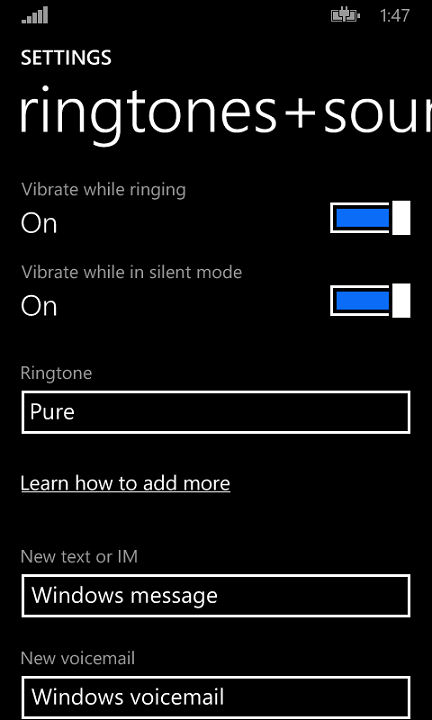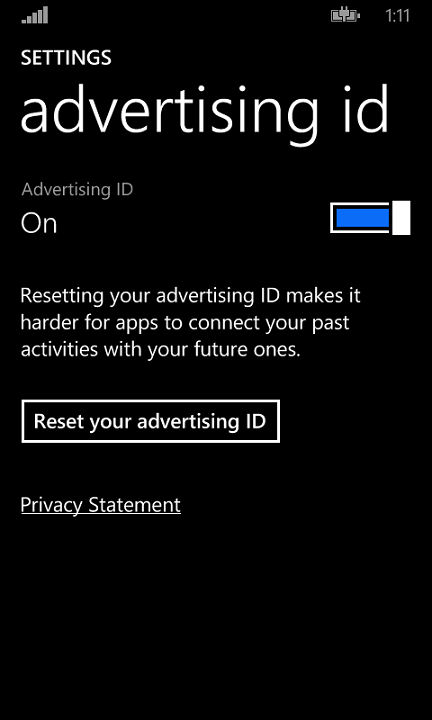 An updated location settings module adds a setting to control whether the location status icon is shown or hidden. It also shows that Windows Phone 8.1 will have support for background geofencing. This is a new background task that will notify / wake up an app when your phone enters into a predefined area (e.g. arrive at a transit station).
The language+region settings have been updated and separated. The language settings now give access to keyboard, region and speech settings.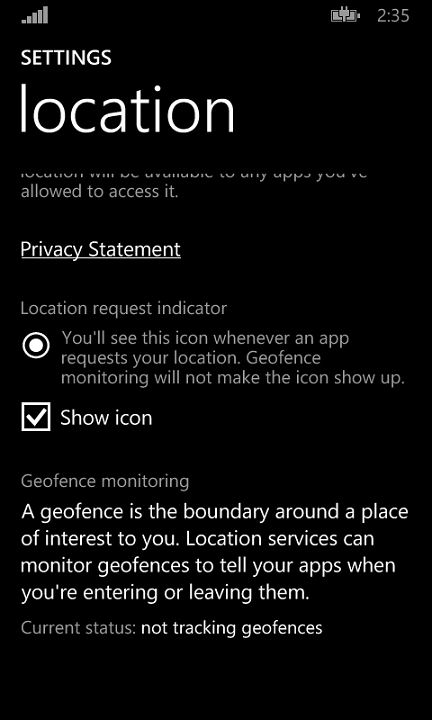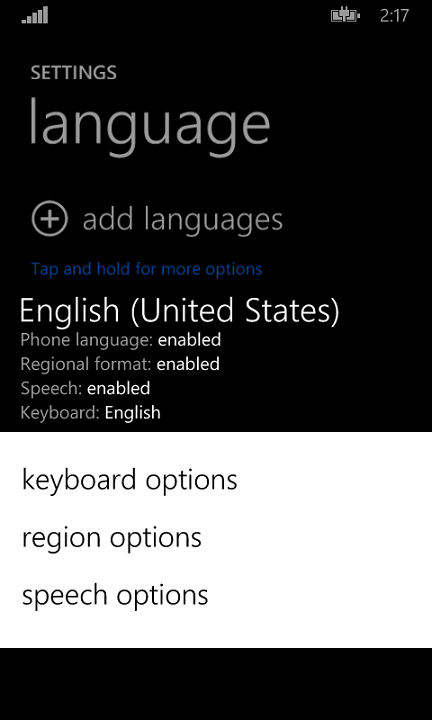 The photos+video app in Windows Phone 8.1 uses a pivot view rather than the panorama view used in Windows Phone 8.0. In addition, online albums (e.g. Facebook and SkyDrive) are removed from the app. In their place is a list of tiles, headed online, linking out to other apps. A new setting for the app also lets you control which photos are shown on the Photos Live Tile on the start screen (all photos, favourite photos, or single photo) .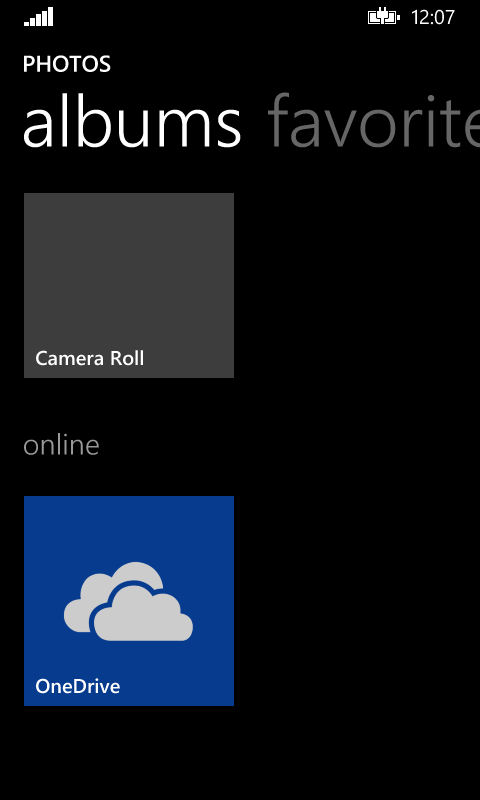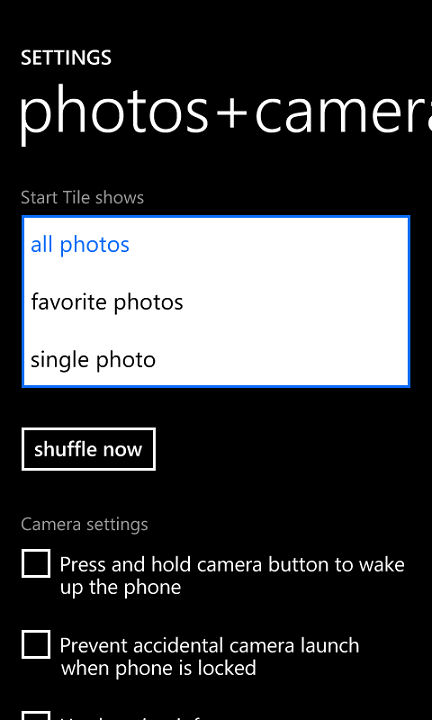 A new podcasts app allows for the download or streaming of podcasts. New podcasts can be found by searching via Bing or entering a podcast feed URL. The app's settings allow you to specify when podcasts can be download (only on WiFi / unlimited data plan) and whether to allow streaming.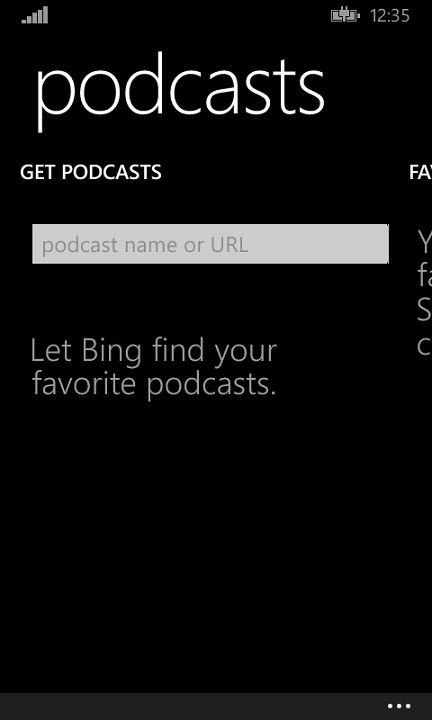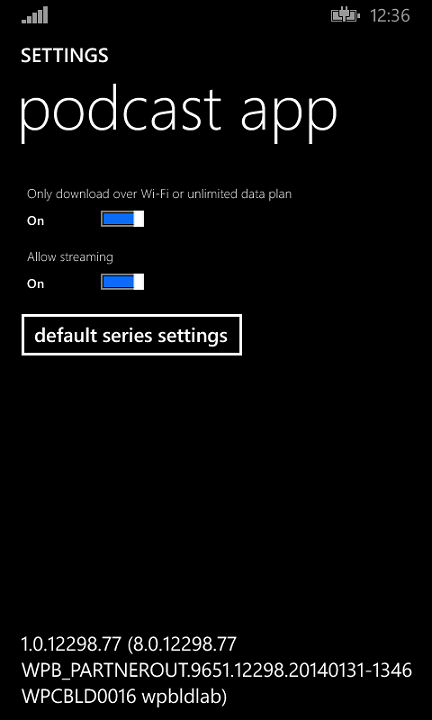 There are a variety of changes to the sharing framework in Windows Phone 8.1. It will no longer be possible to share to native (built in) social networking, but app based social networking is supported. Facebook will be pre-installed, but users will need to install Twitter, LinkedIn, and Weibo apps should they wish to use those networks. As a result of the move to an app-based sharing model it will not be possible to broadcast share from the Me Tile (share to multiple social networks at the same time).
Windows Phone's NFC functionality will also be getting an update with regard to NFC payments. Settings allow for this to be turned on or off and also control when NFC payment is available (while phone is locked, while screen is on, anytime). This is important for usability as it allows for contactless payment without having to do anything on your phone (i.e. unlocking, or special app). In order for this to work it will require a SIM enabled for NFC (secure element / payment).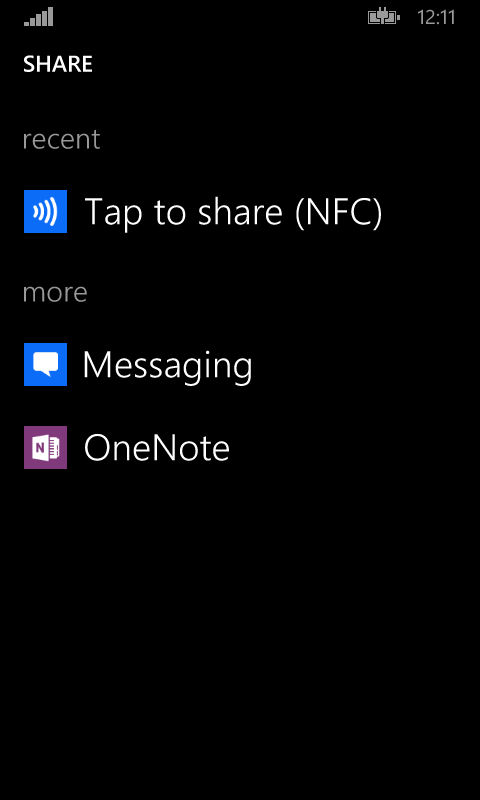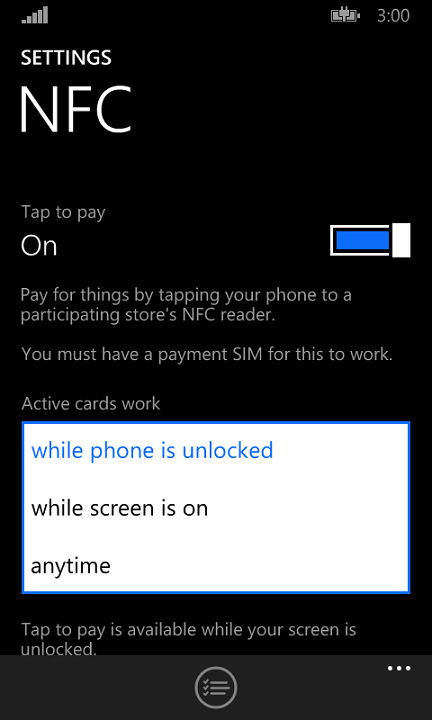 Below are a pair of screenshots showing the new optional navigation bar, which allows on screen versions of the standard physical capacitive keys. The navigation bar colour can be customised (see above). It can also be hidden by swiping downwards (as shown by the downward arrow on the left hand side).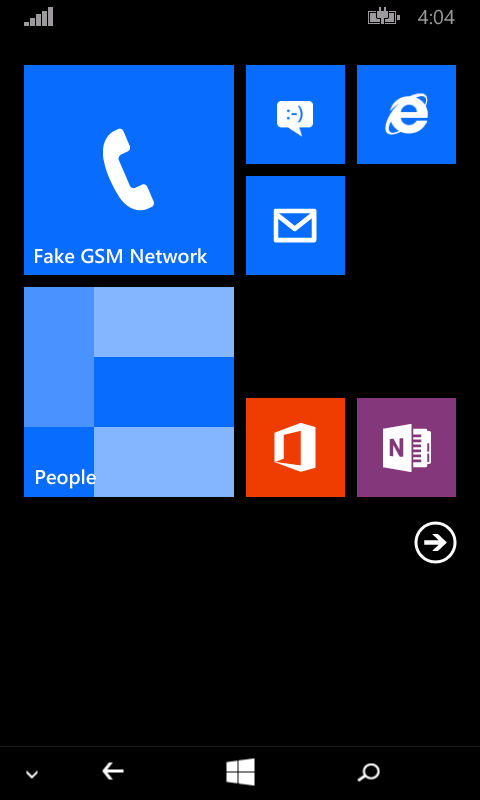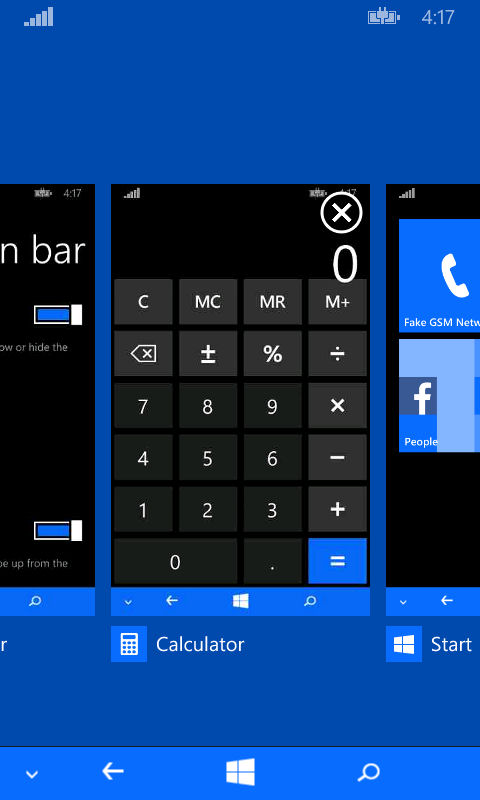 Developers will also have an option to disable single press activation of the search (Bing) key in full screen apps. Instead users will be required to double tap the search button. The intention here is to avoid accidental activation. Full screen mode is automatically activated for photo viewer, video viewer, capturing a photo or video, and any app in the games category.
As before, these features are at least theoretically unconfirmed and subject to change until the official launch of Windows Phone 8.1.

Developer information (SDK and development)
The leak makes a number of references to Universal apps, with the first making it clear it includes an option to code apps using web technologies, though it reported, as would be expected, that XAML / C# can also be used.
universal apps is a template to build both WinStore and WinPhone apps from the same solution sharing code more easily (HTML/JScript)".
Windows Phone 8.0 already includes limited support for HTML/JavaScript based apps, but it appears that Windows Phone 8.1 will be giving this option added emphasis within Microsoft's own developer tools. It is likely that a web technology-based app will get closest to having a universal code base for Windows Phone / Windows RT apps.

A second reference describes universal apps as creating both Windows Phone and Windows RT projects (i.e. shared code base, but not universal code base) :
WP and WinRT are categorized now under Store Apps in Visual Studio. So you can see how MS is trying to merge them. Main templates are universal apps that create both WP8 and WinRT projects. Expecting to see more WinRT apps from now on as they're making it very easy and kind of influencing me to do so, considering the solo templates are at the bottom of the list.
The concept of Universal Apps is a clear indication of Microsoft's intent to move its Windows Phone and Windows RT operating systems closer together, but it is important to emphasise that, from a deeper technical perspective, the two platforms are still a long way from merging together into a single platform. Rather, it is more accurate to describe the two platforms as sharing a greater number of common elements.

While the leak is not entirely clear, it appears that Windows Phone 8.1 will effectively complete the work started in Windows Phone 8.0 to move to the Windows Runtime. It's noted that UI controls have moved to the Windows.UI.* name space. A quote from the Microsoft documentation also makes this clear:
WP8 (code-named "Apollo") has a UI framework based on Silverlight 4.0. You program against the OS via a version of the .NET Framework and a small subset of Windows Runtime.

Windows Runtime XAML (on Windows Phone code-named "Blue") apps are Windows Runtime apps. Windows Runtime is the same platform used to build Windows Store apps for Windows 8 and Windows 8.1. Windows Runtime's UI framework (code-named "Jupiter") is common between Windows Store and Windows Phone (code-named "Blue"). So you'll also be able to share XAML markup – typically data templates, control templates, and resource dictionaries, but sometimes entire pages.
This effectively means that Windows Phone 8.1 and Windows Store (Windows 8) apps can be expected to share a greater amount of code, significantly reducing the amount of work require to create apps for the two platforms.
This commonality is also reflected in Microsoft's intent to package Windows Phone 8.1 apps using the same APPX format used in Windows Store (Windows 8) apps, rather than the previous XAP format. Other examples of this reported in the leak include the use of the Windows RT style progress ring, back button behaviour similar to Windows RT, and changes to names of some programming interfaces (e.g.MessageBox to MessageDialog).

Other information of interest to developers includes a new hub template (shown in the screenshot above), the inclusion of built in support for many features (e.g. transitions, tilt) that previously required an add-in toolkit, the addition of GridView and ListView to Windows Phone, use of Windows RT like xaml name space (e.g. "xmlns:ContosoTrading="using:ContosoTrading"), new background APIs, new media APIs, file picker API, and more.

Note and official introduction
Some of the initial leaks have been removed from the reddit thread by the original poster, though many are repeated and/or copied in the comment thread.
All of these features must be considered unconfirmed at this time and there may be some mistakes or assumptions in the leak (and our own write up). Nonetheless, it does paint a tantalising picture of Windows Phone 8.1 as a major upgrade to Microsoft's mobile platform.
The official unveiling of Windows Phone 8.1 is expected to happen at Microsoft's Build 2014 conference on April 2nd.