Based on comments by our own sources the screenshots are genuine and reflect the final form of the "Action Center", which has been through a number of design iterations during the development process.

Action Center is accessed by swiping down from the top of the screen, similar to to way hidden status icons are accessed in the current version of Windows Phone. A short downwards swipe reveals four quick access settings panels (first screenshot), while a longer downwards swipe (or second swipe) reveals the full Action Center panel (second screenshot). In both instance additional battery (percentage level), time (date), and network (operator) information is also shown.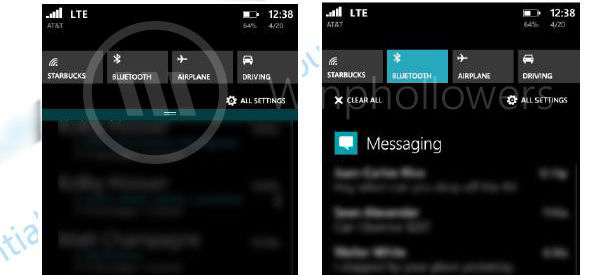 The four quick access settings panels act as a way of both displaying status information (e.g. current WiFi network name) and shortcuts to change the applicable settings. In the screenshots there are panels for WiFi, Bluetooth, Airline Mode, and Driving Mode, but it is understood that the panels are customisable and other system setting options will also be available (e.g. NFC). Also visible in the screenshot is a shortcut to "All Settings".
The full Action Center acts a single point of entry for viewing and managing missed or unseen notifications. This will include, but is not limited, to toast notifications (i.e. those that appear at the top of the screen and then disappear). Thanks to an updated set of notification related APIs apps will have the ability update and delete existing notifications (e.g. a messaging app might update the number of unread direct messages, or delete a notification if messages are read on another device. Apps will also have the ability to silently add notifications (i.e. add a notification, but not show an associated toast notification), effectively allowing for a lower priority notification (e.g. used for less urgent messages, such as indication of a new follower on a social network).
Users will also have a fine level of control over notifications and the Action Center. Aside from the aforementioned ability to customise the quick access settings panels, users will be able to specify whether (toast) notifications are shown above the lockscreen, and will be able to turn notification or and off for individual apps.
It's worth noting that turning notification on or off does not impact the behaviour on an app's Live Tile. That means Windows Phone 8.1 will, in a sense, have two levels / methods of user notification. Those that prefer Live Tiles can continue to use them as in the current version of Windows Phone, while those that prefer the list / event notification model (as used on Android and iOS) will also be served. In practise, we would expect most users to mix and match the two according to their preferences and usage behaviour.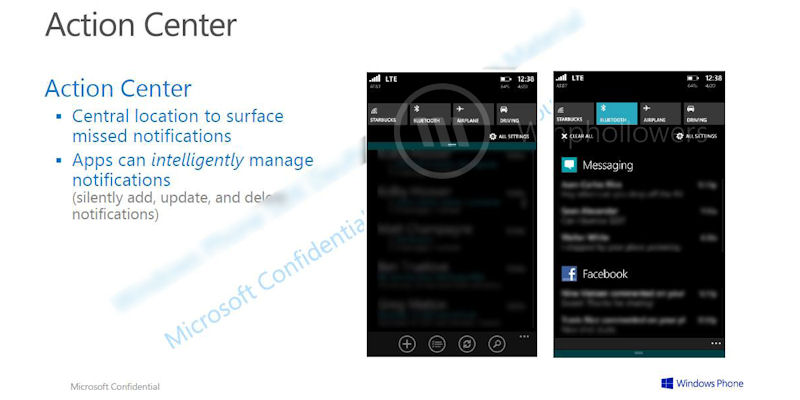 The leak of the image / document above is described by Winphollowers as having come via an internal Microsoft email that was sent to the entire Windows Phone team. This may well be the first of many leaks as Microsoft prepares to launch Windows Phone 8.1 at the beginning of April.