There are also many smaller features described by Microsoft as designed to "delight" consumers and ensuring that Windows Phone remains "the word's most personal smartphone". Notable features include an updated 'Word Flow' Keyboard with support for glide/swype typing, the introduction of Storage Sense and WiFi sense to help users manage memory usage and WiFi connectivity respectively, improved Skype integration, and updates to many of Windows Phone's core Hub experiences (People, Photos, Music, Wallet).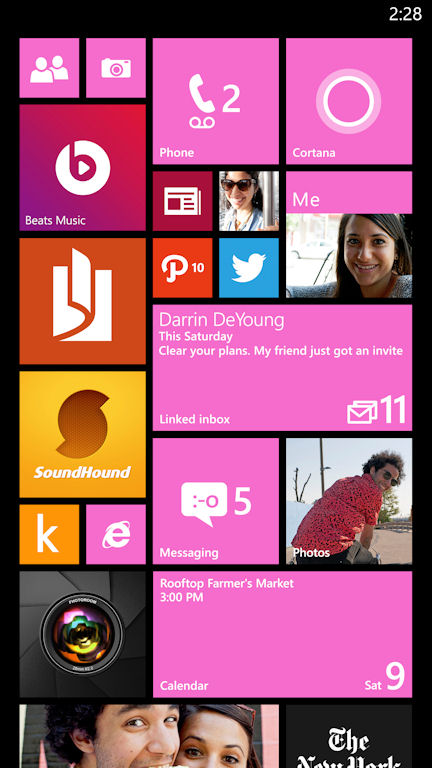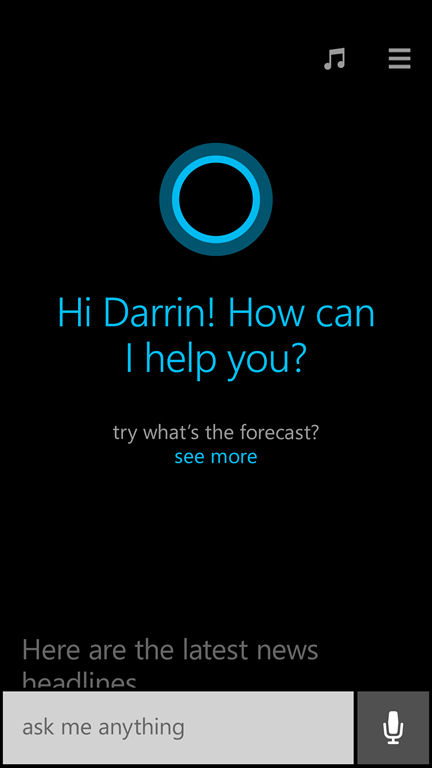 For enterprise users, key improvements include the introduction of VPN support, deeper enterprise MDM functionality (enrollment, content management, app management), improved certificate support, enterprise (EAP-TLS) WiFi support, andsupport for encrypted signed email (S/MIME).
On the developer side, there are a large number of new and updated APIs that will enable a whole range of new app experiences and provide new revenue generation opportunities. Some of the highlights include Bluetooth LE APIs (interact with wearables), geofencing APIs (location triggered alerts), new multi-tasking and background task enablers, improved Live Tile functionality, notifications APIs, user data and file APIs (app to app sharing, accessing PIM data, backup and more), and many more.
Windows Phone 8.1, in terms of new and updated features, is by far the biggest update that Microsoft has delivered since it launched the Windows Phone platform, touching on nearly all areas and giving Microsoft a mobile experience that can compete strongly with iOS and Android. This 15 minute video offers a run through, from Microsoft's Joel Belfiore, of Windows Phone 8.1. It also touches on the Windows 8.1 Update, which was also announced at Build 2014.
Cortana
Cortana, Windows Phone's new person digital assistant that replaces and extends the previous Bing search functionality, is, perhaps, the single most interesting entirely new feature in Windows Phone 8.1. Powered by Bing, it provides a blend of evolved search and task functionality (voice input and commands, natural language recognition, and conversational queries) with smart monitoring and detection of information from both the web (news, alerts) and your personal data (email, calendar, apps), to deliver a personalised assistance and information retrieval experience.
Cortana can be accessed from either a Live Tile on the Start screen or via the search button found on every Windows Phone device. This home screen of Cortana will let you speak or type queries as well as displaying information that has been personally curated for you. This will include items like weather alerts, traffic information, flight tracking, and more.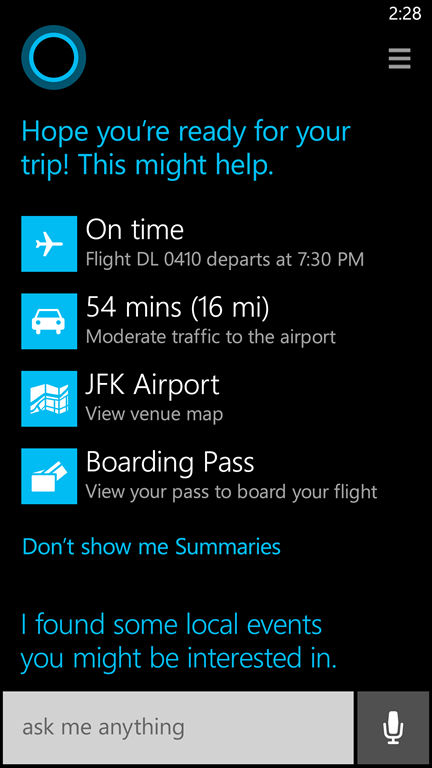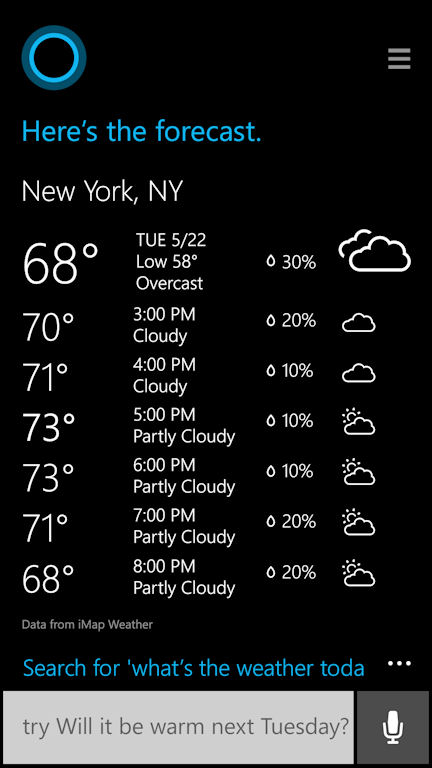 Cortana learns about you by asking questions and monitoring your behaviour and activity. As a result, the feature becomes "smarter" and more personalised over time. The personal data that enables this learned behaviour is stored in Cortana's notebook. This lets you both see and control (and remove if necessary) the data Cortana is using to deliever personalised results and content.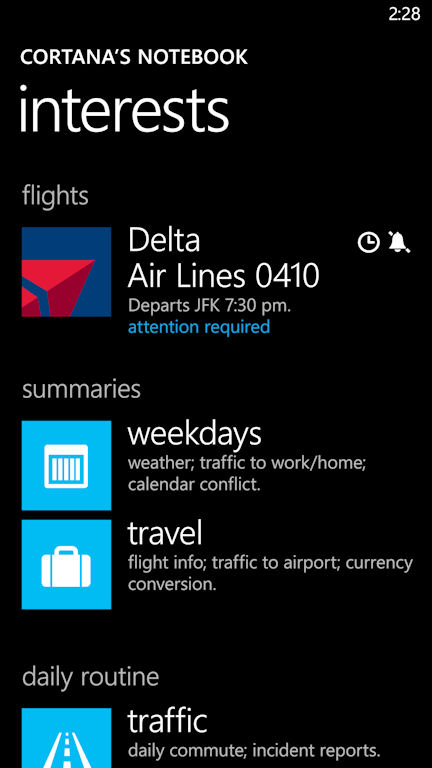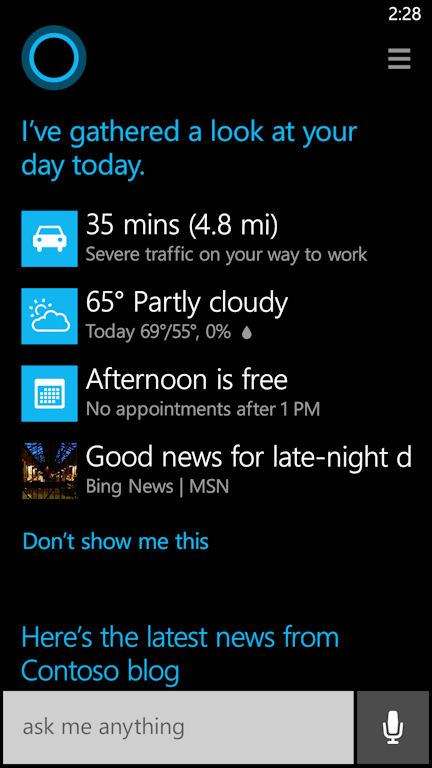 However, due to the need for creating data and language sets on the back end, Cortana will initially launch first as a beta, only available in the US. A full launch in the US, UK, and China will follow in the second half of 2014, with other countries following in 2015. The limited geographic availability of Cortana will inevitably frustrate some users, though the evolved search functionality may be available at an earlier date.

Start screen and lock screen
In Windows Phone 8.1, the signature Start screen is updated to provide support for custom backgrounds. This is achieved by making Live Tiles transparent, thus allowing you to personalise the Start screen with your favourite photo or image. Live Tile functionality has also been updated, with new experiences and options for reduced update times.
The Lock screen is now much more customisable, with a range of "Lock Screen Themes" that allow for a range of different visuals and animations. The new functionality is also fully open to third party developers. One of the themes demoed during the Build keynote show a Lock screen with the text and notifications icons arranged diagonally on the screen.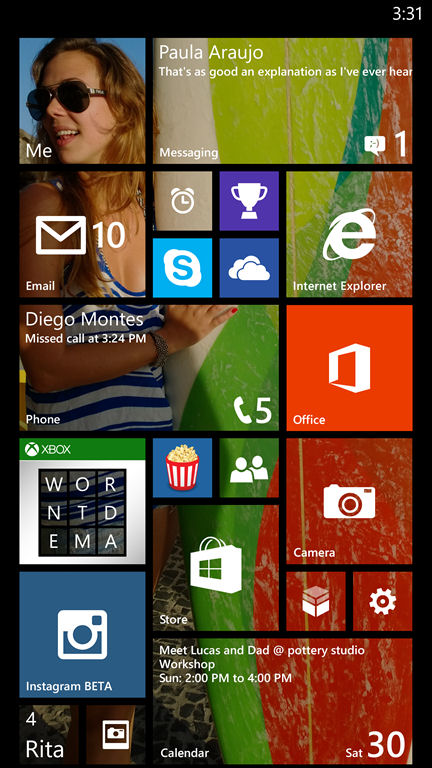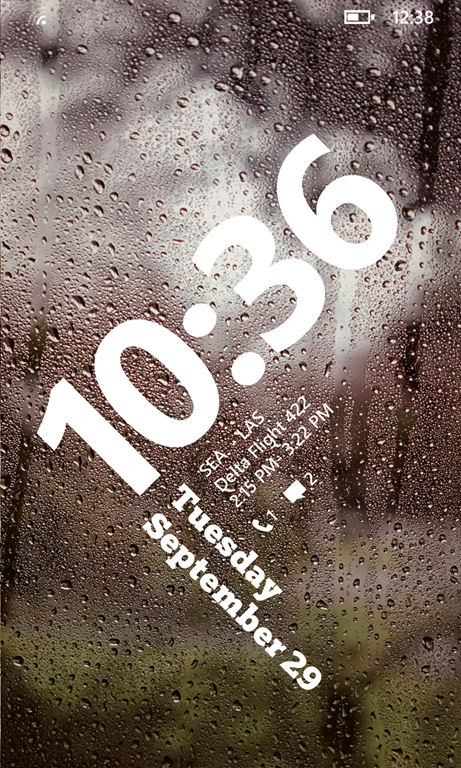 Action Centre (notifications)
Another major new feature in Windows Phone 8.1 is the Action Centre, which provides a fast way to view notifications and toggle key system settings from any app by swiping down from the top of the screen. This represents a major addition to the way Windows Phone provides glanceable access to incoming alerts and notifications and is designed to complement the existing Live Tile system.
Notifications are grouped by apps and can be updated, modified, or deleted by the originating app, thus allowing for a much more sophisticated notification experience than Windows Phone's previous disappearing toast notifications. The addition of Action Centre also addresses one of the major complaints of iOS and Android users looking to switch to Microsoft's platform.
From a technical and programming viewpoint, Windows Phone now has a converged notification platform and development model with Windows 8, which is more sophisticated than earlier versions of Windows Phone and should result in richer notification experiences. For example, there's support for notifications that only appear in Action Centre.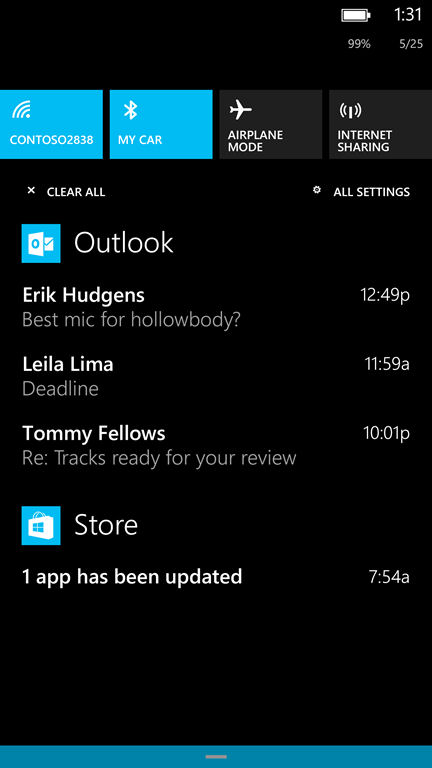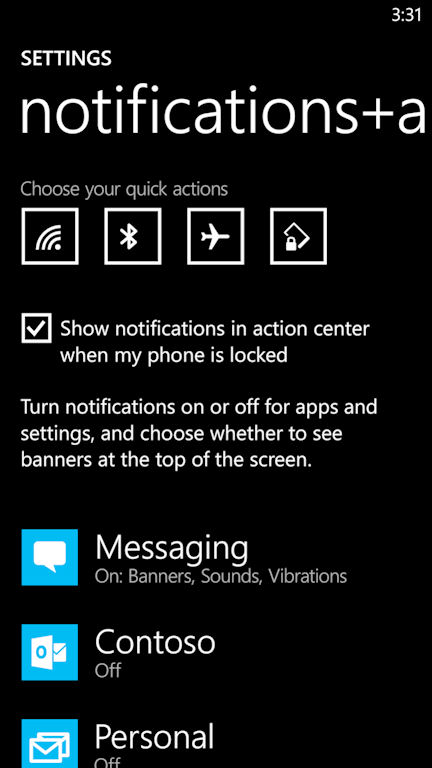 New and update Sense settings
Windows Phone's user hand-holding settings features, such as Data Sense and Battery Saver, have been extended in the new release. Data Sense will now attempt to more aggressively offload data to WiFi and limit cellular usage as you approach your defined data limit. A new "high savings" mode offers the option to up the compression on images as you browse the web, making your data limit go further.
The new WiFi Sense feature brings more intelligence to the platform's WiFi usage. Where possible, it will automatically log you into a WiFi network automatically. It will also let you share your WiFi password with your friends automatically (no more hassling them for the password to their home WiFi, and vice-versa).
Also new is Storage Sense, which aims to help you get the most of the memory and storage on your device. On devices with a microSD card slot, it can be used to move content between built in and memory card storage. Although not mentioned directly, the demo shown in the Build keynote suggests that apps can now be stored on an SD card, an important change from earlier versions of Windows Phone.
Battery Saver has also been updated and will now show a clear breakdown of how apps are using your device's battery, allowing you to identify battery hungry apps.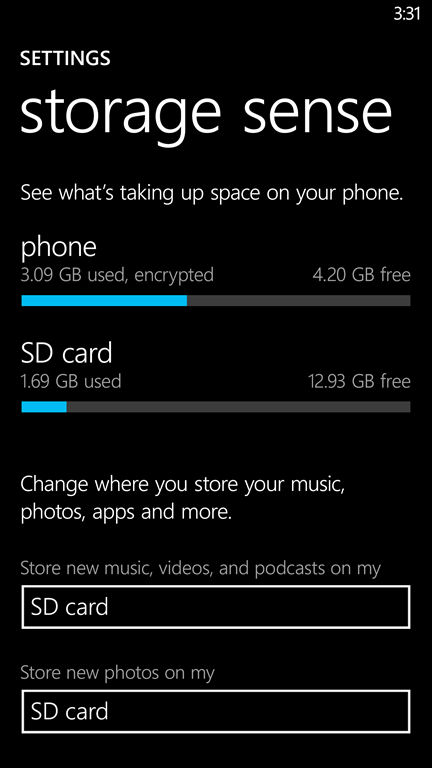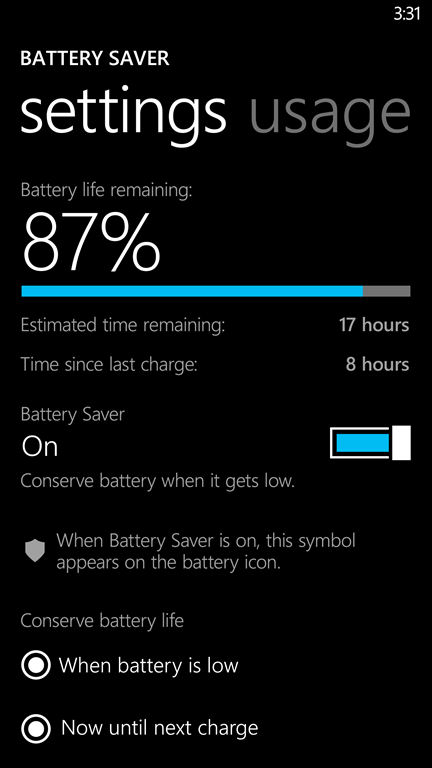 Updates to core Hub experiences
The Windows Phone 8.1 update also includes a refresh for many of the core Hub features of the platform. For example, the People Hub now uses "higher fidelity" feeds (large photos) and connects directly to third party social networking apps (rather than integrating a more limited set of features). Email gets support for S/MIME email and there's broader service support, including Apple's iCloud.
The Photos Hub has also been updated, with a greater emphasis on the latest images (jumps straight to thumbnail list, rather than list of albums). As with the People Hub, online photo albums are now supported by app-extensibility (integration with official apps), rather than being integrated into the Microsoft app. The default Camera app is also updated, with support for burst mode and a reworked user interface.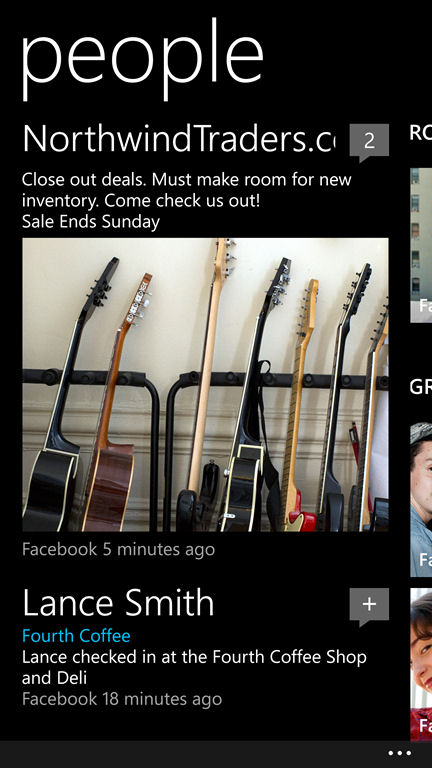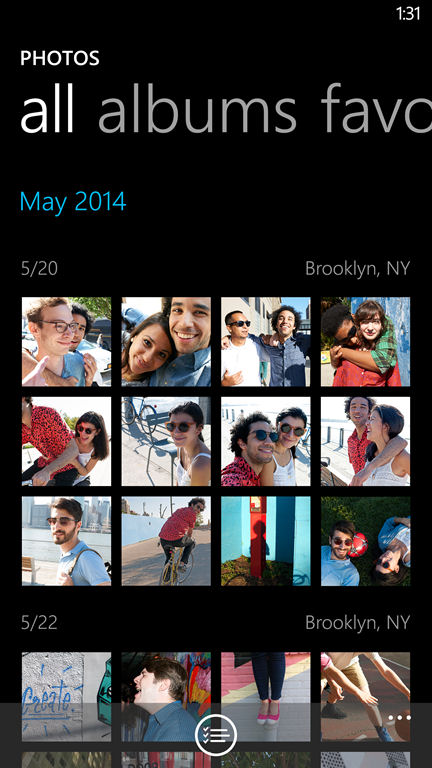 The Music and Video Hub receives the biggest update. Xbox Music and Xbox Video are now split out into separate apps and will be updated via the Windows Phone Store (i.e. independent of platform updates). A new Podcast app lets you subscribe to any RSS feed and provides a Bing-powered podcast search for every country where Windows Phone is available (previously US only).
Also notable here is that Windows Phone's volume controls have been improved, with separate sliders for ringer / notification and apps / media, addressing another long standing complaint of users switching from other platforms.

Updated Calendar app, Skype integration and "deeper" API access
Windows Phone's Calendar app has also been updated, with support for a new week view and a design that now looks a lot more like Outlook. The app is also a good example of some of the technical changes in Windows Phone 8.1, having been rebuilt from the ground up using the Windows Runtime APIs. The significance of this is that the same API set is available to third party developers, which means they too can create fully featured calendar apps, something that was not really possible with earlier versions of Windows Phone.
In a similar vein, there are now APIs to allow for editing and managing video and images, part of a wider pattern of "deeper" API access. Another instance of this is deeper integration of Skype into the standard calling screen, enabling consumers to "pass" a cellular call over to Skype (e.g. if you want to do video). Microsoft specifically highlighted this as being a feature that also would be available to operator RCS services (and presumably third party VoIP services too).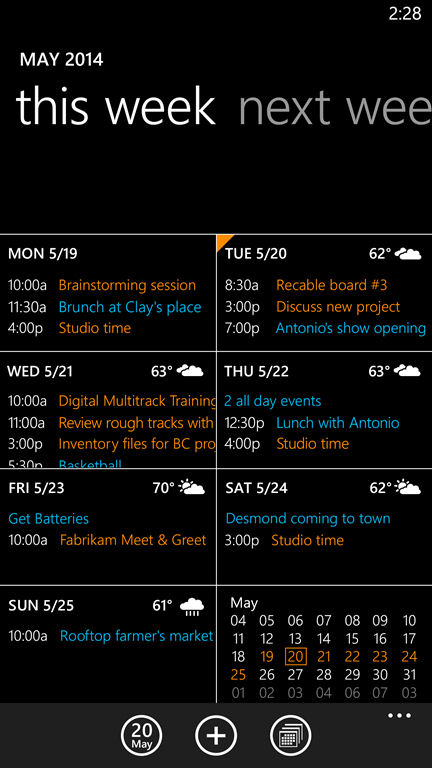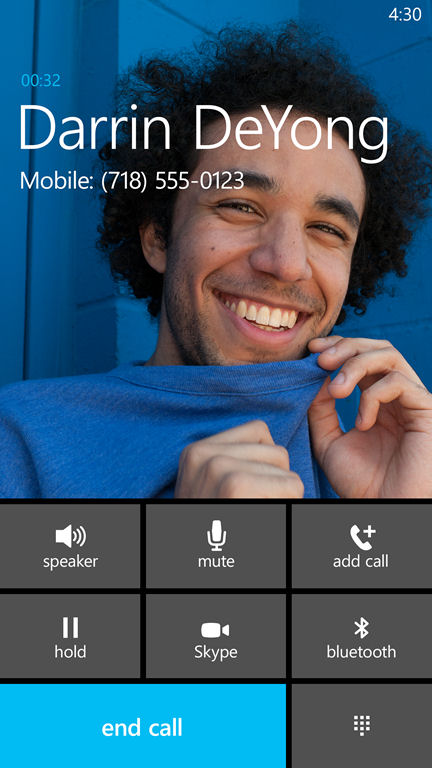 ...and more
The Build keynote only briefly touched on some of the new and updated features in Windows Phone 8.1. We expect additional features and clarifications to emerge in the next few days as some of Build's technical sessions take place and we get a chance to digest and examine in more details the announcement made today.

Availability
Windows Phone 8.1 will start shipping on new devices at the end of April / early May (Lumia 630). Updates for all existing Windows Phone 8.0 devices will following in the "coming months". A Developer Preview Program will allow interested parties to install the update "in the first part of April", ahead of general consumer availability.