The Xbox Video service enables the rental and/or purchase of movie (film) and TV content. In common with the Windows 8 version of the app, the Windows Phone app allows for both the streaming and downloading of purchased content. Purchased content is stored in the cloud and can be accessed and viewed from any compatible device connected to your Microsoft account (Windows 8, Windows Phone 8, Xbox One, and XboxVideo.com).
The Xbox Video content catalogue varies from country to country. In general, movie content, release dates permitting, is universally available, but TV content is more country specific. Microsoft has made arrangements for local content in each country (e.g. plenty of BBC and Channel 4 content in the UK), but the depth of the catalogue does vary. In the US and the UK, the latest TV content is often available the day after it is airs on broadcast TV (e.g. the latest series of Homeland).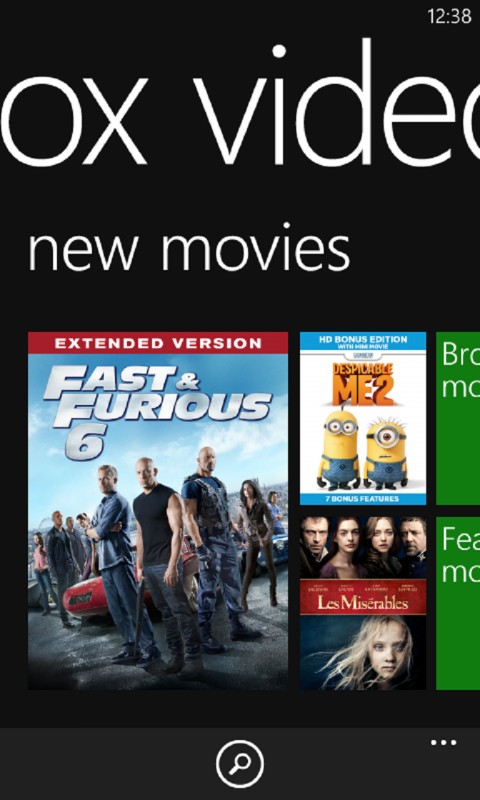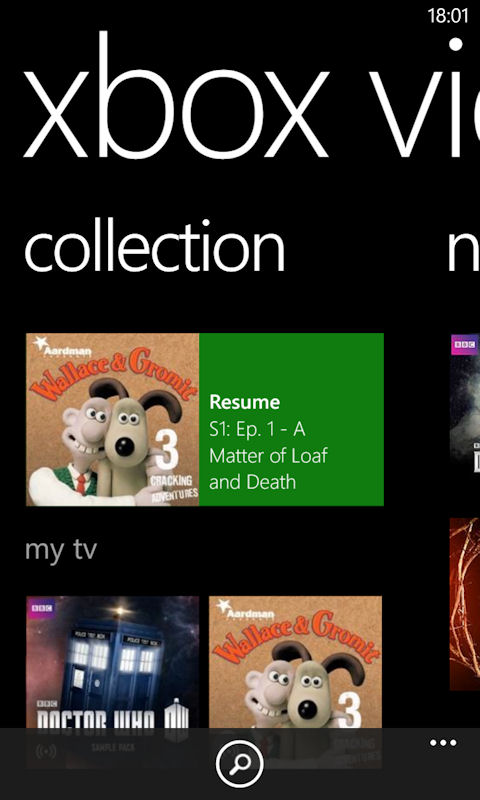 The Windows Phone app's opening panorama has pages for "new tv", "new movies", "spotlight" and "collection", with the latter being the starting point for viewing content that you have already purchased. The app makes it easy to browse for content, with a division made between the movie store and the TV store. Various filtering options (genre, production company, best selling, best rated), internal links (actors, directors) and a search tool make it easy to find the content you want.
Each piece of content gets its own pivot view; in the case of movies, this includes the overview, giving purchase and rental options, plus pages for reviews, cast, and related content; for TV, there's an overview page, with options to buy individual episodes or complete seasons, plus pages for full description, extras, and related content.
Much of the content is available in both SD and HD resolutions, with a small price differential between the two. HD content can not currently be played back on a Windows Phone device, but Microsoft has indicated this issue will be fixed in an update early next year. SD content should be sufficient for viewing on a smartphone, but if you're planning to watch content on a bigger screen (or have a Lumia 1520) then it may be worth going for the HD option.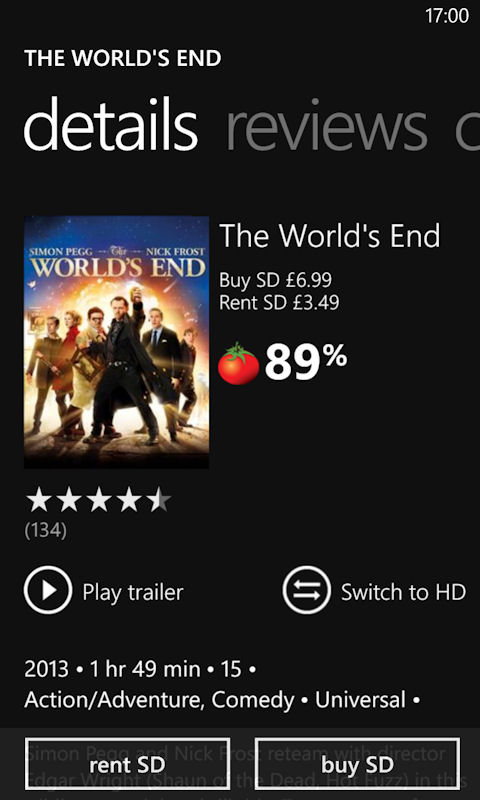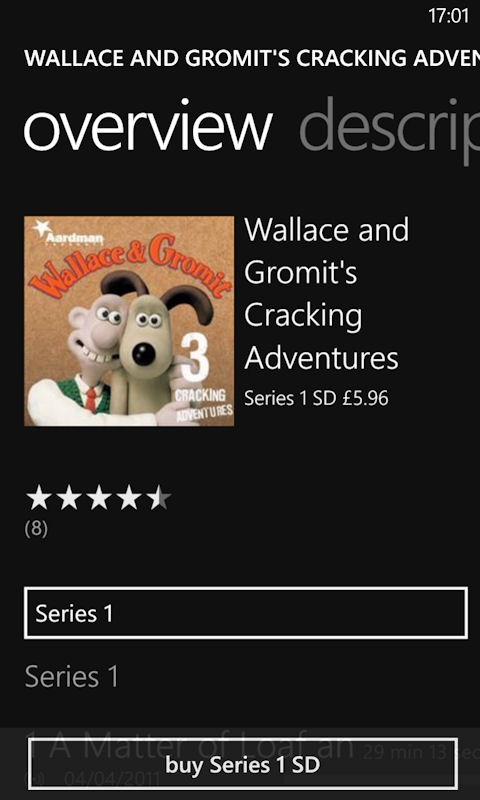 The release of the Xbox Video app fills a glaring gap in Windows Phone 8's ecosystem service line up. Film rental and purchase was available through the Zune Marketplace for Windows Phone 7 devices (purchase and transfer via a PC), but this functionality was dropped for the Windows Phone 8 release. That it has taken more than a year to get a working solution in place for Windows Phone 8 does not reflect well on Microsoft, especially when contrasted with its competitors offerings (Apple iTunes and Google Play Store).
Nonetheless, Xbox Video does now provide a very slick multi-screen experience, with film and TV content available in a single service across Windows 8, Xbox One, XboxVideo.com, and Windows Phone 8. The next issue for Microsoft to address is the depth of the content catalogue, especially in markets outside the US. Furthermore, it will be important for Microsoft to expand service availability outside the 22 launch markets.
From the Windows Phone Store description:
Xbox Video brings the latest films and TV shows to your Windows Phone 8 and makes it easy to watch what you love wherever you are. Rent and buy new blockbuster films and favourite classics, or catch up on last night's episodes of the hottest TV shows, and watch them on your Windows Phone 8, PC, tablet, Xbox One, Xbox 360 or at XboxVideo.com.

Get the latest TV shows the day after they air
Ratings and reviews
Rent and buy the latest blockbuster films
Resume watching from where you left off
Stream or Download films and TV
Trailers
Xbox Video is a free download from the Windows Phone Store. The Xboox Video app and service are currently available in the following countries: Australia, Austria, Belgium, Brazil, Canada, Denmark, Finland, Germany, Italy, Ireland, Mexico, New Zealand, Netherlands, Norway, Spain, Sweden, Switzerland, United Kingdom, and United States.