Microsoft CEO Satya Nadella said:
"Today we welcome the Nokia Devices and Services business to our family. The mobile capabilities and assets they bring will advance our transformation. Together with our partners, we remain focused on delivering innovation more rapidly in our mobile-first, cloud-first world."
The portion of Nokia acquired by Microsoft, comprising around 25,000 employees, spread across 130 sites in 50 different countries, will form the major part of the recently formed Microsoft Devices Group, which will be headed by ex-Nokia CEO Stephen Elop. This expanded group business will include Lumia smartphones and tablets, Nokia mobile phone, Xbox hardware, Surface, Perceptive Pixel products and accessories. In many ways the Devices Group will be the most visible part of Microsoft's consumer operations.
Stephen Elop, on the Nokia Conversations blog, wrote:
Six months ago, we announced our plans to bring the best of Microsoft and Nokia Devices and Services business together. Today is an exciting day as we join the Microsoft family, and take the first, yet important, step in our long-term journey... As Microsoft and Nokia Devices and Services come together as an expanded family, we will unify our passion, dedication and commitment to bringing you the best of what our joint technologies have to offer.

Together, we can connect and empower people with one experience for everything in their life in a world where it is mobile first and cloud first. From today onwards, the possibilities are endless. As now, we're one!
While today's acquisition completion is a historic moment in the history of the two companies and the mobile industry more generally, the immediate impact for consumers will be relatively minor. Microsoft is set to continue Nokia's device operations, including mobile phones, as before, and will take over responsibility for device warranties and support. In addition, as previously noted, Microsoft will manage nokia.com and associated social channels for up to a year, allowing for a measured transition process.
In the longer term, questions do remain around the cultural and strategic fit between the two organisations. The integration of the two businesses will inevitably cause some friction and delays, though the two companies are much closer together than when they first announced the Windows Phone partnership in February 2011. There's little doubt that the acquisition of Nokia's mobile hardware business will have a significant impact on the software-dominated Microsoft. In the last few years, Microsoft has moved towards becoming a "devices and services" business, but scale of the Nokia acquisition dwarfs the relatively small steps Microsoft has previously taken in this direction, especially in the mobile arena. While the general assumption seems to be that Microsoft will dominate, the relative scale of the two businesses may mean that Microsoft's Devices Group is more influenced by the absorbed organisation than is traditionally the case with acquisitions.
More prosaically, there are many unanswered questions around the details of the newly mobile manufacturing arm of Microsoft. How much investment will be put into mobile phones, most notably the recently launched AOSP-powered X portfolio? What brand will Microsoft opt to use on its smartphones devices? What will Microsoft's tablet strategy be (Lumia or Surface)? How will other areas of potential overlap be dealt with (MixRadio and Xbox Music)? How closely integrated will the mobile device business be with the rest of Microsoft? Is it fulfilling a stated aim to cut costs, and which portions of the ex-Nokia operations will Microsoft trim? The answers to many of these questions should emerge over the next year, but it will take a few years for the absorption and integration of Nokia's Devices and Services business by Microsoft to fully play out.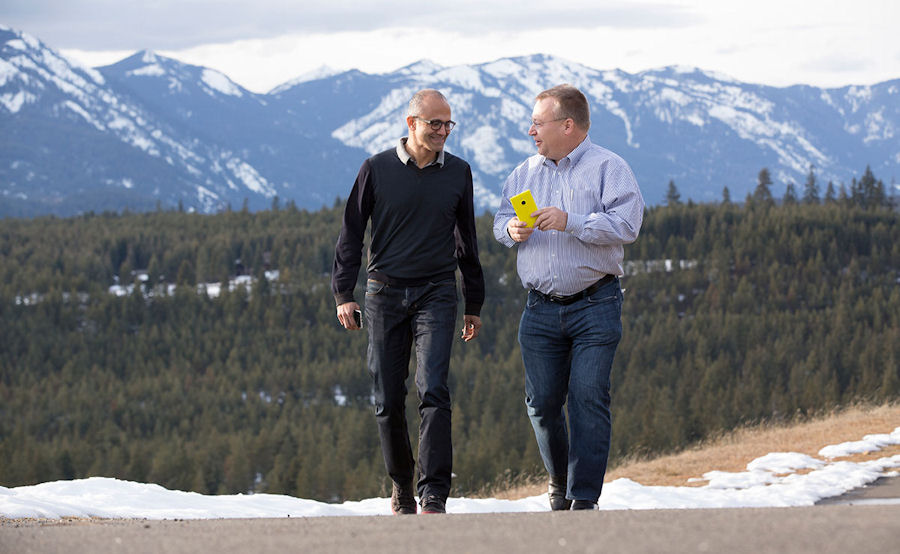 Microsoft CEO Satya Nadella (left) and EVP Microsoft Devices Group Stephen Elop (right)
A number of adjustments have been made to the final terms of the originally announced deal. The most notable of these is the exclusion of Nokia's factories in Masan (South Korea) and Chennai (India). The latter is the result on an on-going tax dispute that prevents the transfer, though for the immediate future Nokia will essentially operate the factory on Microsoft's behalf via a service agreement.
From a corporate structure point of view, the majority of the device business's ex-Nokia operations will be carried out within the Microsoft Mobile Oy subsidiary (i.e. development, distribution, and sale of Lumia, Asha and Nokia X mobile phones and other devices).