Windows Phone 8.1, which reportedly carried the same "Blue" code name as Windows 8.1 (for PCs), is the next major version of Windows Phone. It will not arrive until after the delivery of GDR3, which is a relatively minor update for the current version of Windows Phone that is scheduled to arrive later this year.

Notification Centre and other Windows Phone 8.1 ("Blue") features
WindowsPhone.pl kicked off the latest round of rumours by posting a photograph of a handset allegedly running Windows Phone 8.1, which was notable both for the presence of a Notification app Live Tile and the apparent ability to select multiple tiles at once.
The ability to select multiple tiles, a feature also seen in the Windows 8.1 preview, is most likely related to the ability to move multiple Live Tiles at the same time, rather than the creation of folders or groups of apps.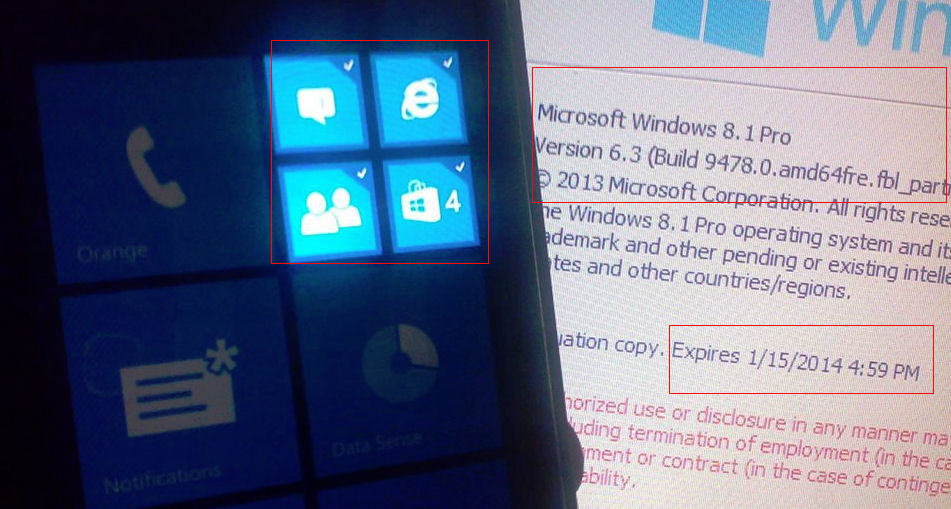 Image credit: WindowsPhone.pl

In a separate post, WPCentral reported on some alleged screenshots from build 8.10.12166.0 of Windows Phone, which were posted to their forum by user qXero. WPCentral confirmed that their sources indicated that the information around the screenshots was accurate, but said that the screenshots may have been "re-created" (i.e. mock ups).
The screenshots show more details of the notification system and also suggest that Windows Phone's app list will become sortable (with an option to sorts apps by frequency of use), another feature that is familiar from the Windows 8.1 preview (sort by name, frequency of use, category, or date installed).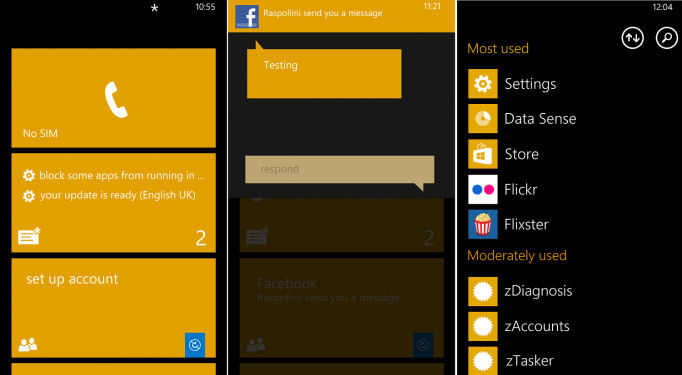 Image credit: WPCentral
As has been widely reported, the new notification system will build on Windows Phone's current Live and toast notification options. A Notification Centre app will provide a central place to view and manage incoming notifications.
Toast notifications, which appear in a bar along the top of the screen, will be updated so that they have the option to be actionable (i.e. tap on notification and carry out an action, such as reply to a message). Once again this is similar to the functionality seen in Windows 8.1 preview.
WPCentral also reported that there will be an option for "ghost notifications". These are intended to be used for secondary level notification events (i.e. things that should not interrupt the user). These ghost notifications would not be displayed as toast notifications, but rather would go "directly to the Notification Center".

Cortana (personal assistant / artificial intelligence)
WPCentral, in writing about the WindowsPhone.pl photograph, confirmed that its sources indicated a Notification Centre "is likely on the way" and that there would also be an overhaul of Windows Phone's TellMe functionality.
In addition, an overhaul to the TellMe service is in the works under the codename 'Cortana' that should give Siri a run for its money and users will be able to sync their Accent colors between Windows Phone 8.1 and their desktop.

Following the first mentions of Cortana, ZDNet's Mary Jo Foley provided some additional detail on the system. Cortana takes its name from an artificial intelligence character in Microsoft's Halo series, who can learn and adapt:
Cortana, Microsoft's assistant technology, likewise will be able to learn and adapt, relying on machine-learning technology and the "Satori" knowledge repository powering Bing.

Cortana will be more than just an app that lets users interact with their phones more naturally using voice commands. Cortana is core to the makeover of the entire "shell" -- the core services and experience -- of the future versions of Windows Phone, Windows and the Xbox One operating systems, from what I've heard from my contacts.
Foley goes onto to note that Microsoft is working on a service-enabled shell, which will tie into the same technology, and suggests that describing it as Siri-like may be underselling the idea, rather Cortana would look to add a level of intelligence to the whole user interface:
The coming shell won't simply surface information stored on users' phones, PCs and consoles like a search engine can do today. It also will "broker information among our services to bring them together on our devices in ways that will enable richer and deeper app experiences," Ballmer said in his memo. (That "brokering" is handled by Bing's Satori, which intelligently interconnects entities, i.e., information about people, places and things.)

Tom Warren, writing on The Verge, reinforced this information and posted a number of screenshots that were described as showing "Cortana in action [on Windows Phone]". The screenshots do not provide a great deal of information, but do underline that Cortana is tied into many apps and services at a relatively low level, with the impact likely to be felt right across the user experience.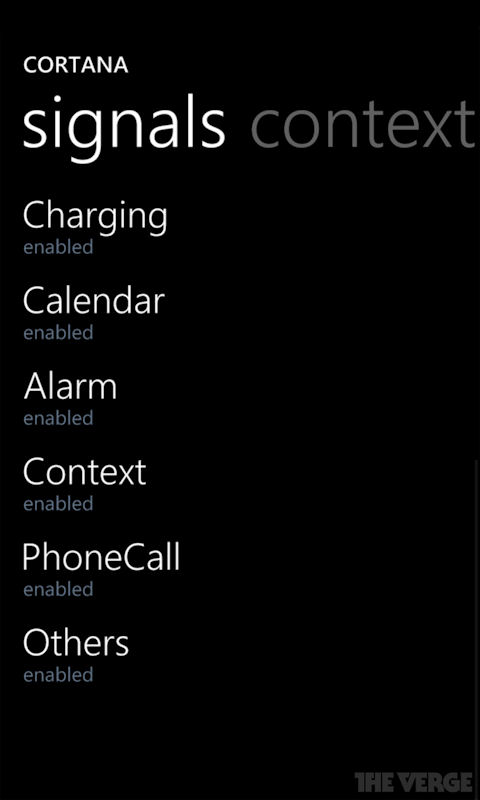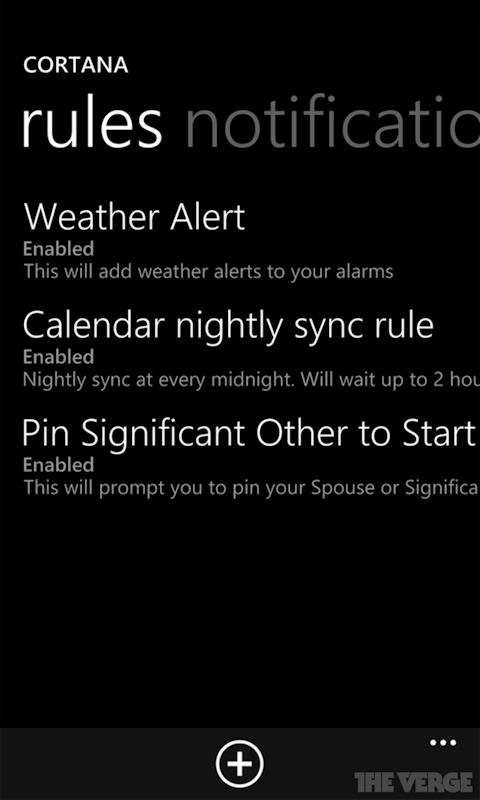 Image credit: The Verge
Our own understanding of the system suggests that Cortana can also be used to prompt users to take actions, effectively providing assisted set up of devices. This can be seen in the screenshots as prompts to take various actions. The intention behind this feature is to encourage users to customise the Start screen and other aspect of their device, in order to make sure they get the most out of it.
This assisted set-up is seen as being a generation on from the typical in app tutorial sections (e.g. Nokia Pro Camera) and help overlay systems (e.g. HTC Android devices) that are in use today. Part of the push for this has come from Nokia. The Finnish company has experimented with these kinds of context sensitive prompts in its Symbian devices, where it found users were more likely to follow through on recommendations than when help was delivered in an out of mode context.

Availability and timing
There is no official information on the availability of Windows Phone 8.1, but the smart money is on a first official outing some time in the first quarter of 2014. Microsoft could hold its own event, or co-locate an event at either CES or MWC.
It's also worth emphasising that none of the above features are guaranteed to part of the next version of Windows Phone. All of this information falls very much into the unconfirmed category.