GDR3 (General Release Distribution 3) is a software update for Windows Phone 8. It is thought to be the last software update before the next major release of the Windows Phone platform (Windows Phone Blue/8.1). As with GDR2 (Lumia 925), GDR3 is likely to available first on a new device. Subsequently, it will be made available, via an over the air software update, to all other Windows Phone 8 devices. However, some features may be restricted to certain hardware configurations.
The new rumoured features in GDR3 can be divided into hardware and software, both of which we cover in detail below:

Hardware
A key feature for GDR3 is support for Quad-core processors, most likely the Qualcomm MSM8974/MSM8274 (Snapdragon 800). The MSM8972 SoC (System on a Chip) has a Quad-core Krait 400 processor, clocked at up to 2.3 GHz, accompanied by an Adreno 330 graphics co-processor and a Hexagon (QDSP6V5A) DSP.
The MSM8974 was mentioned in this Nokia Developer XML schema (describing hardware used in Nokia devices), but has since been removed (though the original entry remains in the Google cache of the page). It is also referenced, indirectly, in a Bluetooth certification for an unannounced Nokia device (RM-940), although the Bluetooth system in question could be combined with other Qualcomm SOCs.
Support for quad-core processors (i.e. a new hardware family) would put Windows Phone in a better position to compete with Android in specification comparisons, but would also open the platform up to new and improved experiences. For example. the MSM8974 supports 4k UHD (2160p) video capture/playback and still camera capture up to 55MP.
Support for 1080p (1920×1080) resolution screens , which we covered earlier this year, is also expected to be part of GDR3. It will arrive in conjunction with UI changes (see below). As we noted in our Nokia Lumia 625 review, this would be desirable for devices with physical screen sizes of more than 5 inches, but like the quad-core processor support, would also help Windows Phone compete with Android in specification comparisons.
AdDuplex, in its August report, noted the presence of RM-937/RM-927/RM-940, an unannounced Nokia handset, which reported a ScaleFactor of 150, pointing towards a device with a 1080p resolution screen (Nokia's WXGA resolution devices have a ScaleFactor of 160).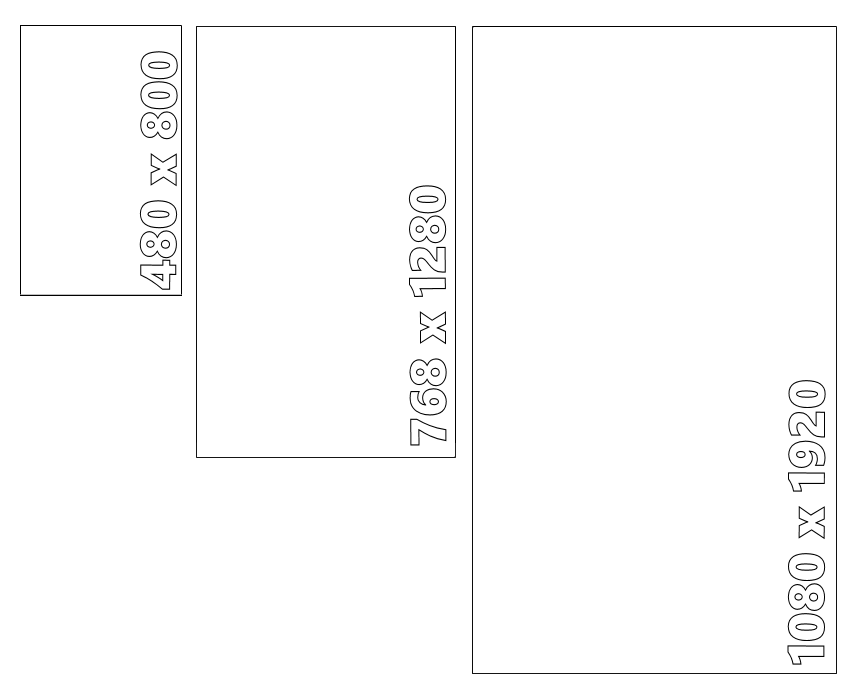 Note that the above graphic shows all pixels at the same size. In practice, higher resolution screens have a higher pixel density, with physical size only loosely related to screen resolution (e.g. Lumia 820 has a 4.3 inch 480 x 800 screen, Lumia 920 has a 4.5 inch 768 x 1020 screen).
Software
With GDR3, the Start screen will support a third column of medium sized Live Tiles on devices with larger screens. This has been on the GDR3 rumour list as early as April of this year. It would allow for more information (Live Tiles) to be displayed on the screen at one time, making better use of the screen real estate available on devices with large screens.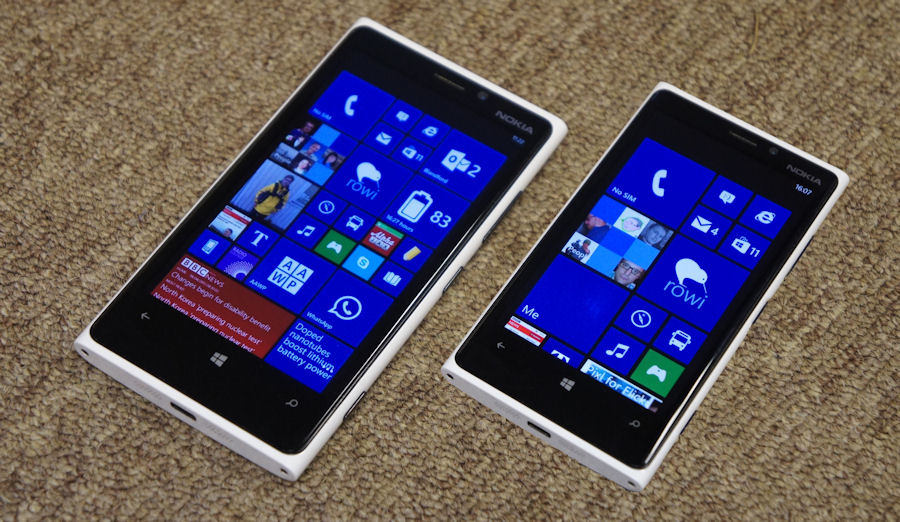 Is this what a three columned start screen might look like?
The Verge reported, at the beginning of August, that other UI changes in GDR3 would include changes to the way network status icons are displayed along the top of the screen. It is reasonable to assume there would also be other minor changes relating to resolution and large screen devices.
Also related to larger screen devices is the suggestion that GDR3 will introduce a setting to control automatic screen rotation (i.e. rotation lock). With this setting turned on, a device would not flip between landscape and portrait orientation as it was rotated in the hand. This "orientation lock" was also mentioned in a reddit post, titled 'GDR3 feature list', that was posted in early August. In general, rotation lock is regarded as most useful on larger screen devices, but it something that is likely to come to all Windows Phone 8 devices.
Both the reddit post and The Verge said that GDR3 would also introduce a driver (automotive) mode, designed for in-car use, that would be automatically activated when connecting to a Bluetooth enabled car system. The mode would give access to a sub-set of functionality with a finger friendly user interface, similar to Nokia's own car mode.
Chinese language site WPDang, writing at the end of August, reported that its sources indicated that GDR3 would introduce separate volume controls for system alerts (e.g. notification sounds) and media files (music and video).
The same WPDang source indicated that a quick settings feature will be introduced, but did not offer a detailed description of what this would include. The most likely scenario is the ability to pin Settings app modules to the Start screen, so as to allow faster access to key settings (e.g. WiFi and Bluetooth controls).
The Verge also reported that Microsoft is planning to introduce a feature that will sync text messages from Windows Phone to PCs and the web, but noted the functionality may not be finalised in time for the GDR3 release. The underlying idea is make it easier to view text messages (e.g. when sitting at a computer). Windows Phone 8 already does some cloud syncing of text messages (phones registered to the same Microsoft Account will, on occasion, sync messages), but Microsoft will need to create a web/PC front end and improve reliability/sync speed.
The reddit post mentioned above also mentioned two features that have a chance of being included in GDR3. The first of these, rated as an 80% chance, was the ability to close apps in the multi-tasking view. This is the view that appears when you press and hold the back arrow key. This feature would presumably add a close button ('x' in top corner) or a close gesture (swipe up and away).
The second of these, described as having a 60% chance of being included, was silent NFC, which would remove the prompts that appear when using NFC (e.g. do you want to connect to...) The likelihood is that these prompts would be retained for some use cases (e.g. do you want to accept this content...)
Nokia phone with a six inch screen (Nokia Bandit/Lumia 1520)
The prospect of a Windows Phone with a large screen (five inches or more) has been speculated about for more than a year, ever since Samsung proved there was consumer interest in the form factor with its Galaxy Note range. A larger screen Lumia device was always going to be a logical direction in which to take Nokia's Windows Phone device portfolio, but it was only with GDR3's presumed support for higher resolution screens that such a device became a realistic possibility.
In April, shortly after the first information about GDR3 emerged, the Financial Times, a UK-based newspaper, reported that "those with knowledge of the company's plans" said Nokia was working on a device that can "work as a phone and a tablet - known as a 'phablet' - similar in size... to Samsung's popular Galaxy Note".
In late July, LiveSide.net reported on a post by Weibo user @ictech that showed an alleged image of a display panel from a large screened (six inch) Nokia device.
The Verge, in a story posted in mid-August, reported that Nokia was working on a six inch device, codenamed "Bandit", and that it would be the "first of many planned 1080p Windows Phone devices". The device, which is scheduled for release later this year, is said to have a 20MP camera, with a slight hump on the rear of the lightweight polycarbonate body (perhaps pointing towards a cut down version of the PureView approach taken by the Lumia 1020's camera).
A tweet by @evleaks at the start of last week indicated that "Bandit" would be released as the Nokia Lumia 1520. A few days later a picture, purporting to show the Nokia Lumia 1520, was posted (leaked) to i.imgur.com (also seen on several other sites shortly afterwards). The picture, which in our judgement does appear to be a real Nokia device, shows a large screen Lumia sitting alongside a Lumia 1020, with a Nokia 501 in the background. The Lumia 1520 appears to have Lumia 925-like lines and styling (curved corners and edges), and is sitting in a case with a fold over cover flap, which is similar to those used by Nokia employees to "hide" prototype devices in public (or it could be a wireless charging case).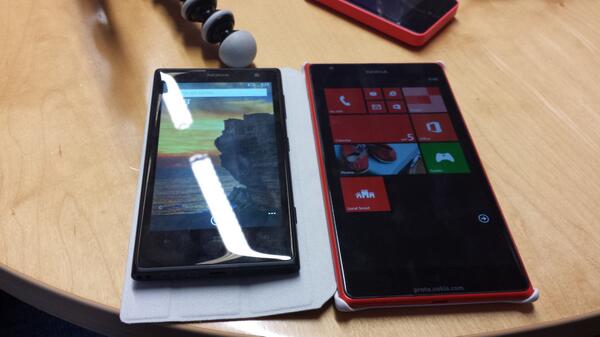 Image source: imgur (anonymous uploader)
For obvious reasons, it is not possible to confirm any of this information officially with Nokia, but the information and pictures that have emerged so far are in line with what we have heard from our own sources and statements from a number of Nokia executives over the last 12 months.
It's not clear when the Nokia Bandit/Lumia 1520 will be formally announced, but a late September or October time frame would makes sense in the context of the presumed availability date for GDR3 and having the device on the shelves in time for Thanksgiving, Christmas, and the Chinese New Year.
We'll keep you posted as the story on GDR3 and any related devices develops.