Review:
Nokia Lumia 625
Score:
80%
In this review we take an in depth look at the Nokia Lumia 625, the latest addition to Windows Phone device line up. The combination of the biggest screen on any Windows Phone 8 device and LTE connectivity is an alluring combination. How this has been achieved, while maintaining a sub £200 price point, and whether it will be successful, are the questions at the heart of our evaluation.
Introduction
The Lumia 625 doesn't have the glamour of a high-end handset like the Lumia 925 or the Lumia 1020, but given Windows Phone's strong growth at the lower end of the market, as seen in devices like the Lumia 520 and 620, it is an important handset for Nokia. Moreover, with a big 4.7 inch screen and LTE connectivity, it feels very much like a handset that is 'on trend', and one that offers a glimpse at where Nokia's Windows Phone strategy is heading next.
The Lumia 625 arrives in the now Nokia-standard rectangular, drawer-style, recyclable-cardboard box, with a two stacked layers holding the phone, paperwork (quick start guide and warranty information), and accessories (CA-189CD USB cable, AC-20 charger, WH-108 headset).
Printed on the top layer is an illustration that indicates how to take the back cover off the Lumia 625, always a sign of a slightly tricky process, but also making it clear that you should use your fingernails, rather than a screwdriver.
The quick start guide offers the bare minimum needed to get started with the phone (guide to hardware, inserting SIM card, overview of key functions), but includes a suggestion to check the Nokia Care app for more information and the links to an online user guide. For the first time, this link is also presented as a QR code, which is a nice extra touch.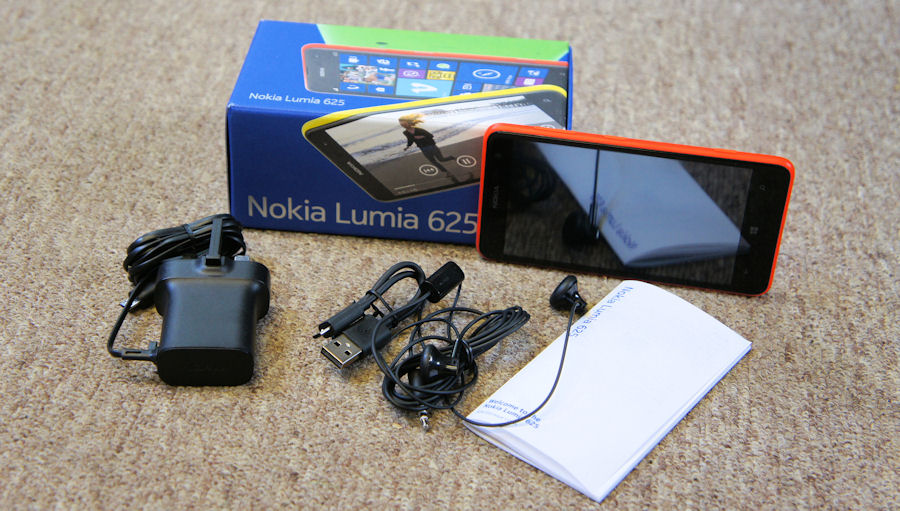 Design and materials
If there's one word that describes the Lumia 625's design, it's rounded.
At first glance, there are the obvious rounded corners and rounded sides, but look more closely and you'll notice the gently rounded back ('pillowy' in Nokia Design parlance), the slightly curved edges to the screen (2.25D glass), the rounded 3.5mm audio jack and matching round circles of the camera and LED flash on the back of the device.
But it's more than just the physical aspects of the device. It's the overall design concept that feels well rounded. Screen aside, the Lumia 625 doesn't really have any obvious standout design features, but it does reflect Nokia's many years of designing smartphones down to a lower price point. The end result is a device that not only feels well put together and built to last, but one that has a certain elegance than is somewhat unusual in the sub £200 smartphone market.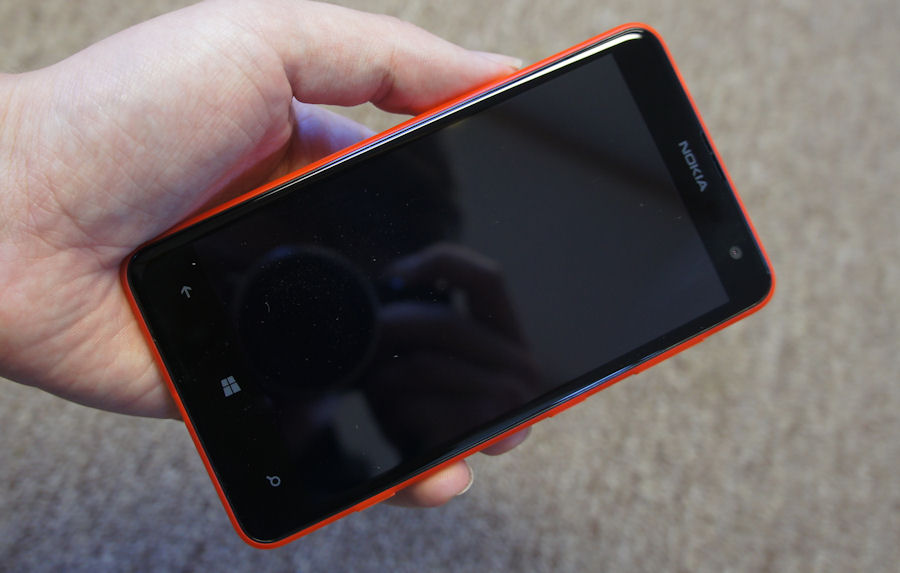 Nokia has created some great designs for its high end Lumia devices, most recently with the Lumia 920 and 1020, but the way in which elements of the Lumia design story have been translated down to the lower end devices is arguably even more impressive. Nokia, across its Lumia portfolio, manages to maintain a design consistency that puts many of its competitors to shame. There are the obvious elements, such as colour, a tradition the Lumia 625 continues, but there are also choices around the design symmetry and minimalism that have helped create a distinctive Nokia look.
This commonality of design can often be seen in the way Nokia devices can be described in relationship to each other. The Lumia 625 design is a good example of this, marrying elements of the Lumia 720 (curved screen edges, pillowy back, port design and positioning) with elements of the Lumia 820 (rounded corners, removable back shell, overall weight, and block internal design).
The Lumia 625 is not perfect, by any means. For example, the standard Windows Phone buttons on the side of the device don't really stand out enough, requiring a little extra force to operate, and, because they are colour matched to the back shell, feel as if they lack the clean lines of other Lumia devices.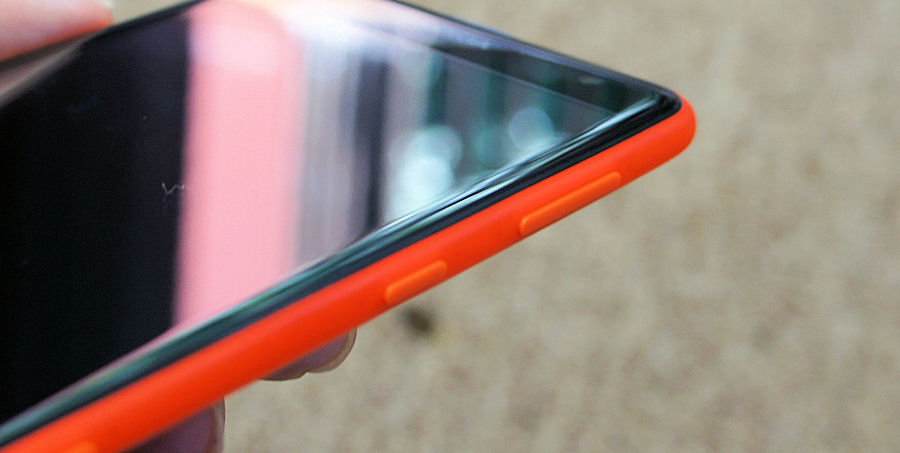 As with most full touch devices, it's the 4.7 inch screen that dominates the front face of the Lumia 625. Somewhat surprisingly for a lower cost device, the protective Gorilla Glass (version 2) has curved edges, one of the elements that helps build the sense of elegance we mentioned above.
The back and sides of the device constitute the removable back shell. This, available in a range of colours, is mainly cosmetic, with the main body of the device being a single structural block. The side buttons, also made out of polycarbonate, are part of the back shell.
The Lumia 625's back shells, like those of the Lumia 620, are made of a single piece of polycarbonate, but one that combines an outer semi-translucent layer (coloured) with an inner layer (white). This layered effect is designed to amplify the colour and in certain lights can create the sense of a glow from within, especially along the edges of the device. All the shells (black, white, green, orange, and yellow) have a matte finish.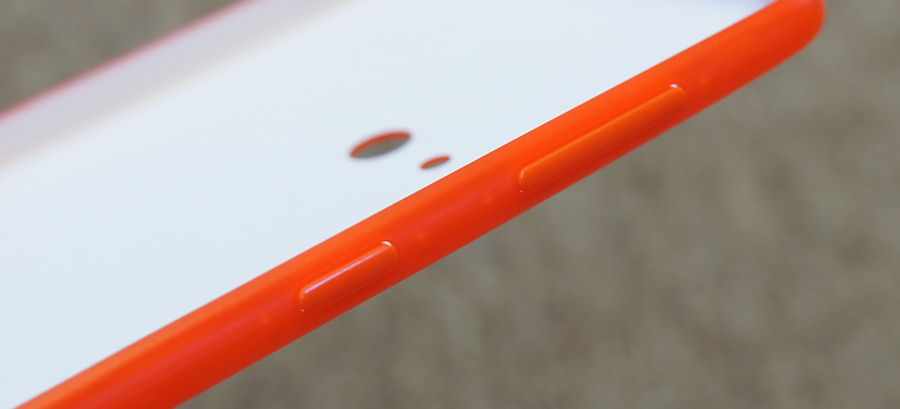 Getting the back shells on and off can be a bit tricky, but the benefit of this is that, once clicked into place, there's very little in the way of untoward squeaks or creaks, unless you really start flexing the device. In day to day usage, it's not quite going to measure up to the durability of a unibody design, but it's not that far off either.
Take off the back cover and you'll notice that the 2,000mAh battery is integral to the device, with no way to replace it without visiting a Nokia service centre. The battery is actually visible as two strips down either side of the device, but somewhat annoyingly is sealed in place by a plastic cover that also hides the rest of the device's internal components, presumably an approach that aims to increase mechanical strength and protect delicate components.
For some, the lack of a removable battery is going to be a negative point, but given the reasonable battery capacity and the ready availability of portable battery chargers, it's not really the concern it would have been a few years ago.
The device's SIM card slot is found on the top right hand side of the device, sitting just above the microSD card slot, which can be used to expand the Lumia 625's 8GB of internal memory. It's refreshing to be able to access the former directly without having to mess about with a SIM door key or a SIM card caddy, as is the case on many other devices.
The overall design of the Lumia 625 is one of its strong points, feeling slightly mismatched for its index number, having more in common with the Lumia 720 than the Lumia 620. In part, as we shall see, this is because sacrifices have been made elsewhere (screen quality, weight), but it's not necessarily a bad thing. Every phone has a different set of compromises, and given the phone's positioning and target market, putting a little more emphasis on design feels like a logical decision.

Size and weight
A few years ago, the Nokia Lumia 625 would have qualified as a really big device, akin to HTC's TITAN II, but with the trend for larger screen sizes that has emerged in the last few years it doesn't feel particularly out of place. Set against the mainstream Samsung Galaxy S4, with its 5 inch screen, the Lumia 625 looks positively middle of the road, but make no mistake this is still a big device, it's just that everyone else is also shipping bigger devices.
With that in mind, what's really important to consider is the difference between the Lumia 625 and your current device. There's a good chance it's going to be bigger, but for most people it should still be just about possible to use the device one handed. The top left/right hand corner of the screen may be inaccessible, especially for those with smaller hands, but fortunately Windows Phone doesn't often require you to reach into this area for UI interactions.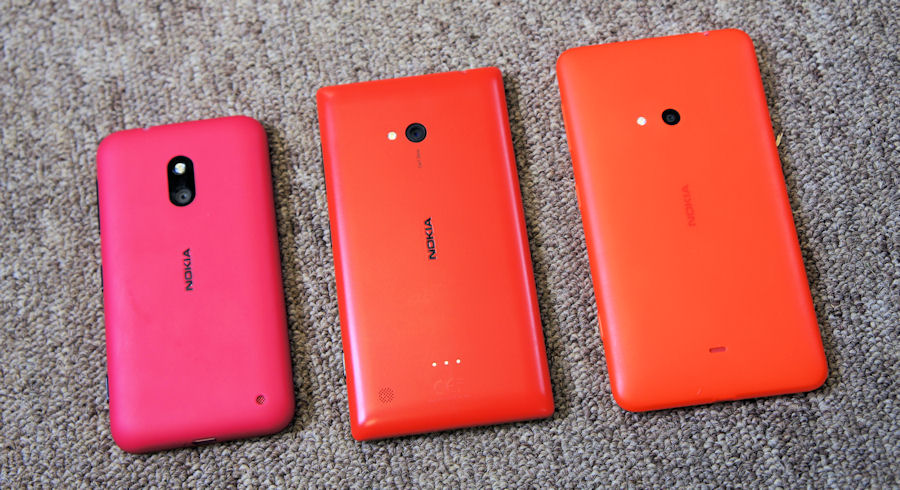 Lumia 620, 720 and 625 compared
In the hand, the Lumia 625 feels very similar in size to the Lumia 925, both of which are very obviously bigger than the Lumia 720 and 620. In reality, the Lumia 625 is about a third of centimetre wider than the Lumia 925, which just goes to show you need to consider more than just the raw numbers.
The front profile dimensions of the Lumia 625 are a function of the screen size. The device with the biggest physical screen (4.7 inches) rather inevitably becomes the largest Nokia Lumia device to date (133.25 x 72.25mm). Other devices with a 4.7 inch screen (e.g. Samsung Galaxy Win) have a similar front profile size.
| | | | | |
| --- | --- | --- | --- | --- |
| Device | Size (mm) | Volume (cc) | Weight (g) | Screen size (in) |
| Nokia Lumia 625 | 133.25 x 72.25 x 9.15 | 87.6 | 159 | 4.7 |
| Nokia Lumia 520 | 119.9 x 64 x 9.9 | 75.7 | 124 | 4.0 |
| Nokia Lumia 620 | 115.4 x 61.1 x 11 | 76 | 127 | 3.7 |
| Nokia Lumia 720 | 127.9 x 67.5 x 9 | 78 | 128 | 4.3 |
| Nokia Lumia 820 | 123.8 x 68.5 x 9.9 | 83.5 | 160 | 4.3 |
| Nokia Lumia 920 | 130.0 x 70.8 x 10.7 | 99 | 185 | 4.5 |
| Samsung Galaxy Win | 133.3 x 70.7 x 9.7 | n/a | 143.9 | 4.7 |
At 9.15mm, the Lumia 625 is a relatively thin device. While it doesn't quite manage to match the Lumia 720 (9mm), it is better than many of the devices that it will be competing against directly. Given the presence of a removable shell, which adds a couple of mm to the device's thickness, that is a notable achievement.
Where things are less impressive with the Lumia 625 is in the weight department. A weight of 159g isn't pocket busting by any means, but it is heavier than competing devices. A certain amount of this can be defended by pointing towards the solidity and build quality of the device, but ultimately that's not something that is going to be accepted by everyone thinking about purchasing the device.
Nokia's first Windows Phone 8 devices, the Lumia 920 and 820, faced widespread criticism in the same area, so it does seem a little strange that Nokia is once again releasing a Lumia device that gives an impression of having eaten too many pies. On the other hand, the weight is very definitely the result of a number of deliberate design decisions, so it may be that Nokia feel this is not an area that needs to be prioritised, or rather wasn't a priority when measured against other compromise factors in the Lumia 625.

Screen
The screen is the main talking point for the Lumia 625. Leaving aside LTE connectivity, it is the clear differentiating factor from other lower cost Lumia devices.
Want a big screened device? Get the Lumia 625… However, it's actually a bit more complicated than this, because for any smartphone screen there are three main factors to consider: physical size, resolution, and quality. The Lumia 625 does well in the first category, but it's more of a mixed picture in the latter two.
With a 4.7 inch measurement across the screen diagonal, the Lumia 625 is comfortably bigger than any of the other low cost Windows Phone devices currently available. Coming from a smaller screen device, the benefits are largely self-evident. While no extra information is actually displayed on the screen, text is easier to read, and on-screen touch targets are easier to hit. Yes, this does come at the cost of a bigger device, but that's a compromise that lots of people seem willing to accept.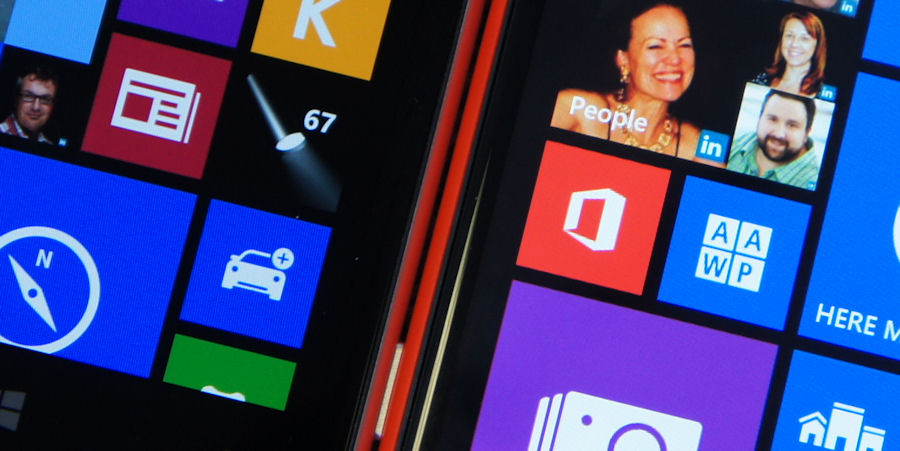 Nokia Lumia 925 screen (left) versus Lumia 625 screen (right)
The other obvious screen specification to talk about is resolution. The Lumia 625 has the same WVGA resolution (480x800) as other low cost Windows Phone devices, but because of the physically bigger screen it is possible to see individual pixels (201 pixels per inch) more easily. This visibility of pixels is an area for concern, but should be set against the positioning and price point of the Lumia 625, together with the sense that Windows Phone's Live Tile and related user interface items are less susceptible to the problems of big-pixel-itis, as might perhaps be experienced on Android, with its more freeform homescreens and UI.
In a direct comparison with a device with a 720p/768p resolution screen, the Lumia 625 will come off worst, but it is worth remembering that screen resolution doesn't really have a direct impact on device capabilities, or the amount of information shown on screen at any one time, and that the only usage scenario where there's a really substantial difference is prolonged on-screen reading of text (e.g. eBooks, Web content). Screen resolution and pixel density criticisms should not be dismissed out of hand, but nor should they be given too much weight. The best advice we can give here is to say that if you're used to a WVGA, or lower, resolution screen then the Lumia 625 will be fine, but if you downgrade from a device with a higher resolution screen then you'll need to think very carefully about this specification point.
The least obvious, but arguably most important, screen specification is quality. The Lumia 625's IPS LCD screen is something of a mixed bag. On the positive side it benefits from having Nokia's sunlight readability enhancements, high brightness mode, and super sensitive touch screen technologies, putting it a cut above most competing devices.
On the negative side, the absence of the (presumably expensive to build in) polarising layers related to Nokia's ClearBlack Display technology, together with what seems to be an inferior LCD panel compared to other Lumia devices, means that colours, especially darker shades, are somewhat muted.
The absence of ClearBlack Display technology, combined with some other factors, has a couple of other knock on effects. Firstly, even with the sunlight readability enhancement mode active, the screen is not as easy to see in bright sunlight as most other Lumia devices; secondly, screen viewing angles are reduced; and thirdly, fingerprints and dirt on the screen become more noticeable.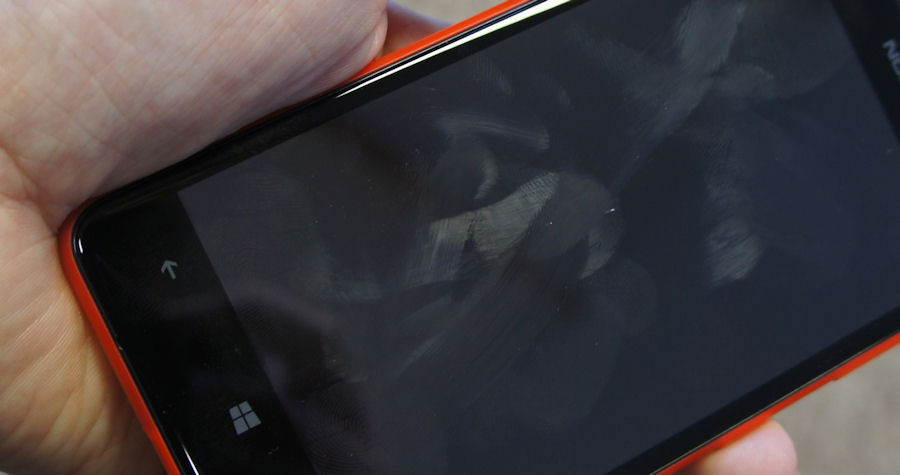 Visible fingerprints after just a few minutes of use

These issues can be somewhat mitigated by switching Windows Phone to a light background (Settings -> Theme -> Background), but even so, in overall terms, those comparing the Lumia 625 to the rest of Nokia's Windows Phone portfolio will find that, in quality terms, the Lumia 625's screen is inferior to both the Lumia 620 and 720, although it is slightly better than that of the Lumia 520.
The screen of the Lumia 625 is a great example of the way low cost smartphones are built around equations of compromise. In this instance, it is essentially a case of screen size being traded off against screen quality. Obviously, it is more complex than this, with many more factors in the compromise equation, but the essence of this can be seen in the choice between the Lumia 620 (smaller, but higher quality screen) and the Lumia 625 (larger, but lower quality screen). Which you prefer is a matter of personal preferences and priorities.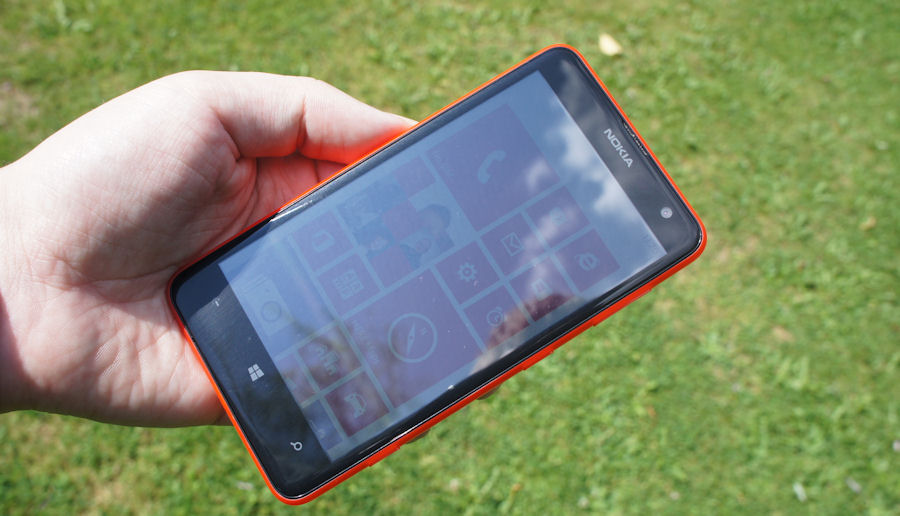 Decent, but not great, screen visibility in bright sunlight.

Camera
The Lumia 625 has a 5 megapixel camera, with an accompanying LED flash, but the critical numbers are f/2.4 aperture and a 1/4" sensor size (c.f. 1/3" on most generic flagships). These characteristics put the Lumia 625 into the third tier of cameraphones and the output is clearly never going to match higher end devices. That said, the presence of a decent LED flash, which is also used as a focus assist lamp, and the two stage camera capture button does mean that the overall camera experience is better than on many low cost smartphones.
The camera is capable of producing decent results, especially when scene composition is handled with care, and the expected relative drop in camera performance is much less than the price difference with more expensive devices might suggest. Moreover, camera performance looks good when compared against competing devices. Nokia's reputation for excellence in imaging is well deserved, burnished by devices like the Lumia 1020, but in some ways the effort that it puts into the cameras of its lower cost devices is even more impressive. Squeezing out imaging performance differentiation in devices that are almost entirely cost driven is arguably more difficult than innovating at the high end and certainly has an impact on a greater number of consumers. The Lumia 720 is the poster child for this excellence in mid-tier imaging performance, but the Lumia 625 is no slouch in this department either (see samples below).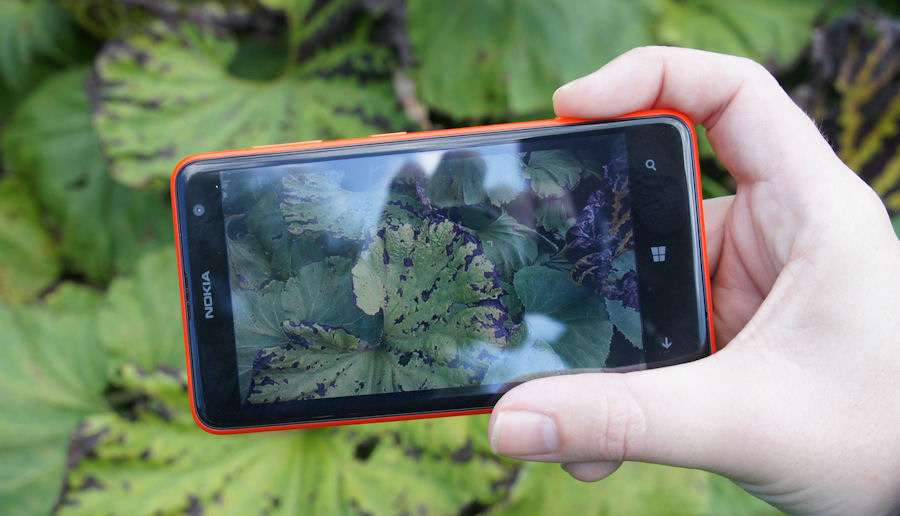 The camera module is the same as that found in the Lumia 520 and 620, but benefits from being the first low end Lumia device to get Nokia's new image processing algorithms out of the box (older devices will get this as part of the Amber software update). The presence of the LED flash certainly gives the Lumia 625 the nod over the Lumia 520. We would expect the results for the Lumia 620 and 625 to be similar once the 620 gets the Lumia Amber upgrade, but for now the Lumia 625 has a small edge.
On the software side, the Lumia 625 uses the standard Windows Phone Camera app, with the Nokia Cinemagraph and Nokia Smart Camera apps also preloaded. Other Nokia Camera related apps, including Glam Me, Panorama, and Creative Studio, are available from the Windows Phone Store.
The Nokia Smart Camera Lens app, included for the first time on a lower specification Lumia device, provides various experiences around the shooting of burst images (i.e. a series of images). These include Best Shot (pick best photo from selection), Action Shot (showing a moving object multiples times in one image), Motion Focus (emphasise a moving object), as well as the Erase Object and Change Face experiences found in Nokia's existing Smart Shoot Lens app (Nokia Smart Camera is, essentially, an updated and enhanced version of the Smart Shoot app that shipped with the Nokia Lumia 520 and 620).
The Lumia 625 (512MB) version of Nokia Smart Camera is a cut down version of that found on higher end devices like the Lumia 925 (1GB RAM). The number of frames in a burst sequence is reduced from 10 to 7, and the output is cut from 5 megapixels to 1 megapixel, which somewhat lessens its appeal, especially for the "Best Shot Mode". On the other hand, the output from Nokia Smart Camera is really aimed at casual sharing and the 1 megapixel output is more than sufficient for uploading to Twitter or Facebook.

Example Nokia Smart Camera output from Lumia 625 (full resolution version)
Video capture is also decent, but the absence of Nokia's HAAC microphones due to budget constraints does mean the audio side of things is a step down from other Lumia devices. On the plus side, the supported maximum resolution (1080p) is actually higher than in other low specification Windows Phone devices (720p), though in our tests we didn't see a great deal of difference in video quality between the two resolutions.
The Lumia 625 has a front facing VGA resolution camera, which is adequate for video calls (Skype), but not a lot else. The Nokia Glam Me app does help improve the output a little, but those wanting to take lots of self-portraits would be well advised to look for an HD resolution or better camera, as found on the Lumia 720.
Camera sample images, click through for full resolution:
Audio
Audio output through the 3.5mm audio jack, like in Nokia's other low cost Lumia devices, is good, with very little to distinguish it from the higher end Lumia devices, when paired with a decent set of headphones.
As with its other Lumia devices, Nokia has customised Windows Phone to build in support for a customisable equalizer and Dolby Headphone support, both of which can be accessed via the Settings app. Both of these features have an easily noticeable impact on audio output, but whether it's positive or not rather depends on what you're listening too.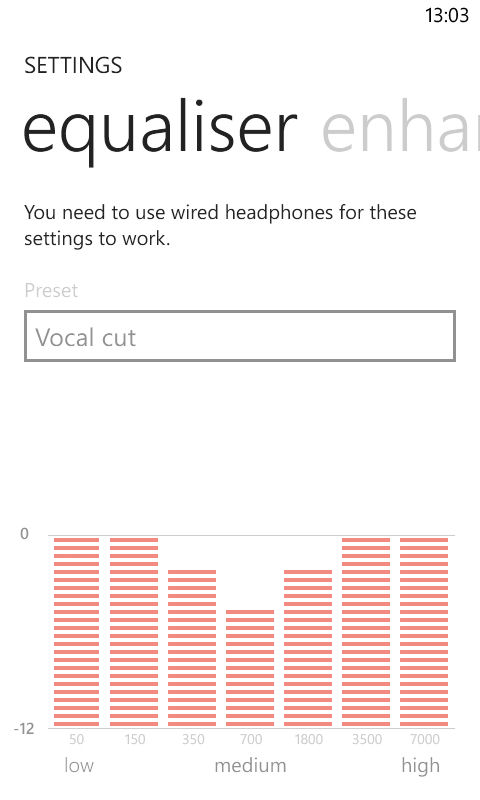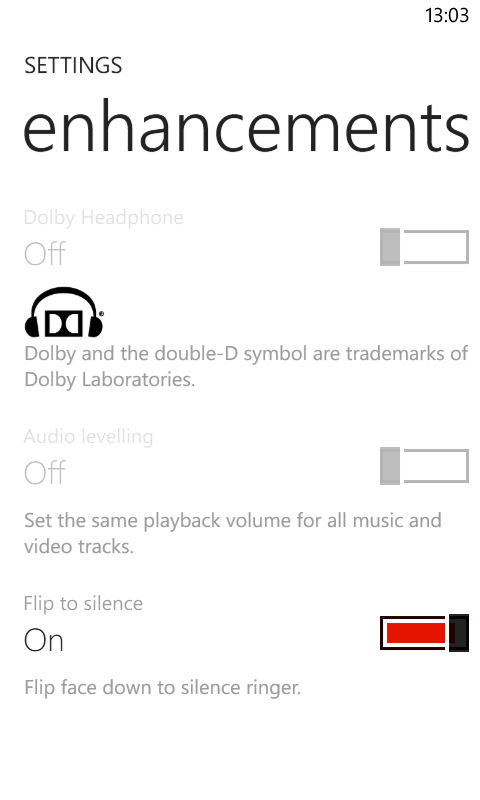 The presence of a customisable equaliser is welcome, simply because it lets you tune audio output to your own personal preferences. Likewise, the presence of Dolby Headphone offers additional choices, with a virtual surround sound environment created in real time, using digital processing technology, something that seems to work particularly well when playing back video. Equalizer settings and audio processing are clearly a subjective area, but the key benefit here is that Nokia's customisations mean that you are more likely to be able to get audio output tuned to your personal tastes.
The WH-108 headset that is included with the Nokia 625 is adequate, but, if you plan to listen to music for any length of time, you would be well advised to replace it to get the most out of handset's audio playback capabilities.
Incidentally, the WH-108, which is now standard across Nokia's lower cost smartphones (Lumia 520, 620, 625, 720), is a step down from the WH-208 headset included with the higher end devices. The audio quality does not appear to be that different, but no ear bud sheaths are included, so they are less comfortable to wear. More importantly, the WH-108 has no button on the headset microphone section, which means it is not possible to answer a call, control music playback, or issue voice commands without touching the phone.
Audio output from the mono loudspeaker is a little tinny, perhaps due to the way the speaker is recessed into the back of the device. It's perfectly serviceable for voice calls, podcasts and voice interaction, but, as with other smartphones, listening to music for any length of time seems fanciful, especially when measured against the very good headphone performance.
Covering the loudspeaker aperture will immediately cut volume by around 80%, but, in an example of the attention to detail in Nokia's hardware design, this does not happen when you lay the phone on a (hard) flat surface. That's because the gentle curve of the back shell is just enough to provide a near invisible air gap through which the sound can be channelled.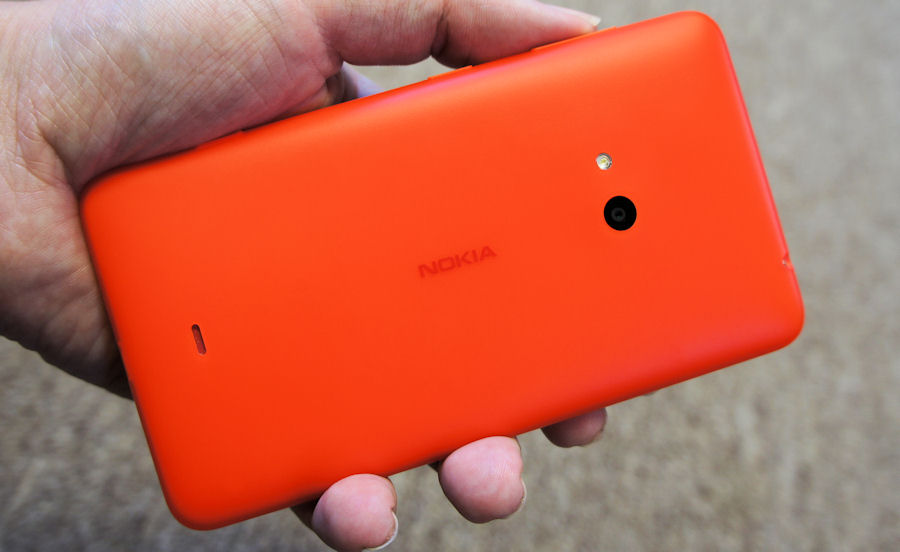 The Lumia 620 has just a single microphone, which means there's no hardware-based noise cancellation, although Nokia does do uplink noise cancellation in software (i.e. outgoing calls). However, in our tests we were hard pressed to notice any substantial differences, with the call quality matching up to Nokia's usual high standards.
Like most Nokia smartphones, the Lumia 625 also supports HD voice, which gives excellent call quality, but requires operator support, something that's not universal, especially on cross network calls. It's worth noting that the presence, or absence, of HD voice will make a far bigger difference to call quality than the hardware cuts noted above.

Internals and Performance
Inside the Lumia 625, there's a Qualcomm Snapdragon S4 MSM8930 SoC (System on a Chip). It has a dual-core processor, clocked at 1.2GHz, accompanied by an Adreno 305 graphics co-processor, and 512 of RAM. It's a first for a Nokia device, essentially something of a half house between the MSM8227 and the MSM8960, and a result of Nokia's decision to include LTE connectivity with the Lumia 625.
| | | |
| --- | --- | --- |
| SoC | Devices | Specification |
| MSM8227 | Lumia 520, 521, 620, 720 | Dual-core 1GHz Krait, Adreno 305, |
| MSM8930 | Lumia 625 | Dual-core 1.2GHz Krait, Adreno 305, LTE |
| MSM8960 | Lumia 820, 920, 925, 928, 1020 | Dual-core 1.5GHz Krait, Adreno 225, LTE |
This small SoC variation does have a small impact on performance, which is also apparent in the benchmarks results below: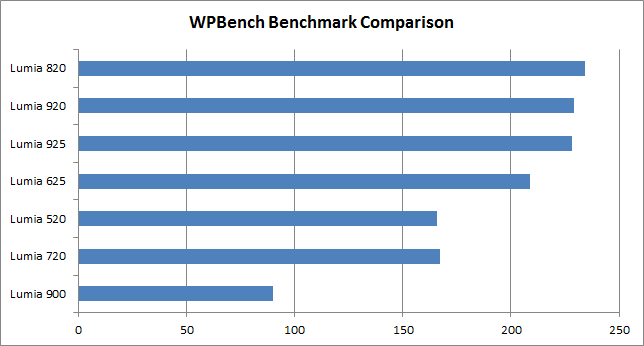 In terms of real world usage, this translates to third party apps opening ever so slightly quicker on the Lumia 625, when compared to the Lumia 620, but not quite as quickly as on the Lumia 925. You'll only ever notice this if you do a side by side comparison, because there's really not a lot in it. Some operations in resource intensive apps (e.g. PhotoSynth) will also be impacted, but again it's not something you're really likely to notice in day-to-day usage.
The relatively small performance difference between high-end and low-end Windows Phone devices is one of the strengths of the platform, tying in with its consistency and cohesiveness as a whole. It can make the high-end devices less attractive in value terms (e.g. why buy a Lumia 925 when I can get 95% of feature set on the Lumia 625), but that's more because the low-end devices offer terrific value, and misses the point that high end devices are more about the quality of experience (e.g. better camera), design (slimmer), and materials (fashion-like).
As with other Windows Phone devices, the processor and RAM specifications are typically lower than in competing Android devices, but that's more of a reflection of Windows Phone's more efficient architecture and resultant modest hardware requirements. As we've noted in previous reviews, comparing processor clock speeds and RAM levels between different platforms is rather meaningless.
As with its other low cost Lumia devices, Nokia has included 8GB of internal memory, which really is the minimum required. The Windows Phone devices with 4GB of memory are crippled almost as soon as you get them out of the box (HTC 8S). A microSD card slot is available to extend the (media storage) memory and, if you intend to store a lot of music or video on the phone or plan to take a lot of pictures, an 8GB+ card is a recommended upgrade.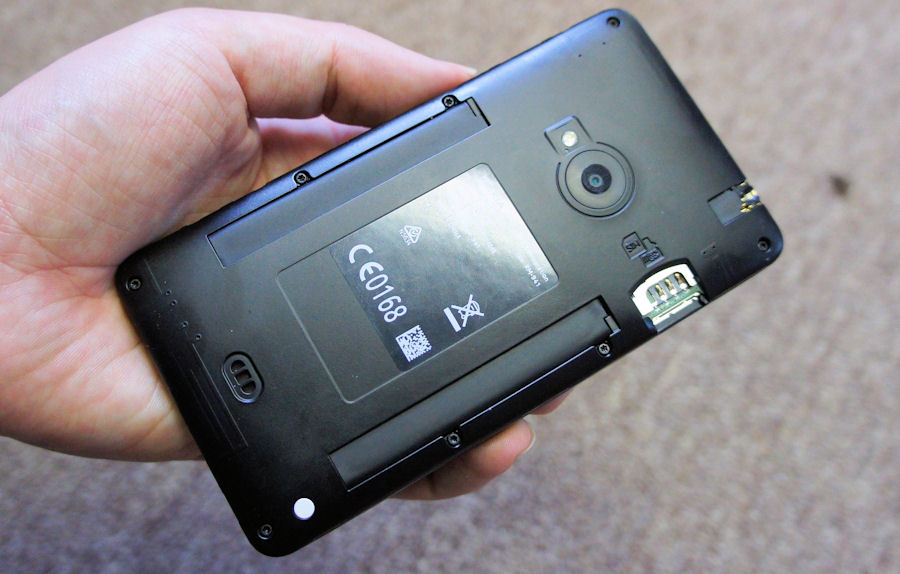 The Lumia 625 supports GSM (2G), WCDMA (3G) and LTE (4G) for cellular connectivity, plus WiFi and Bluetooth. LTE connectivity is included for the first time in a low cost Windows Phone device, a consequence of wider availability of the 4G technology and a desire from operators to sell LTE devices to more customers to recoup some of the money they are investing in upgrading network infrastructure.
The Nokia Lumia 625 has a BP-4GWA integrated battery with a capacity of 2000mAh. This capacity is notably more than in both the Lumia 620 (1300 mAh) and the Lumia 520 (1430 mAh). This means that, with light usage, the Lumia 625 can last two days on a single charge. In practise, most people are still going to be looking at the standard smartphone daily charge regime, but the difference is that you can have a higher degree of confidence that the phone will not run out of power halfway through the afternoon.
Elsewhere, there's more of an emphasis on cutting back on components to keep the cost of the handset down. For example, as in the Nokia Lumia 520, the compass and gyroscope sensors have been omitted, and, similarly, there's also no NFC chipset. The former means there's no support for Nokia City Lens (Live Sight) and other augmented reality apps, or the automatic rotation of the map in the HERE Maps app. The latter means sharing options with other handsets are reduced (though Bluetooth still works fine), tap to pair with Nokia accessories is not available, and there's no support for NFC based payment (very rarely used currently).
If you're looking for a low cost Windows Phone handset with as many hardware features as possible then the Lumia 620 is a better bet, but to our minds the hardware omissions in the Lumia 625 are an eminently reasonable trade-off for an LTE capable handset costing less than £200.
There are two variants of the Nokia Lumia 625, one with LTE connectivity and one without:
RM-941 (Nokia 625): Global variant: EGSM 850/900/1800/1900, WCDMA 850/900/1900/2100, LTE band 3 (1800), 7 (2600), 8 (900) & 20 (800), LTE Cat 3 (100 Mbps Downlink, 50 Mbps Uplink), HSDPA+ Cat24 (42.1 Mbps), HSUPA Cat 6 (5.76 Mbps)
RM-943 (Nokia 625H): Asia variant: EGSM 850/900/1800/1900, WCDMA 850/900/1900/2100, HSDPA+ Cat24 (42.1 Mbps), HSUPA Cat 6 (5.76 Mbps)
Nokia has not yet officially announced RM-943 (Nokia 625H), but it has been certified by a number of Asian regulators (e.g. China's TENAA), so some of the above details may not be correct, and it's possible that a different SoC (i.e. MSM8227) will be utilised.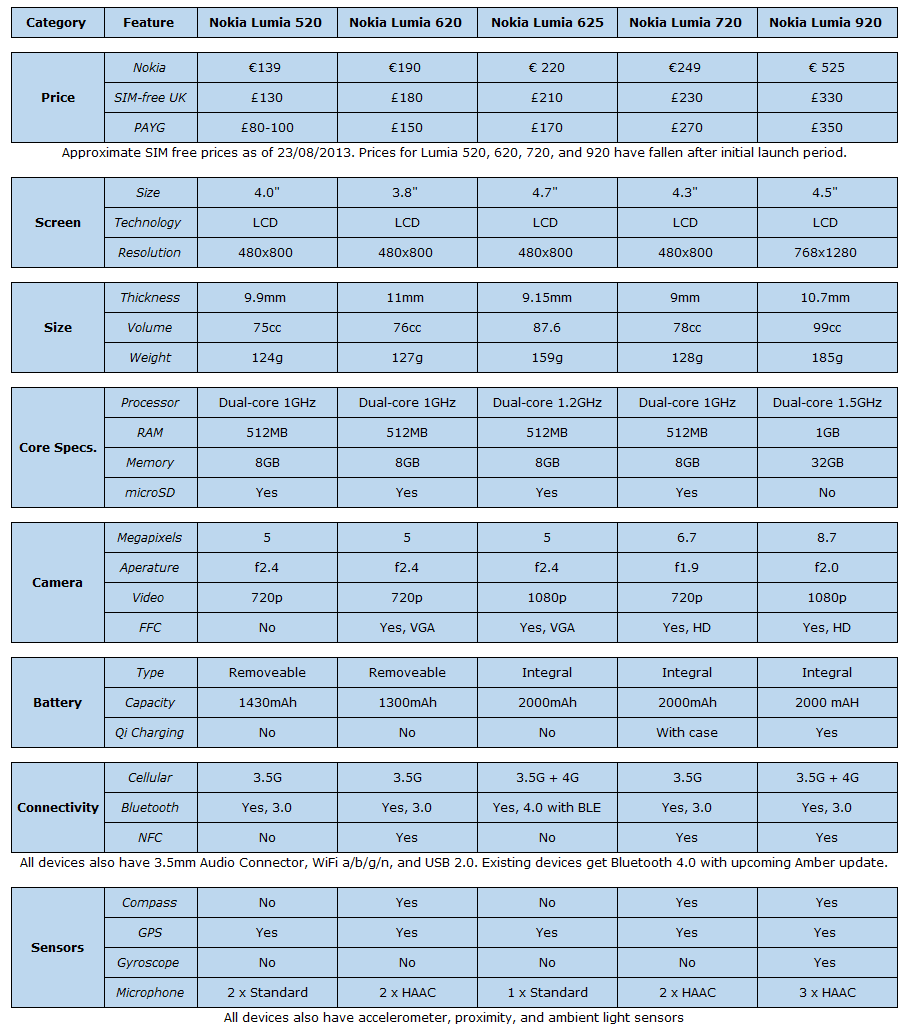 Software
So what's Windows Phone 8 like on a 4.7 inch screen? It's really not that different to on the 4.5 inch screen of the Lumia 92x and 1020. However, as with the HTC TITAN II, the other big screened Windows Phone device, it's clear that it's starting to push against the limits of efficiency. It's not about the size, but rather the fact that the same amount of information is displayed on screen as any other Windows Phone 8 device (i.e. the scale factor of the UI is the same). Big touch targets are all well and good, but past a certain point you expect to start seeing extra information on the screen.
For the most part, the Lumia 625 gets close to, but doesn't reach, this point. That's because it's better to have a slightly over sized UI, rather than one that's too small. At the same time, there are elements, such as double wide Live Tiles, that feel a little bit too big. Incidentally, the reverse is true on the Lumia 620, where the small size Live Tiles can feel a little fiddly.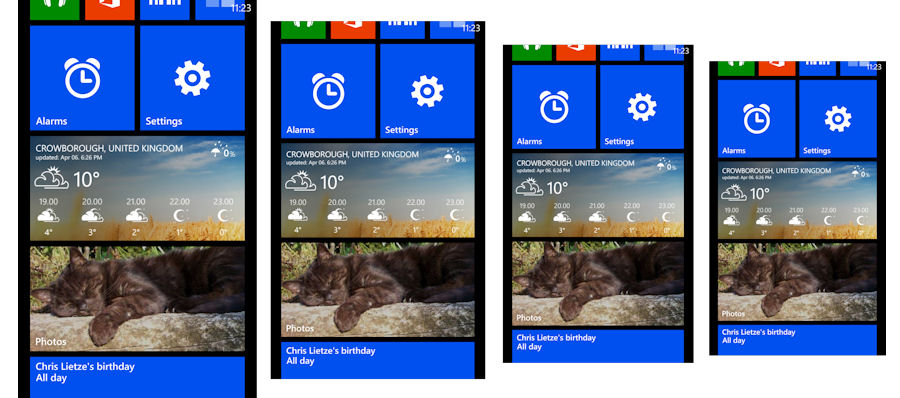 Relative size of Windows Phone Start screen on 5", 4.7 "(Lumia 625), 4"(Lumia 520), and 3.7" (Lumia 620) displays
What is clear is that if Windows Phone is to be run on devices with screens of 5 inches or more, some changes to the UI and its scaling ratio will be necessary. There's already strong evidence that this will arrive as part of the next Windows Phone update (GDR3), along with support for 1080p resolution screens. The most obvious change will be on the Start screen, which is rumoured to be getting an extra column of standard size Live Tiles, suggesting a 50% scale ratio change. So would the Lumia 625 benefit from this? On balance, 4.7 inches isn't quite big enough for a UI scale change, but the power-user in us can't help but wish it was at least an option.
Windows Phone 8 is a well known quantity now, so we'll not revisit the software in detail in this review. Nonetheless, it is worth underlining that Windows Phone provides excellent value on lower end devices, like the Lumia 625, because it provides a near identical software experience to that of high-end devices like the Lumia 925. As a result, in relative terms, there's less of a difference between high-end and low-end devices in the Windows Phone world, when compared to other platforms, such as Android or BlackBerry. Consequently, this means that the lower cost Windows Phone devices are more competitive, in a direct comparison with other platforms, than the higher end Windows Phone devices.
On the Lumia 625, this is reinforced by Nokia's own software customisations. Almost all the core Nokia apps (HERE Maps, HERE Drive, HERE Transit, Cinemagraph, Creative Studio, etc.) and platform customisations (audio, access points, storage check, etc.) are available across all devices.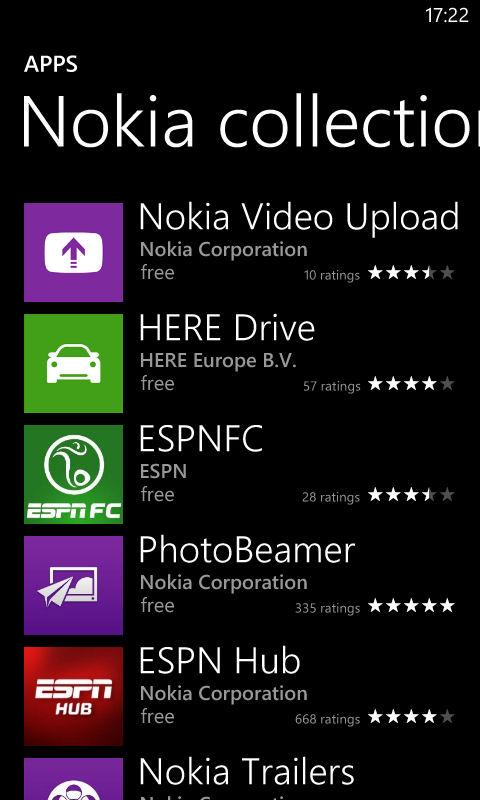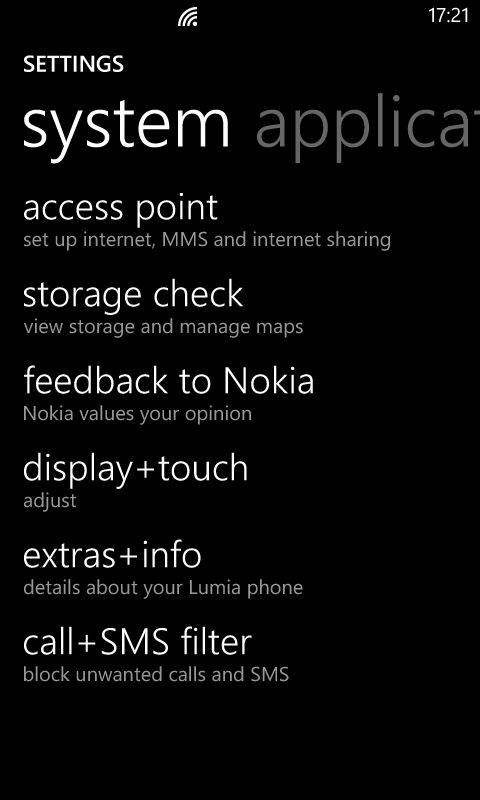 There are some exceptions to this, such as the previously mentioned Nokia City Lens (due to absence of compass) and the cut down version of Smart Camera (due to limited RAM), but there's also the navigation license bundled with HERE Drive (single region rather than global, upgradeable via an in-app payment), the absence of Pro Camera (insufficient camera hardware), plus a couple of platform customisation features (see below). None of these exceptions can really be considered to be that critical, especially when set against what is included (i.e. 95% of the functionality).
The Lumia 625 runs Windows Phone 8 GDR2 (8.0.10328.78) with the Lumia Amber firmware update. GDR2 and Lumia Amber contain a number of updates and additions, which we covered in a recent feature. However, it is important to note that two of Nokia's more interesting customisations, glance screen and double tap to wake, have not been included with the Lumia 625 due to screen technology limitations (likely not being able to run the features in a power efficient manner). The updates do offer the Lumia 625 a few software extras over the other low cost Lumia devices, but this will only be the case for a few weeks as the updates are currently being rolled out to existing devices.

Conclusion
The Nokia Lumia 625 can be summed up in a single phrase: a low cost Windows Phone device with a big screen and LTE connectivity. Both of the latter characteristics set the Lumia 625 apart from the rest of the low cost Lumia family. That wouldn't matter if the other elements product didn't measure up, but a combination of good design, competitive performance, and an ever maturing software situation tick the necessary boxes.
At the same time, the low cost, together with a big screen and LTE connectivity, do mean extra cost cutting measures have been taken with the Lumia 625, when compared to the best selling Lumia 620. Of these cuts, it's only really the quality of the screen where it feels as if things may have been taken too far, but it's a tricky area to judge.
It's possible to be rather sniffy about the Lumia 625, dismissing it as a low cost handset with too many cuts. Power users in particular will be prone to comparing it unfavourably with the value marvel that is the Lumia 620, saying that, with a relatively weak screen and component cuts that go too far, it should have been called the Lumia 525. That's not an entirely unfair assessment, but it completely ignores the benefits of having a big screen and LTE connectivity. More importantly, the sales success of the Lumia 520, easily the best selling Windows Phone device to date, clearly demonstrates that component cuts similar to those found in the Lumia 625 do not dampen sales.
With that said, it is important to note that the sales success of the Lumia 520 has, in large part, been cost driven. Currently the Lumia 520 is available for less than £100 on PAYG, while the Lumia 620, if you shop around, can be found for £150 on PAYG. The Lumia 625 will go on sale in the UK this week at a price of £170 on PAYG. That's quite a premium over the Lumia 520, more than can really be justified by the presence of a big screen and LTE, but if you assume that the Lumia 625's price will drop below £150 before Christmas, things start to look much more competitive. Further, a cheap LTE handset is exactly what UK operators want as they seek to promote 4G to as many customers as possible (though some scepticism about the level of consumer demand for cheap 4G smartphones is warranted).
Operator support, evidenced by availability on three out of four of the big UK network at launch, should translate into a push in the sales channels and higher than usual PAYG subsides, both of which will generate awareness and consideration of the device. But make no mistake... cost is going to be absolutely critical to the success of the Lumia 625.
And that's how the Lumia 625 should be seen... holding appeal in certain markets because of its particular characteristics. In the UK, the emphasis is on the LTE connectivity, with the big screen being a nice extra. Elsewhere, it's going to be the big screen that will attract attention, but in both cases it will be getting the desired features at a lower than expected cost that will be critical to the handset's success.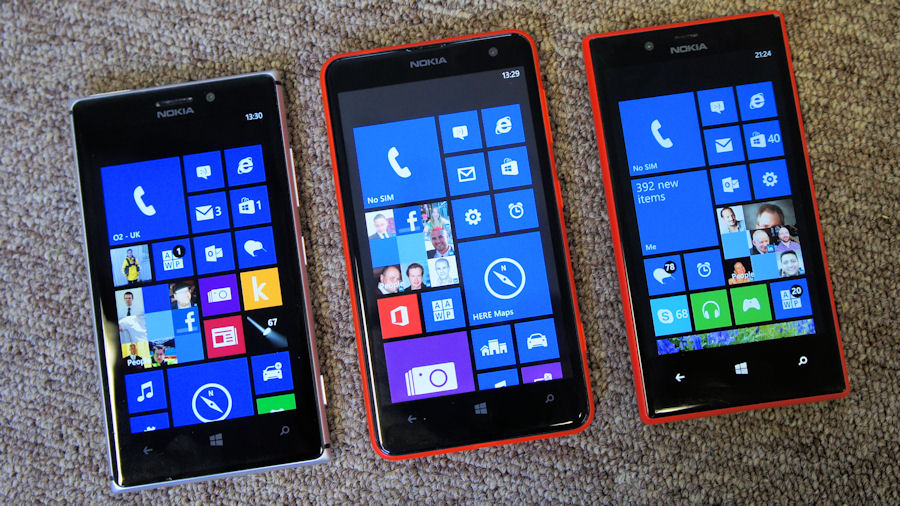 Nokia Lumia 925, 625 and 720
Reviewed by Rafe Blandford at