Review:
Microsoft Surface Duo 2
Score:
83%
2017's Project Andromeda, four years on, has evolved through Surface Phone (unreleased), Surface Duo (2020, poorly received and very poorly selling), to the new Surface Duo 2. It has specs right up with flagships of today, a truly innovative form factor (as per the original concept), and is priced at an absolute premium. But is it for you? I attempt to answer that in my full review below.
(This text review is based on my Phones Show video review, also embedded here in case you'd rather watch that. The text version does have twice the script length and a number of extras, mind you, for the enthusiast!)
From original to '2'
I should point out, before getting going, that I never even had hands-on with the original Surface Duo, which was very much a USA-only device. Although it was available, months later, in the UK, the price was so high and the word had already gone out from USA reviews, that it didn't sell and Microsoft PR weren't sending out review loans.
So, interestingly, the Duo 2 is my first hands-on with the form factor. Which is a slight shame, since the original Duo was perhaps a 'purer' implementation of the original concept, in that it didn't pander at all to consumer preferences (potato of a camera, rubbish speaker, no NFC for Google Pay, huge bezels, etc.), but did fold right round with no gaps and no protuberances. I'd have liked to be able to compare the two.
So with that, please also see my unboxing and first impressions gallery for more close-up hardware photos.
Microsoft's vision
Imagine, if you will, working at a largish company, say 500 employees. Every professional in the company has now been issued with this, a Surface Duo 2, with Microsoft Teams, Outlook, OneNote, OneDrive, and Office all baked in, and all taking advantage in some wonderful way of the dual screen system.
On the go, I'd be responding to email, checking in to what my fellow project members are up to, taking part in multi-person video calls, often doing two things at once, such as taking notes while chatting, juggling IMs and emails, that sort of thing. The Surface Duo 2 is the perfect device for this sort of thing, short of everyone having to carry around a laptop everywhere they go.
My - still - imaginary company will have paid around £1000 each ex VAT for each device, in bulk. Though then there was lots of overhead in terms of IT dept set-up and configuration time, training, and ongoing support whenever something went wrong.
As with most company devices, the actual cost, factoring in the overheads, is probably £2000 or £3000 by the end of a typical two year period. In which case, the purchase cost - again in bulk - of a Duo 2 is only around a third of the total and almost irrelevant. If it helps employees stay in touch and work more productively.
This then is Microsoft's vision for the Surface Duo 2. And it all makes perfect sense. The device - as per the first Duo - is a potential business productivity powerhouse.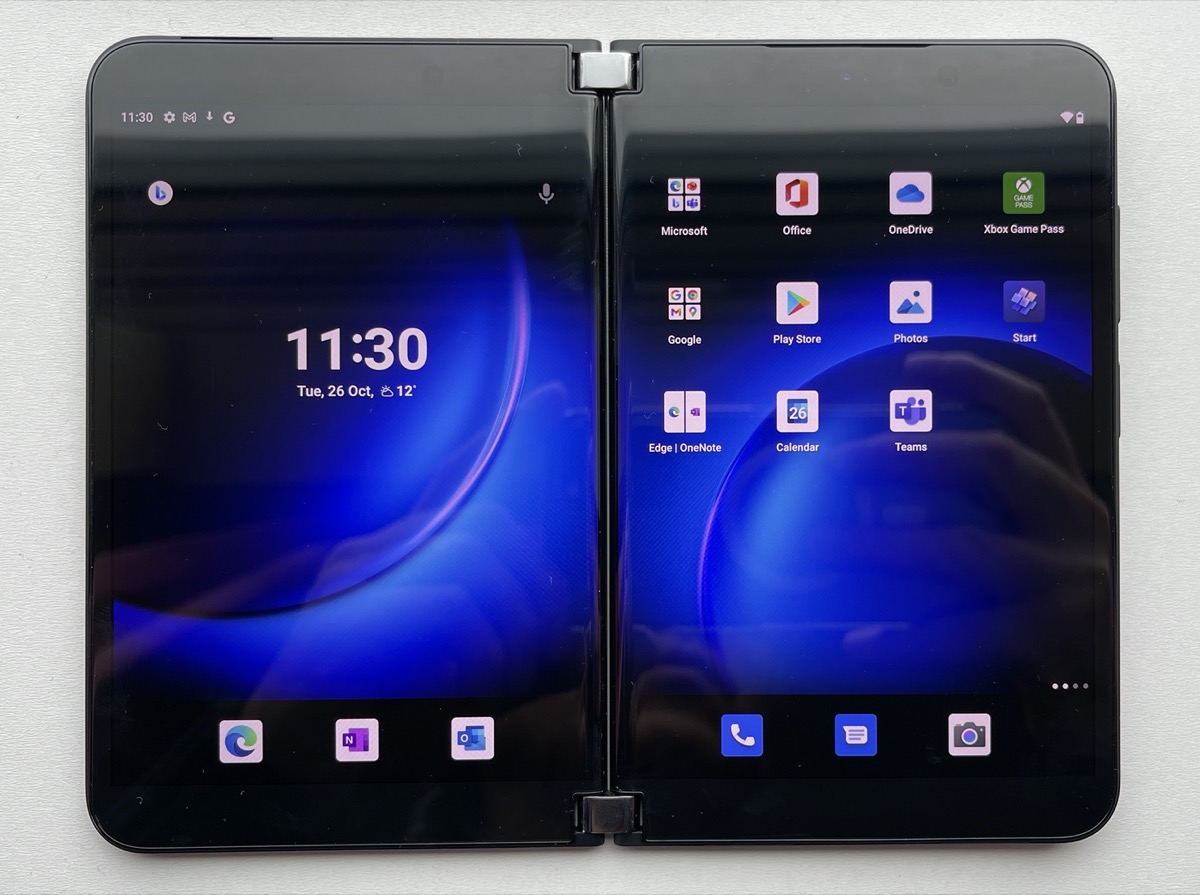 The consumer shift
Except that Microsoft clearly also now wants consumers, or at least enthusiasts, to buy the Duo 2. This is almost certainly because the enterprise vision, as I just laid out in my imagination, didn't pan out for the original Duo, with sales non-existent. So… here we have Microsoft selling to individuals at starting at £1350 inc VAT. And up to £1590 for the half terabyte version!
Which is a bit silly. The aforementioned imaginary employees were given the - also imaginary - Duo 2 by their imaginary company but all, repeat all of them will have also had their own private smartphone, typically an iPhone or Android device, which is optimised for social, music, media watching, and imaging.
Whereas the Surface Duo 2 is optimised for exactly none of these.
Yes, you can browse two social media apps at once, yes, you can scroll through your music library while reading a web page on the other display, yes, you can take halfway decent photos on the Duo 2, but let's face it, you'll be happier on your traditional glass mono-slab, which fits better in your pocket, is far easier to access - you just look at it, is way easier to case and protect, is massively cheaper, and which offers consumer functions with a minimum of form factor faff.
So why would a consumer, even a tech enthusiast, buy the Microsoft Surface Duo 2? I'm struggling, to be honest. Even when its predecessor, the original Duo, was at fire sale prices, £680 new and now under £400 second hand, even then it isn't a slam dunk recommendation. As a main phone, at least.
'Surface Phone' history
There's a tinge of sadness in all this because the Surface Duo line is derived from Microsoft's Project Andromeda, first leaked in 2017, with surprisingly few hardware differences. Originally an evolution of Windows 10 Mobile was going to be the OS used, with tweaks for the two screens, then the plan changed to run a form of Windows 10 on ARM, then it got changed again to Android in 2019 for the Duo's eventual release in 2020.
Windows Phone and Windows 10 Mobile enthusiasts (including me) had the mythical 'Surface Phone' as the great white (or black!) hope, the flagship next-gen device that was going to save the platform, but clearly Microsoft didn't have anywhere near as many resources aimed in this direction as was needed - the Windows 10 Mobile software team in 2017 was down to single figures, enough to keep security updates ticking along, but no more.
So a wholesale change of approach was needed - this effectively happened a year or two before, with Microsoft's software expansion into the worlds of iOS and Android, including a fully working Microsoft-centric homescreen system and app launcher. So by finally, finally adopting Android for the 'Surface Phone', the company could pack it with almost all the Microsoft products and services that users would have had with Windows 10 Mobile at the core.
Imaging
Given my own (and site readers') interests and given that this is the single biggest step improvement over the original Surface Duo, let's start with the cameras. It's true that Microsoft has seriously upped the specs game over the original. Sacrificing a full 'fold back' form factor, we have a triple camera on the back of one display with a full 4mm 'bump' on one edge and 3mm on the other, i.e. angled so that the device can almost fold flat and that one camera island edge doesn't impact the back of the left screen too sharply.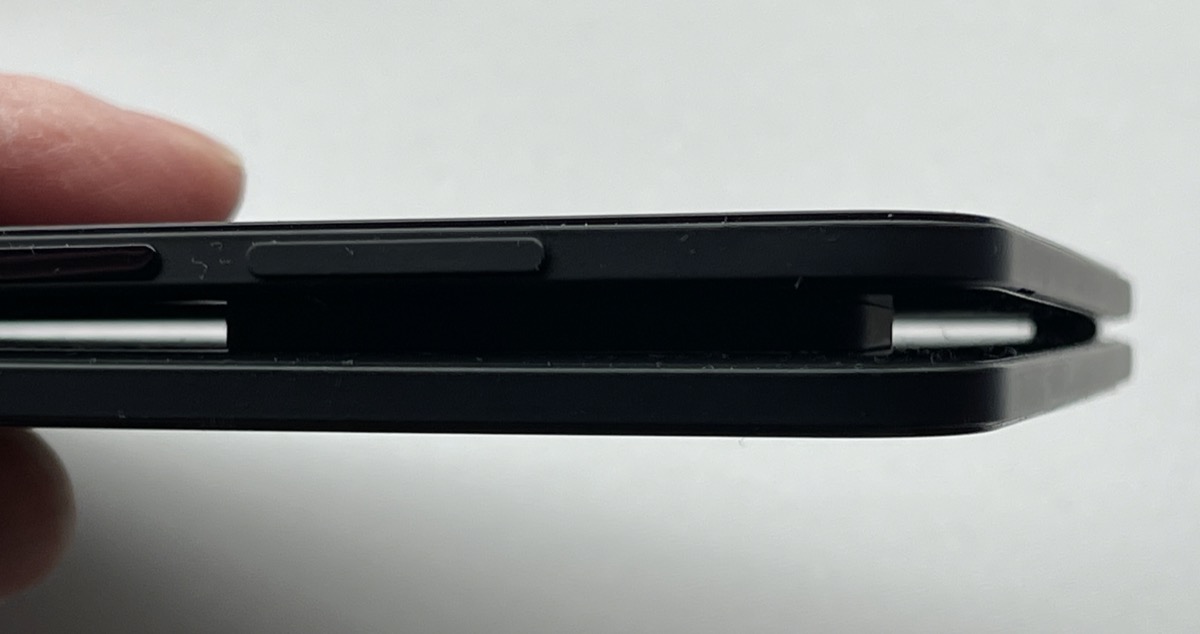 It's a clever idea once you get over the fact that the hinge is now less than a full 360 degrees and that, when using the Duo 2 one-handed, the right hand side of the 'phone' has a gap and is significantly thicker than the left. An oddity that is forgiven once you see what the triple camera is capable of, trust me.
Results are very good indeed, see my previous head to head with a Lumia 950 XL. The usual contrast, edge, and colour enhancements, plus noise reduction, but tastefully done and this is right up there with the better iPhones and Galaxies of this world, limited only by sheer sensor size and lack of a long periscope zoom system.
See the samples here - focussing here is quick and good, colours are excellent throughout, zoom is limited but reliable, and night time shots need a little tapping to aid exposure, but results are not bad at all. In each case, click on the thumbnail to open the full Duo 2 photo:
There's a portrait mode, using the main camera and the ToF depth sensor - it's also good enough, this is in indoor light - I'd have a sunny portrait, but this is the UK in Autumn and I only had an hour of sun by the river (see above), so indoors and in the dry it is: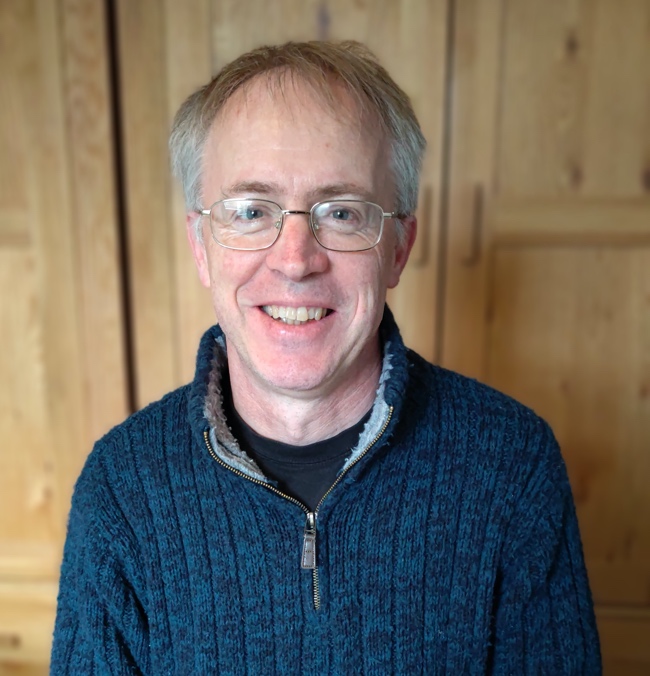 I could perhaps have gone more overboard with imaging examples, but it's not actually that much fun to take photos with the Surface Duo 2. In fact, it's a little hazardous. Because of where the cameras and screens are, you have to shoot photos with the phone opened right out, with the bottom half of the phone hanging down as if you had a folio case on a traditional phone. So if you've ever ridiculed a 'normob' for snapping photos on an iPad out in public then this is very nearly you with a Surface Duo 2 - it's all decidedly non-optimal. And if you do this a lot then you'd better have a bumper case installed because the Duo 2 is oh so slippery and droppable!
(Notably, the original Duo had just its selfie camera, meaning that you could shoot fully folded back with similar form factor to a traditional smartphone. Pity results were garbage!)
Again, see my previous head to head with a Lumia 950 XL if you want more.
Video capture is decent enough and you can switch zoom factors/lenses during footage, which is always cool. Stabilisation is a little hit and miss, but otherwise no complaints from me. There's a video sample in the video review embedded above, so do check that out if you're interested.
Durability
It's also worth noting, while you're outdoors taking photos, that such a folding design is hard to keep waterproof - Microsoft quotes IPX1 for the Duo 2, which equates to very light rain for 10 minutes. Samsung has gone up to IPX8 for the Z Fold 3, by comparison, thanks to techniques like nano-coating. So keep the Duo 2 away from elements, away from dust, away from drops and impacts across the board.
Although Gorilla Glass Victus is used over the main displays, I believe it's standard Gorilla Glass (5 or 6) on the outer panels (i.e. seen when closed), so a drop will impact these first most probably. The edges are coated plastic (with no antenna lines). There are various bumper and more inclusive cases available and I'd recommend using something (hang the expense), since the Duo 2 just seems so vulnerable if dropped.
For an enterprise device, paid for by the company and rarely used for consumer activities like family snaps outdoors, a case was optional and you could keep the original Duo slim and pocketed, usually in an office environment, even stored in fully folded, screens-out mode, ready for use. The latter mode is impractical here, plus the Duo 2 is altogether a different proposition in terms of its ambitions and use case, so you have to ramp up protection accordingly, I contend.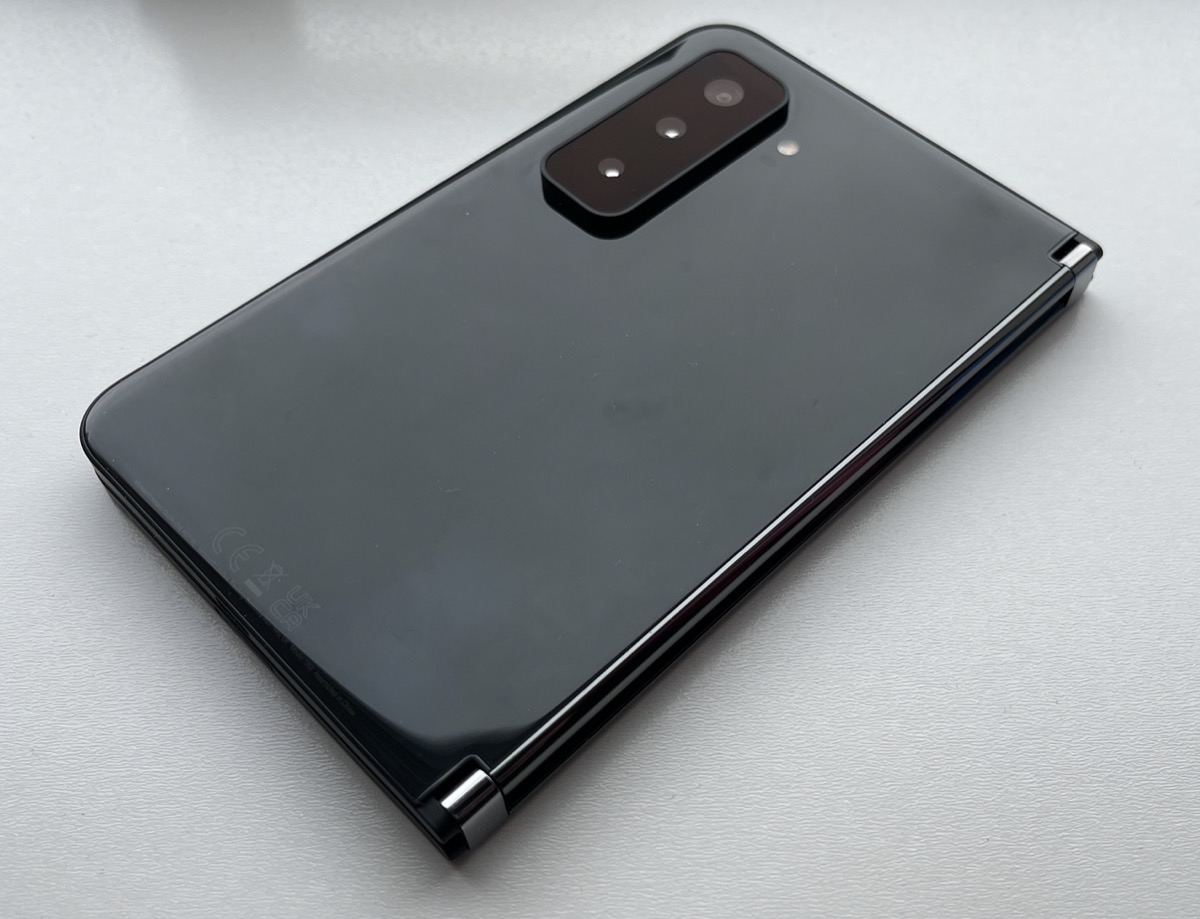 Specs and performance
Inside, we now have a Snapdragon 888 (up from the 855) with 8GB of RAM (up from 6GB), with a tweaked version of Android 11 for the two screens (Android 12 should hit in summer 2022), and everything rocks along nicely, thanks also to a year's worth of Microsoft Launcher updates. The interface was smooth throughout and my biggest issue was in my brain, in getting the hang of the vertical 'home' swipes being horizontal in landscape or laptop modes - I'm sure it gets easier as you get the hang of what's possible and know what content is sliding where!
Interestingly, others have complained about missed swipes and other UI uncertainty - the Duo 2 behaved very well for me. Many people miss, I think, that when both screens are in use and spanned, that the swipe-up-to-go-home bars are moved in towards the hinge, plus the gesture only works if that bar is shown - so if it's not, then you tap to bring it up and then swipe. The only real oddities were a few missed application icon taps, but then I get this on other phones too, and here there's a lot going on in the UI - and I'm pretty confident in Microsoft at tracking these taps down.
It's true that Microsoft has been very behind with updates for the original Duo (not least failing to roll out Android 11 at all, as I write this), but the Duo 2 is being marketed more prominently and is available in far more countries at launch, so hopefully there's a lot more pressure to keep the '2' bang up to date and free of bugs.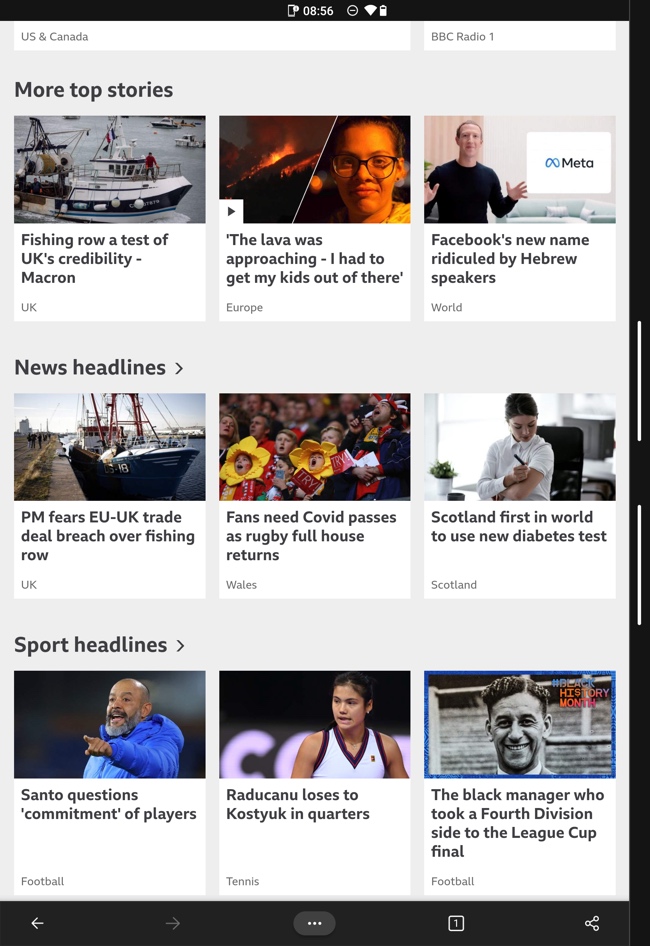 Media and Audio
Enjoyably, and especially in view of the single tinny earpiece on the original, we have in the Duo 2 truly excellent stereo speakers, with good fidelity and volume, arranged top left and bottom right in book mode, or bottom left and top-right, in vertical or landscape modes - if you see what I mean! You don't need to worry though, because the audio always sounds great and full with decent stereo. Well done, Microsoft. Speakers done perfectly.
Actually watching media is somewhat flawed, of course, in that you either have to just use one screen (in vertical or tent modes), in which case your viewing area is smaller than most regular smartphones, or you span the application in book/tablet mode and then accept that there's a small black bar (the hinge space) up the middle of the frame all the time. The viewing diagonal is then up in 7" territory, depending on the content (black bars, aspect ratio, etc.) which is larger than on most phones (especially at 4:3) - but... that vertical strip. Your eyes will either get used to it or they'll be drawn to it. It's subjective. But handy to have options, I guess, especially when you just need a video to be bigger, to show someone else.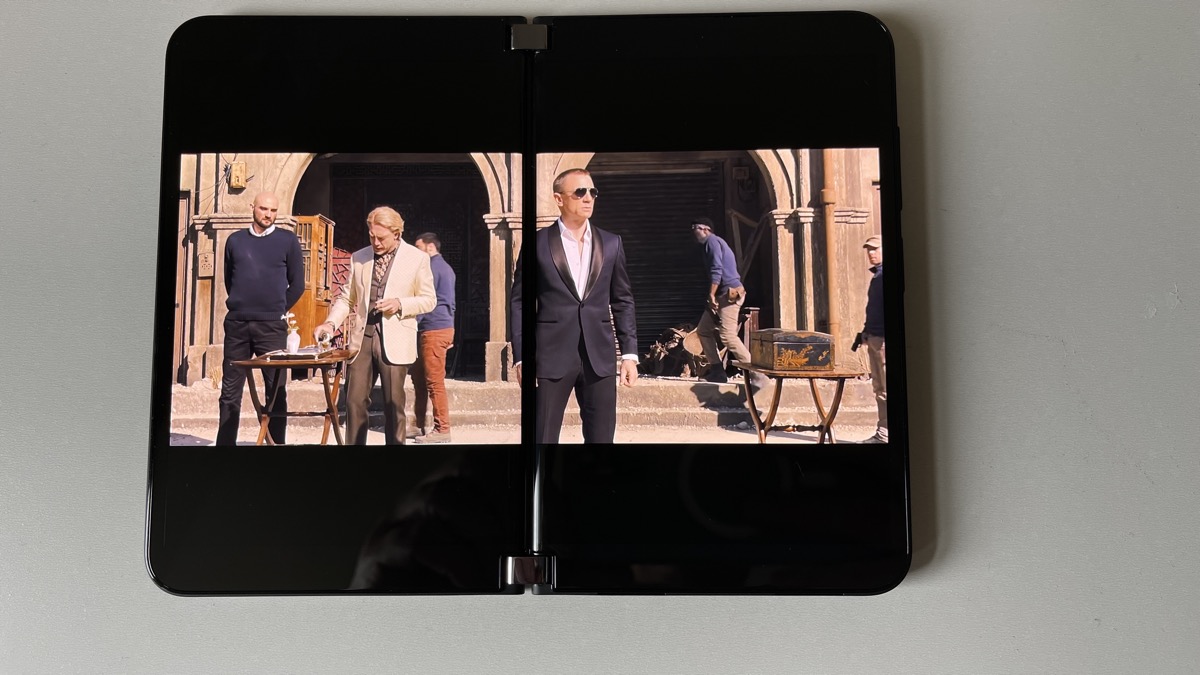 Text input
As you change modes, from book (two screens) to tablet ('one' screen) to tent (two landscape) to laptop (two screens, vertical), the user interface does keep up and the appropriate keyboard layout is offered. Specifically:
a split tablet keyboard if you're using something across two displays - I expected to hate this, but a) it's not used that often, and b) it worked pretty well, as long as you're only typing the odd browser or media search string, and note that (as shown below), you lose a huge amount of screen real estate while inputting.
a single screen keyboard if you're inputting on just one screen - this is standard SwiftKey and works as on other phones. The extra width of the Duo 2 also helps with typing, as there's plenty of room.
a virtual laptop keyboard if needed, if the screens are on top of each other. Arguably the most visually exciting (a laptop in one's pocket?!), it's not that useful in practice because a) typing on glass is nowhere near as nice as typing on a real keyboard, and b) the Duo 2 is constantly trying to tip backwards because of the weight of the cameras at the top of the top screen half.
All of these could do with a little optimisation or, at least, more customisation. And yes, I'm sure Microsoft will fiddle too, in updates.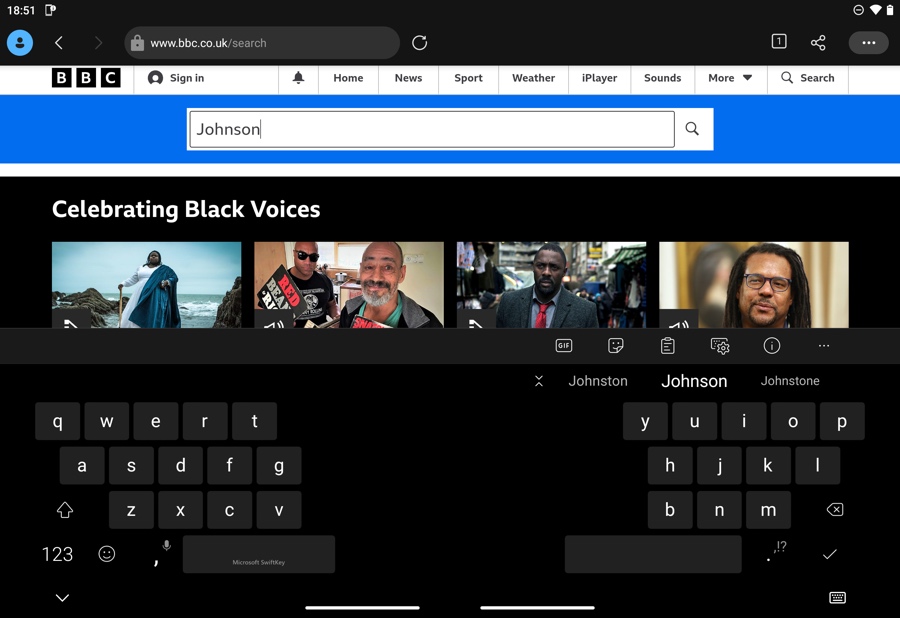 The Glance bar
There's a tiny 'glance bar' system down the hinge when the Duo 2 is closed - a press on the power button gets you a brief and absolutely miniscule time readout, while you get a brief battery readout when plugging in to charge. Very little else - just SMS notifications and volume adjustments, when playing music, also both brief - makes it to this display edge, plus you have to view the phone closely and at exactly the right angle, so in practice this 'glance bar' system isn't as useful as I'd hoped. Yet again, updates may grow what's possible (e.g. Twitter DMs, email, longer display pulses), though the size of text and icons don't fill me with hope.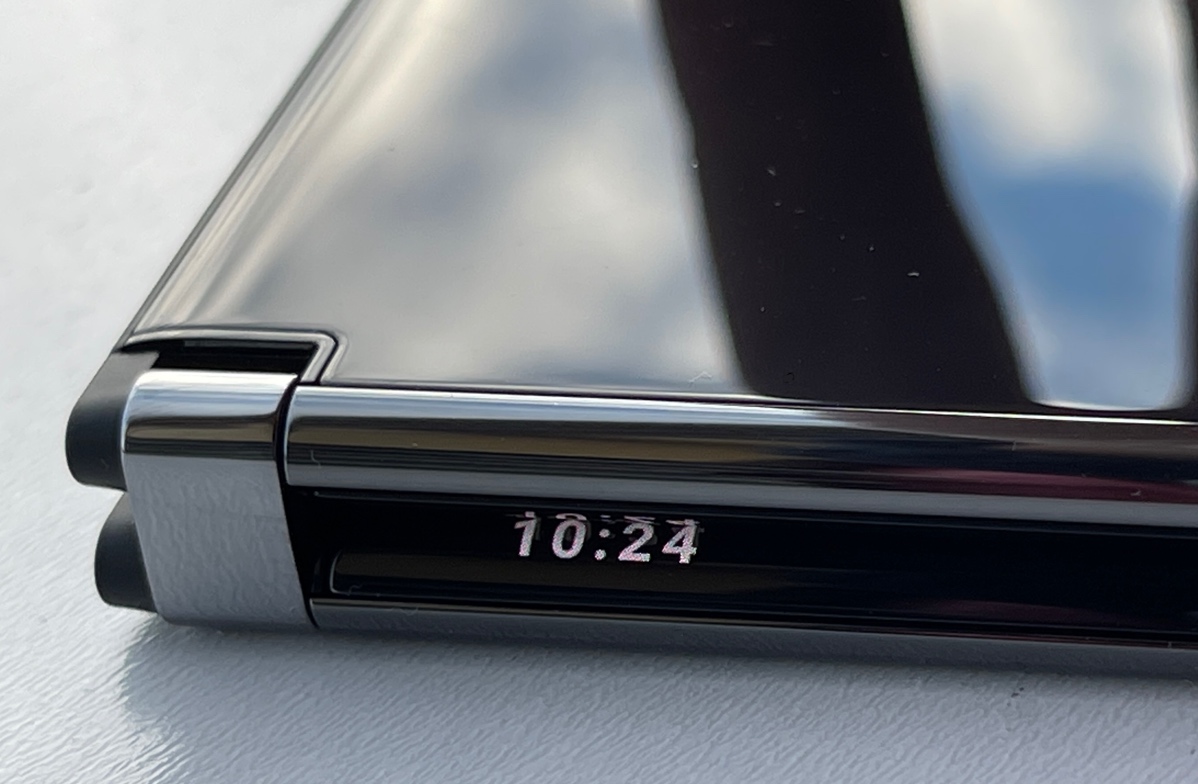 Many have wished for an external display, as on some other folding phones, but I disagree. The elegance of the design would be spoiled and there would be yet more expense piled on the bill of materials - the Galaxy Z Fold 3 has a whole extra full-size display on its outside, which is just wasteful and inelegant, not to mention expensive. So, yes you will be opening up the Duo 2 a lot - or perhaps leaving it in on the desk in single screen, folded mode. That's just how it works.
Dual screens, two apps at once?
Although having two apps up on a device at once can indeed improve productivity, note that there are other times when it's actually more helpful to concentrate on just one. It's why I usually run applications on my laptop in full screen mode and, in fact, I've never snapped a window like they show in the demos. But at least the Duo 2 gives you options, with 'spanning' (across the hinge), with most of the Microsoft applications supporting multi pane views (e.g. topics/detail, headers/bodies, etc.), and with various vertical/landscape splits, including that laptop keyboard mode - there's a lot here to play with and any purchaser won't be bored, I suspect.
The majority of Android applications don't know about two-screened - or folding - devices, mind you, so spanning these results in an overlarge and gapped UI. Still handy in things like Google Maps, mind you, but a pain in the likes of Instagram, Contacts, or indeed anything else that expects one screen and finds two. In real world use, you just get used to which applications can be 'spanned' and which can't. In the latter case you run each on one screen as needed - and can 'fling' it from one to the other if you decide, for example, that you'd rather have Twitter on the right, than left.
'App pairs' (also found in the Samsung world) are potentially handy if you always open up two applications side by side, such as the Edge browser and OneNote, for note-taking. It's a nice facility but I can rarely predict my needs that reliably and the app pair shortcuts would start overwhelming the homescreens if you got too carried away, I suspect - I believe in keeping homescreens as simple as possible. The Duo 2 comes with an example of Edge/OneNote, on left and right screens respectively, but it's really only limited by your own imagination.
'Drag and drop' has been implemented much as in (more contortionately) iOS 15 - here it's intuitive and easy, thanks to the two screens. You highlight text and/or graphics, then - literally - drag and drop them to the other screen. As long as the application there can accept them (e.g. from OneNote to Word, as below) then they get pasted in just fine. It's... impressive.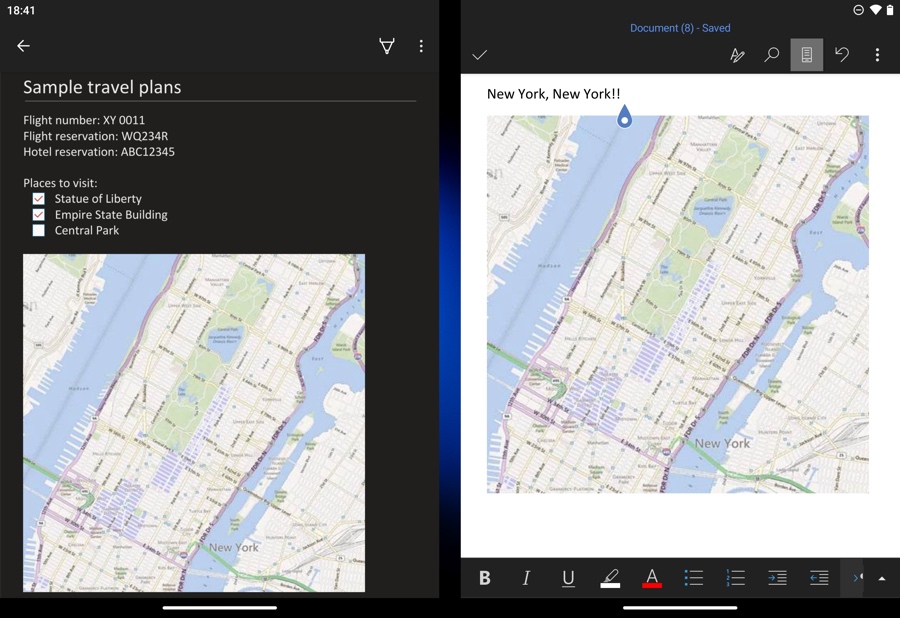 Games are a bit of a disaster, not surprisingly. Some work pretty well across both screens, most have their crucial central data obscured by the hinge, some insist on one screen in portrait or landscape. Yes, yes, I know about Xbox Pass and some Xbox games being tuned for the Duo 2, but regardless, every one of my own Android favourite game was a fail. But then you really don't buy this for gaming, so…
Battery life
Capacity is up from 3577mAh to 4450mAh (over the original Duo), partly explaining the extra 0.7mm thickness of each half, with the batteries split into two (obviously), wired in parallel. All you need to know is that it charges via USB Type C at a maximum of 23W and that real world battery life is... average. Intensive (e.g. business) use all day will see it out of power by tea time, while a mix of duties gets it through to bedtime. Given the thinness of the device in general, battery performance is about as expected and rarely a problem. However...
...I can't forgive the lack of Qi charging, especially in a business device at around the £1500 mark. Especially as the Duo 2 is thicker, surely, surely, Microsoft found space for a half millimetre Qi charging coil, so that the device could be placed on a pad a dozen times a day and always kept topped up? No, it seems not. It's a huge omission for me personally and its presence is worth £100 of the retail price to geeks like me, I suspect, even though it only costs a manufacturer a few dollars to actually include. Sigh.
Authentication
The original Surface Duo had two main authentication issues. Firstly, the fingerprint sensor was separate to the power button, so you effectively had to press two buttons to get 'in' to your device. The Duo 2, sensibly, has combined the two functions, so just touch the power button and you're authenticated and in, with the screens unlocked and ready for use. It works really well, and the power button is nicely prominent and easy to find without looking. There's no face recognition, but it's probably not needed.
Secondly, on the original Duo, there was no NFC, so you couldn't pay for things out in the real world. The Duo 2 has NFC and Google Pay, authenticated through the aforementioned capacitive fingerprint sensor. This works well, though you do have to crack the Duo 2's screens open a little to bring the device to life in terms of recognising you and accomplishing payment.
Verdict
Despite worries and complaints above, I really, really enjoyed my time with the Surface Duo 2. For 98% of smartphone users, the device will be awkward, clumsy, and frustrating. But for the other 2%, roughly the same niche of the population that bought Psion palmtops (themselves revolutionary) in the 1990s (albeit at pocket-friendly prices around £300, or roughly £600 in today's money), the Duo 2 is something to run your life and your work, fitting (just) in a pocket and bringing a smile to your face every single time you open it up or fold it round.
So. It's niche. But Microsoft is trying to sell to consumers at an outrageous price that absolutely ensures it will remain ultra niche and will, in all likelihood, only sell - literally - a few thousand units. Which is a travesty and a crying shame.
The bill of materials here is in the order of £700, I estimate. Add a profit margin and swallow the R and D costs (as the company has deep pockets and now a world-topping market cap) and Microsoft could sell this at £900, maybe £999 tops. And then they'd do a lot better. Without breaking the £1000 barrier (including VAT), at least some consumers would then take a chance on it.
Now, Microsoft still has business and enterprise in mind, at heart. So they absolutely won't do this. But let's hope for the Duo line's sake that enough enterprises do finally show interest, otherwise there won't be a Surface Duo 3 for us to enjoy (or complain about) in 2022!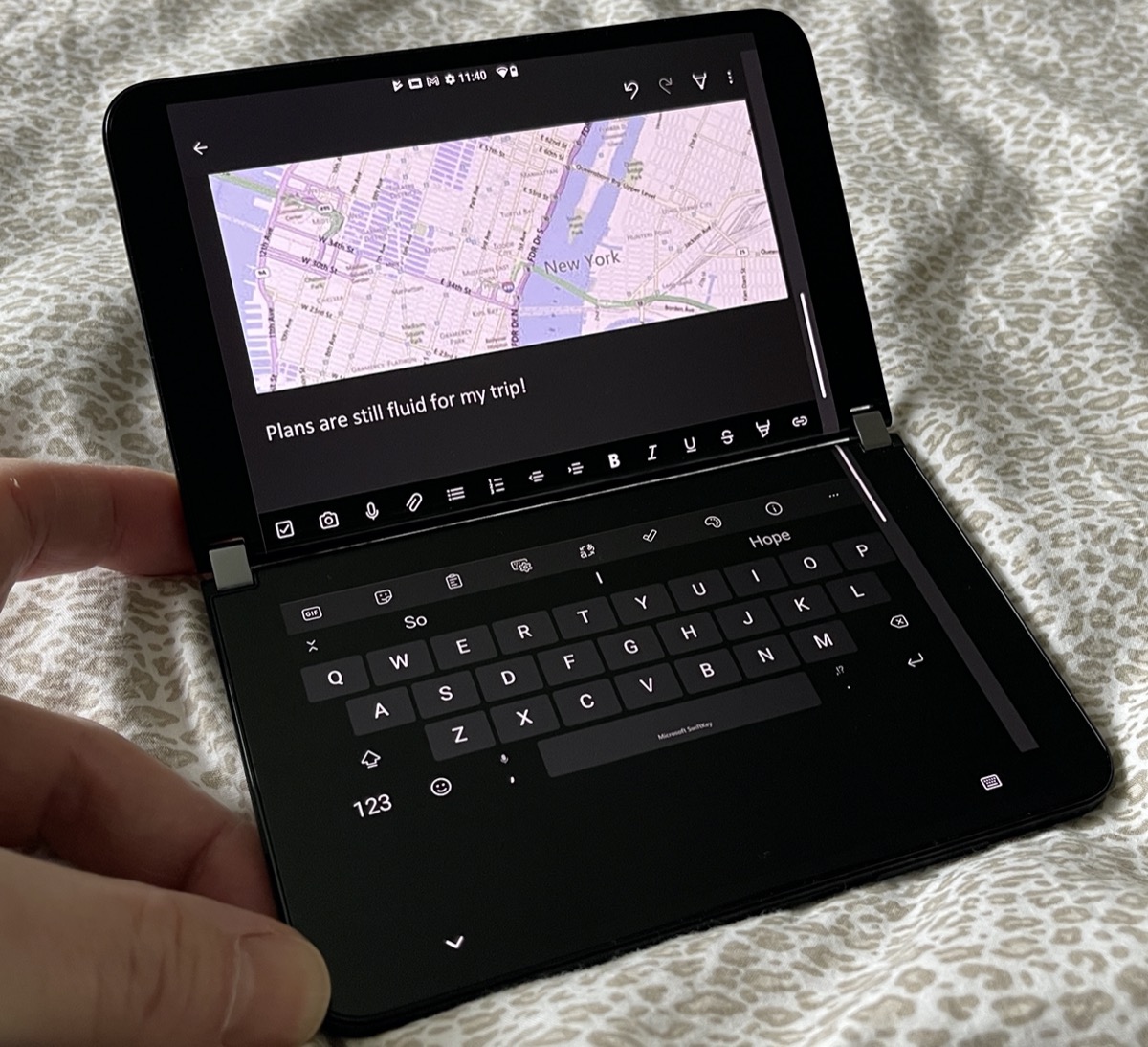 Reviewed by Steve Litchfield at