Review:
NexDock 360
Score:
81%
You'll have seen my unboxing and first impressions of the new NexDock 360 - a lapdock? A portable monitor? A fancy screen-enabled USB hub? Well, just as with the previous NexDocks ('2' and Touch), the NexDock 360 is all of these. Slightly smaller than its predecessor, the '360' adds a twist in being able to fold back from laptop to tent to tablet. Which is pretty cool, even if the bezels and speaker situation mean that you might not do this very often. The highlight for 'All About' fans is, of course, that this can expand your Windows 10 Mobile or Android* smartphone to a desktop experience. Plus it's a flexible HDMI monitor for everything else. Including iPhones and games consoles.
* Samsung's flagship phones all have the DeX desktop built in. Motorola's have the 'Ready for' system. LG's had an equivalent before LG itself exited the industry. And Huawei had the 'Easy Projection' desktop system, though it too has effectively exited the industry in the West, sadly.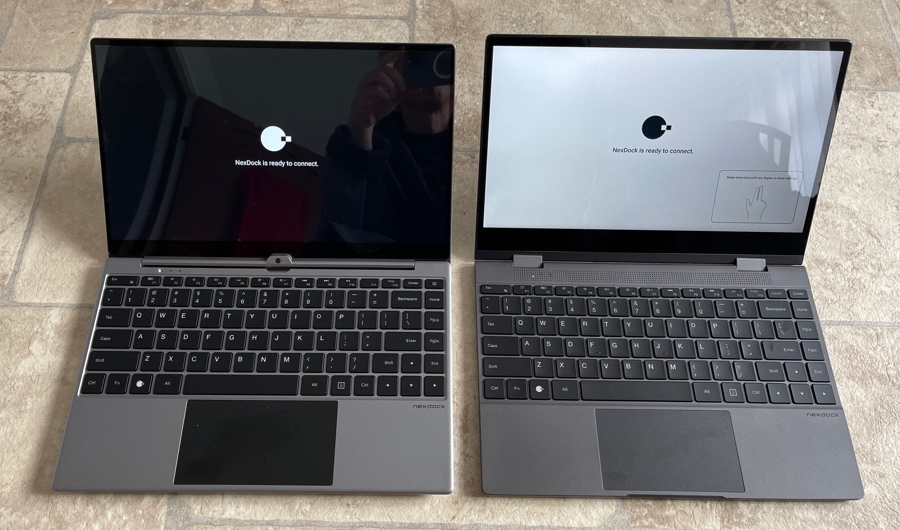 Comparison, specs
Being lucky enough to have both the NexDock 360 and the earlier NexDock Touch in house, I thought a tabular summary of their essential attributes might be a good way to get started:
NexDock Touch (2020) - original review
NexDock 360 (2021)
Price
No longer available new (was $269)
(currently) $370
Physical
1.38kg, 319 x 206 x 17.9mm, laptop clamshell
1.19kg,

307 x 209 x 14.9mm,

laptop clamshell that transforms through to tablet
Display, comments
14" diagonal 1080p IPS LCD with capacitive touchscreen
13.3" diagonal 1080p IPS LCD with capacitive touchscreen
'Desktop' compatibility
DeX, Ready For. Continuum on Windows 10 Mobile only works via a USB hub.
DeX, Ready For, Continuum (Windows 10 Mobile)
Audio
3.5mm audio, stereo speakers with wide image and decent fidelity
3.5mm audio, stereo speakers with narrow image and poor fidelity (almost no bass or top end)

Battery
60Wh, comes with USA mains brick, but international adapters
44Wh, comes with USA mains brick, but international adapters
Ports

HDMI
Type C (charge)
Type C (Pi support for keyboard, screen, trackpad)
Type C 3.1 (Continuum/DeX)
3.5mm audio
microSD card slot
USB-A port

mini-HDMI
Type C 3.1 (Continuum/DeX)
Type C (charge)
3.5mm audio
microSD card slot
Type C (general USB)
As you'll see from the table, the ironic thing is that the original NexDock Touch is arguably the better lapdock. Audio, battery, port variety. But you can't actually buy it anymore (at least not new), which is a shame. We did cover the story when NexDock announced that supply chain issues during the pandemic had caused them to stop making the one model and transition to the next. But the end result - the NexDock 360 - is what we've ended up with, dropping the ubiquitous USB-A port and settling for lesser speakers.
But don't switch off completely, as there are definitely positives too. Without wishing to duplicate a lot of the review comment from previous NexDocks, I'll concentrate on what's new and unique here.
Comparing the two lapdocks in the hand is interesting, since they look and feel about the same size, yet the older model is actually heavier and slightly larger, though this does get you (as mentioned in the table) a significantly larger battery. Or it would if you could still buy the older model!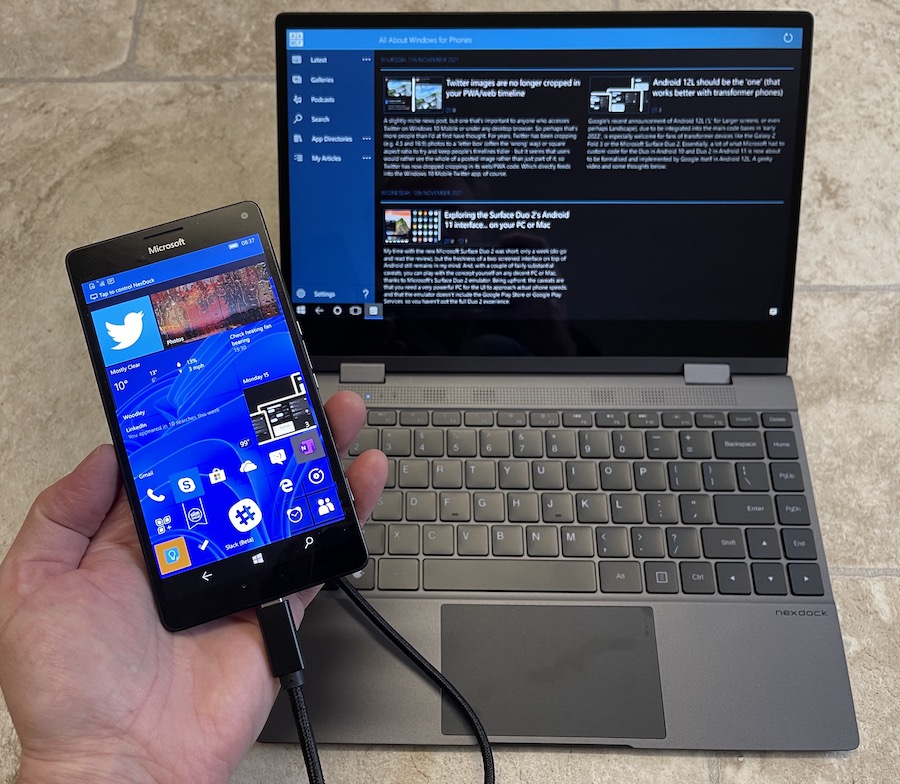 Real world battery life is excellent, not least because you'll probably only be using the NexDock 360 for 'serious' stuff and the poor speakers won't see you getting sucked down a YouTube rabbit hole for hours(! - or maybe that's just me...) As before, when your Windows 10 Mobile or Android phone is plugged in, it's charged, and if your phone was low on power then this ends up being a major factor in how long the NexDock lasts. Though in a toss-up between the two devices, you obviously want the phone to have the power rather than the accessory.
What's interesting is that the built-in (into the NexDock 360, that is) Settings panel now lets you choose whether to charge the phone or not, i.e. it's software controlled. Mind you, toggling between the two options does a complete restart of the DeX/Continuum experience, so you wouldn't want to do this in the middle of a session! The Settings panel is accessed by swiping down with two fingers in the bottom right quadrant of the NexDock 360, though the various sliders are unnecessarily confusing, as you'll see below.
The obvious USP here is that the hinge is a double one this time, letting you wrap the full keyboard underneath the display in order to create 'tent mode', where the display is kept up without the keyboard being visible and in the way. Then, by wrapping it round even further, through a full 360 degrees, we have a tablet, making even more of the touchscreen.
While all this is lovely to have as an option, it should be noted that the speakers then face backwards or downwards - they're not great when pointed straight at you, they're even worse when pointed in the other direction!
Tent mode, as I call it, is in theory a good way to watch media from your connected Continuum/DeX device - and my first impressions were poor and horribly confused by the aforementioned Settings panel sliders - don't go by the icons! In fact, these correspond to:
Volume
Backlight brightness
Sharpness
Display brightness
Which is a little bizarre, and I ended up with backlight brightness set to maximum and 'display' brightness set to halfway - but I don't think I've ever seen a device split 'brightness' like this! Plus what I thought was contrast (and didn't seem to work properly) was actually 'sharpness'. In short, the sliders take some fiddling with, but you'll find a combination that works for you and then you can just leave them forever, etc.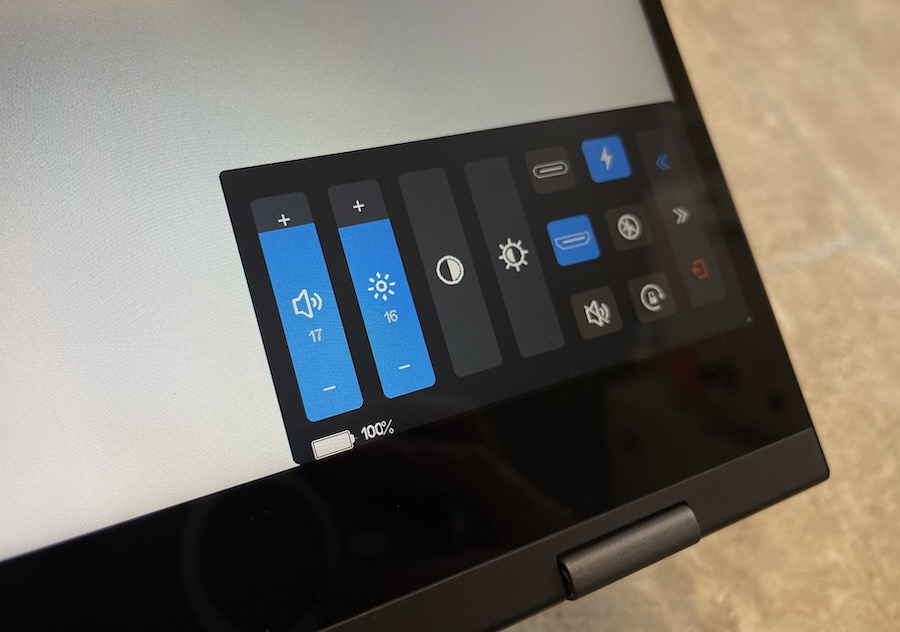 With the sliders set 'right', watching media is acceptable (given that it's a LCD screen and you'll almost certainly have been used to AMOLED colours from your phone display), with that speaker output and positioning caveat. Mind you, you could plug in headphones via the 3.5mm jack and then you're bypassing the speakers altogether.
Tablet mode is more successful. True, it's a chunky tablet in terms of weight, thickness, and bezels, but you do get most of your smartphone's applications and data in nice, large 13" screen format with the usual capacitive touch. Obviously, the NexDock 360 detects that the form factor has changed and disables input from the (now on the bottom) keyboard and trackpad. The limiting factor in tablet mode is your phone's desktop mode and how the various applications behave - I had mixed results, especially from games (which rarely adjust to Android workspaces which aren't a simple, small phone rectangle), but browsers and reference applications worked really well.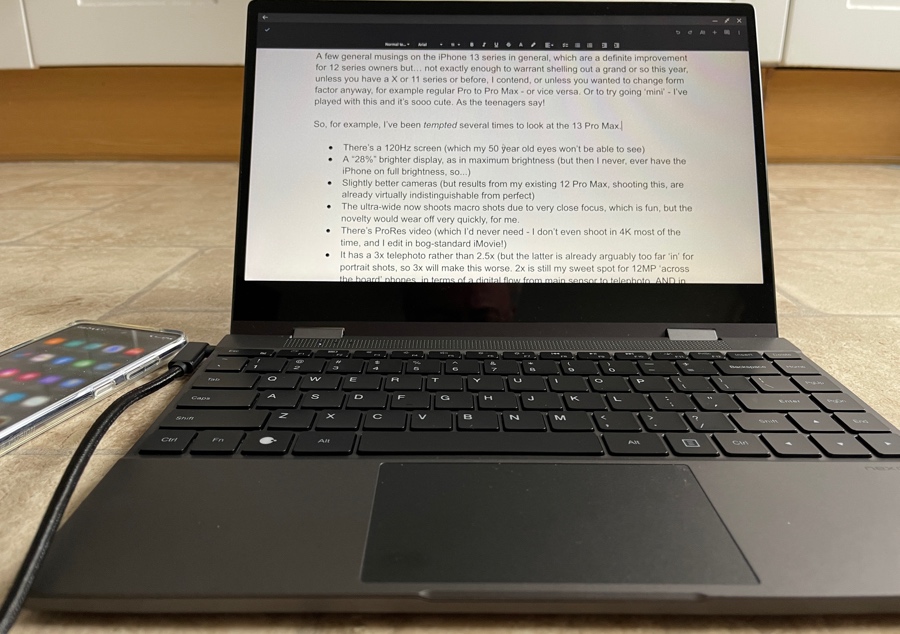 Plus - obviously - there's the standard and expected 'lapdock' mode, following not only in the footsteps of the earlier NexDocks but also attempts like HP's Elite X3 lapdock. This works best of all and is a genuinely useful expansion of your smartphone's OS, apps, and data, to embrace the integrated keyboard, trackpad, larger display, and ports.
The keyboard is very good, as per last year, the metal chassis is tightly made and feels of good quality, and the new double-hinge is also tight and doesn't feel as though it will work loose. The trackpad is very basic, the same as last year, top hinged and with no palm rejection in the drivers (as perhaps would be expected from a solution piggy backing on a phone?), but you do get used to it and learn not to rest anything on the pad other than the finger or thumb performing an action.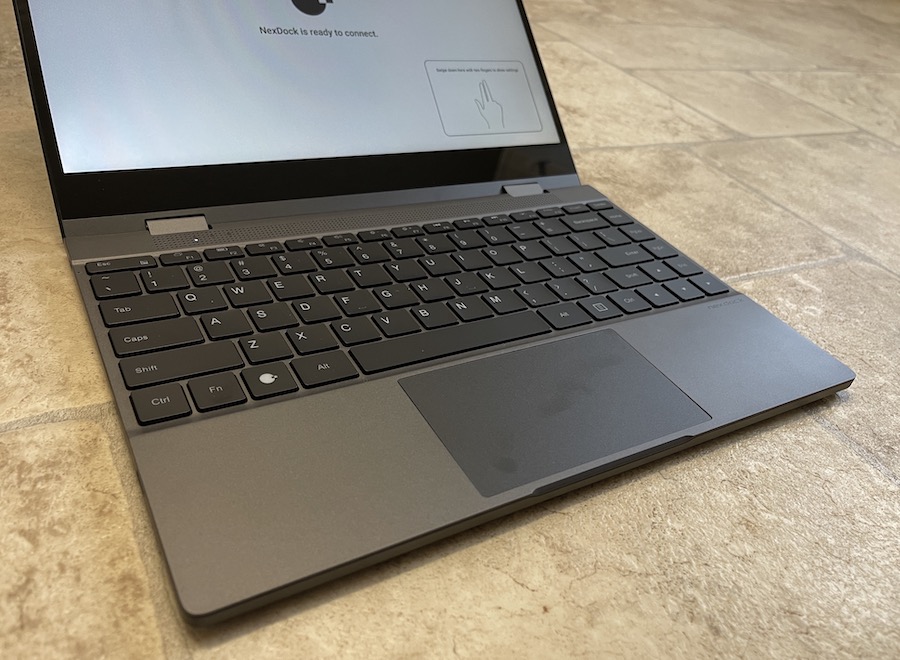 However, I do want to complain about the speakers again. So much of what you might do on a transformer lapdock depends on emitting sound. And, despite quoting the exact same '4x1W speakers' as last year, the components are inferior, with barely any stereo effect and poor fidelity. I tried watching some YouTube music videos and had to give up, the experience was horrible.
There's the usual apologist caveat, of course: if you intend to use a lapdock for running mobile office or reference applications (think Google Docs, email, maps, flights, film details) then you won't be needing much in the way of sound output and you will be absolutely fine, so it really does depend on why you're researching buying an accessory like this.
Compatibility is interesting, in that this year's NexDock connects directly to Windows 10 Mobile and Continuum (on the Lumia 950 range) without having to faff around with an intermediary USB hub. I think it's clear at this point that the 2020 NexDock Touch's fiddliness in this respect was down to electronic tolerances (probably at Microsoft's end in the Lumia hardware, though it was fine with Samsung's Galaxy phones and DeX), but with the '360', you turn the lapdock on, unlock the Lumia's screen and the connect the two and you're off and running. All of a sudden you have a Windows 10 tablet - of sorts. You're restricted to built-in and UWP applications of course.
Things work more smoothly across the board with Samsung Galaxy flagships, which isn't surprising as this is the exact set-up being designed around (and tested for) at NexDock. I tried my S9+ and S20 FE without any issues. Plus the power under the hood of these modern Android phones means that the lapdock 'desktop' interface is a lot more fluid than in the slow 2015 Windows 10 Mobile devices.
DeX is now very polished, with the NexDock 360 supporting all its various gestures (e.g. two finger swiping to scroll and three finger swiping to expose all open or recent apps).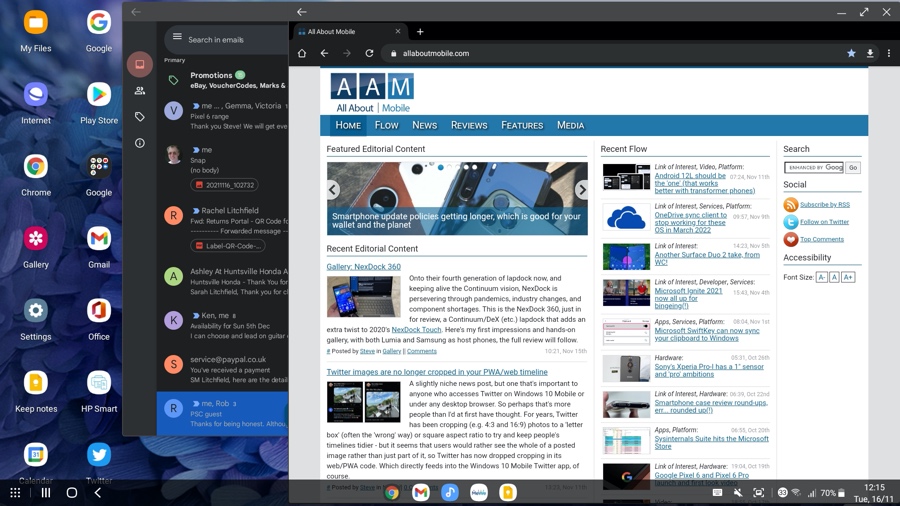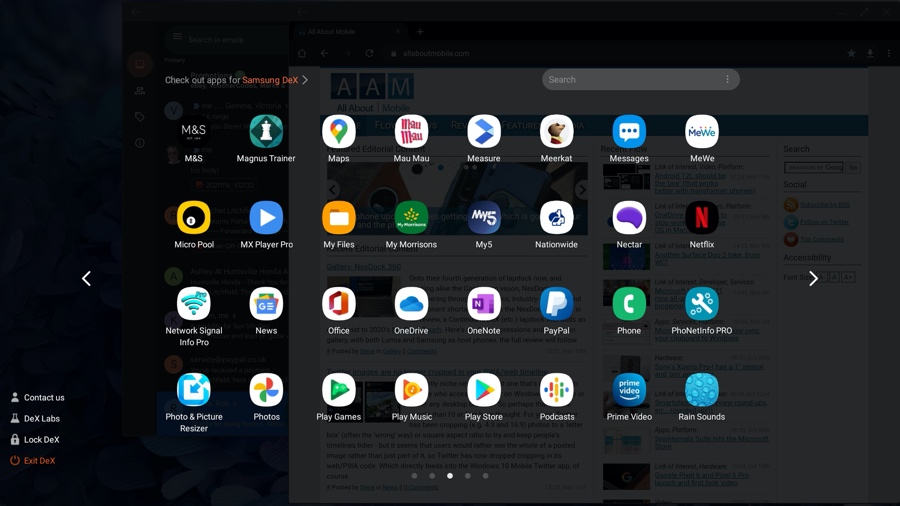 All special characters worked fine from DeX via the NexDock 360 keyboard, which is good, though compatibility with 2015's Windows 10 Mobile was less so - but you can't blame the accessory for that. The only thing missing in my review unit was a '£' key (or function equivalent), but then this is a niche accessory from a USA company, so I can live with using 'UKP' here and there, I think.
The keyboard has a bevy of function keys, some of which duplicate functions in the Settings pop-up panel (e.g. volume, backlight brightness), but all do work. Notably media control (music) and a toggle for the keyboard's backlight - this is either on or off, you don't get to choose intensity.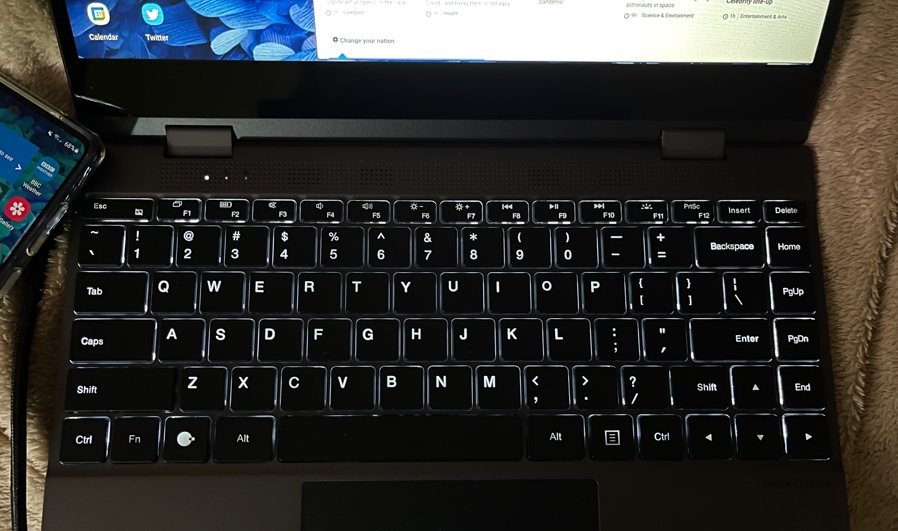 The loss of a generic USB-A port (from the Touch) isn't felt too badly, in part because more and more things come in Type C versions these days and partly because NexDock ships a short adapter cable, in case you need to plug in a USB-A memory stick or similar. True, a solid adapter would take up less space in your bag, but I dare say you have these lying around anyway.
Likewise the switch from full size HDMI to mini-HDMI for the video-in port (for non-DeX/Continuum operation) - the smaller connector was needed because it's down at the thinner end of the NexDock wedge, but again NexDock provides a mini-to-full HDMI lead, so you've got everything you'd need in most configurations.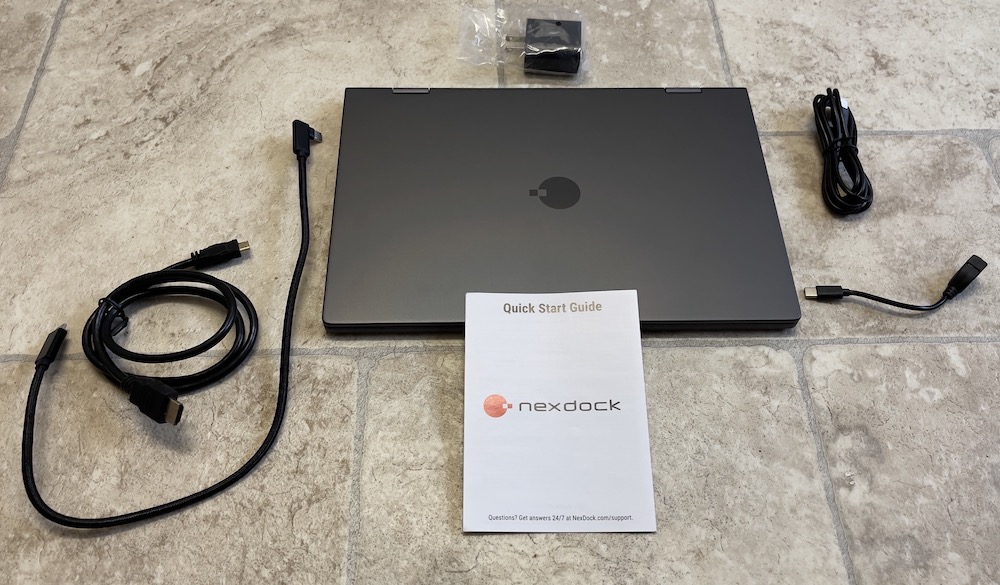 The use of three different USB Type C ports with three different capabilities (1: DeX, 2: charging, 3: data) is a little confusing at first, but the Quick Start guide does a good job of explaining what is what and you'll soon get the hang of which Type C to plug where.
The core cable provided is C-to-C but do see my dive into USB Type C power, data, and pinouts, USB 3 upwards uses extra pins in the Type C connector for its magic and I suspect that 'vanilla'/cheap Type C cables are just wired for 'ye olde' USB 2.0 and power handling, which is why they don't work here for Continuum/DeX. The 50cm one that NexDock provides here is USB 3.1-capable and is not to be confused with the 1m C-to-C supplied for charging purposes! (Note that although the review unit only came with a USA mains brick, if you order this for delivery to Canada, the UK, or Europe, then an appropriate adapter will be included.)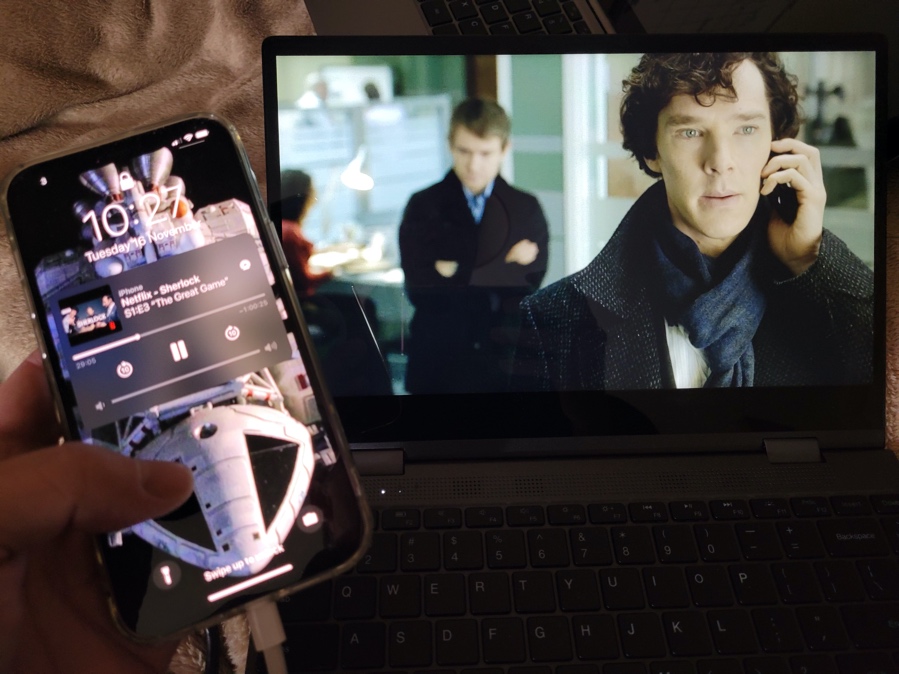 If the thought of having cables and adapters everywhere scares you slightly then perhaps the NexDock range isn't for you. These lapdocks are all about hooking things up to expand your experience. One day you might have your Samsung Galaxy S21 Ultra plugged in and enjoying the full screen DeX experience while getting some work done, with perhaps a USB mouse and external 512GB disk, the next you might have the NexDock 360 in tent mode and showing off photos from your iPhone 13 to family or friends, the next you might plug in your Raspberry Pi and have a Pi-driven laptop desktop experience. And so on. Given the use of USB and video standards (plus 3.5mm and microSD), the NexDock range continues to only really be limited by your imagination.
Pre-order prices were at least $100 cheaper - at $379 (now) this certainly isn't cheap. Though note that this does include shipping to your country. Plus, if this accessory solves a problem that you have in your life in terms of your personal tech then why the heck not?
Reviewed by Steve Litchfield at