Review:
NexDock 2 (part 2: verdict, compatibility)
Score:
85%
Buy Link | Download / Information Link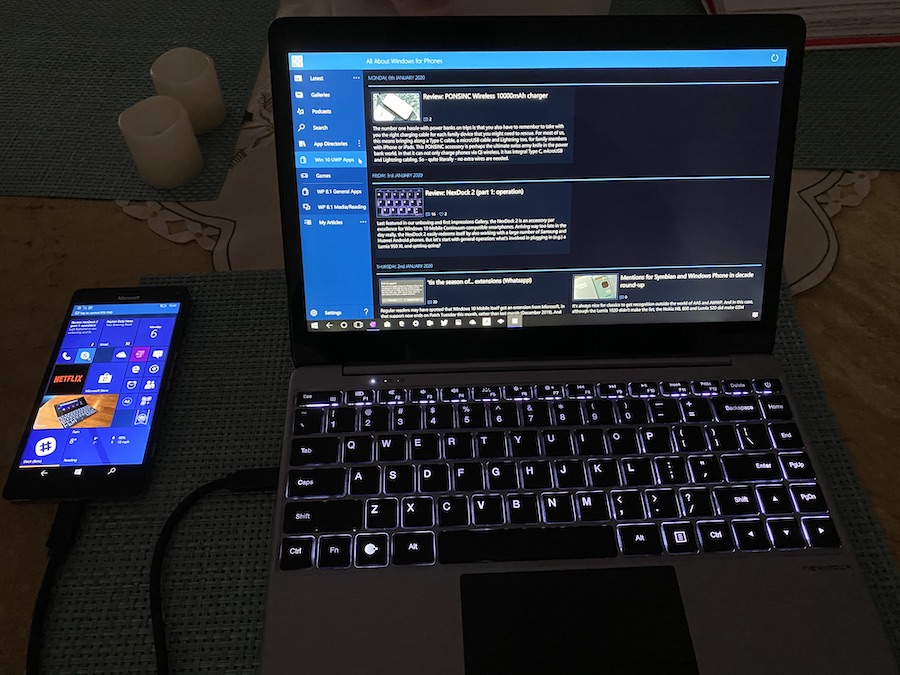 So you've seen my first reports on the NexDock 2 in action with Windows 10 Mobile on the Lumia 950 XL (and compatible with any other Continuum-capable handsets). With the display tweak noted in part one, it's really a rather terrific way of extending a Windows phone to do more. Applications like Edge, Outlook, OneNote and, of course, Word and Excel come to life with more screen real estate and you're effectively working with a full Windows computer, even though the OS and data are in your phone. The same applies, though arguably even more so, with Samsung DeX and Huawei 'Easy Projection' on Android, where you not only gain a larger display and UI, but also a fully working multi-app windowing system.
Plus the other benefits of cost, battery life, extra ports, recharging, and so on.
It's all a bit overwhelming to take in, yet it's still distinct from actually bringing along a Windows laptop instead, to sit beside your phone. So perhaps the best way to answer the common question "NexDock 2? Why not just bring a laptop?" is to tabulate the various advantages of each approach:
Approach
Windows 10 laptop
NexDock 2
Weight
1.2kg upwards, depending on spec and sophistication
1.47kg
Cost
From £200, again depending on spec and sophistication, up to £crazy
$294 (about £224) including worldwide shipping, though do watch for customs/excise duties in your country (I had to stump up an extra £40 through FedEx! Ouch!)
Ports
Depending on model, typically mix of USB Type C and USB-A, plus 3.5mm audio.
3 Type C 'in', plus USB-A, full HDMI 'in', 3.5mm audio.
Storage

Typically anything from a slow 64GB eMMC up to SSDs and even 'old' hard disks, 1TB etc. depending on spec and sophistication.

Files are local to the laptop (obviously), though drag and drop is available to a connected phone in MTP mode, plus you can work on files on 'cloud' drives (e.g. OneDrive), in which case they're also available to your phone.

microSD storage bay, up to 512GB has been tested (with DeX, though I'll bet not with Windows 10 Mobile here!)

Files are otherwise on the phone or in the cloud, depending on what you're doing. You can essentially do anything you could do on the phone because you are actually on the phone!

Interface
Full Windows 10, with the benefits of Win32 support, legacy Windows applications, but also usual need for security and maintenance.

Depending on what you have connected, but Windows 10 Continuum mimicks much of what you'd see in Windows Desktop but without full windowing for multiple application (you have to Alt-tab between them). Plus no Win32 application support.

When a Samsung flagship is connected, Samsung DeX provides full windowing for compatible Android applications and more limited windowing for less compatible apps.

Either way, many of the subtleties and customisation abilities of Windows 10 Desktop are missing, but then again you never, ever have to worry about malware or updates or vulnerabilities/phishing, and so on.

Connectivity
Bluetooth and Wifi are a given, 4G cellular only on the more expensive laptops and requires separate data plan. Tethering via Bluetooth to a phone is usually possible.

4G/5G is integral, since you're actually on the phone, so everything is connected, all the time. Bluetooth and Wifi are those in the phone and connected to anything you want (including extra stereo speakers, mouse)

Updates
Monthly manual and automatic updates needed to keep the OS secure.
None needed, since the NexDock 2 runs the up to date OS on your connected phone. And when the phone becomes out of support, your new phone will also hook up to this to present a desktop, hopefully!
Authentication
Typically via password, PIN or face ID (Windows Hello)
None needed, since you'll already have authenticated on your phone before connection.
Battery life per charge
From 30Wh upwards, and from 3 hours upwards, depending on spec and sophistication.
51Wh battery. Typically 5-6 hours use in my tests, depending on display brightness and how much charge is needed for topping up the connected (wired) smartphone.
It occurs to me that, if there had been room, a comparison to a Chromebook might also have been appropriate. After all, Chromebooks have many of the same advantages of the NexDock 2, in being trivial to keep up to date, immune from malware, requiring minimal internal storage, and so on. But you'd still need to tether via a phone or get a Chromebook with connectivity, etc. This is AAWP, anyway, so I'm sticking to the pure Windows comparison for now.
It also occurs to me that using Microsoft's ever-improving 'Your Phone' system, a full Windows 10 laptop can now have an Android smartphone appear in virtual mode on the laptop screen, and with synced messages, calls and photos. So that's yet another possible solution. Options, options!
It's clear from the table above that you can't argue the NexDock 2's case from the point of view of weight, ports, or even storage, though it has to be said that a great many ultra-light laptops are quite a bit more expensive - the $294 of the NexDock 2 corresponds to the very bottom, the bargain basement of the laptop world.
Battery life, i.e. hours of use per charge is a possible factor. With the processor, RAM and main storage all in the phone (albeit topped up by the NexDock 2 via cable), you'd expect longer life from the accessory than from a full laptop and you'd be right, by a factor of about two. In fact, a large chunk of the 1.47kg is battery, and having five or six genuine hours of genuine use at full brightness is a definite plus point. Mind you, because your phone is charged at the same time, you can lose up to a third of your NexDock 2 life on a charge by energy swallowed up by the phone's battery, so you have to allow for this (though your phone will be at 100% after a NexDock 2 session, so this isn't all bad!)
Connectivity is a big factor, meaning that every application is always online, every notification is always seen, whereas with a full laptop you've either got to be paying top dollar for a connected device or fiddle around to some extent piggy-backing from your phone's connection (and further running its battery down, if you use Bluetooth).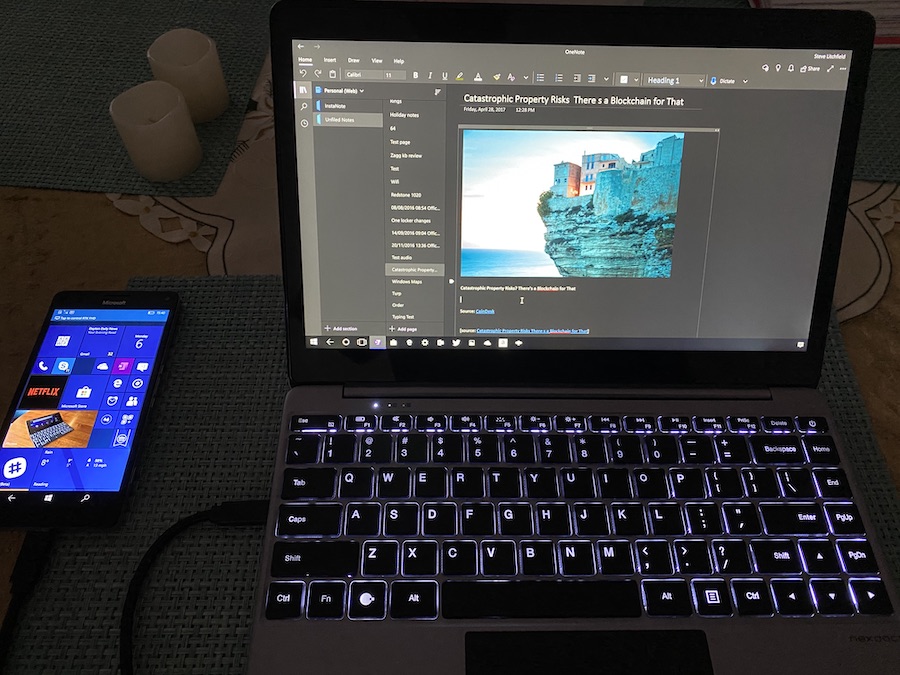 So several interesting plus points for the accessory then, plus the geeky 'cool' simplicity factor in that there's just one OS, one file system, one set of applications, one data store to worry about, just expanded to a larger form factor. Not having to worry about malware or vulnerabilities or phishing emails or possible ransomware is a bonus, though I'd imagine that anyone reading this on AAWP and anyone geeky enough to be thinking about the NexDock 2 will already be tech-savvy enough that these things aren't really a worry in reality?
The biggest use case for the NexDock 2 (and the reason why I backed it in the first place on Kickstarter) is for the 'road warrior'. You're on the move - either in a (parked, or with someone else driving!) car or sat in a train or plane seat, or perhaps sat in a waiting room somewhere for the last two to board. Either way, you're not in the office, you're not at home, and yet would like to 'get stuff done'.
Now, a surprising amount of 'stuff' can be triaged on the smartphone itself these days, with better touch-friendly mobile applications, but hands up if you ever need to reply to an email or otherwise get a few hundred words down in a document, and it's just all more than you can face on a 6" phone screen with half of that taken up by a software keyboard. Hands up if you've ever needed to fiddle with numbers in Excel or Sheets on the move and been utterly frustrated that the screen wasn't vastly larger. Hands up if you've wanted to read a USB memory stick (/flash drive) while mobile and realised that you need a hub or dock or adapter. Hands up if you've ever needed to read things from a microSD card and your phone either doesn't have a card slot or has one that's also needed for existing content.
Such frustrations are all taken care of by the NexDock 2, and with some style, on both Windows 10 Mobile and Android.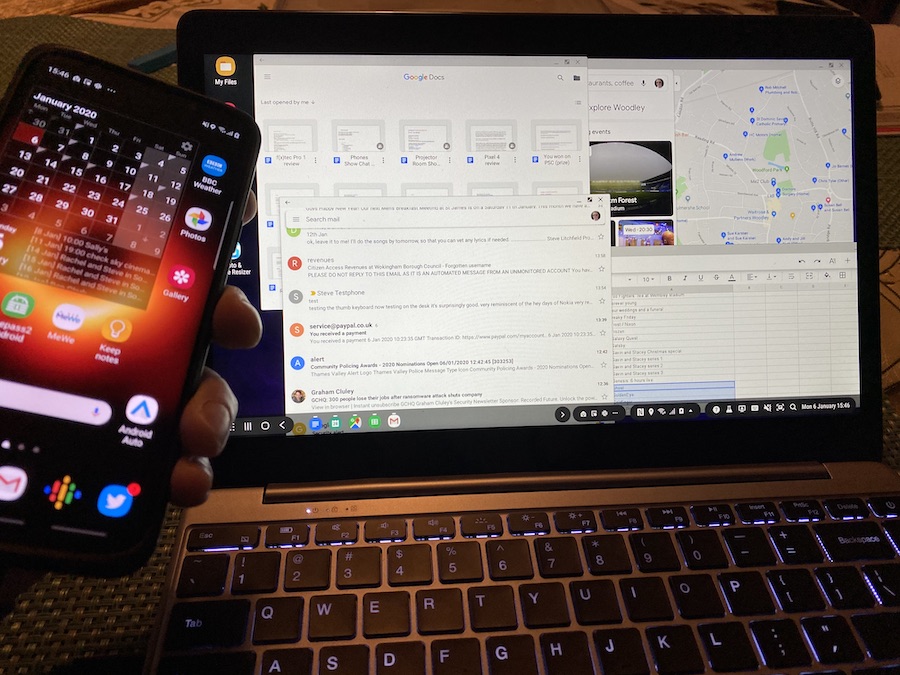 The huge caveat is that by not being a true laptop, there's no support for 'Windows' (Win32) applications, and really heavyweight tasks like audio and video editing are kludgy in the extreme, since you're effectively using a phone's chipset, RAM and software.
But that aside, there's a lot here to like. On Windows 10 Mobile, the NexDock 2 is compatible with:
Lumia 950/XL
HP Elite x3
Acer Liquid Jade Primo
Alcatel IDOL 4 Pro ('IDOL 4S with Windows', in the USA)
while on Android, the NexDock 2 is fully compatible (i.e. with desktop-like UI) with:
Samsung Galaxy S8/S8+/S8 Active/Note 8
Samsung Galaxy S9/S9+/Note 9
Samsung Galaxy S10/S10+/S10e/Note 10
Huawei Mate 10/10 Pro
Huawei Mate

20/20 Pro/20 Pro X/Mate 30

Huawei

P20/P20 Pro/P30/P30 Pro

Honor

Note 10/View 20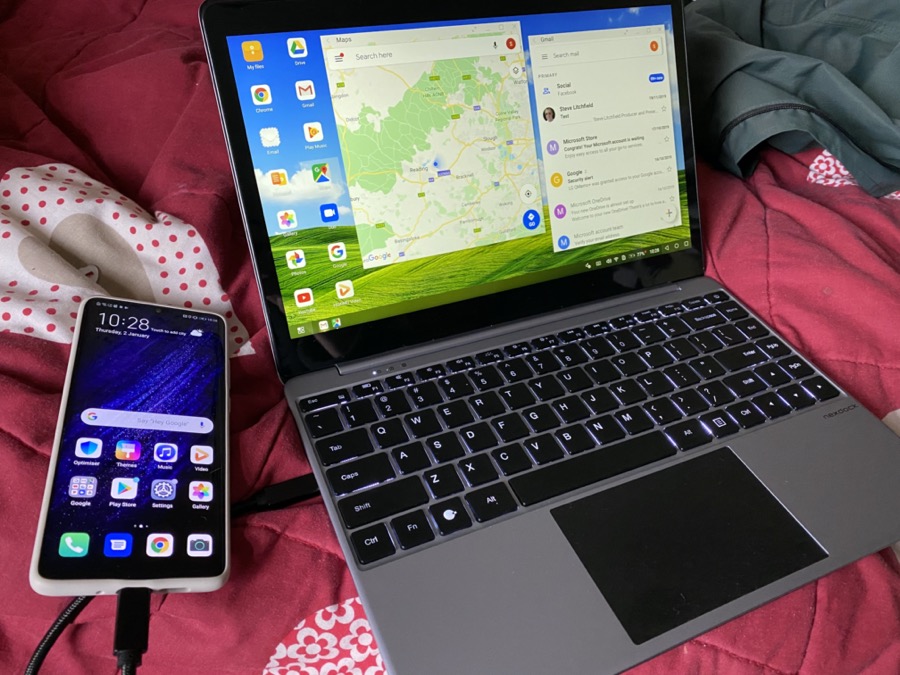 Plus it also works in screen mirroring mode with any phone that outputs 'HDMI' via its Type C port (many do). With care to put the phone in landscape mode, you can then do basic navigation and run applications full screen on the NexDock 2:
And I guess I should mention another intended use for the NexDock 2 - as an input device and display for the Raspberry Pi series of 'home' built-in yourself micro-computers. But that's way outside my coverage here!
Away from Windows 10 Mobile (now winding down), with Samsung and Huawei the two biggest makers of Android handsets, there's a pretty good chance that many people already own a compatible device, and if not then they're easy to find. I'd recommend the Galaxy S9+ on Android - not just because I own it, but because it's the best balance of specs and features for the money as a phone (capacitive finger scanner, telephoto camera, stereo speakers, yada yada), and because it drives the lapdock very easily.
Overall, I have to say that the NexDock 2 surpassed my expectations. It terms of price, it spans the gap between a posh Bluetooth keyboard (my favourite here) and a full on Windows 10 laptop, and is quite possibly the best phone accessory I've ever bought. Whether you treat it as a laptop, as a deluxe USB 3 expansion hub, as a spare HDMI display, as a powerbank for your phone, it's more versatile than you might ever think. Recommended.
Reviewed by Steve Litchfield at