Review:
Surface Go - part 6: Verdict
Score:
86%
Just scraping into 2018, this is the final review part (for now) of one of the most impressive mobile computing devices I think I've ever used. Not a smartphone, not a laptop, not even a tablet, but something in between that encompasses most of their roles. True, it's too big to be pocketed, and true, it's probably too small to be used as an all-day computer, but embrace the Go lifestyle and you can do more while (literally) on the 'go' than ever before. Microsoft has got (almost) everything right in this new Surface product, with perhaps the only significant caveat being battery life - you'll probably need to take a USB power bank on long trips!
Buy Link | Download / Information Link
I've been coverering this in review parts for the last two months, of course:
So do make sure that you've been through those review parts as well. In summary, the Go is capable and flexible, yet amazingly small and light.
Use cases
To illustrate this flexibility, I've been using the Surface Go in various different 'modes':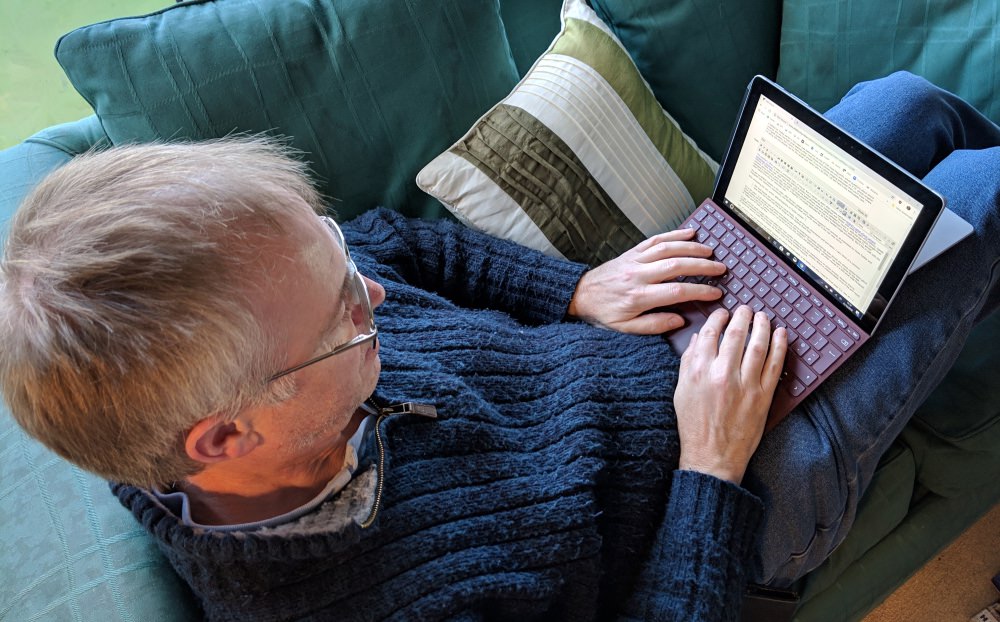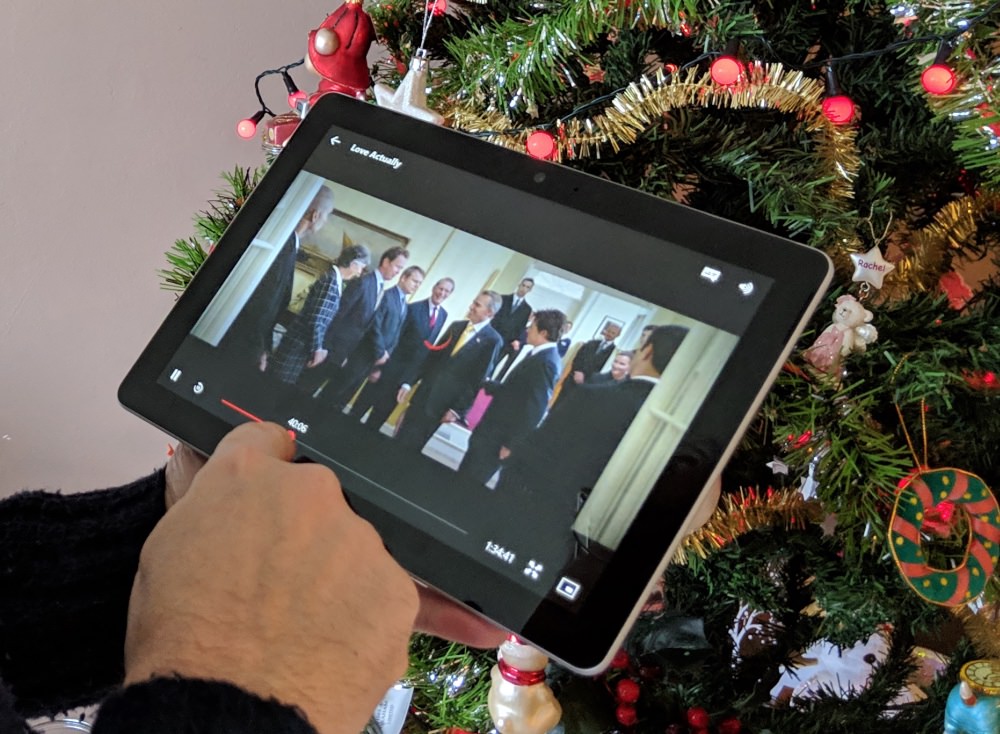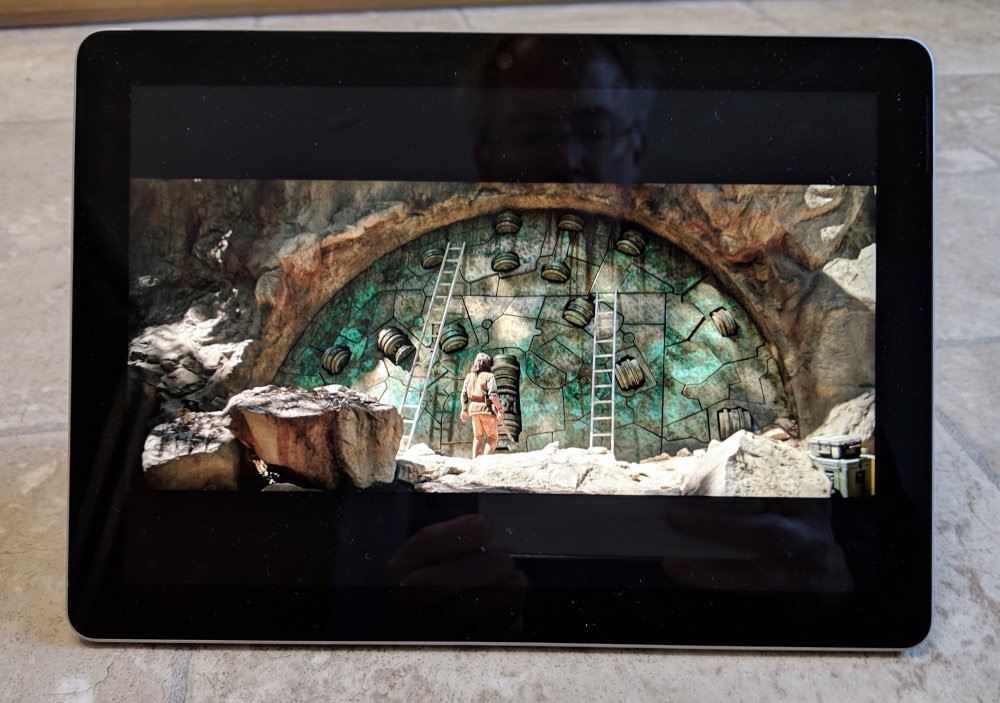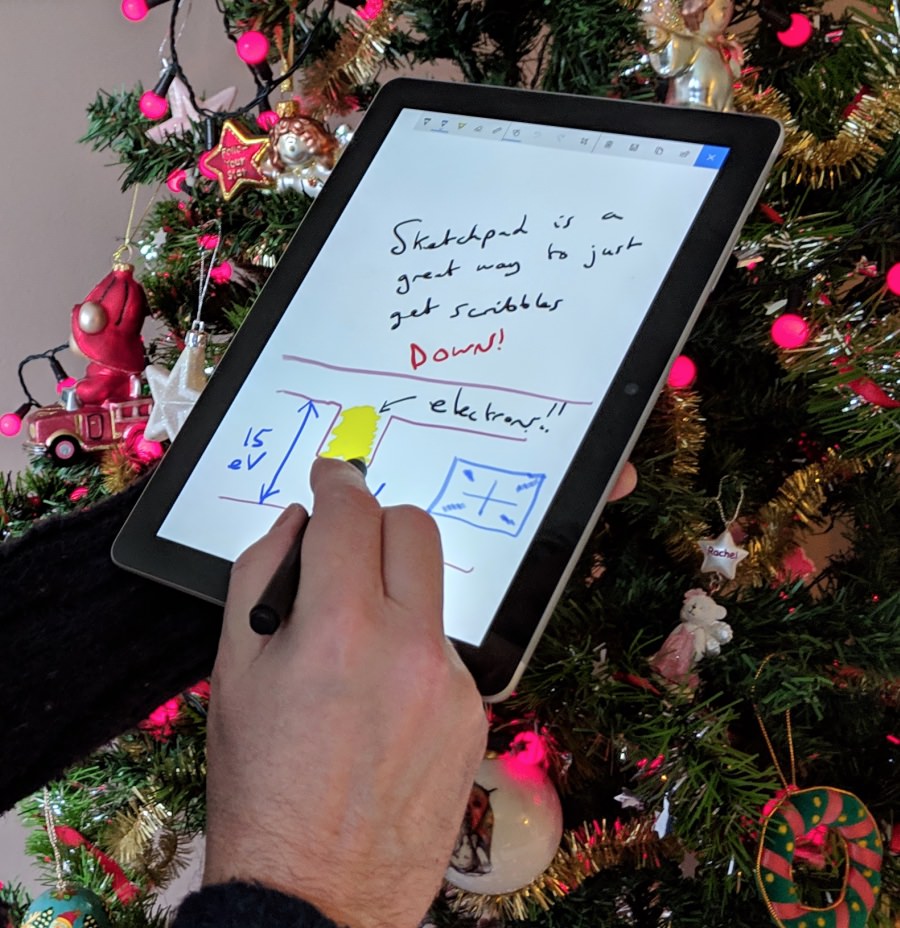 I'm sure you can think of other uses for a cut-sized Windows 10 touchscreen PC in your life. Although in principle a member of the Surface Pro hybrid ('two in one') family, it's actually a new form factor, I contend. With the Surface Pro line, I'm always looking for somewhere to put the unit down to use it. A fold down table in a train, a desk, whatever. With the Go, my own knees will do just fine, the geometry works. Also, the Surface Pro 4, 5 and 6 are faster and more capable, but they're also a lot more expensive. With the Go starting at under £500 even with a backlit Type Cover included, it's in a unique place in the Microsoft world.
Battery life
Two months with the Surface Go have given me a pretty good handle on this. If you're careful then you can get six hours continuous use from the Go on a single charge - enough for a train journey and for most flights, I suspect (allowing for eating and resting!), but hardly world shattering longevity. Running my own tests, with a YouTube video playing full-screen on 75% brightness, I see 18% drop in battery remaining per hour. So - again - that equates to between five and six hours of 'screen-on time'.
Although we'd all like more (who doesn't?!), it's important to be realistic here - batteries are heavy and one of the Go's USPs is its low weight. Microsoft ships it with a pair of cells totalling 26Wh and this seems about right for the life/weight balance. Yes, if the main chipset was a Snapdragon ARM chip and Windows 10 on ARM was ready then we'd be looking at double the battery life, but that doesn't mean 2018's Surface Go isn't fit for purpose.
One handy way to extend battery life is to use that USB Type C port as a power input from whichever smartphone charger or power bank you take along on journeys. In other words, if you're mobile then the chances are that you have a Type C power source (whether mains or power bank) with you anyway - so why not also top up your Surface Go? It charges just fine from the power banks I've tried it with, though obviously at a much slower rate as from its original mains 'Surface Port' charger.
On the whole then, I wasn't massively impressed by battery life - but then I also wasn't massively disappointed.
Windows 10 offers four power modes, with a slider from 'Best for battery life' to 'Best performance', but fiddling with this didn't help more than a couple of percent an hour difference, so I'd suggest leaving everything on defaults. Obviously if you're down to 10% and panicking because you still have some work to do then setting screen brightness down and the power mode slider all the way to the left can help a bit, but save this for emergencies.
The Windows 10 track
I commented at length on Windows 10 in S mode here, in part 3 of this review, but suffice it to say that if you're reading this review on AAWP then you'll almost certainly have to break out of S mode (a one way trip) to unlock full Windows installations. Even the simplest thing, like installing a third party accessory driver or, as happened a few days ago here, installing the Now TV custom media player, means sidestepping your way out of S mode and there's no easy way back. So just ignore it and consider this a full Windows 10 PC. Which it is.
Windows 10 OS branches arrive in the same manner as for every other recent-ish Windows 10 computer around the world. Thus, I'd been waiting for Microsoft's much-delayed rollout of the 'October 2018' before delivering my Surface Go verdict and it arrived last week. At least it didn't slip into 2019! The October 2018 update includes Cloud Clipboard for all signed-in devices, plus Your Phone integration (mainly for Android handsets), and loads more Fluent Design tweaks and theming: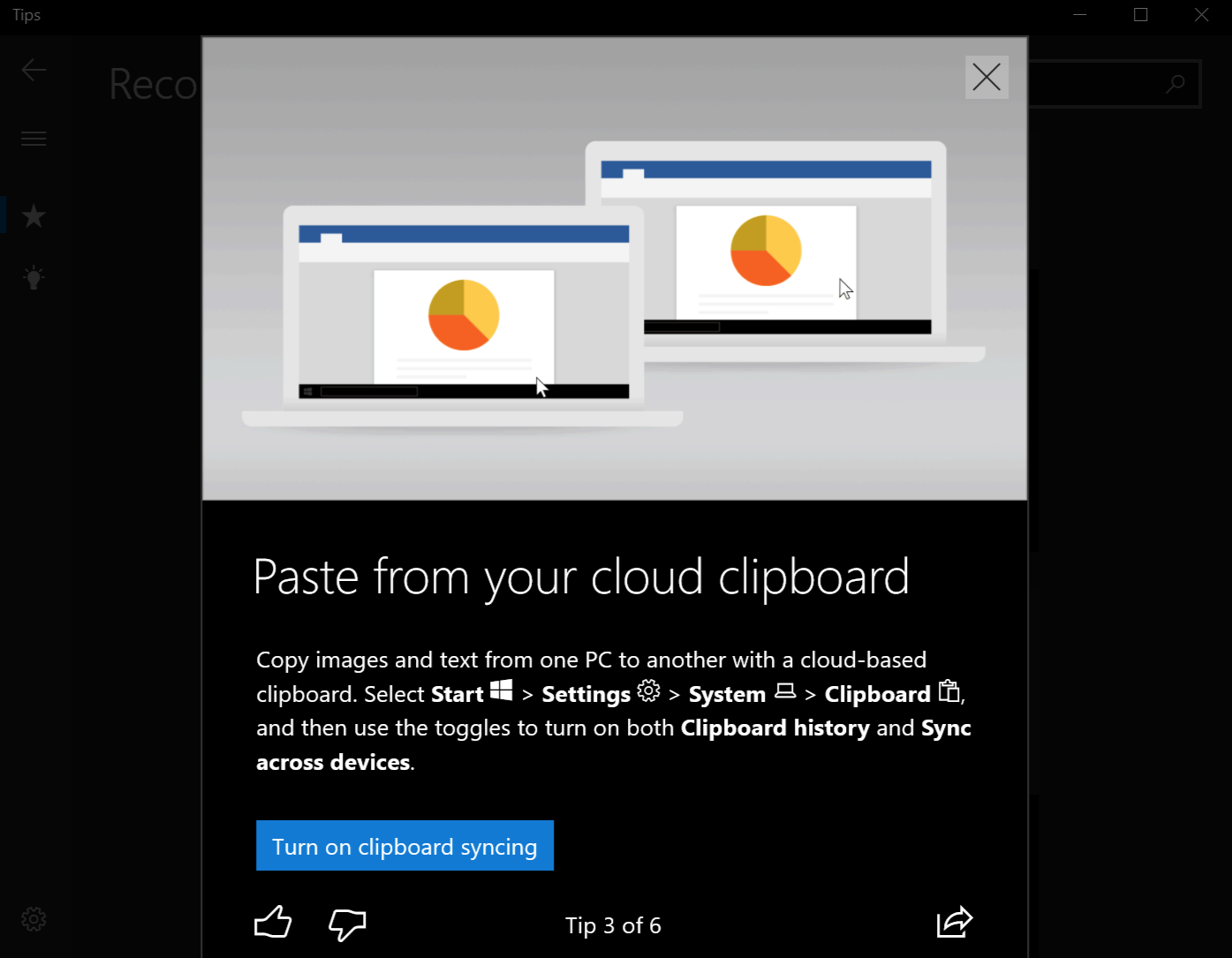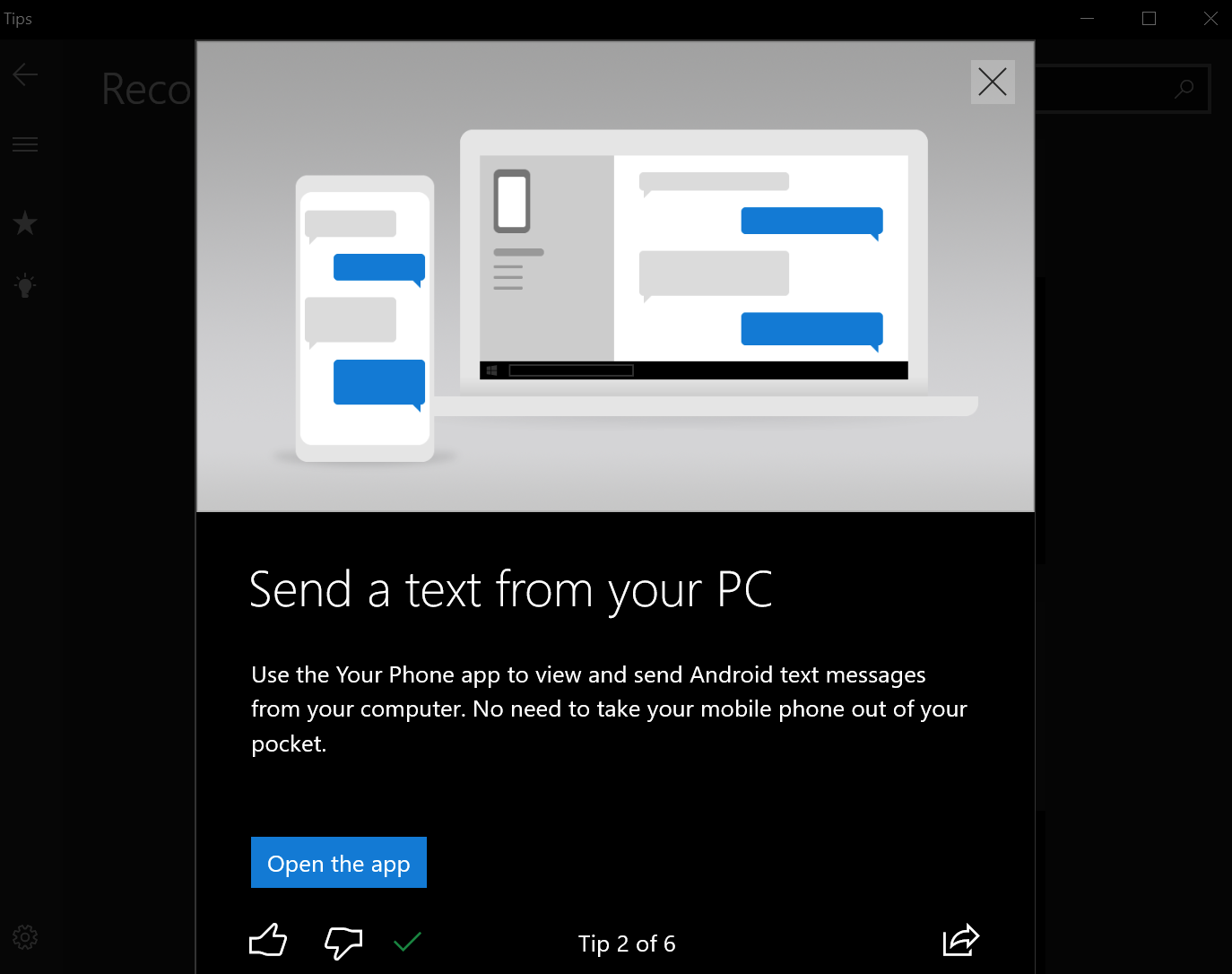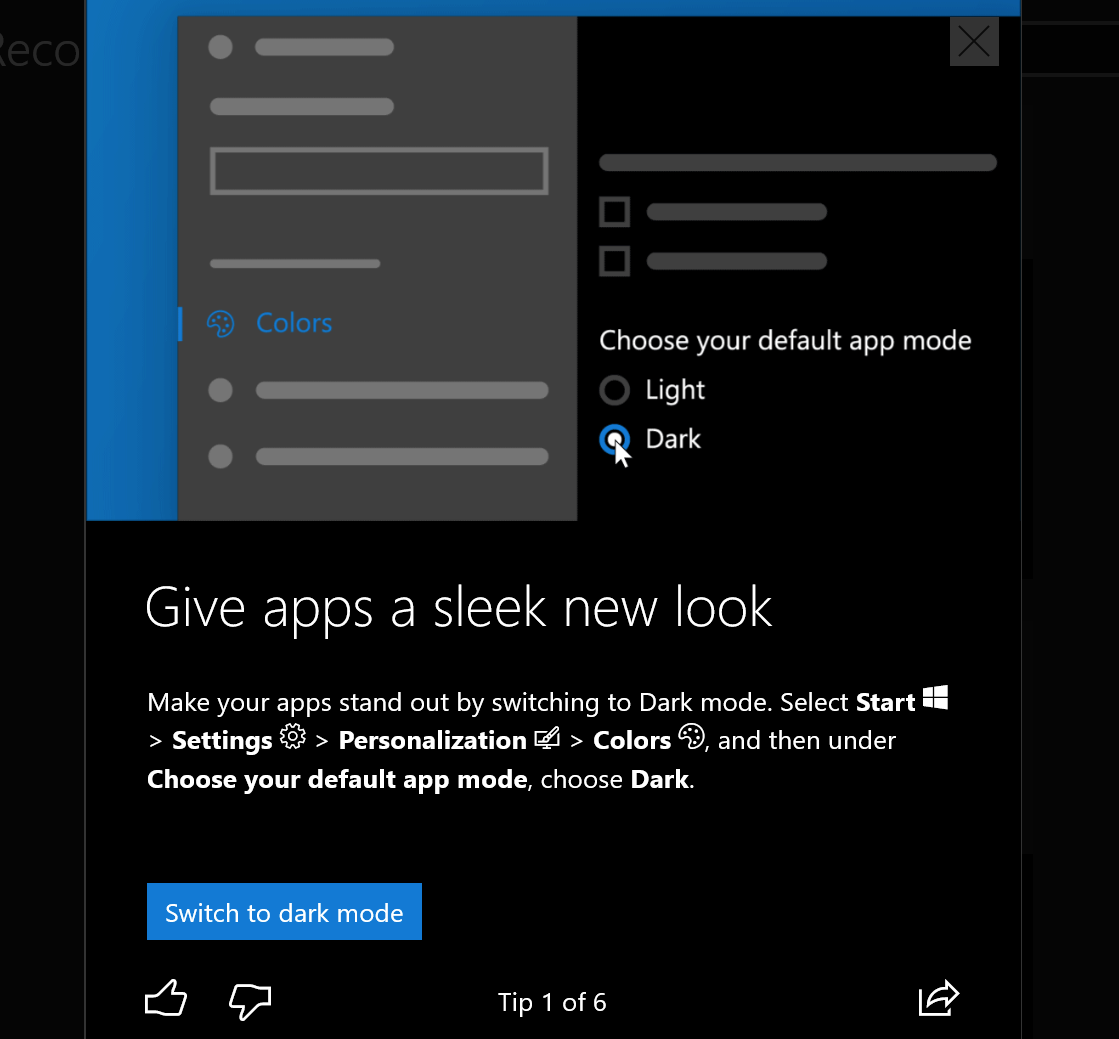 Although Windows 10 on the Go is generally stable and just like it is on the larger Surface Pros, there are some bugs still. Probably firmware-related - the biggest is that display brightess gets stuck and can't be changed. Rebooting the Go (which only takes 30 seconds, by the way) fixes the issue, so it's clearly software and can presumably be fixed.
As mentioned before in these review parts, I live with the Go at "175%" for 'Display and layout' (the default is "150%"), giving me a better size for text and UI elements, at the expense of working space in some applications and web CMS. But it only takes a few seconds to change the display settings back to the default - a nuisance every now and then but not a showstopper.
Performance/benchmarks
The Surface Go, at this size and price point, doesn't claim to be a speed demon. But it needs to be fast enough. The UserBenchmark summary sets things out quite well here (click the image to download it if your browser page isn't wide enough for easy reading):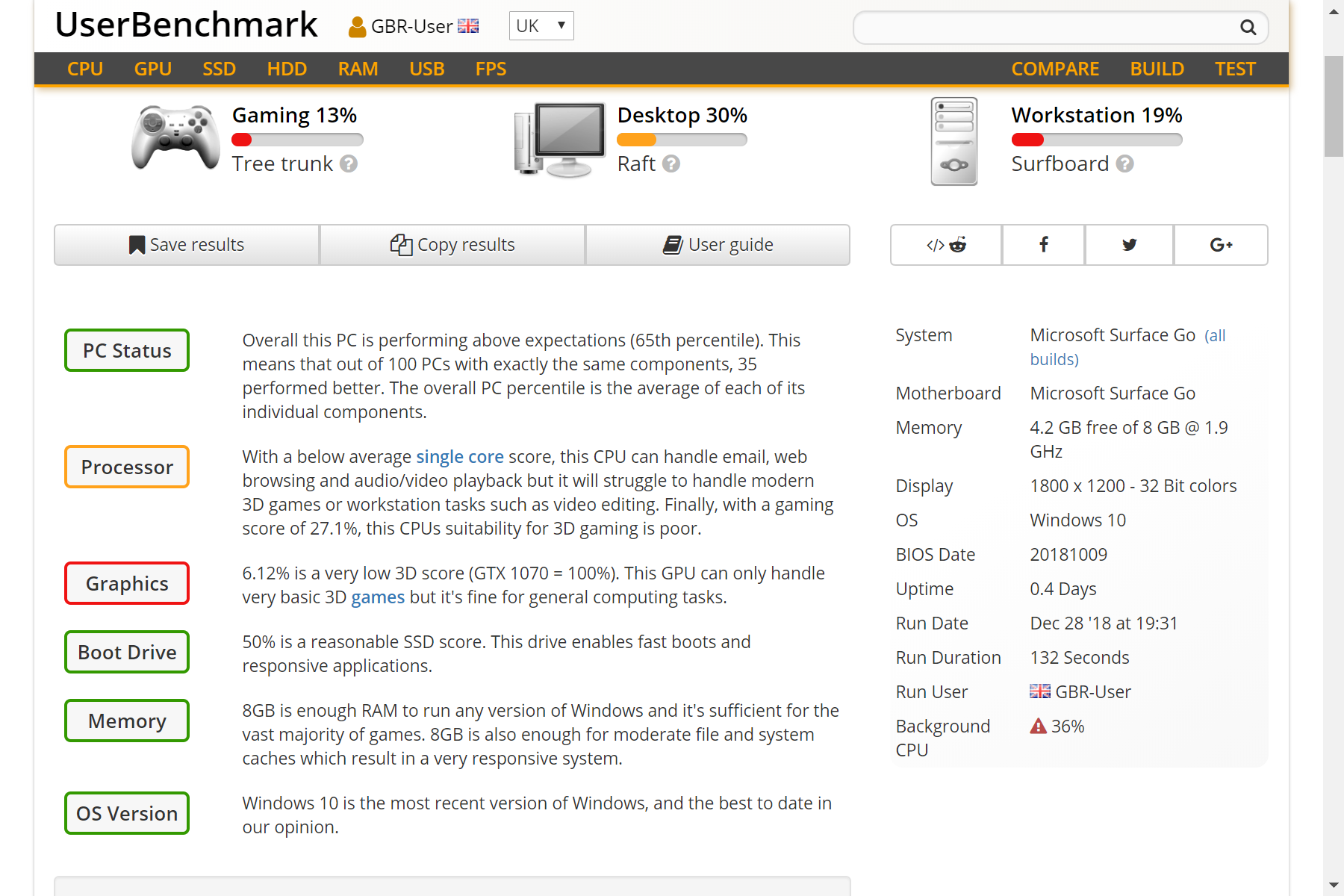 In short, the Go is exactly what it claims to be - fast enough for every day tasks but it would struggle to handle graphically intensive games and video rendering speeds aren't great. But the RAM comes out well, as does the SSD.
The Go is only marginally faster than my original Surface Pro, from five years ago, but that's OK because this launched at well under half the price (for original RRP) and it has so much else that's more modern, from Type C data/hub and charging to Windows Hello login to variable kickstand to far better imaging and far better speakers, all the while being dramatically smaller and lighter. In short, the Surface Go is a far more compelling end product, even though you wouldn't know it from the raw numbers.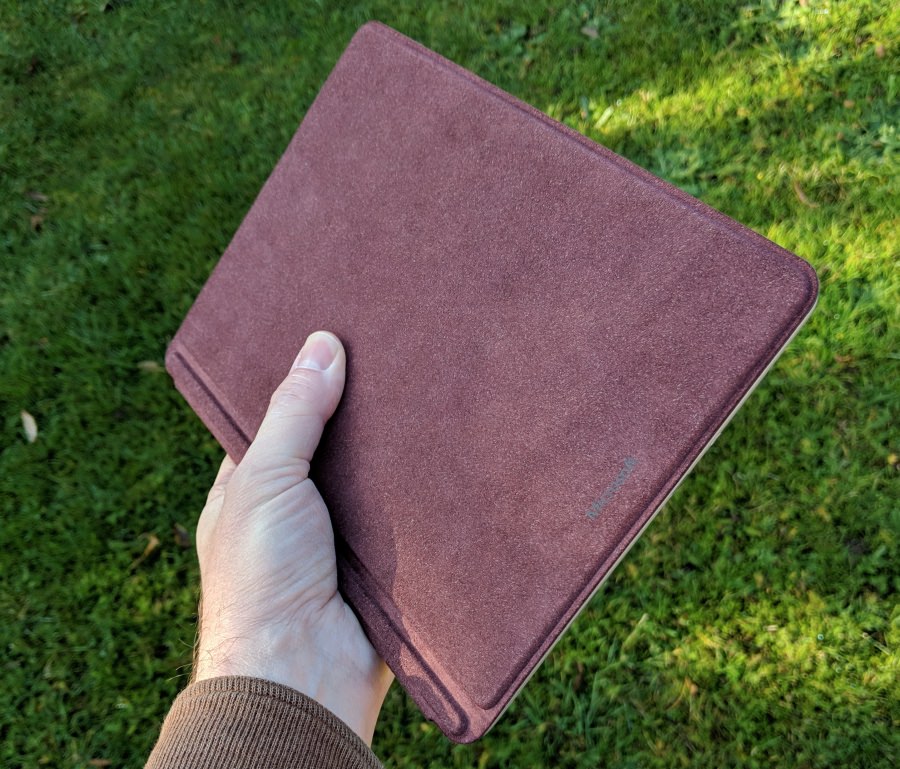 Model choice
Quoting slightly from part 3 of this extended review, I wanted to emphasise my conclusion there, since the three Surface Go variants can otherwise be a little confusing. Three? Yes, because the initial two have now been joined by a third:
Surface Go variants
4GB RAM / 64GB eMMC
4GB RAM / 128GB SSD
8GB RAM / 128GB SSD
Which you can buy depends on exactly you buy it from and in what bundle, so keep your wits about you. I think I can dismiss the 64GB eMMC variant for anything other than the locked down education and company uses. Not because of the disk speeds (though eMMC is five times slower to read from than SSD) but because of the capacity. I've only had the Surface Go for a month and I'm up to 50GB used on its internal (C:) disk - if this had been a 64GB model then I'd be down to 14GB free and already worried about always having to keep an eye on storage.
So 128GB it is. In terms of RAM, 4GB is fine if the Surface Go is kept in 'S mode', so everything's more sanitised and approved. It's a big 'if' though, since you'll almost certainly need to break out into full Win32 territory sooner rather than later and then you're far more likely to start using software which will push 4GB RAM far too hard. In my case, Chrome and Nero, but I'm sure you have your own favourite Win32 suite or utilities and these fit into the standard PC motto (since the dawn of time) of 'the more RAM, the better'.
Unsurprisingly then, I'd definitely recommend the 8GB/128GB SSD configuration that I have here. It's roughly £130 more than the most basic model, but absolutely worth it for trouble-free ultra-mobile computing going forwards.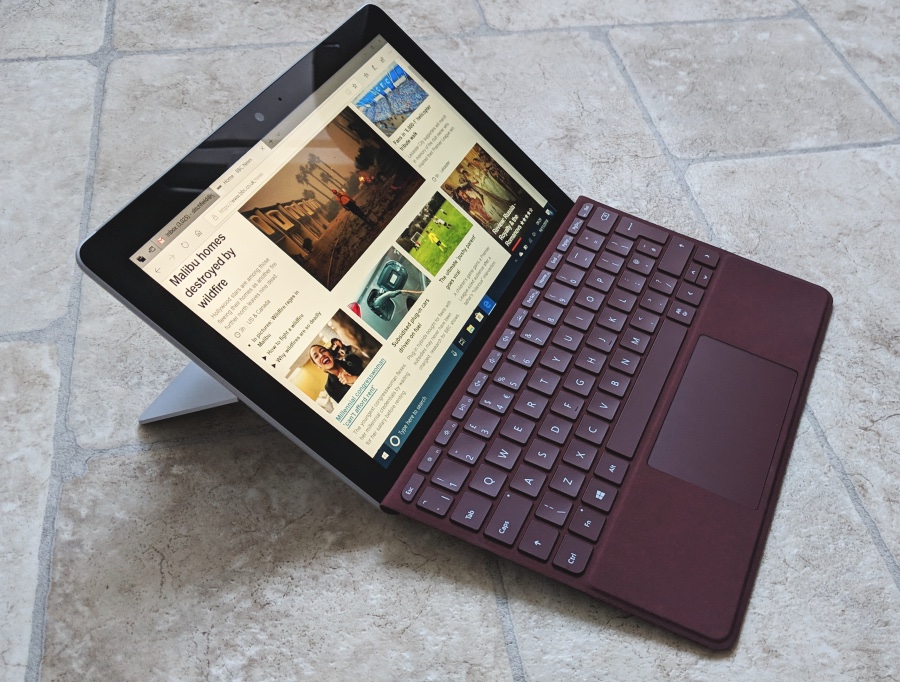 Wrap-up
This last review part has glossed over a few of the subtleties of my experience, but do go back and read the preceding review parts for the full details. The Surface Go is - absolutely - a full 'Wintel' PC and as such has its quirks and occasional frustrations. If you've used Windows for the last few decades then you already know what to expect, what to look out for!
But the quirks can't take away from what is a unique form factor that has caught my heart. It's just so flexible and so portable. With this (including Type Cover), a suitable hub and a smartphone to tether to, you're equipped for almost everything and are carrying a total weight of much less than a kilogram, which is a doddle. It's a laptop, it's a tablet, it's a portable TV, it's a workhorse, it's an artist's canvas. Essentially the Surface Go is whatever you want it to be.
Yes, the specifications are compromised, to meet the form factor and low price point, but the sacrifices are dramatically outweighed by the unique selling points of the Surface Go. Consider me a big fan.
Reviewed by Steve Litchfield at