Review:
Choetech 6 in 1 Multiport USB C Adapter
Score:
88%
Hooking accessories up to smartphones has always been a case of finding the right adapter and then praying that it'll all work. USB Type C, used on the top end Lumias and IDOL 4 Pro, made things easier because of the plug and play protocols involved. And the need for adapters got more intense with the arrival of the Surface Go, which I've been reviewing over the last month or so. As with the phones, it only has one Type C port. Enter a variety of hubs and adapters, which I'll get to in time. First to arrive on my desk though, is this Choetech hub - and you'll be surprised at just how much it can do.
Buy Link | Download / Information Link
NB. The original product has been discontinued, but Choetech have replaced it with something more capable here. Most of the review still stands though!
_____________________________________________________________
Here's the accessory, finished in black aluminium plus plastic end caps. Not shown immediately below, off to the left, is the Ethernet port, then left to right we have:
USB Type C Power Delivery, typically used to pump power into the hub and then into your Windows phone or Surface Go.
SD card reader - typically used for shuffling files to and from a phone or Surface, but also perhaps to access large media, such as movies.
Two USB-A 3.0 ports - these are obviously multi-use. I tested with USB disks, but you could also plug in a USB optical disk reader/writer, mouse or, well, anything. Think of these ports as expansions of the phone/Surface's single main Type C port.
HDMI out - this runs the output of your Windows phone (so Continuum interface for a Lumia 950 or IDOL 4 Pro or similar) or Surface Go to any HDMI-connected TV or monitor.
the flying Type C lead that is inserted into the phone or Surface Go.
Intriguingly, ALL of this can be hooked up at the same time. I've shown as much as possible below, but in principle, for both phone and Surface Go, you could have both USB-A ports plugged into accessories, a SD card in place, power being pumped in via the PD jack, a monitor hooked up via HDMI and Ethernet providing high speed Internet - and the Windows Phone (or Surface Go) will have access to all of this at the same time. That's the magic of modern USB, it seems.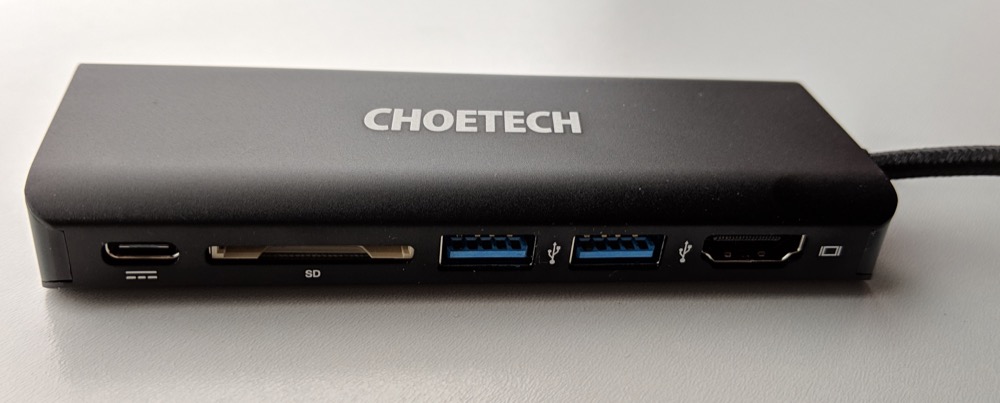 The unit is surprisingly light but also solid, thanks to all the cold, hard metal. The flying lead is only about 10cm long and I'd rather have had something a little longer to aboid too much unsightly wiring so close to my phone or tablet, but hey...
Here are a few examples of use. I have my Alcatel IDOL 4 Pro phone plugged in and accessing (and being able to play high definition movies from) a USB disk, which appears (with another stick and a SD card) as an extra disk drive in all applications (here File Explorer UWP). And hey, I also have power plugged into the PD Type C port, to charge the IDOL 4 Pro at the same time, AND fast Ethernet wired in, just to give me masisve bandwidth. It's all quite cool, if surreal for a smartphone!!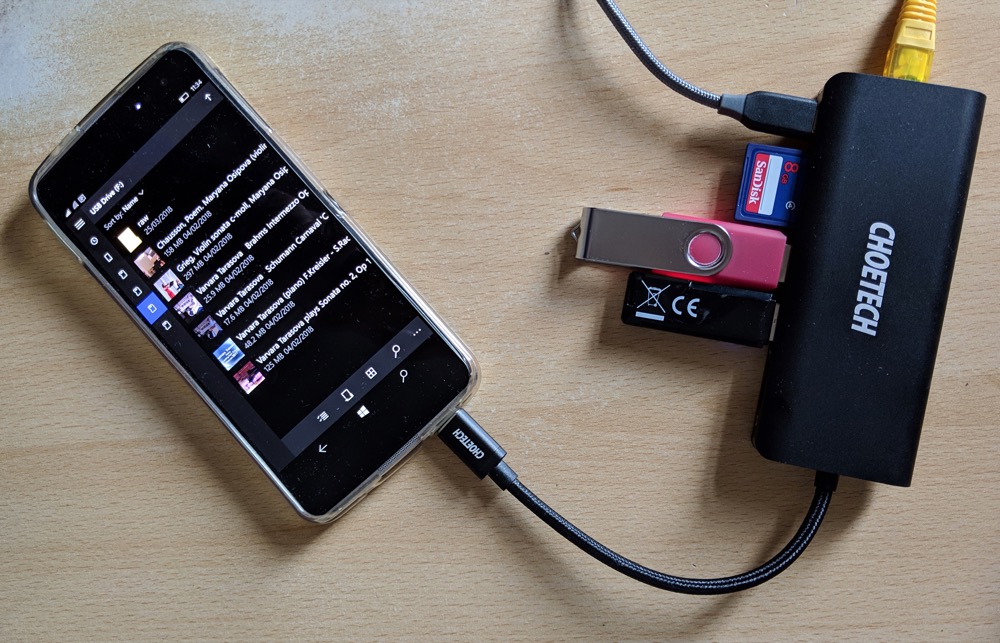 Now, plugging loads of stuff into a phone is a bit crazy and most of the time a USB hub like this will be a lot more use on a Surface Go, I think. So that's what I did next. The same array of storage and connectivity and power here is plugged into my Surface Go - and it all works first time. Storage, charging, connectivity - Windows 10 handles USB like a champ, it seems, and the Choetech 6-in-1 hub never put a foot wrong.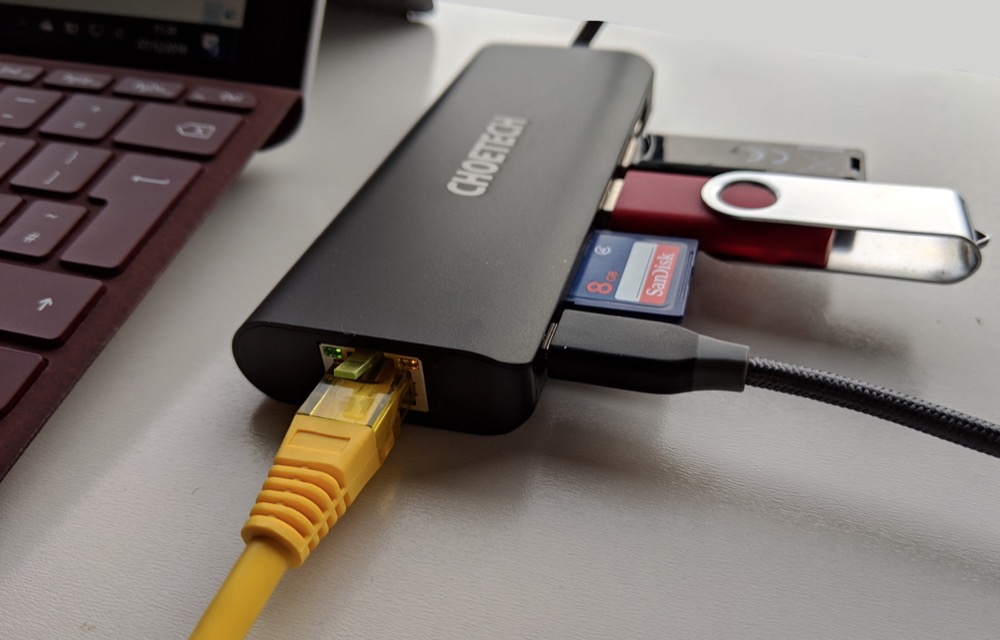 Although it's unlikely you'd have everything plugged in at once in real life, for an ultra portable like the Surface Go, with its solitary Type C port, it's a real boon to have a hub like this in your backpack or man bag - you just never know when Wi-fi won't be available and you'll need to plug into Ethernet. Or when you'll need to grab things from SD card or a USB-A disk. It's all about flexibility.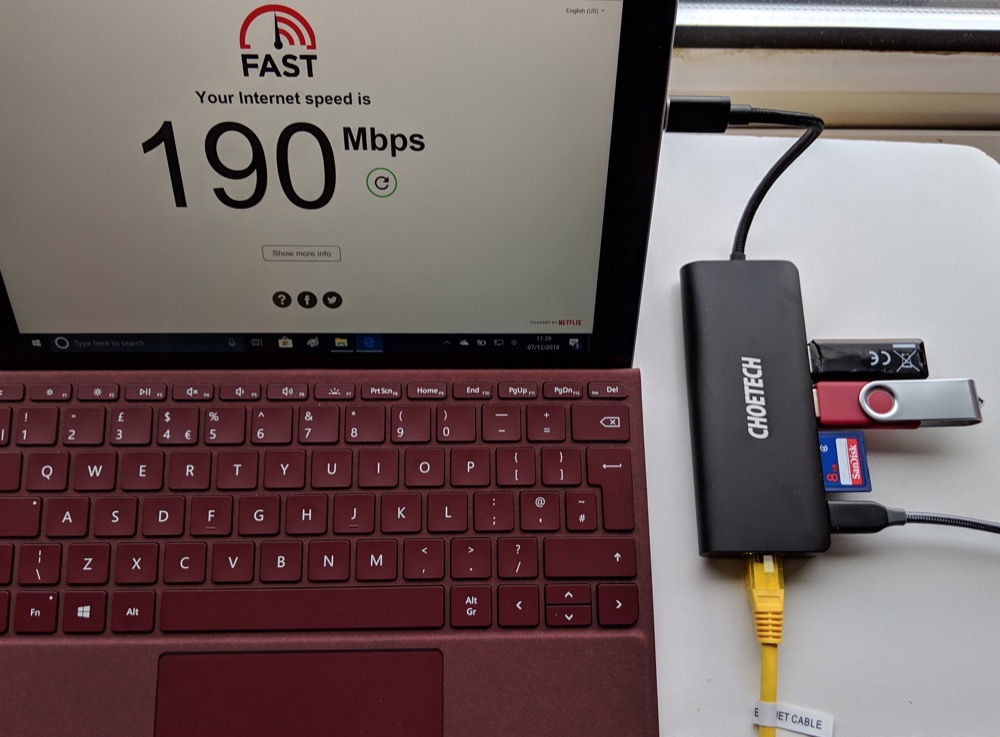 Now to the price, just under £40 as I write this. It sounds about right to me - you have to realise that USB hubs like this are mini-computers in their own right, with active electronics and even firmware. That way, whatever combination of cables you insert, the right signals get to the right place.
There are other multi-port hubs available, of course, not least the official Surface Dock, though the latter runs from the proprietary Surface connector. Regardless, watch this space for more reviews of more phone and Surface Go accessories.
Reviewed by Steve Litchfield at