Review:
Nokia Lumia 820 hardware
Score:
82%
Continuing our fine tradition of 'no stone left unturned' reviews, Rafe Blandford here looks at the Nokia Lumia 820, the little sister of the attention-grabbing, optically-stabilised, larger-screened Lumia 920. The attention difference is somewhat unfair though, as you'll see in the review part below - the 820 still has a lot to recommend it.
Version Reviewed: Retail


Introduction
When Nokia announced its first two Windows Phone 8 devices earlier this year, the Nokia Lumia 820 barely got a look in. Second tier devices inevitably get overshadowed by their flagship stalemates, but this was a more extreme example than usual.
All the glory may go to the flagship, and just as others have, we covered the Lumia 920 in detail. But, the Lumia 820 deserves its day in the sun too, so in this review we're going to take a detailed look at Nokia's second Windows Phone 8 device.
The Lumia 820 comes in the now Nokia-standard rectangular, drawer-style, recyclable-cardboard box, with a series of stacked layers holding the phone, paperwork, and accessories.
A brief quick start guide (full user guide is online) and warranty information make up the paperwork, while accessories include the AC-50 Nokia Fast USB charger, CA-190CD Nokia Charging and Data Cable, a BP-5T battery, and WH-208 Nokia Stereo Headset. The WH-208 headset, which is colour matched to the handset, is decent, but you'll only make the most of the device's excellent audio characteristics with higher quality third party headphones.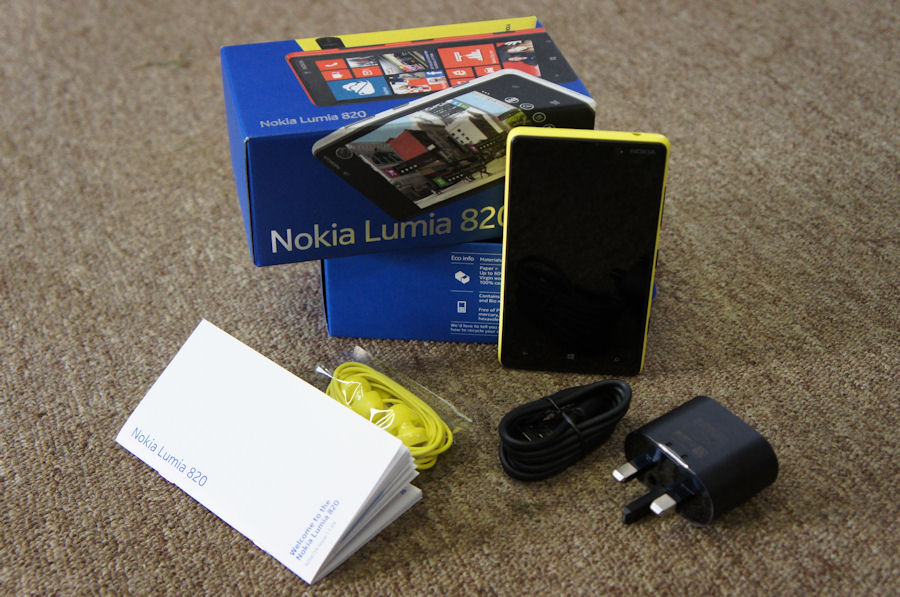 Design and materials
At first glance, the Lumia 820, thanks primarily to its rounded corners and starker front-face, has a visual form that is distinct from the rest of the Lumia range. But, take a closer look, and you'll notice a number of common design elements. The same "pure" design language, with its emphasis on reductionism, clean lines and smooth curves, is very much apparent.
So, while the Lumia 820 is not an immediate member of the "fabula" family, it does feel like a not-too-distant relative. For example, the Lumia 820's camera surround has the same stadium shape as that of the Lumia 800, 900, and 920, albeit in a horizontal, rather than vertical orientation. Similarly it has the same style keys (volume, power/lock, and camera) on the right-hand-side of the device, and a centrally located microUSB port and speaker grille on the bottom of the device.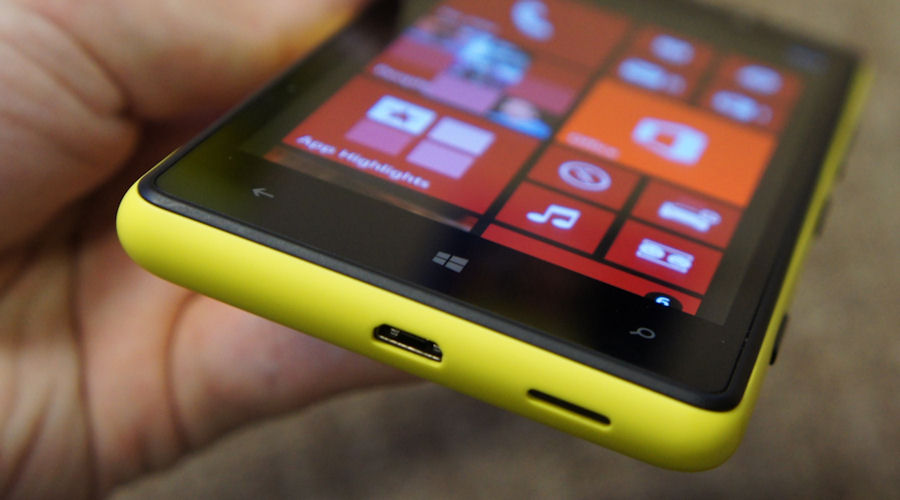 The Lumia 820 has the same flat screen glass as the Lumia 900, but, fortunately, it doesn't have the surrounding lip. Indeed the meeting point between the screen and rounded edges is, despite the absence of curved glass, closer to the feel of the Lumia 800 and 920.
But there's a very important difference: instead of a unibody chassis, the Lumia 820 has a removable back shell. In a sense, it's a more traditional two piece Nokia design, but this is a removable back shell that gets as close as possible to being a unibody design, without actually being one. The tight fit and overall solidity of the shells themselves is such that you could easily be forgiven for not realising the back shell is removable. The giveaway is the lack of wrap around on the front face of the device, which also means the colour isn't that obvious from the front. The down side of the tight fit is that the shell is a bit tricky to remove, especially if you have no fingernails to prise into the gap between the shell and the device body.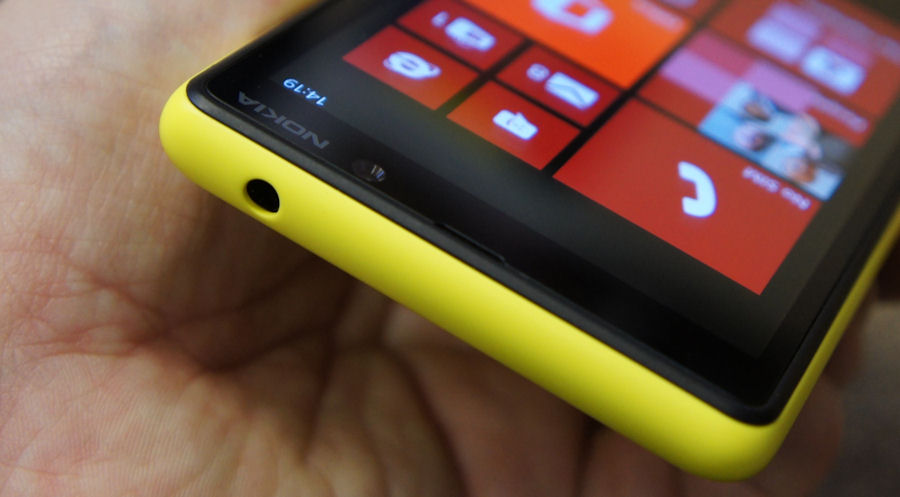 Inside the Lumia 820, the long rectangular battery sits off to one side. On seeing this arrangement, we were somewhat concerned about the balance of the device, but these fears proved to be unfounded, Nokia has clearly worked hard to get the balance in the hand just right.
Take the battery out and you'll see the slots for the microSIM and microSD cards. It's worth noting that both of these use a push-to-release mechanism, and as such are not well suited to adaptors (i.e. don't try and use it with an adaptor-converted nanoSIM). Also noteworthy is the cut out and mesh covering for the loudspeaker exit channel, which directs the loudspeaker output to the bottom of the device. That means there's no muffling of audio when you place the device on a flat surface.
Access to the battery and the ability to change the colour of the shell are the obvious upsides of a two piece design, but being able to place the SIM card and microSD slots inside the phone are also important because it's less of a design constraint than finding external access points.
Using a multi-piece design has an unavoidable impact on mechanical strength, but the Lumia 820 goes a long way to offsetting this by having an unusually robust inner body and frame structure. Moreover, the shells, which are notably thicker than your average battery cover, effectively add an additional frame and shock-protection layer, making the Lumia 820 a device that should stand up exceptionally well to day to day usage.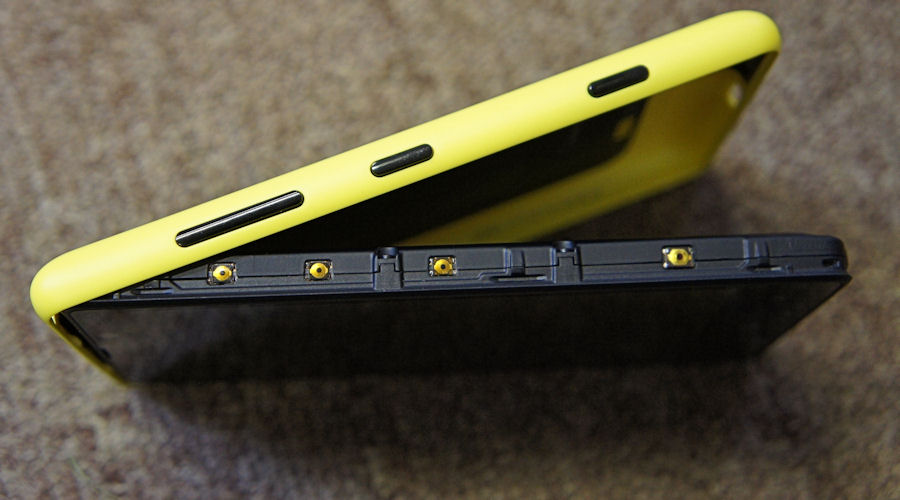 Unibody designs also tend to be more elegant, and while the Lumia 820's design deserves a lot of praise, it's fair to say it doesn't quite match the allure of the Lumia 920, with the flat versus curved screen glass being, perhaps, the best single-point example of this.
On the materials side, there's one point in the specifications that's been causing a lot of comment, the absence of Gorilla Glass protecting the device's screen. Gorilla Glass has a very positive brand association, with many people regarding it as a must-have. However, its manufacturer, Corning, is not the only company producing toughened, scratch resistant, glass. While it is not clear what supplier Nokia is using for the glass on the Lumia 820, or how good it is, the assumption must be there's some cost saving gained by opting for a non-branded version. Our review unit, despite mild abuse (e.g. USB stick in same pocket) hasn't picked up any scratches in a fortnight of testing, which is a good sign, but it is by no means a definitive assessment.
Clearer cut is the screen coating, which, as we noted in a recent group test, doesn't perform as well as the Lumia 920 in the fingerprint test. Despite the fuss around the absence of Gorilla Glass, it's this area that's more likely to have an impact on touchscreen user experience.
Other materials are the same as those found on the Lumia 920. For example, both the camera surround on the back of the device and the buttons on the side of the device are made from a scratch resistant zirconium based ceramic, a much needed refinement from the first generation Lumia devices. Similarly, as we note in more detail below, the Lumia 820's shells are made, primarily, from polycarbonate, with its great RF transparency and durable wear characteristics.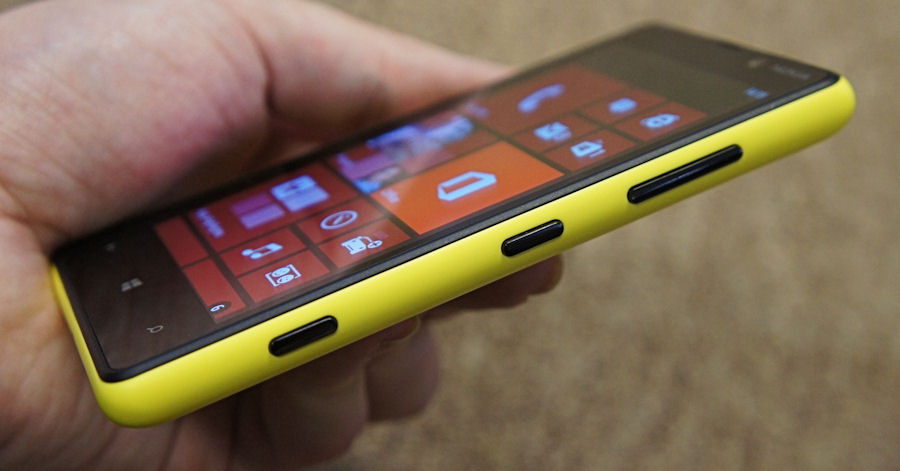 In essence, the Lumia 820's design is one that marries some of the best elements of the fabula family, with a more traditional Nokia approach to device construction. It may not have quite the same flash of a high end beauty queen, but for the upper end of the mid tier, this is a design gem to be admired and imitated.
Nokia Lumia 820 shells
There are three different types of shell available for the Lumia 820: standard, wireless charging and active.
All three shell types are made from a blend of polycarbonate and acrylonitrile butadiene styrene (PC/ABS), a strong but flexible plastic, which is ideal for a removable cover that needs to be strong but also have a little flex as you prise it off the back of the device. As with Nokia's other polycarbonate materials, the colour is integral, with the whole plastic dyed, rather than painted, which means scratches are less noticeable as the shells are the same colour all the way through.
The wireless charging shells add a Qi charging coil to the standard shell without adding additional thickness, with the weight gain also being negligible.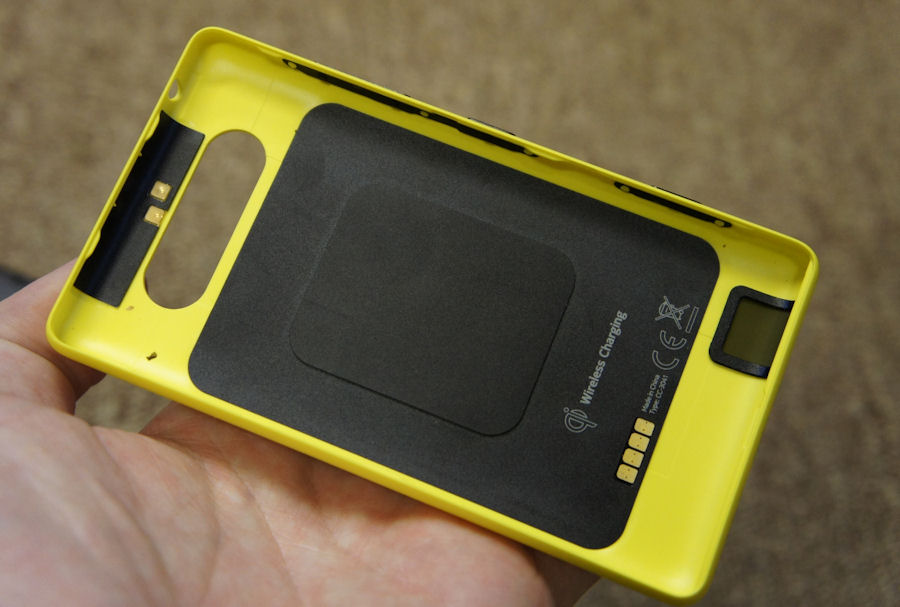 The active shells are the same width and length, but slightly thicker, than the standard shell. That's because a rubber-like thermoplastic polyurethane (TPU) layer is fitted around the front and edges of the case. This offers extra protection to corners and edges of the screen, which are the most vulnerable parts of a smartphone, making for a more durable device.
In most cases a standard shell is included in the box, but, in some markets, such as the UK and USA, Nokia have opted to include a wireless charging shell instead, as part of a drive to promote the Qi wireless charging technology.
Each of the different shell types is available in a range of colours and finishes, continuing the Lumia colour tradition:
Standard shells: gloss finish - red, yellow, cyan, purple, white; matte finish - grey and black.
Wireless charging shells: matte finish - red, yellow, grey, cyan, purple, white and black.
Active shells: matte finish - yellow, green, and orange, with black highlights.
Our recommendation, if you have a choice, is to opt for one of the wireless charging shells, both for the added convenience of an wireless charging, but also because we prefer the matte finish.
Not all colours will be available in all markets, and some retailers will have exclusives on certain colours. However, given the shells are replaceable, it shouldn't be too hard to get the colour you want. The recommended price for the shells is £20, continuing a tradition of high margins on such accessories.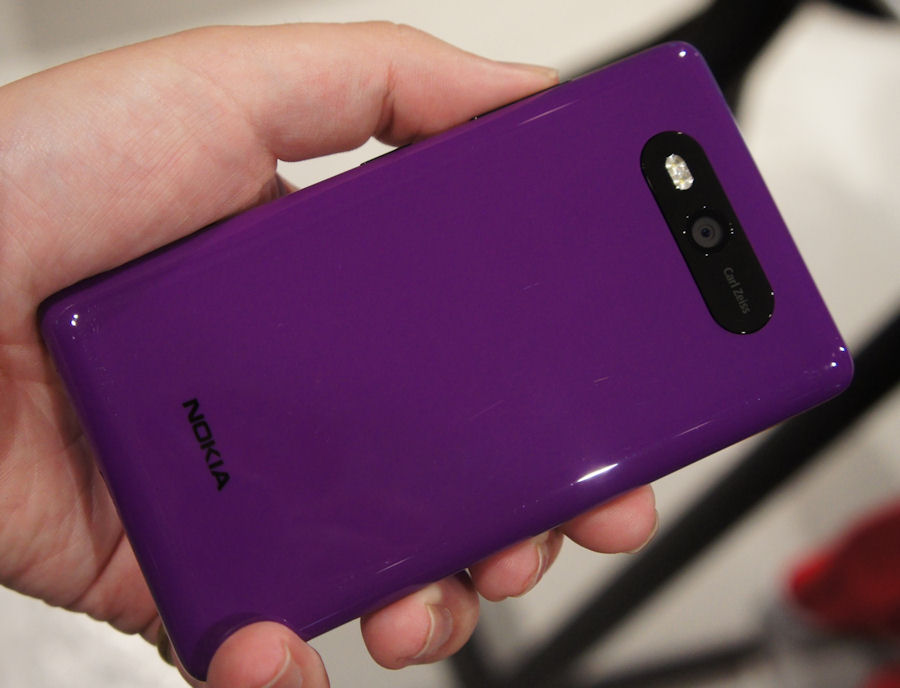 The rather fetching, and lesser spotted, purple Lumia 820 colour variant
Size and weight
In size terms, when compared to modern smartphones, the Lumia 820 is middle of the road, but make no mistake it's still a relatively large device, when compared to older devices. That's because of the trend for increasing screen size, which largely dictates the dimensions of the front profile of the device. In weight terms the Lumia 820 is at the upper end of the range for its class, but that's not unusual for a Nokia device.
| | | | | |
| --- | --- | --- | --- | --- |
| Device | Size (mm) | Volume (cc) | Weight (g) | Screen size (in) |
| Nokia Lumia 820 | 123.8 x 68.5 x 9.9 | 83.5 | 160 | 4.3 |
| Nokia Lumia 920 | 130.0 x 70.8 x 10.7 | 99 | 185 | 4.5 |
| Nokia Lumia 900 | 127.8 x 68.5 x 11.5 | 90 | 160 | 4.3 |
| Nokia Lumia 800 | 116.5 x 61.2 x 12.1 | 76 | 142 | 3.7 |
| HTC 8X | 132.4 x 66.2 x 10.1 | 86 | 130 | 4.3 |
| HTC One S | 120.5 x 63 x 10.28 | 69 | 120 | 4.3 |
| Samsung Galaxy S A | 123.2 x 63 x 9.7 | 82.2 | 133 | 4.0 |
Looking at the size comparison above the link between screen size and device dimensions is self evident, but there are a few points that are worth picking out. With the same 4.3 inch screen it's no surprise to see the Lumia 900 and 820 has the same width (68.5mm), but the 820 is shorter (123.8 vs. 127.8 mm), that's because it has smaller bezel at the top of the screen.
Theoretically this puts the Lumia 820 between the Lumia 900 and Lumia 800 in size terms, but in practise width is the dimension that matters most. Those moving up from the Lumia 800 should note that the Lumia 820, despite its index number is more akin to the Lumia 900. Whereas the Lumia 800 was relatively close to the boundary for universal one-handed usage (60mm), the Lumia 820 is not. The majority of people will still be able to use the device one handed, especially as Windows Phone doesn't often require you to reach to the upper right hand corner of the screen, but those with small hands may struggle.

A larger screen is generally preferable, but there does come a point where the negatives outweigh the benefits. This sweet spot will vary from person to person, dependent on hand size, how you carry the phone, and what you use it for. While we do think there's space for an upper end Lumia with a screen in the 3.8 to 4 inch range, it's not unreasonable to say that the Lumia 820 is close to the median sweet spot, exactly what you would expect for a device in this class and price range.
At 9.9mm the Lumia 820 is the thinnest of Nokia's Windows Phone devices. This is below the 10mm barrier, which we think is the point at which device thickness stops becoming a significant issue in purchase decision. That said, it should be noted that the Lumia 820 is not as thin as some of its competitors. The question here is whether the added value of device durability and removable shells compensate for the benefit given by the difference in handset thickness? Your answer to that will likely depend on how much you prioritise form over function.
In weight terms the Lumia 820 is heavier than nearly all of its competitors, but the Lumia 820 is not as big an outlier as the Lumia 920, so we don't expect the difference to illicit as much negative comment. As with other Nokia devices, a significant portion of the "extra" weight in the Lumia 820 is a result of deliberate design decisions by Nokia to make it more robust.
This can be seen more clearly if you compare the Lumia 820, with the Lumia 822 and Lumia 810. Both these devices, which have a more conventional design approach, are lighter, but slightly thicker and taller than the Lumia 820. All three devices have similar specifications and components so should, in theory, weigh about the same. If anything the Lumia 822 and 810, with their higher capacity batteries should be heavier. But they don't - that's because the way a phone is designed and put together - a set of very deliberate decisions - is the primary cause of any weight differences.
| | | | | |
| --- | --- | --- | --- | --- |
| Device | Size (mm) | Volume (cc) | Weight (g) | Screen size (in) |
| Lumia 820 | 123.8 x 68.5 x 9.9 | 83.5 | 160 | 4.3 |
| Lumia 822 | 127.8 x 68.4 x 11.2 | 95 | 142 | 4.3 |
| Lumia 810 | 127.8 x 68.4 x 10.9 | 95 | 145 | 4.3 |
Perhaps just as importantly, the solidity of the Lumia 820, together with the outstanding build quality, gives a sense of assurance and quality. This stands in direct contrast to the approach taken by lighter weight smartphones that can sometimes seem insubstantial. In a battle where perceptions are all important, the Lumia 820 feels likes a more premium product. Achieving that, without taking on board excessive weight, is something that should stand in the Lumia 820's favour.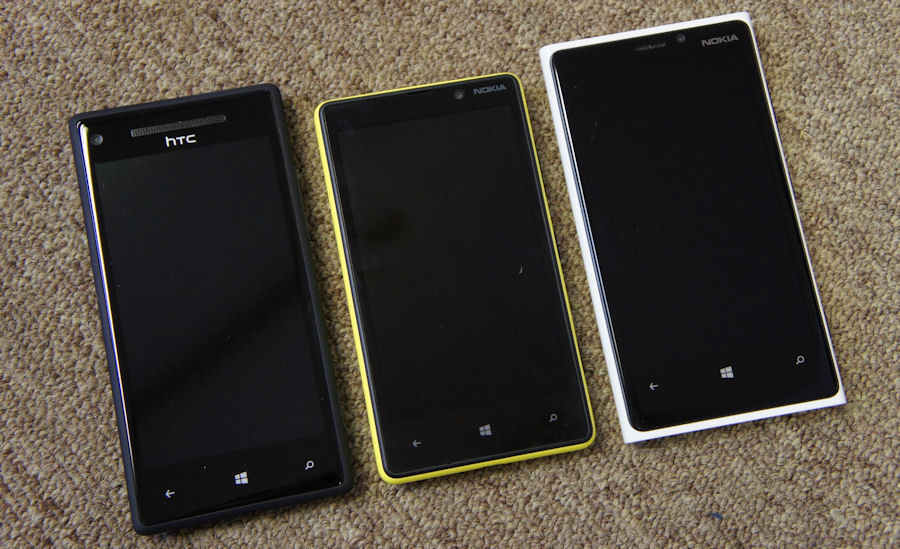 Windows Phone 8 devices compared: HTC 8X, Nokia Lumia 820, Nokia Lumia 920
Screen
The Lumia 820 has a 4.3 inch AMOLED touchscreen, with a resolution of the 480 x 800 pixels. That's a step down from the resolution offered by the Lumia 920 (768 x 1280) and other flagship smartphones.
In a side-by-side comparison with the Lumia 920, the difference is obvious. The start screen's Live Tiles don't have the same sharpness, and fonts are slightly softer. However, in day-to-day use it's not as big an issue as you might expect. In part, that's because the smaller physical size of the screen means a reasonable pixel density (216 ppi) is maintained, but also the nature of Windows Phone tends to favour larger UI elements and text sizes more than competing platforms. Make no mistake, a HD resolution screen is still to be preferred, but the Lumia 820 should not be dismissed out of hand just because of its screen resolution.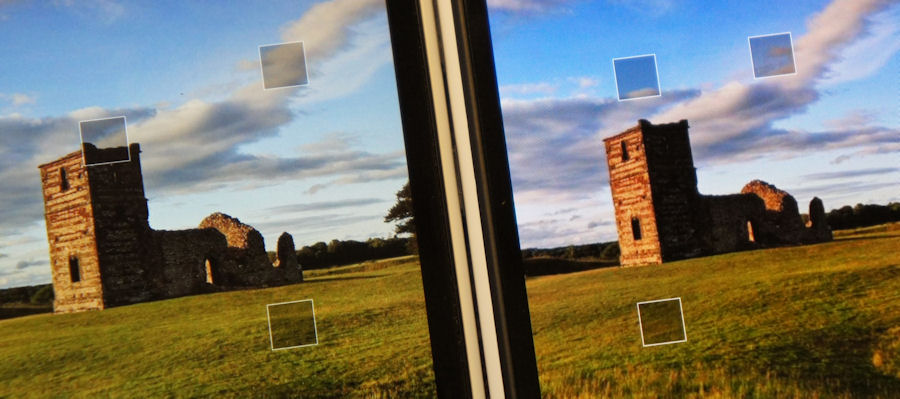 Nokia Lumia 920 (left) and Nokia Lumia 820 screens compared (click through for full resolution)
The differences between AMOLED (e.g. Lumia 820) and LCD (e.g. Lumia 920) screen technologies are well known, and which you prefer is a matter of personal preference. AMOLED colours are generally more vibrant, but they also tend to be over-saturated. The true blacks of AMOLED also, arguably, show off the Windows Phone UI, especially on the homescreen, in its best possible light. However, our view is that you quickly get used to whatever is on your current device, and other factors, such as screen visibility outdoors and resolution, have a greater impact on the overall user experience.
In contrast to the Pentile layout used in the Lumia 800, the Lumia 820's AMOLED screen has a RGB stripe layout, which is generally considered to be superior, as the sub-pixel structure is less obvious, and it gives an improved colour range and definition.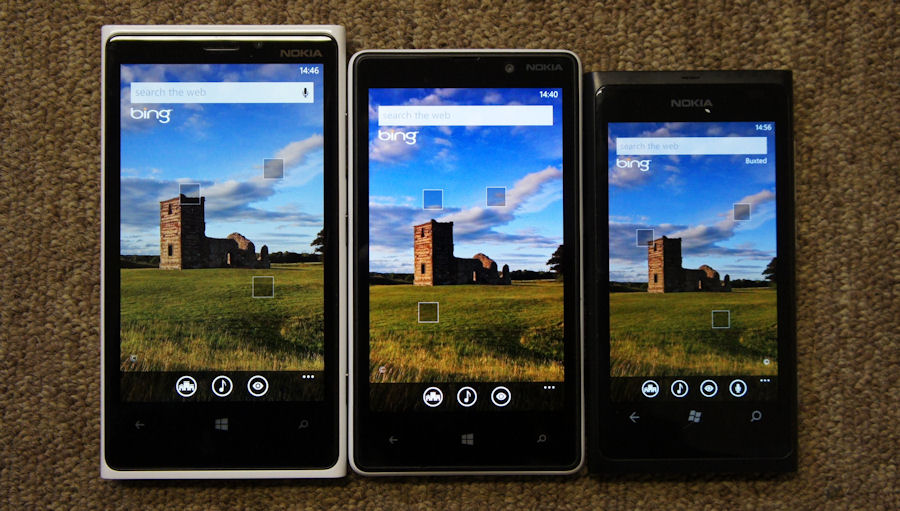 Screen comparison: Nokia Lumia 920, Nokia Lumia 820, and Nokia Lumia 800
In common with the Lumia 920, the Lumia 820 has a number of screen innovations, which are unique to Nokia: sunlight readability enhancements and super sensitive touch.
Building on its ClearBlack Display technology, Nokia has enhanced screen visibility (brightness) in both outdoors (bright) and indoors (ambient) light conditions. Firstly there's a refinement of the existing ClearBlack Display technology, which cuts down on reflectance levels by adding polarisation layers to, and reducing air gaps in, the screen stack. Secondly, based on data from the ambient light sensor, the screen is automatically shifted into high brightness modes, improving visibility by compensating for the added reflectance. Similarly, adaptive image contrast enhancement algorithms alter the characteristics of the screen (e.g. balance between colours) in response to changing ambient light conditions, with the aim of dynamically optimising the readability of the screen.
The impact on the Lumia 820's AMOLED screen is not quite as noticeable as on the Lumia 920 LCD IPS screen, but it's still very impressive, with outdoor visibility, usually the bane of smartphone screens, especially noteworthy.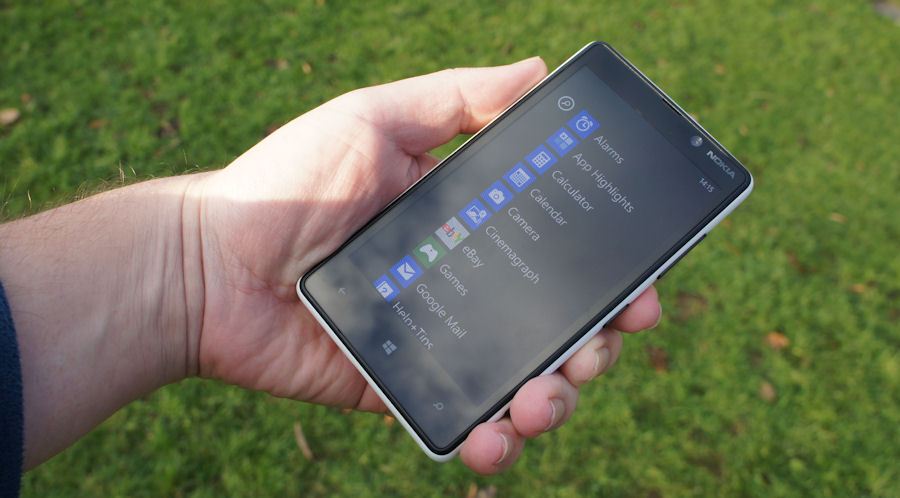 Nokia Lumia 820 screen in bright sunlight (also viewed at an angle).
More eye-catching, but, arguably, not quite as important in day-to-day usage, is the addition of super sensitive touch to the screen. This innovation, by increasing the signal to noise ratio in the touch sensing layer, makes it possible to detect weaker touch signals, such as those generated by a fingernail, or when wearing gloves. The object touching the screen does need to be conductive to some extent, but the technology is adaptive, so the screen will automatically adjust the sensitivity in order to give the best possible experience.
Does it work? Yes - and rather brilliantly too. It's easy to dismiss super sensitive touch as a bit of gimmick if you haven't used it, but once you start using it, you'll wonder how you managed without it. The benefits of being able to answer a call, or send a text message, without taking off your gloves, in a cold environment, are self-evident. But it's also a boon for those with long fingernails, or who prefer to use a stylus. Super sensitive touch is not an essential feature, but it does remove what seems like an artificial limitation and I'm sure, in time, other manufacturers will adopt the technology. For now, Nokia enjoys an exclusive hardware differentiator, something that's increasingly rare in the smartphone world.
The Lumia 820's screen was something of a surprise. We were expecting to be rather underwhelmed, but in daily use the expected negatives (screen resolution, protective glass), while certainly present, didn't have nearly as much impact as we thought they might.
What's more, the sunlight readability and super sensitive touch innovations, together with the improved quality of the AMOLED display, are a significant step forward from the Lumia 800 and 900, and result in what is, arguably, the best WVGA screen on any smartphone.
Camera
The Lumia 820 has an 8 megapixel camera, with Carl Zeiss optics and a dual LED flash, but the critical numbers are f/2.2 aperture and 1/3" sensor size. Also important, in performance terms, is the absence of BSI on the sensor. These characteristics immediately put the Lumia 820 into the second tier of camera phones, which means its output is not going to match higher end devices.
However, it's still a decent camera that can produce some very pleasing results. It's just important to have realistic expectations. Those who are concerned about camera quality are almost certainly going to be opting for the Lumia 920, and for everyone else the Lumia 820 should be more than good enough. Indeed, in its category, the Lumia 820 has one of the better cameras in an overall sense, mainly thanks to the performance of Nokia's processing algorithms, and the ancillary software on Windows Phone.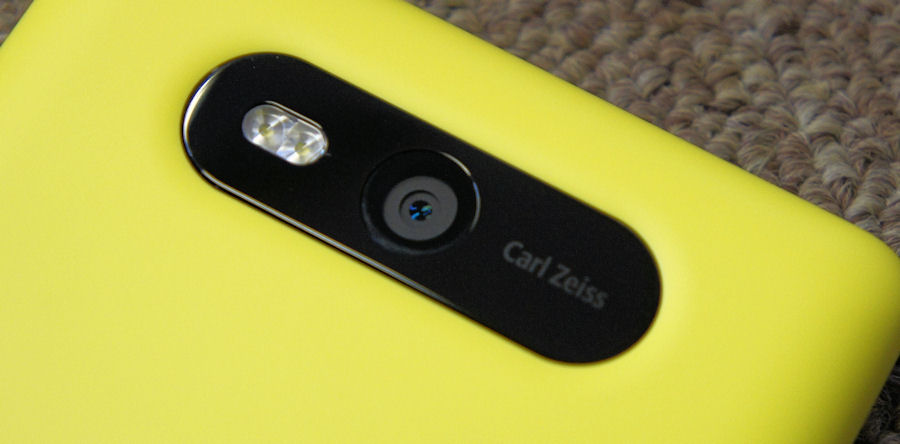 While results are very much dependent on in what conditions a photo is taken, it is possible to make some general comments about the Lumia 820's camera performance. Colour accuracy and white balance are generally good, with little or no over-saturation, something other cameraphones sometimes implement to give more vibrant looking, but artificial, photos. Edge enhancement and noise reduction processing are used quite aggressively, which means you'll notice a loss of detail when zooming in to the pixel level, but this generally results in a sharper and better looking picture when zoomed out (i.e. how most people will be looking at the images).
Low light performance, without a flash, was surprisingly good - it's never going to match the OIS-equipped Lumia 920, but it's better than you would expect from the core specification.
Video recording performance is also decent, with resolutions up to 1080p supported. The jerky video footage can't compare to the smooth footage from the Lumia 920, and colours felt a little muted at times, but overall detail, audio quality, and the speed of the continuous autofocus were better than we would expect from a device in this category.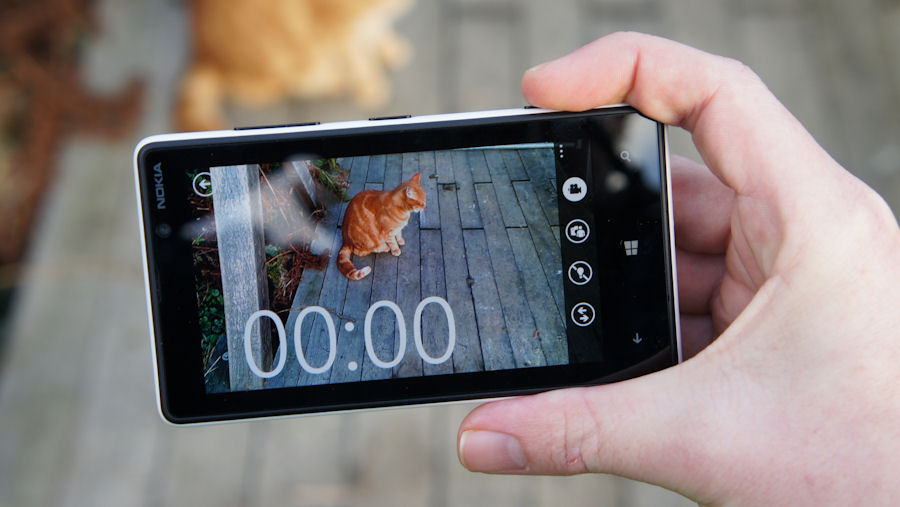 The Lumia 820 camera module is the same as that in the Lumia 800 and 900. But there's no way you would guess this from doing a side by side comparison of the output. The results from the Lumia 820 are substantially better, serving as a great illustration of the importance of software processing in the modern camera phone.
To be fair, there are two ancillary hardware improvements that contribute towards the improved performance: a focus-assist lamp has been added and the dual LED flash has been uprated. However, the majority of the improvements are in the software, more than anything else, it's really a reflection of the rushed development time scale of the original Lumia devices' camera software.
The front facing camera is a basic VGA camera, a step down from that found in the Lumia 920, 822 and 811. It's adequate for Skype video calls, but there's little point in using it for still image capture.
On the software side, the default Windows Phone 8 camera app provides quick and intuitive access to the key settings and linked imaging apps. There are a few tweaks from the Windows Phone 7.5 version: zooming buttons are replaced by a pinch in/out gesture; basic image editing is integrated into the camera app; the flash can be turned on or off from the viewfinder; and the concept of 'lenses' is introduced.
Lenses are apps that integrate directly into the camera app, offering additional image capture and processing options. Effectively this is a filtered version of the app list, showing only apps that use the phone's camera in some way, but it's a very clever idea, as it means you're much more likely to remember to use these extra apps. It's also a good example of the way Windows Phone has moved away from the traditional app launching model.
Nokia is bundling three Lenses with the Lumia 920: Panorama, Smart Shoot, and Cinemagraph. Nokia is planning to make additional Lenses available in future software updates, and others are available, from third parties, via the Windows Store.
Smart Shoot is effectively a burst mode, enhanced with some very clever smart editing. It takes a series of four photos, about a second apart, and asks you which one you want to use. From the, you can then, optionally, choose to use the smart editing tools to remove a moving object from the image (e.g. car in a street scene), or, when taking a picture of a group of people, choose the best facial expressions, from any of the four captures.

Cinemagraph creates an animated photo (15 frames per second GIF file) from a series of still captures. As part of the creation process you choose which parts of the image should be animated. The end results are both quirky and fun; surely a perfect fit for the social sharing age? Sadly, the animated gif format isn't well supported by sharing services, so, currently you're limited to uploading your creation to SkyDrive. Nokia say they're working to improve this, so it may not be too long before we see a dedicated Facebook Cinemagraph app, or something similar.
An easily overlooked benefit of photos captured using Nokia's Lens apps is the ability to tweak the editing at a later date. Both Cinemagraph and Smart Shoot store all the data captured when taking the original images, and revisiting the editing process is as simple as choosing "Open in Smart Shoot..." from the Photos hub menu.
In summary? The Lumia 820's camera will not match the performance of the highest end cameraphones, but then you shouldn't really expect it to, given the device as a whole is positioned at a step down from the most expensive devices. In the context of other similarly specified cameraphones, its performance is above average. Those familiar with the camera in the Lumia 800 will be pleased by the improvement, but those coming from Nokia's Symbian devices may be surprised by the lack of advancement.
We've embedded a number of sample images from the Lumia 820 below:
Click through for full resolution.
Audio
In the audio department, the Lumia 820 is very similar to the Lumia 920. Both devices show improved performance over their immediate Lumia predecessors, and, based on our testing, we think it's quite likely, with one exception that we note below, that they share a common set of audio components, and therefore performance characteristics.
Audio output from the 3.5mm audio jack is excellent, and there's a notable improvement from the first generation Lumia devices, with less distortion and noise, something that's especially noticeable if you connect to an amp via an AUX cable. As we've mentioned many times, the best thing you can do to improve audio quality is to buy a good pair of headphones, but this is even truer for the new Lumia devices.
Audio output from the mono loudspeaker is decent too, but it doesn't quite match up to some of Nokia's other models, such as the Nokia 600 or the Nokia 808. Nonetheless, it's more than adequate for speakerphone calls, podcast playback, and voice interaction.
On the software side, there are commonalities too, with the software-based equalizer and support for Dolby Headphone, presumably common to all of Nokia's Windows Phone 8 devices. Here's how we described them in our Lumia 920 review:
Nokia has customised Windows Phone to build in support for a customisable equalizer and Dolby Headphone support, both of which can be accessed via the Settings app. Both of these features have an easily noticeable impact on audio output, but whether it's positive or not is open to debate!




There are a number or predefined equalizer presets (e.g. bass boost, classical, rock, and speech), but the 7 channels are also fully customisable should you prefer to define your own equalizer curve. Anyone who has used equalizer presets will know how important they can be to the listening experience, so they're a very welcome inclusion on the Lumia 820; we just wish they were more accessible from the built in Music + Video app.

Dolby Headphone creates a virtual surround sound environment in real time, using digital processing technology. There's certainly a noticeable difference in audio when switching Dolby Headphone on and off, and to our ears audio sounded more natural and immersive, especially with some complementary equalizer adjustments. However, as with any audio processing technology, it's a matter of personal taste. Audio purists may be somewhat horrified, but I'd expect the majority of people to leave Dolby Headphone setting on.
The Lumia 820 has a pair of High Amplitude Audio Capture (HAAC) microphones, one less than in the Lumia 920. The HAAC microphones are capable of capturing audio over a broader range of frequencies and at higher volume levels (140 dB versus 120 dB) than those typically found in smartphones, which results in more natural sounding, and distortion free, recordings.
Dropping one of the HAAC microphones should, theoretically, have an impact on the effectiveness of the noise cancelling algorithms in voice calls, but we couldn't discern the difference in our test calls. Like most Nokia smartphones, the Lumia 820 also supports HD voice, which gives excellent call quality, but this requires operator support (EE, 3, Orange in the UK, but only in intra network calls).
You would hope that, during video recording, the dual microphones would be used to record a stereo track, but unfortunately this is not the case at the moment. All the video captured by the Lumia 820 has a mono audio track, albeit one of high quality.
Internals and Performance
Just as the Lumia 800 and 710 internal were similar in Lumia's first generation, so it is with the Lumia 820 and 920 in the second generation. There's a Qualcomm Snapdragon S4 MSM8960 SoC (System on a Chip); it has a dual-core processor, clocked at 1.5GHz, accompanied by an Adreno 225 graphics co-processor, and 1GB of RAM.
Comparing clocks speeds and RAM between different platforms is rather meaningless, but the improved core specification should put an end to the perception of Windows Phone as only running on old hardware.
As we noted in our Lumia 920 review, performance is improved in the Windows Phone 8 devices, both in benchmark and real world performance terms, when compared to Windows Phone 7 devices. This is most notable in app start up time, but it's also a question of increased capability. For example, the newer devices are capable of playing back higher resolution videos, encoded at higher frame rates. This improved graphics performance should really tell in the games arena, although, as of yet, there are relatively few titles that take advantage of new capabilities.
The Lumia 820 just beats out the Lumia 920 in the WPBench test, presumably because it's not pushing so many pixels around the screen, but in real world terms there's no discernible difference between the two.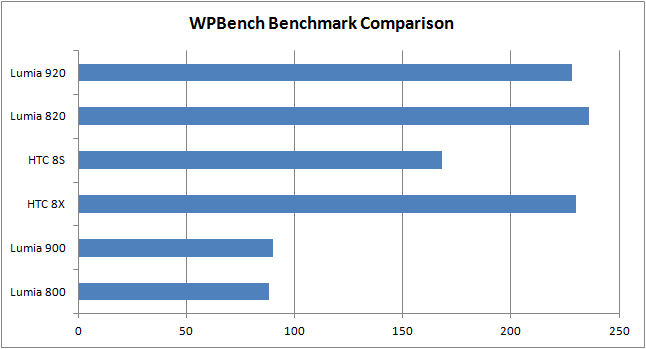 The Lumia 820 has 8GB of on-board storage, with an extra 7GB of cloud storage available via SkyDrive, and there's also a microSD card slot, of which more below.
Sensors onboard include accelerometer, proximity, ambient light, magnetometer (compass) and gyroscope, with location input provided by a combination of GPS (with GLONASS and A-GPS support), CellID and WiFi positioning.
As with other Windows Phone 8 devices, there's no FM radio, presumably a software platform restriction, since the necessary hardware is in place. We'd like to see this added back into the platform in a future software update, but we're not going to hold our breath.
The Lumia 820 supports GSM (2G), WCDMA (3G) and LTE (4G) for cellular connectivity, plus WiFi, Bluetooth and NFC for local connectivity. WiFi includes support for the a, b, g, and n protocols, plus channel bonding for faster throughput speeds. NFC is used for triggering Bluetooth connections (pairing with accessories and sending content), reading tags, and mobile payments. The last of these isn't widely supported yet, requiring operator buy-in, but where available it's integrated into Windows Phone 8's new Wallet hub.
There are two variants of the Nokia Lumia 820, with support for different LTE bands:
RM-825: Global variant: EGSM 850/900/1800/1900, WCDMA 850/900/1900/2100, LTE band 1 (2100), 3 (1800), 7 (2600), 8 (900) & 20 (800), LTE Cat 3 (100 Mbps Downlink, 50 Mbps Uplink), HSDPA+ Cat24 (42.1 Mbps), HSUPA Cat 6 (5.76 Mbps)
RM-824: AT&T variant: EGSM 850/900/1800/1900, WCDMA 850/900/1900/2100, LTE band 4 (1700/2100) & 17 (700), LTE Cat 3 (100 Mbps Downlink, 50 Mbps Uplink), HSDPA+ Cat24 (42.1 Mbps), HSUPA Cat 6 (5.76 Mbps)
The RM-825 (Global) variant pentaband LTE support is theoretically superior to the RM-824 (AT&T) variant dual band LTE support, but in practice this will only be a significant issue for nomadic travellers. LTE Cat 3 support means theoretical speeds of 100 Mbps, though in the real world you can expect to see speeds between 5 and 16 Mbps, dependent on your operator. The inclusion of Cat24 HSDPA+ on both variants means there's also support for Dual-Carrier HSPDA, though given this standard isn't widely supported yet, the majority of 3G usage will likely be on standard HSDPA.
The broad cellular technology and band support means the Lumia 820 should support your operator's maximum data speed for at least the next couple of years. In connectivity terms, it's more future proof than some of the devices it is competing with. For example, in Europe the HTC 8X is a non-LTE device, and other phones have more limited LTE band support.
microSD
The Lumia 820 is Nokia's first Windows Phone device with a microSD card slot, offering greater storage flexibility, with card sizes up to 64GB (SDXC) supported. In the Lumia 820's case, that's in addition to the 8GB of internal memory (5.1 GB free on first boot).
In Windows Phone 8, SD cards act only as auxiliary storage for media (music, video, and pictures). This means, for example, that it is not possible to install an app to the SD card. This is more restrictive than on other platforms, and may come as something of a nasty shock to Symbian users, but with every Windows Phone having at least 4GB of internal storage (and usually more) it's not a big deal. The benefit of this restriction is one of both user experience (apps won't disappear if you remove a SD card) and security (sensitive data is protected).
The SD card does have a few other uses, such as the ability to side load .xap files. Third party apps can also use platform APIs to directly access content on the SD card (read only), although we've yet to see an app that takes advantage of this feature.
In Windows Phone's Settings app, the phone storage module can be used to monitor SD card space usage. Tapping on the bar chart showing SD card space usage opens a page showing a detailed breakdown on how much space is being taken up by each media type. This is also where you'll find a button that you should tap should you wish to unmount (remove) the SD card. Back on the opening page, there are settings that let you customise what media types (music+video and pictures) are stored on the SD card, and which types are stored on the phone.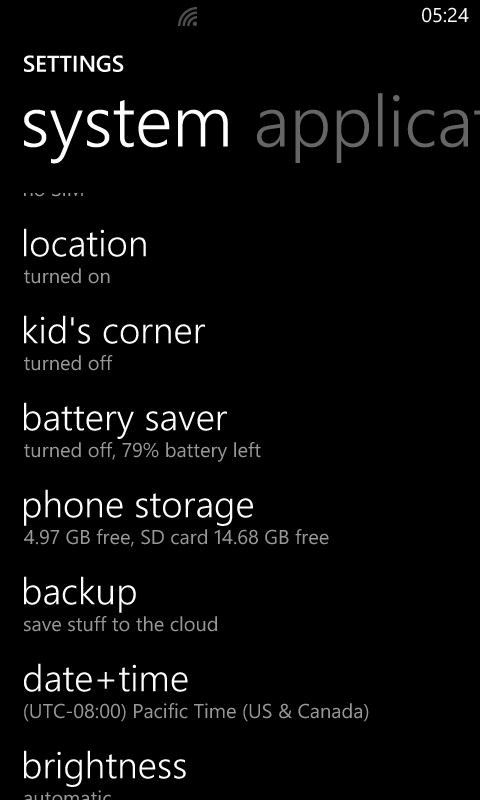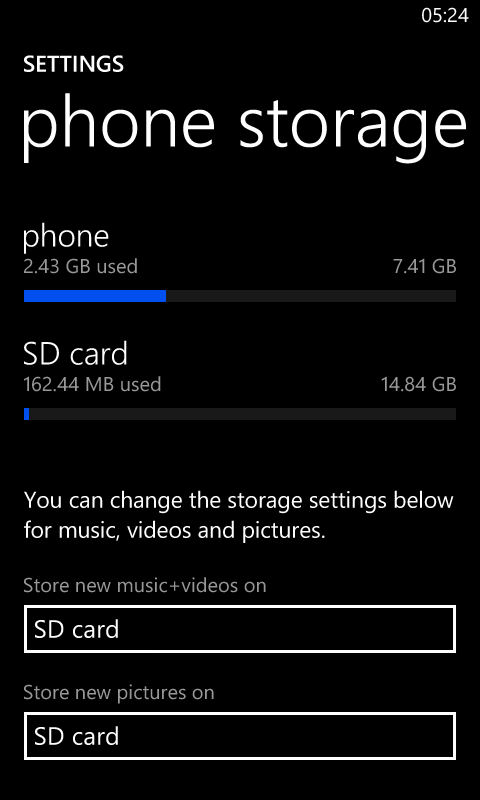 Since the SD card is stored under the battery it is not possible to "hot swap" a card, but there's no issue with using multiple cards, should you so wish. This is handy for those who watch a lot of locally stored video on their phone, but in practise we suggest the best thing to do is to buy the biggest SD card you can, and leave it in your device permanently.
When plugged into a PC, a microSD card will show up as a separate drive, within the Windows Phone device. As with internal storage, (mainly media) files can be copied from, or moved to, the SD card. It's not mounted as true USB Mass Storage, but rather is accessible via Media Transfer Protocol (MTP). You won't notice a difference on Windows computers, but other platforms may need additional software or drivers.
When transferring files to the SD card, media files must be copied to their respective folders (Music, Pictures, and Videos) in order to show up in the appropriate Windows Phone app.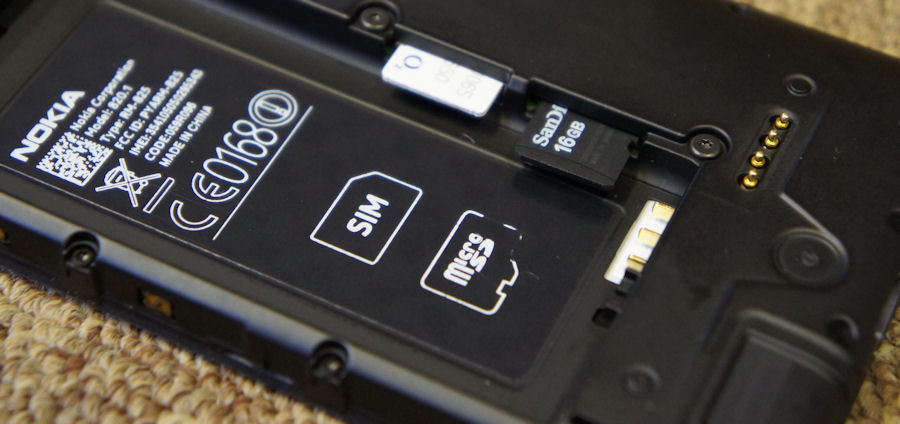 Battery life and charging
The Nokia Lumia 820 has a BP-5T replaceable battery, which has a capacity of 1650mAh. That's up from 1450mAh in the Lumia 800, but a significant step down from the 2000mAh in the Lumia 920. It's notable that both the Lumia 810 and 822 (with otherwise similar core specifications) have 1800mAh batteries.
The official figures give talk time as 15.4 hours GSM / 8.1 hours WCDMA and standby time as 360 hours (GSM) / 360 hours (WCDMA), which as you might expect, given the respective capacities, is about 20% less than the Lumia 920, 10% less than the Lumia 810, but 10% more than the Lumia 800.
In practice, there's not a lot of difference in real-world usage. The Lumia 920's battery capacity advantage is somewhat offset by the smaller screen of the Lumia 820. The Lumia 920 does have a small edge, as should the Lumia 820 and 822, but ultimately the biggest factor in battery life is going be usage patterns (e.g. data usage, screen brightness). Those upgrading from the Lumia 800 should notice a small, but noticeable improvement, something that mainly comes from Windows Phone 8's software optimisations.
The bottom line is that, like every other modern smartphone, the Lumia 820 is going to require a daily charge. It's not going to match the performance of the bigger battery behemoths, but it is towards the upper end of the rest of the pack. Yes, if you push it hard, it will struggle to last through a long day, but we don't see battery life being an issue with the Lumia 820, especially as power users have the option of switching out the battery.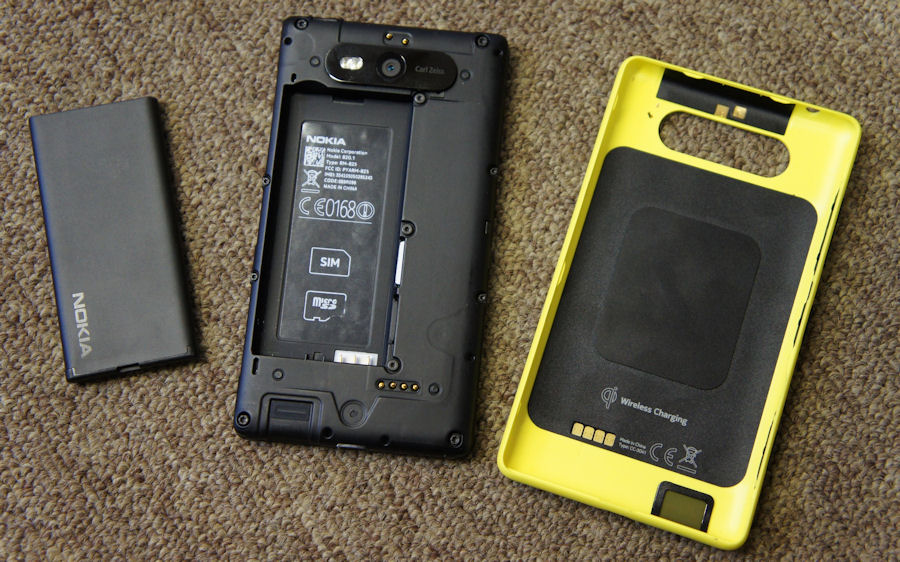 Every Nokia Lumia 820 is enabled for Qi wireless charging, but you'll also need a Qi enabled shell (i.e. one that includes the necessary charging coil), plus a Qi compatible charging accessory. As noted above, in some markets a wireless charging shell is included in the box, but, in others, only a standard shell is included. This does mean it may be necessary to buy an extra cover in order to use the wireless charging functionality.
While wireless charging is by no means essential, it is a nice extra. Nokia has sensibly opted to use the Qi standard, rather than coming up with its own technology. The Qi standard is relatively mature. One particularly important characteristic, which Nokia has taken advantage of in its wireless charging accessories portfolio, is that the Qi standard allows for an array of coils to be used in charging plates. That means it's not necessary to precisely place or orientate the device on the charging surface.
Using wireless charging is around 10-20% slower than using a wired connection, but that's arguably more than offset by the convenience. In terms of energy consumption wireless charging is, inevitably, less efficient than using a wired connection, but the difference is not as you might think, with an energy transfer efficiency of around 70%. More importantly, the Qi standard includes a number of features to minimise standby power, which means that when there's no device charging, or a device has finished charging, energy consumption is minimised.
The exact figure will depend on what Qi-enabled charging accessory you use, but, as an example, the Nokia DT-900 charging plate draws less than 30mW in standby. That's low enough to qualify it for a 5 star energy rating. The Nokia 820's bundled wired charger (AC-50X) has the same 5 star energy rating, but many other phone chargers do not, which is a good reason to make sure you use the wired charger that comes in the box.
Hardware conclusion
Given that the Lumia 820 runs Windows Phone 8 on the core hardware configuration as the Lumia 920, there's very little in the way of software and performance differences between the two devices. That means the differentiation between the two devices is all the hardware, design and materials compromises made in order to get to a lower price point. That's a very tricky thing to get right, especially as everyone has an opinion on what is, or is not, important.
On the whole, Nokia has done a good job here, with an attractive and robust design married to sensible hardware choices. It may be a little too conservative for some, but this middle-of-the-road strategy makes perfect sense for a second tier device.
Moreover, the Lumia 820 is a much more polished device than its Lumia antecedents, one that is in a much better position to start restoring Nokia's battered smartphone sales numbers. An informative comparison can be made with the Nokia Lumia 710, which was Nokia's second Windows Phone device a year ago. Even allowing for the difference in launch pricing (€360 and €270 respectively), the Lumia 820 is streets ahead, far advanced on what a year's time difference might suggest, reflecting the increasing maturity of Nokia's Windows Phone products.
It's easy to say that someone should just pay the extra to buy the Lumia 920 because it's a superior device. And in markets where operator control is highest it's not an unreasonable viewpoint. After all, thanks to standard smartphone contracts, the only difference between the Lumia 820 and 920 on AT&T in the US is the upfront free... and the Lumia 920 can be had for as little at $49.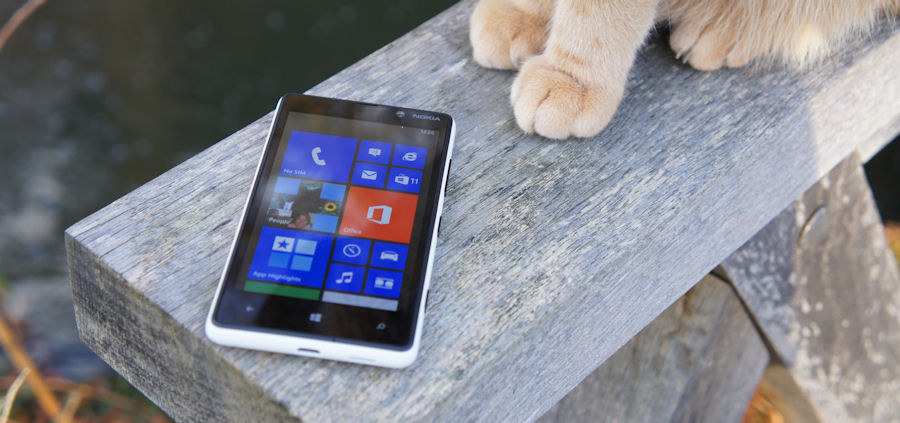 Is the Nokia Lumia 920 the cat's paw for the Nokia Lumia 820? Or maybe it's the other way round...
However, this rather misses the point. Yes, the Nokia Lumia 820 is a lower cost device, and yes, in unsubsidised markets, that will be enough of a difference to drive some sales. But, it's important to realise that some of the differences between to two devices are driven, not by cost, but rather a different set of design priorities.
The most obvious example of this is the smaller physical size, but we would also highlight the differences in overall design (removable battery, customisable shells, weight), screen technology (AMOLED), and storage (microSD). Of course, there are also differences driven by cost considerations too, such as the camera specification (no OIS, no BSI), screen (resolution), storage (less internal memory), and battery (capacity).
But the critical point is there are a number of hardware factors that serve as reasons why someone might justifiably choose the Lumia 820 over the Lumia 920. It's not just about the cost. For example, we think, because of the hardware mix, that many of Nokia's more traditional users, especially those coming from a Symbian device, will prefer the Lumia 820.
And, in a way, that's really the best compliment we can pay the Lumia 820. It's a device that deserves to exist based on its own merits, not just because it's a cheaper version of the flagship.
Continuing coverage
In a shared part 2 with our Nokia Lumia 920 review, we'll look at the Nokia specific software side of the device. There are a number of areas to cover, including both customisations to the platform itself and Nokia's exclusive app portfolio. Windows Phone 8 itself will get a separate in-depth review.
We also expect to have a number of editorials and reviews looking at different aspects of the Lumia 820, as well an overviews of the handset from different points of view.
If you've got any questions about this part of the review, or want to let us know whay we should be covering in subsequent parts of the review, please get in touch, or leave a comment below.
Reviewed by Rafe Blandford at