Review:
Nokia Lumia 920 hardware
Score:
84%
In this first part of our in-depth review coverage of the Nokia Lumia 920, Rafe Blandford looks at every aspect of the 920's hardware, from screen technology to camera to materials and dimensions. He looks inside the Lumia 920 too, covering processor and other electronics. In future review parts, coming soon, Rafe and other All About Windows Phone writers will tackle the Windows Phone 8 operating system, the specific Nokia additions and we'll feature and deliver verdicts on the 920's unique selling points, including the ground breaking OIS camera.
Version Reviewed: Pre-release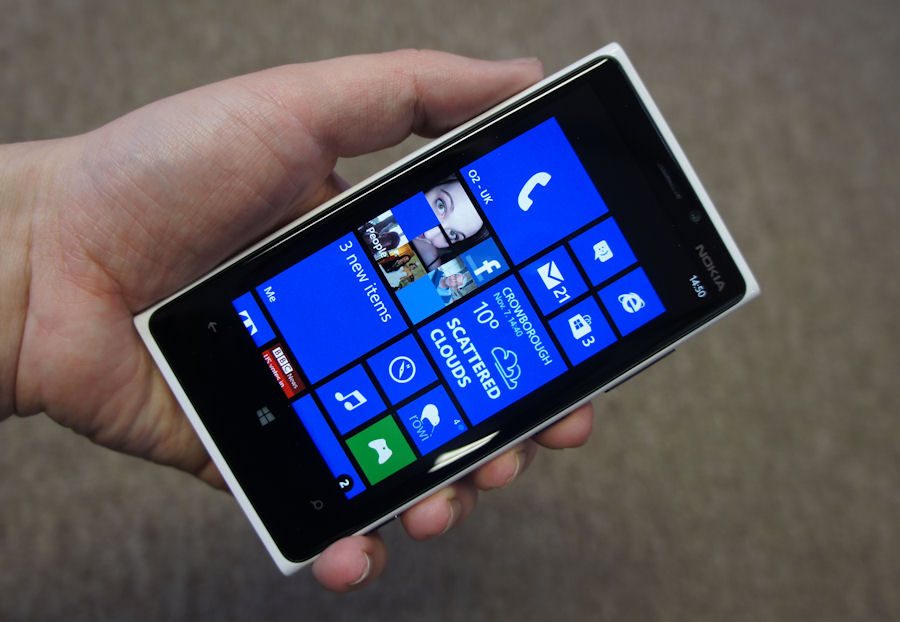 Introduction
The Nokia Lumia 920 arrives at a critical time for Nokia. Since announcing the shift to Microsoft's Windows Phone as its primary smartphone platform twenty-one months ago, Nokia has endured a brutal transition. While the abyss isn't at close as some people seem to think, it's quite clear that the new Lumia devices will dictate the future trajectory of the company. And, as the flagship device, the spotlight will shine brightest on the Lumia 920.
Nokia's first generation of Windows Phone devices arrived twelve months ago, but, hampered by a development timeline measured in months and an immature software platform, they were always going to be something of an intermediate stepping stone to the next generation.
One year on and Nokia has now had almost a full product development cycle (around two years) to work on the hardware. Moreover, in Windows Phone 8, with its deep integration into the wider Microsoft ecosystem and modern user experience, it has the fullest expression yet of the ecosystem definition cited by Nokia's CEO, Stephen Elop, as the primary reason for Nokia's strategy shift.
So does the Lumia 920 deliver? Let's find out.
In the box
The Lumia 920 comes in the now Nokia-standard rectangular, drawer-style, recyclable-cardboard box, with a series of stacked layers holding the phone, paperwork, and accessories.
A brief quick start guide (full user guide is online) and warranty information make up the paperwork, while accessories include the AC-16 Nokia Fast USB charger, CA-190CD Nokia Charging and Data Cable, WH-208 Nokia Stereo Headset, and a SIM Door Key. The WH-208 headset is decent, but unexceptional, and if you listen to a lot of music you'd be well advised to get a third party set of headphones to make the most of the device's excellent audio characteristics.
In some retail channels, in select markets, the Lumia 920 will be bundled with a Nokia Wireless Charging Pad, but this will come in a separate box. Unlike the Nokia Lumia 800, there's no case included in the box, and, at the time of writing, no official Lumia 920-specific cases available from Nokia.
Design and materials
The Lumia 920's design is the latest evolution of the "Fabula" design language first seen in the Nokia N9, and then re-used in the Nokia Lumia 800 and the Nokia Lumia 900. The overall shape and look of the polycarbonate unibody, with its flat ends and rounded edges, remains visually distinctive, allowing the phone to stand out from a sea of competing touch slabs. Since Nokia debuted the design, other manufacturers have tried similar approaches, but, of the many polycarbonate-casing-gorilla-glass combos, the Fabula implementation remains the most elegant and pleasing to the eye.
This is reinforced by a vibrant range of colours - yellow, red, grey, cyan, magenta, white, and black - although not all colours will be available in all markets, and some retailers will have exclusives on certain colours (e.g. yellow and red in the UK are, for now, exclusive to Phones 4u). The yellow, red and white colour options have a gloss finish, while the black, grey, cyan and magenta colour options have a matte finish.
The use of the same polycarbonate material used in motorcycle helmets, big water bottles and bullet proof glass, has become more common in the mobile world, but a reminder of its benefits is worthwhile. It's RF-transparent, yet durable and hard wearing, and evidence from the first generation Lumias show it is extremely robust, standing up very well in day to day usage. The colour is integral (not just a layer on top), which means that scratches are less apparent than when using anodised aluminum or painted plastics.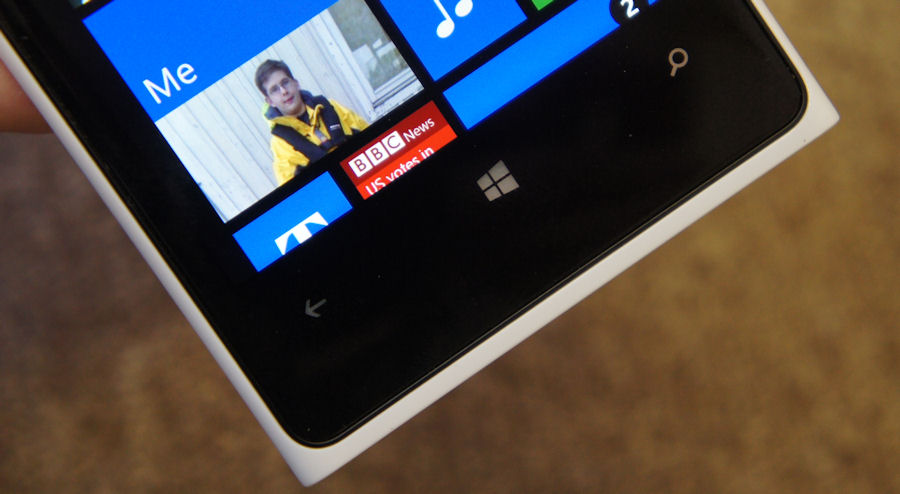 Looking in more detail, the Lumia 920 combines the strongest design elements of the Lumia 800 and Lumia 900 into a single device, and adds a number of important refinements of its own. It has the same curved glass edges as the Lumia 800, with the protective Gorilla glass seeming to almost flow into the polycarbonate body seamlessly.
As with the Lumia 900, the microSIM card is accessed via a caddy using the included SIM Door Key (or a paper clip); on the 920, it's on the left-hand-side of the top of the device. The 3.5mm audio jack is now located centrally on the top of the device, an example of the pleasing design symmetry. A further example of this is the microUSB port, used for charging and PC connectivity, which is located centrally on the bottom of the device. Both these details may seem like obvious design choices, but due to the difficulty in arranging such large components internally, are quite difficult to achieve from a technical point of view, and underline the polish and maturity in the design.
The position of the screen, relative to top-and-bottom of the device is similar to the Lumia 800, with a thinner top bezel, and a thicker bottom bezel. With the presence of the standard capacitive Windows Phone keys at the bottom of the device, this is more balanced, both visually and in the hand, than the opposite arrangement found in the Lumia 900. The thinner top bezel does mean the Nokia logo is offset to the right, a somewhat disconcerting change from the near universal central positioning on previous Nokia phones.

A welcome refinement from the earlier Lumia devices is the use of a ceramic material for the camera surround and the volume, screen, and camera keys on the side of the device. The plastic material, used on previous Lumia models, was prone to scratching and felt a little flimsy. The new ceramic material is more in keeping with the high overall quality of materials used in the rest of the device.
Other refinements include reworked speaker and microphone grilles, better placement of the front facing camera and related sensors, and the removal of certification labeling from the bottom of the device (it's now in the microSIM card caddy slot). In addition, the back of the device is now gently curved, rather than flat, which makes it seem thinner than it really is, and more comfortable to hold.
The Lumia 920 really is a beautifully crafted piece of design. Outstanding build quality and appealing aesthetics combine to create a smartphone that, in design and materials terms, is worthy of being compared favourably against the very best the mobile industry has to offer.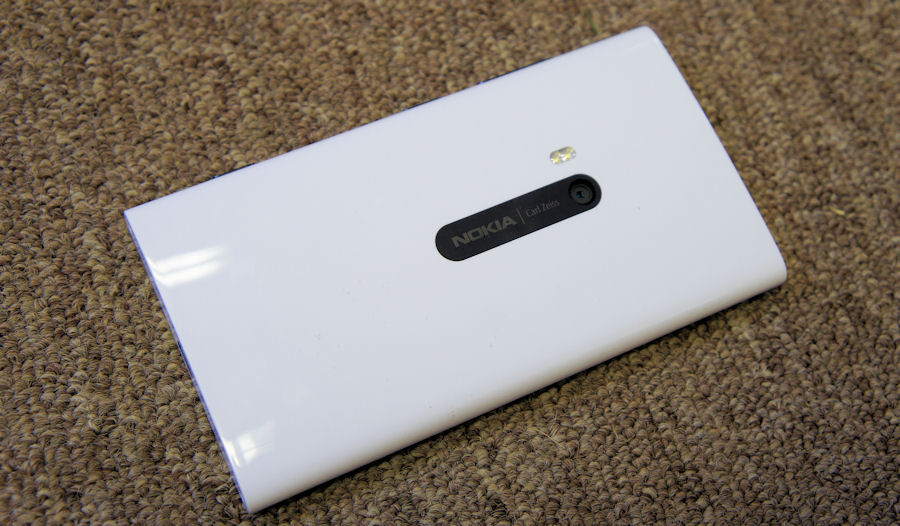 Size and weight
Since its announcement, there has been a lot of comment around the size and weight of the Lumia 920. Juggling several of the current crop of leading smartphone in your hand it's clearly that the Lumia 920 is a big device, and while it's grossly unfair to call it tank-like, there's also an undeniable heftiness to it. A quick comparison with both the first generation Lumia models and current cutting high smartphones shows why:
| | | | |
| --- | --- | --- | --- |
| Device | Size (mm) | Volume (cc) | Weight (g) |
| Lumia 920 | 130.0 x 70.8 x 10.7 | 99 | 185 |
| Lumia 900 | 127.8 x 68.5 x 11.5 | 90 | 160 |
| Lumia 800 | 116.5 x 61.2 x 12.1 | 76 | 142 |
| HTC 8X | 132.4 x 66.2 x 10.1 | 86 | 130 |
| HTC One X | 134.4 x 69.9 x 8.9 | 84.4 | 130 |
| Samsung Galaxy S III | 136.6 x 70.6 x 8.6 | 82.2 | 133 |
| Apple iPhone 5 | 123.8 x 58.6 x 7.6 | 76 | 112 |
In terms of the front profile, there's actually very little meaningful difference between the various models. There's some variation in device width, but for the most part this is dictated by the physical screen size. The few mm difference in screen bezel sizes is, proportionally, a relatively small consideration; moreover a small bezel is not necessarily a good thing, especially from the point of view of device robustness. There's a little more variation in device height, but even so it's still, primarily, a function of screen size.
Like most of its direct competitors, the Lumia 920 is beyond the boundary of universal one-hand usage, which is generally considered to be devices with a width of 60mm or less. However, the UI design of Windows Phone means, notably the presence of the universal back button below the screen and the large target areas when reaching for pivots and panoramas at the top of the screen, is, arguably, more accommodating for one handed usage than both Android and iOS, which mean the majority of people will still find they are able to do most things with a single hand.
The greatest variation comes in device thickness, where the Lumia 920 is one or two mm thicker than most of its competitors. Device thickness is largely dictated by the combined thickness, and arrangement, of the screen and camera module. In the case of the Lumia 920 the inclusion of optical image stabilisation may add a couple of mm or so to the overall device thickness.
It's also worth noting that the Lumia 920 is thinner than both the Lumia 800 and Lumia 900, neither of which seemed to be particularly corpulent devices. Indeed, the days where device thickness had an impact on comfort or portability are long gone, so such comparisons are less important than they once were.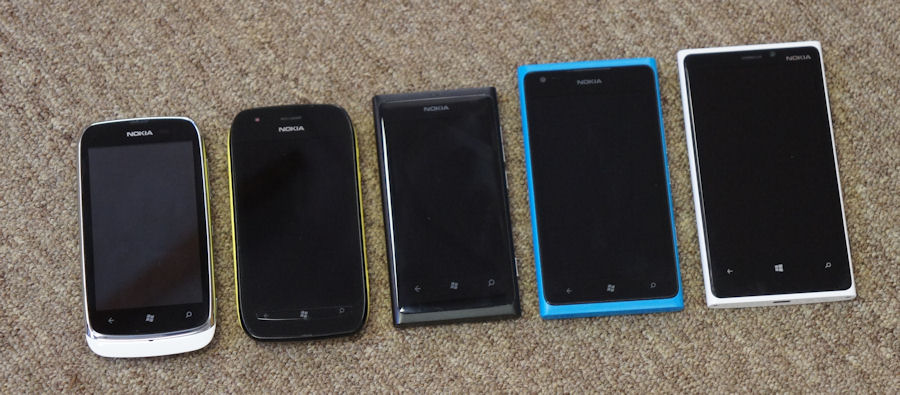 In terms of weight there's a much more obvious difference. At 185g the Lumia 920 is at least 50g heavier than most of the devices it will be competing with. That's 30%-40% extra weight, surely an important consideration for a mobile device?
However, numbers do not tell the whole story. It's more illuminating to ask why is the Lumia 920 noticeably heavier than its competitors? After all it's not as if Nokia deliberately put lead weights somewhere in the device, just to make it heavier. The simple answer? All smartphone design is about compromises, trading off one characteristic against another, sacrificing in one area, to make things better elsewhere. The best known example of this is battery capacity versus battery size, but it applies to almost all areas of smartphone technology, from screen size (e.g. Samsung Note), through camera quality (e.g. Nokia 808), to text input (e.g. Blackberry 9700).
In the case of the Lumia 920, there are two broad areas to talk about. Firstly the hardware configuration, and secondly the internal design architecture.
The Lumia 920 packs in more hardware technology than any of its direct competitors, and while it's tempting to see the additional layers in the screen stack, the wireless charging support, and the optical image stabilisation in the camera, as culprits for the extra weight, the reality is that these will, at most, account for only a few extra grams. The same should apply to other small component differences (e.g. aerials, microphones, sensors, and so on).
More significant is the battery, which is usually the single heaviest component in a smartphone. Unsurprisingly, higher capacity batteries, such those in the Lumia 920 and Galaxy S III, weigh more than those with lower capacities, such as those in the iPhone 5 or HTC 8X. For example, in the case of Lumia 920 and HTC 8X comparison, this accounts for just about 5 grams, or around 10%, of the weight difference.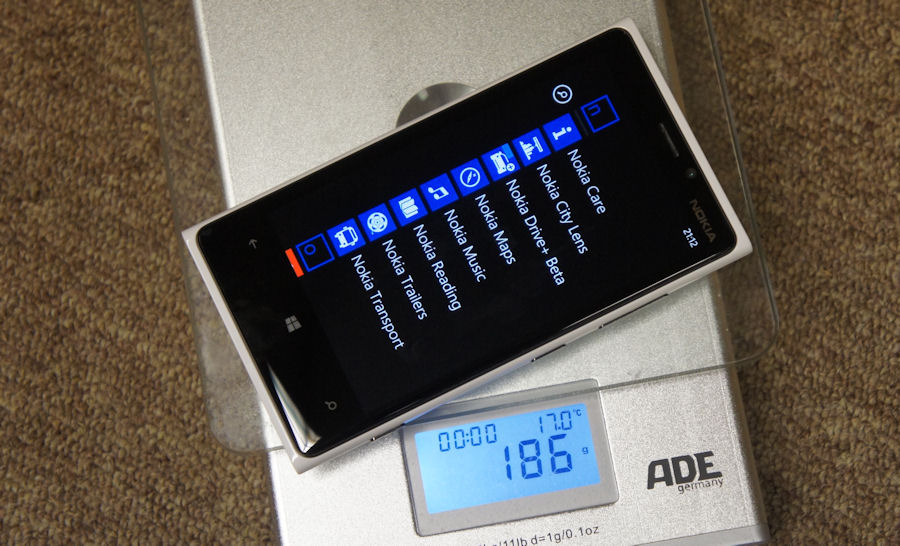 But the biggest factor is the way in which the device has been put together. Internally, and unusually for a unibody design, the Lumia 920 has a double frame design (full circuit board frame, and separate metal frame), and the screen assembly effectively acts as a third frame. While this internal design architecture, together with a number of related factors around materials tolerance and component positioning, adds extra weight, it also gives the Lumia 920 exceptional mechanical strength and durability, endowing it with a greater ability to endure drops, bumps, and other shocks (and means you're less likely to need a full protective case, with the added size and weight that this entails).
I'd suggest a significant portion of the "extra" weight in the Lumia 920 is a result of deliberate design decisions by Nokia to make it more robust. To put it another way, the Lumia 920 is more likely to make it through the two years of a typical smartphone contract undamaged than competing devices.
Even with the hardware configuration and construction factors taken into account, the Lumia 920 does still weigh a little more than we would expect, but without a full device tear down and extensive testing, something we're not brave enough to do to a review device, it's not really possible to give an exact answer here.
The technical nuances around device weight are interesting, but ultimately what really matters is whether the weight makes a difference to carrying and using the device. The answer to this is inevitably going to be subjective, but what we can say is that it's not been a factor for us, in the week we've spent testing the device.
Make no mistake, pick up the Lumia 920 and then one of its competitors, in a direct comparison, and you'll notice an obvious weight difference. However, the majority of people do not have ready access to a multitude of smartphones to carry out this test. The observant may notice a difference in the shop, but it's hard to see this perception carrying through in day to day usage. After all, how often do you think about how much your current phone weighs?
More crucially, once below a certain point, it's hard to see weight being a major factor in the purchase equation, when there are so many other, more important, factors to consider.
So, yes, the Lumia 920 is heavier than its rivals, but not, when you weigh all the evidence, by enough to really matter.
Screen
Nokia has given the Lumia 920's 4.5 inch IPS LCD touch screen the PureMotion HD+ designation. PureMotion is intended to act as quality mark, a promise that consumers will get a screen right at the top of the technology curve.
In the case of the Lumia 920, there are four new technology areas contributing towards this designation, on top of Nokia's already well regarded screen technology: screen resolution, screen response rates, screen visibility levels, and super sensitive touch.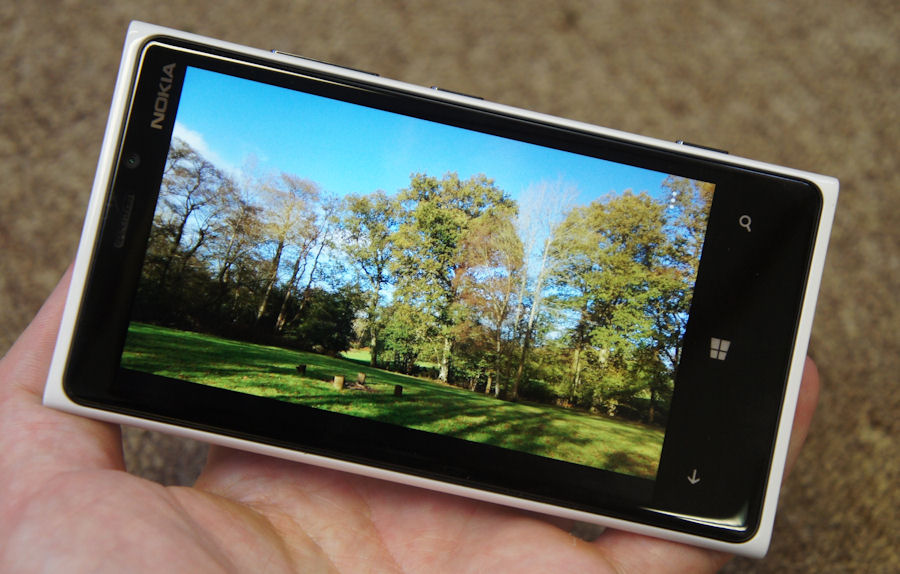 The HD+ part of the branding refers to the WXGA (1280x768) resolution, which has 7% more pixels than a standard 720p screen, and a density of 332 pixels per inch. Extra pixels aside, by choosing to use this screen resolution, Nokia maintains the 15:9 aspect ratio that is used in Windows Phone 7 devices. That's good news from an app compatibility point of view, but it also makes one handed use easy as it's easier to reach the top of the screen than on devices with a similar sized screen and 16:9 aspect ratio.
The support for higher resolutions is part of a wider package of hardware upgrades that arrive with Windows Phone 8, but it is undoubtedly the most noticeable, at first glance. The higher resolution makes the UI look crisper, but the biggest benefits are apparent when looking at images and videos, or reading text on the screen when browsing the web, checking emails, or reading an eBook.
The most intriguing screen technology is that of overdriven pixels, which improves the response rate of the screen. Response rate, or transition time is a measure of the amount of time it takes a pixel to switch from displaying one colour to another. The typical IPS-LCD screen has a transition time of around 23ms, but with the Lumia 920 Nokia has cut this down to 9ms.
If you're interested in how this works, Nokia has published a detailed white paper, but the end result is a more responsive screen. This issue is becoming more important because mobile user interfaces are running at increasing frame rates, with Windows Phone one of the highest at around 60 frames per second. To actually "see" changes at 60 frames per second you need a screen with a response rate of less than 16ms - if not you'll get a blurring effect.
In the real world there definitely is a visible difference when rapidly scrolling through text, waving the camera around, or when playing some games. However, it's not all that obvious unless you do a side-by-side comparison. That said, like many of the best hardware innovations, we suspect it's something you'll notice most when it's not there.
Building on its ClearBlack technology, Nokia has enhanced screen visibility (brightness) in both outdoors (bright) and indoors (ambient) light conditions. Firstly there's a refinement of the existing ClearBlack display technology, which cuts down on reflectance levels by adding polarisation layers to, and reducing air gaps in, the screen stack. Secondly, based on data from the ambient light sensor, the screen's backlight is automatically switched into a high luminance mode in bright conditions, improving visibility by compensating for the added reflectance. Similarly, adaptive image contrast enhancements algorithms alter the characteristics of the screen (e.g. balance between colours) in response to changing ambient light conditions, with the aim of dynamically optimising the readability of the screen.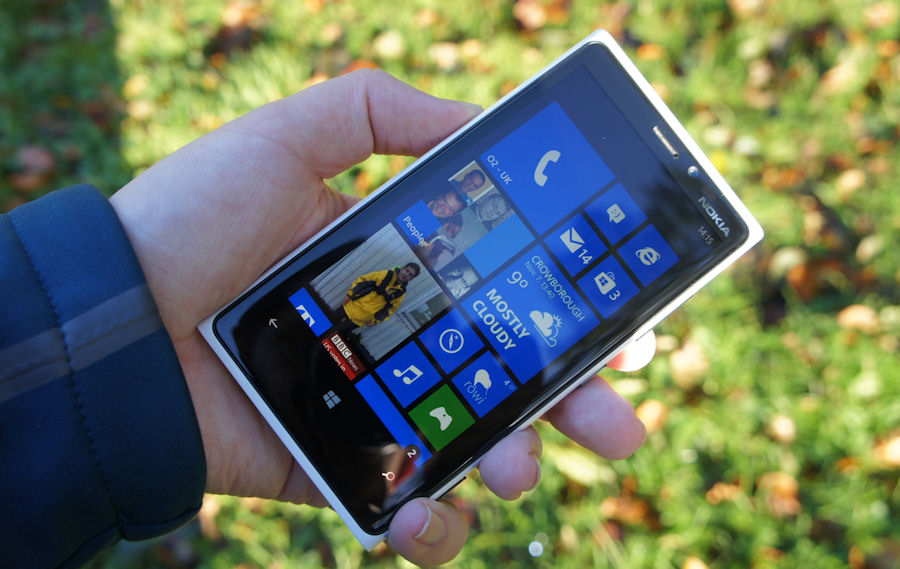 The end result is truly impressive, with outdoor visibility, usually the bane of smartphone screens, especially noteworthy. Nokia already had an excellent reputation in this area, but the innovations introduced with the Lumia 920 steps this up to a new, industry-leading, level.
The easiest to demo innovation is the addition of super sensitive touch to the Lumia 920's screen, which by increasing the signal to noise ratio in the touch sensing layer, makes it possible to detect weaker touch signals, such as those generated by a fingernail, or when wearing gloves. The object touching the screen does need to be conductive to some extent, but the technology is adaptive, so the the screen will automatically adjust the sensitivity, in order to give the best possible experience.
Does it work? Yes - and rather brilliantly too. It's easy to dismiss super sensitive touch as a bit of gimmick if you haven't used it, but once you start using it, you'll wonder how you managed without it. The benefits of being able to answer a call, or send a text message, without taking off your gloves, in a cold environment, are self-evident. But it's also a boon for those with long fingernails, or who prefer to use a stylus. Super sensitive touch is not an essential feature, but it does remove what seems like an artificial limitation and I'm sure, in time, other manufacturers will adopt the technology. For now, Nokia enjoys an exclusive hardware differentiator, something that's increasingly rare in the smartphone world.
Existing Lumia device owners will be pleased to note that Nokia has updated the oleophobic coating on the Lumia 920's screen; it's now smoother and less prone to fingerprints than the first generation Lumia devices, and the smoother surface improves the interaction experience with the Windows Phone UI, where swipes and other gestures are widely used.

So does the PureMotion HD+ quality mark deliver? Yes. This is the best screen you'll find on any current smartphone. There are devices with screens that are bigger, have a higher resolution, or a better pixel density, but none of them can match the all round characteristics of the Lumia 920. It's not really about the specifications, or a particular technology; rather what makes the difference is that Nokia has delivered a screen that is better in ways that really matter in everyday usage, are easier on the eyes, have more flexibility in touch interactions, and have better outdoors screen visibility.
Camera
The Lumia 920 is second Nokia's second device with a PureView branded camera, following on from the Symbian-powered Nokia 808 PureView that was released earlier this year. As with PureMotion, PureView is a quality mark, promising consumers a top quality camera experience.
However, the Lumia 920 takes a very different approach to the 808 PureView. The latter combined a huge physical sensor (1/1.2") and a 41 megapixel array to do stunning "software photography", with noise-reducing pixel oversampling and lossless zoom options. This required a large camera module, which resulted in a thicker device, with an out-sized camera hump. There's no way this approach could be repeated while maintaining the relatively sleek lines of the Lumia series.
Instead, the Nokia Lumia 920 is based around a 1/3" sensor, something that's fairly standard for a high-end smartphone, but coupled with optical image stabilisation (OIS) and advanced processing algorithms. The key technical characteristics of the Lumia 920's camera are a Backside Illuminated (BSI) 8.7 megapixel sensor, with a F2.0 aperture, Carl Zeiss optics and a "floating lens" optical image stabilisation system, plus a short-pulse-high-power LED flash.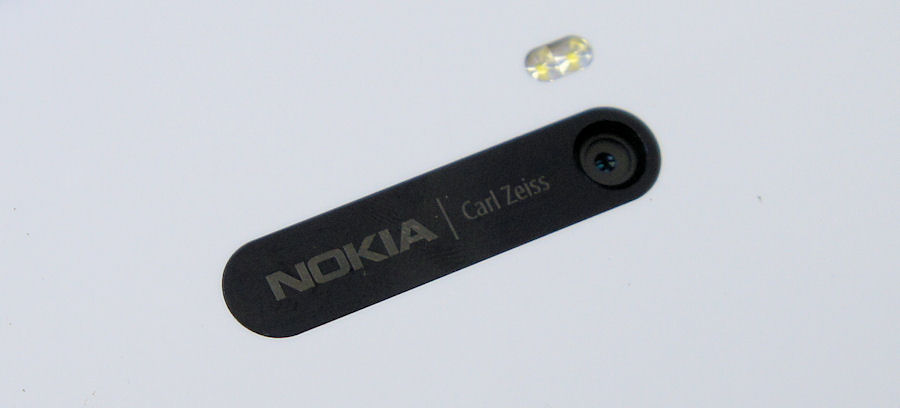 A number of other leading smartphones have cameras with similar core specifications (e.g. HTC 8X has a Backside Illuminated (BSI) 8.0 megapixel sensor, with a F2.0 aperture), but both the Carl Zeiss optics and OIS are exclusive to Nokia, so it is these elements, together with proprietary software processing, that should be seen as the special sauce that makes the Lumia 920's PureView camera different.
| | | | |
| --- | --- | --- | --- |
| Device | Sensor Size | F number | BSI |
| Nokia Lumia 920 | 1/3" | 2.0 | Yes |
| Nokia Lumia 800 | 1/3" | 2.2 | No |
| Nokia 808 PureView | 1/1.2" | 2.4 | No |
| HTC One X | 1/3.2" | 2.2 | Yes |
| HTC 8X | 1/3.2" | 2.0 | Yes |
| Samsung Galaxy SIII | 1/3.2" | 2.6 | Yes |
| iPhone 5 | 1/3.2" | 2.4 | Yes |
The image stabilisation system in the Lumia 920 works by moving the entire optical assembly, based on closed loop electronics and gyroscope input, up to 500 times a second. The aim is to compensate for any inadvertent movement by the user.
For still images, this means less images ruined by "camera shake", and, because longer shutter times can be used, dramatically better low light photos. For videos, which can be captured at up to 1080p at 30 frames per second, the impact is even more noticeable, resulting in much smoother footage, almost as if shot from a steadicam, a stark contrast to the shaky video typically associated with cameraphones (720p smaple video, 50MB).
In day to day usage, the results are very impressive, and the Lumia 920 really does live up to Nokia's claims about low light performance. While it does not match the Nokia 808 PureView in a technical shootout, it's a lot closer than you might think. Critically, the Lumia 920 achieves its level of performance without making a major compromise in the design of the phone.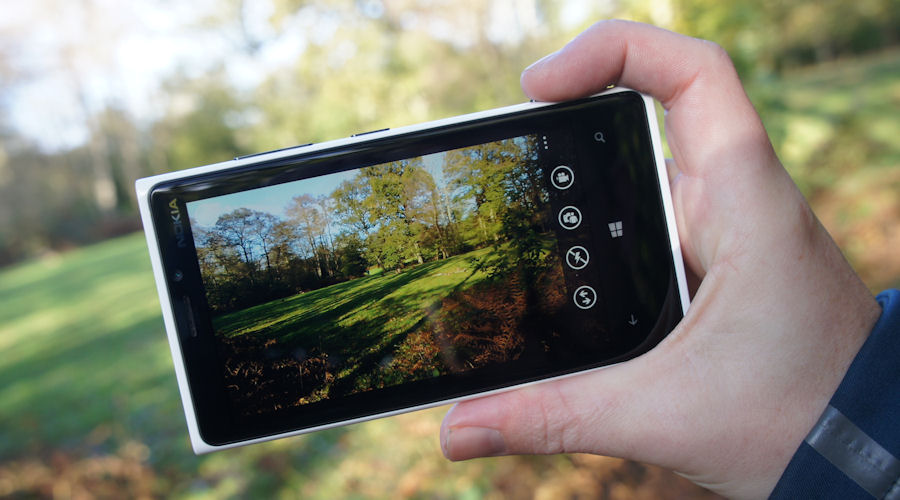 So how does the Lumia 920 compare to other leading cameraphones, such as the iPhone 5, HTC One X, or Samsung Galaxy S III? For still images, shot in low light, the Lumia 920 is a long way ahead. Similarly in video capture, regardless of conditions, the Lumia 920 is clearly superior.
For still images, shot in well lit conditions, the gap is much narrower, if it exists at all. Indeed, our experience suggests the winner in any comparison will vary from shot to shot, with personal preference around colour saturation and similar subjective characteristics, likely having a major impact on results. This is not surprising because, as we noted earlier, all of the leading devices have similar basic specifications, and it is in well lit conditions that optical image stabilisation has least impact.
What is noticeable, regardless of the conditions, is that the Lumia 920 is generally a more forgiving cameraphone than most of its competitors. It's actually quite hard to take a bad picture, with a lower incidence of blurred and out of focus images. Power users, who are well aware of the need to keep a cameraphone as still as possible when taking images, won't notice this as much, but it's going to be a real boon for the average user.
On the software side, the Lumia 920 uses the standard Windows Phone 8 camera interface. Compared to the multiple options available in the Nokia 808 PureView it feels a little bare bones, but it does do an admirable job of providing quick and intuitive access to the key settings and linked imaging apps.
There are a few changes from Windows Phone 7.5; the on screen zoom buttons are replaced by a pinch in/out gesture; basic image editing is integrated into the camera app; the flash can be turned on or off from the viewfinder; and the concept of 'lenses' is introduced. Lenses are apps that integrate directly into the camera app, offering additional image capture and processing options.
Nokia is bundling three Lenses with the Lumia 920: Panorama, Smart Shoot, and Cinemagraph. Nokia is planning to make additional Lenses available in future software updates, and others are available, from third parties, via the Windows Store.
Smart Shoot takes a series of four photos, and then lets you remove a moving object from the image (e.g. car in a street scene), and, when taking a picture of a group of people, choose the best facial expressions, from any of the four captures. It's clever stuff, and really does make it easier to take better photos, with the only real issue being remembering to make use of the functionality.

Cinemagraph creates an animated photo (15 frames per second GIF file) from a series of still captures. Nokia sees this as way to "create images as they exist in your memories", but it might also be described as a Harry Potter style "magic" photo. The end results are both quirky and fun; surely a perfect fit for the social sharing age? In technical terms it's phenomenally clever technology, relying on frame alignment image processing, something that's unique to Nokia.
Cinemagraph example 1 (16.3MB), Cinemagraph example 2 (2.9MB)
These extra camera apps are nice additions, providing strong, and easily understandable, differentiating features. They also go at least some way to offsetting the criticism that Windows Phone faces because of the absence of popular third party apps such as Instagram.
The Lumia 920 reinforces Nokia's leadership in the smartphone imaging space. The Nokia 808 PureView (and its predecessor, the N8), from an imaging purists point of view, remains the best cameraphone in the world, but the Lumia 920 is the best of the rest.
From the point of view of the general consumer, it's a closer, and more subjective, race. All the leading smartphones provide decent camera performance, with surprisingly little to choose between them. However, thanks to its optical image stabilisation feature, the Lumia 920 does have superior low light and video capture performance, and must therefore take the title of best cameraphone on the market.
We've embedded a number of sample images from the Lumia 920 below. Last week we published a preliminary camera comparison between the Nokia Lumia 920, Nokia 808 PureView, Nokia Lumia 900, and HTC One X, and we'll have additional, camera-related coverage soon.
Click through for full resolution, original files (2-3 MB each).
Audio
Audio output via the 3.5mm audio jack is excellent, and we therefore assume that Nokia is using higher quality components than in the first generation Lumia devices. Such differences are hard to quantify outside a professional sound lab, but to our ears music was crisper and had more depth. In common with all smartphones, the best thing you can do to improve audio quality is to buy a good pair of headphones, but there's a couple of Nokia added software features that are worth noting too.
Nokia has customised Windows Phone to build in support for a customisable equalizer and Dolby Headphone support, both of which can be accessed via the Settings app. Both of these features have an easily noticeable impact on audio output, but whether it's positive or not is open to debate!
There are a number or predefined equalizer presets (e.g. bass boost, classical, rock, and speech), but the 7 channels are also fully customisable should you prefer to define your own equalizer curve. Anyone who has used equalizer presets will know how important they can be to the listening experience, so they're a very welcome inclusion on the Lumia 920, we just wish they were more accessible from the built in Music + Video app.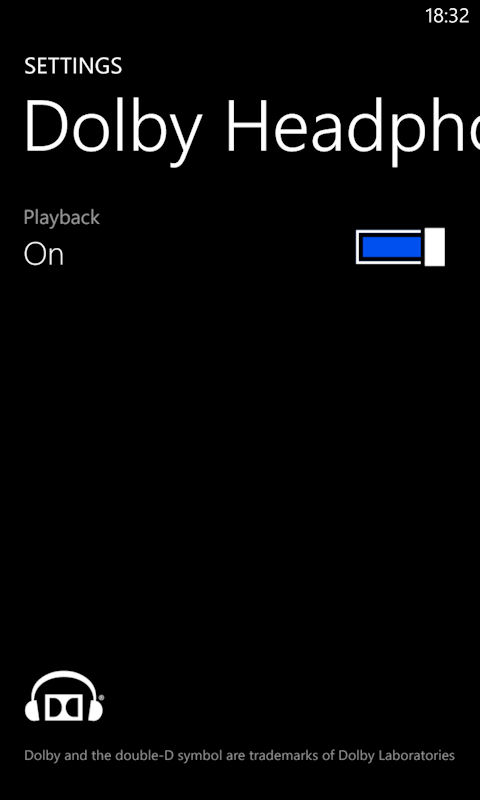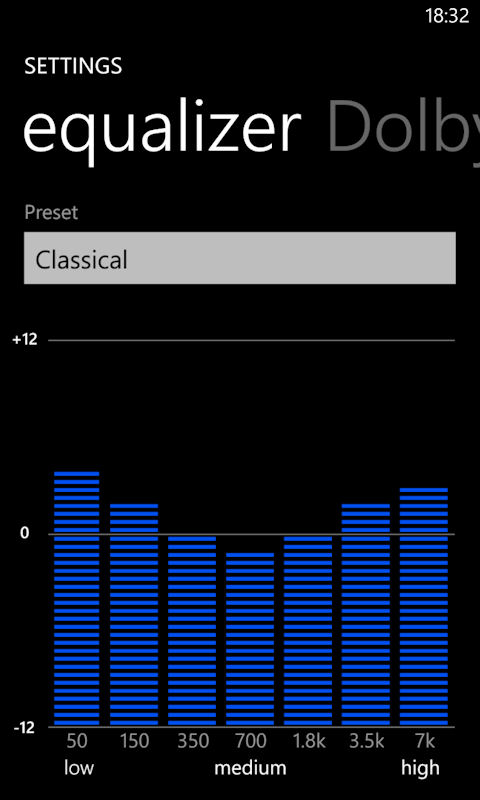 Dolby Headphone creates a virtual surround sound environment in real time, using digital processing technology. There's certainly a noticeable difference in audio when switching Dolby Headphone on and off, and to our ears audio sounded more natural and immersive, especially with some complementary equalizer adjustments. However, as with any audio processing technology, it's a matter of personal taste. Audio purists may be somewhat horrified, but I'd expect the majority of people to leave Dolby Headphone setting on.
The Lumia 920's mono loudspeaker is an improvement over its Lumia predecessors, with richer sound and better volume, but it doesn't quite match up to some of Nokia earlier models (e.g. Nokia 5800). Nonetheless, it's more than adequate for speakerphone calls, podcast playback, and voice interaction.
For audio input, the Lumia 920 has a trio of High Amplitude Audio Capture (HAAC) microphones. These are the same microphones used for Nokia's widely praised Rich Recording in the Nokia 808 PureView. The key benefit of these microphones is that they are capable of capturing audio over a broader range of frequencies even at high volume levels (140 dB, compared to 120 dB for most smartphones), resulting in more natural sounding, and distortion free, recordings. The benefits of this will be apparent in all recordings, but are most noticeable in loud environments, such as at a music concert.
Unfortunately, despite the trio of microphones, video capture on the Lumia 920 only records a mono audio track, albeit one of high quality. However, the microphones are present, so it is theoretically possible for Nokia to add stereo audio to video recording in a software update.
The trio of microphones are used to optimise voice quality in all calls by means of noise cancelling algorithms. The Lumia 920 also supports HD voice, but do note that this is dependent on operator support, which is still relatively uncommon.
Internals and Performance
Inside the Lumia 920, there's a Qualcomm Snapdragon S4 MSM8960 SoC (System on a Chip); it has a dual-core processor, clocked at 1.5GHz, accompanied by an Adreno 225 graphics co-processor, and 1GB of RAM.
This core specification is a big step up from the first and second generation of Windows Phone devices, reflecting the increased hardware requirements for Windows Phone 8, but also means the hardware fares better in a direct specification comparison with other leading smartphones.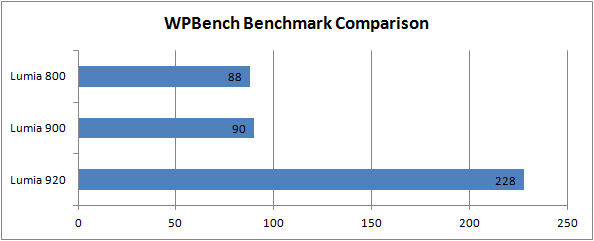 As you might expect, there's a proportional increase in quantitative benchmarks. The Lumia 920 gets a WPBench score of 228, compared to 90 for the Lumia 900 and 88 for the Lumia 800. Other benchmarks are more application dependent, but do underline the potential of the new hardware. For example, the Lumia 920 scores an impressive 928ms in the SunSpider JavaScript benchmark, compared to 6,864ms for the Lumia 900.
The improved specifications also translate into better real world performance. Complex web pages render more quickly and are more responsive, and third party apps start more quickly. Outside these areas, the performance improvements are more subtle, but that's really a reflection of Windows Phone's existing fluidity and speed. This remains one of the strongest points in favour of Windows Phone, when compared to competing platforms. With the possible exception of third party app start up time, it's hard to see how any performance related criticisms could be justified.
The Lumia 920 has 32GB of on-board storage, with an extra 7GB of cloud storage available via SkyDrive. Nokia has opted not to include a microSD card slot, at least in part because of a desire to maintain the device's clean lines, but also because their user research suggests 32GB is more than sufficient for the majority of users.
As you would expect for a high-end smartphone, there's a full range of sensors: accelerometer, proximity, ambient light, magnetometer (compass) and gyroscope. As with the inclusion of a front facing camera (1280 x 960 resolution), this is a noteworthy improvement over the Lumia 800. Location sensing is provided by a combination of GPS (with GLONASS and A-GPS support), CellID and WiFi positioning, with the GPS aerial sensibly placed in the top right hand corner of the device.
One curious hardware omission is FM radio, which is something of a shame, as the chipsets used by the Lumia 920 do support it. Those coming from Symbian devices may also lament the absence of HDMI out, a FM transmitter, and USB OTG support.
The Lumia 920 supports GSM (2G), WCDMA (3G) and LTE (4G) for cellular connectivity, plus WiFi, Bluetooth and NFC for local connectivity. WiFi includes support for the a, b, g, and n protocols, plus channel bonding for faster throughput speeds. NFC is used for triggering Bluetooth connections (pairing with accessories and sending content), reading tags, and mobile payments. The last of these isn't widely supported yet, requiring operator buy-in, but where available it's integrated into Windows Phone 8's new Wallet hub.
There are two variants of the Lumia 920, with support for different LTE bands:
RM-821: Global variant: EGSM 850/900/1800/1900, WCDMA 850/900/1900/2100, LTE band 1 (2100), 3 (1800), 7 (2600), 8 (900) & 20 (800), LTE Cat 3 (100 Mbps Downlink, 50 Mbps Uplink), HSDPA+ Cat24 (42.1 Mbps), HSUPA Cat 6 (5.76 Mbps)
RM-820: AT&T variant: EGSM 850/900/1800/1900, WCDMA 850/900/1900/2100, LTE band 2 (1900), 4 (1700/2100), 5 (850) & 17 (700), LTE Cat 3 (100 Mbps Downlink, 50 Mbps Uplink), HSDPA+ Cat24 (42.1 Mbps), HSUPA Cat 6 (5.76 Mbps)
Both variants have pentaband LTE support, which may be an important consideration for frequent travelers. LTE Cat 3 supports means theoretical speeds of 100 Mbps, though in the real world you can expect to see speeds between 5 and 16 Mbps, dependent on your operator. The inclusion of Cat24 HSDPA+ on both variants means there's also support for Dual-Carrier HSPDA, but there's still only limited operator support for this technology, so most 3G usage will likely be on standard HSDPA.
The bottom line is that the broad cellular technology and band support means the Lumia 920 should support your operator's maximum data speed for at least the next couple of years. In connectivity terms, it's more future proof than some of the devices it is competing with. For example, in Europe the HTC 8X is a non-LTE device, and the current iPhone 5 variant supports LTE on only a subset of operators.
Battery life and charging
The Nokia Lumia 920 has an BP-4GW integral battery, which has a capacity of 2,000 mAh, the biggest ever for a Nokia smartphone. The official figures give talk time as 18.6 hours GSM / 10.8 hours WCDMA and standby time as 450 hours (GSM) / 460 hours (WCDMA), better than many competing devices, but as usual you won't get anywhere near those figures in real world usage.
That said, we were pleasantly surprised by the battery life of the Lumia 920. In our testing, under moderate to heavy usage, the battery comfortably lasted a day, and was almost half way though the second day before it needed charging. That's significantly better than Nokia's first generation Lumia products, which lasted a day and no more. It also compares favourably with similarly specified devices; amongst the Windows Phone 8 devices, only the Samsung ATIV S, with its 2,300 mAh battery, will have better battery life.
The inclusion of wireless charging in the Lumia 920 is a welcome addition. There's an undeniable element of cool when you place the Lumia 920 on a wireless charging pad and it lights up and start charging. Yes, of course you could just plug it in, but why should you have to?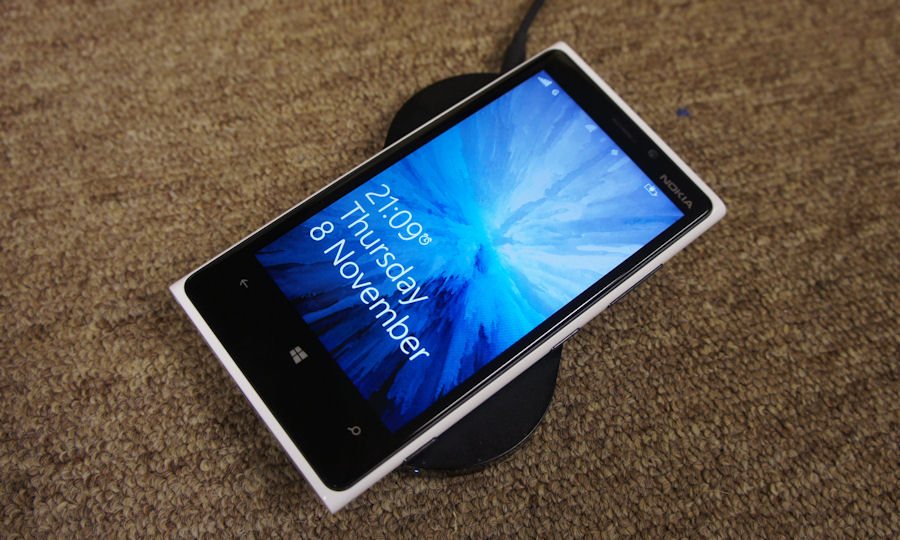 Wireless charging is not a new technology to smartphones by any means, but Nokia is using the Qi standard, which has matured to the point where the charging process is both practical, convenient and efficient. Qi is already well established in Japan and some parts of Asia, but Nokia is the first of the big manufacturers to push it in Europe and the Americas.
One particularly important characteristic, which Nokia has taken advantage of in its wireless charging accessories portfolio, is that the Qi standard allows for an array of coils to be used in charging plates. That means it's not necessary to precisely place or orientate the device on the charging surface.
Using wireless charging is a little slower than a wired connection, but there's not a lot in it, and it's more than offset by the convenience. Moreover, it's better suited to brief charging top ups throughout the day.
Hardware Conclusion
The Lumia 920 is the most powerful smartphone Nokia has ever produced, packed full of cutting edge hardware. Its elegant and visually distinctive design is robust and instantly recognisable. When you consider everything it can do, it really is an amazing piece of engineering.
There is a legitimate debate to be had around the size and, in particular, the weight of the Lumia 920. That it is the heaviest of the current smartphone flagships is an indisputable fact. But whether you consider 185g as excessively heavy for a smartphone, and whether the extra weight is an acceptable trade-off for the additional features and durability that it brings, are both entirely subjective questions. Our own view? It's not excessively heavy, and it's a more than acceptable trade off.
A year ago, when reviewing the Nokia Lumia 800, we said that Nokia had delivered "a standard Windows Phone device wrapped in an outstanding design". This reflected a sense that the short development time scale had resulted in a device that was limited from fulfilling its potential.
What a difference a year makes... the advent of Windows Phone 8 means the core specifications are more competitive, but, more importantly, Nokia has used the intervening period to craft a smartphone that incorporates a number of genuine hardware innovations. Features like optical image stabilisation, super sensitive touch and wireless charging really do make the Lumia 920 stand out from the crowd.
What's even more admirable is that these innovations are about creating a device that's better in ways that really matter to the average user: superior low light photography, easier screen interaction, and more convenient charging. It's a refreshing counterpoint to the race to quad-core that dominated the smartphone industry in the early part of the year. As we'll see, in the next part of the review, it's also an approach that's reflected in Nokia's software efforts, from the zero friction of Nokia Music, to the offline capabilities of Nokia's location apps.
In several hardware areas, most notably the camera and the screen, the Lumia 920 is industry leading by some distance. That's unusual in an industry where hardware is increasingly commoditised. Exactly where you rank it in the overall smartphone league table will depend on your personal priorities and usage patterns, but there's no doubt at all that Nokia has delivered a real contender for the top spot.
Continuing coverage
In part 2 of our Nokia Lumia 920 review, we'll look at the Nokia specific software side on the device. There are a number of areas to cover, including both customisations to the platform itself and Nokia's exclusive app portfolio. We'll be covering Windows Phone 8 itself in a separate in-depth review.
If you've got any questions about this part of the review, or want to let us know whay we should be covering in subsequent parts of the review, please get in touch, or leave a comment below.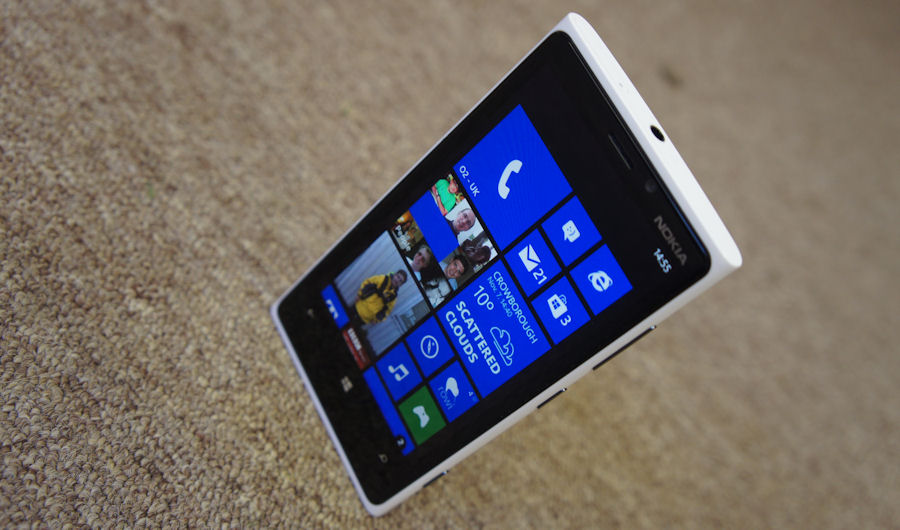 Related content
Camera shoot out: Nokia Lumia 920, Nokia Lumia 900, Nokia 808 PureView, HTC One X
Reviewed by Rafe Blandford at