Review:
Nokia Lumia 520
Score:
75%
What do you get if you distil the essence of Windows Phone 8 and the Nokia Lumia design/concept right down to the bone? If you drive it as far as possible towards the budget end of the market yet without compromising core functionality? You get this, the Nokia Lumia 520, now available at a bargain price somewhere near you (£99 on pay-as-you-go in the UK). There do have to be, naturally, quite a few compromises away from the core - and that's where this review should get most interesting... Is there a single show stopper? Or do the niggles add up to one? And will the target market even care?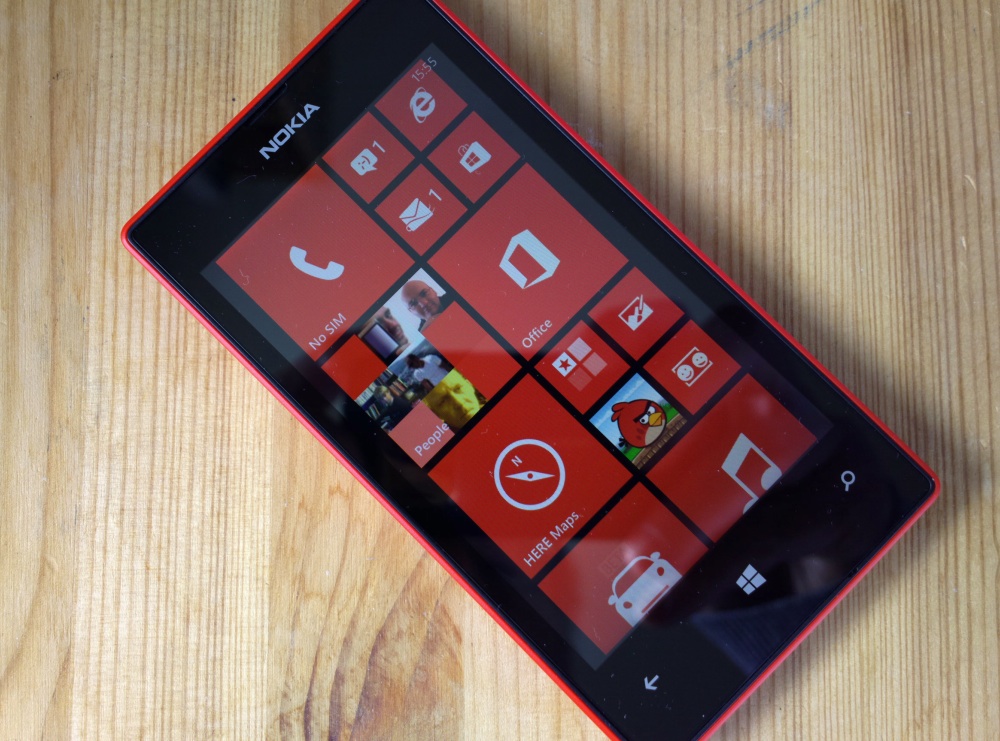 As an observer of Nokia's designs in the last few years, there definitely seem to be two that have been used most - the pure 'fabula' design used in the original (Nokia N9 and) Lumia 800, and adapted slightly for the likes of the Lumia 920, in each case with some degree of convex curvature to the sides, including to the screen edges; and the (presumably slightly cheaper to make) flat-screened, 'bathtub' design, as shown here, with all the curves provided by the plastic sides and back.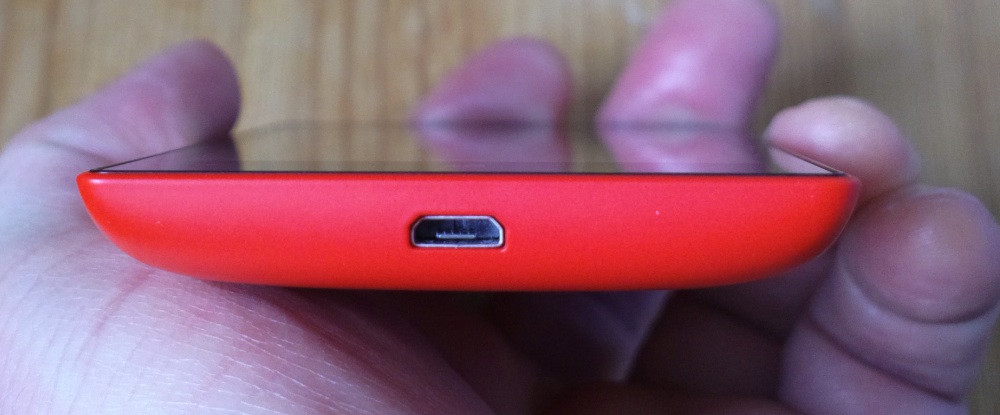 There's no 'better', only personal preference - to me, the ultra-flat front feels slightly odd after years of using the likes of the Nokia C7 and 808 (on Symbian), the aforementioned N9 and the Lumia 800 and then 920 on Windows Phone. But in the 520's case, Nokia were driving the build cost down to the wire, so it's not surprising that they went for the cheaper design.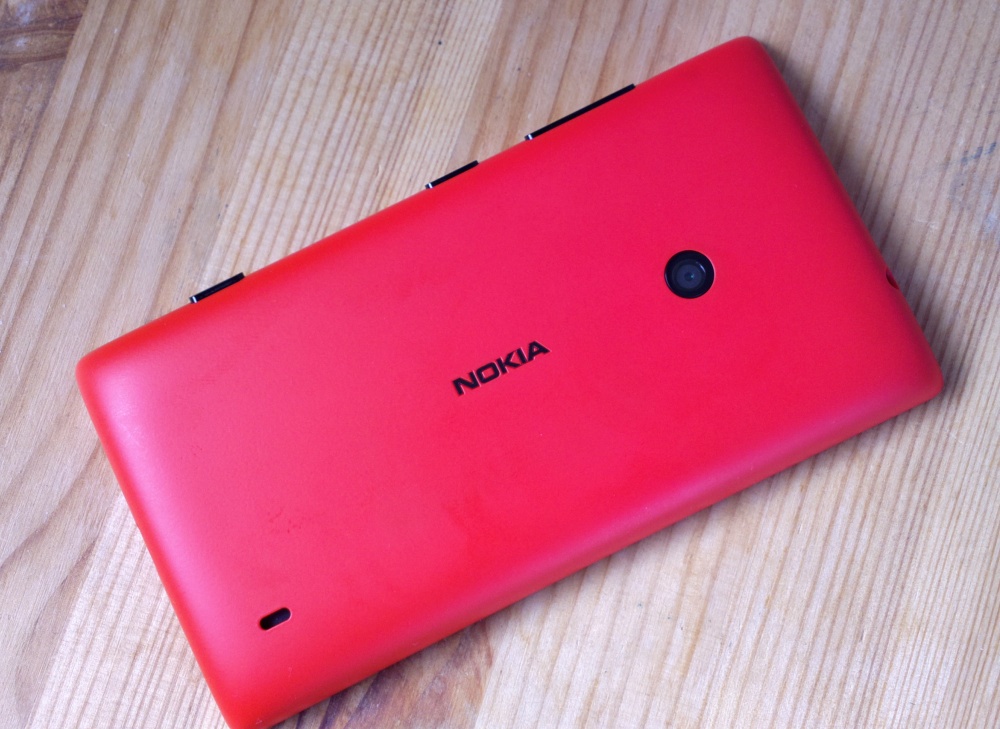 Having said that, apart from a slight creak to the back cover (of which more later), the Lumia 520 is pleasant to hold in the hand, hitting the mythical 'sweet spot' of being around 65mm wide and perfect for the adult human hand to grasp, with the curves nestling nicely into the fingers and palm. The 4" display looks natural in this form factor - if cost hadn't been an issue, I'm sure Nokia could have reduced the bezels slightly, as Motorola did for the RAZR i and squeezed in a 4.3" screen, but 4" is fine for the 520 and fine for the target market here.
The display technology used is similar to that in the likes of the Lumia 720 and even 920, with LCD and 'super-sensitive touch' (meaning that it works for nails and even in some gloves, both important for ladies). Indoors, in fact, you have to look closely to see that there's anything compromised in the display - the blacks in the Windows Phone interface aren't quite as dark as on the sister devices. And if you have a 'light' theme set then there's almost nothing to give the game away that there's no CBD (ClearBlack Display) polariser here, again for cost reasons. The biggest impact of this design decision is when taking the Lumia 520 outdoors - the display's very reflective, though in fairness most new smartphones in this price bracket fare similarly badly in the sun.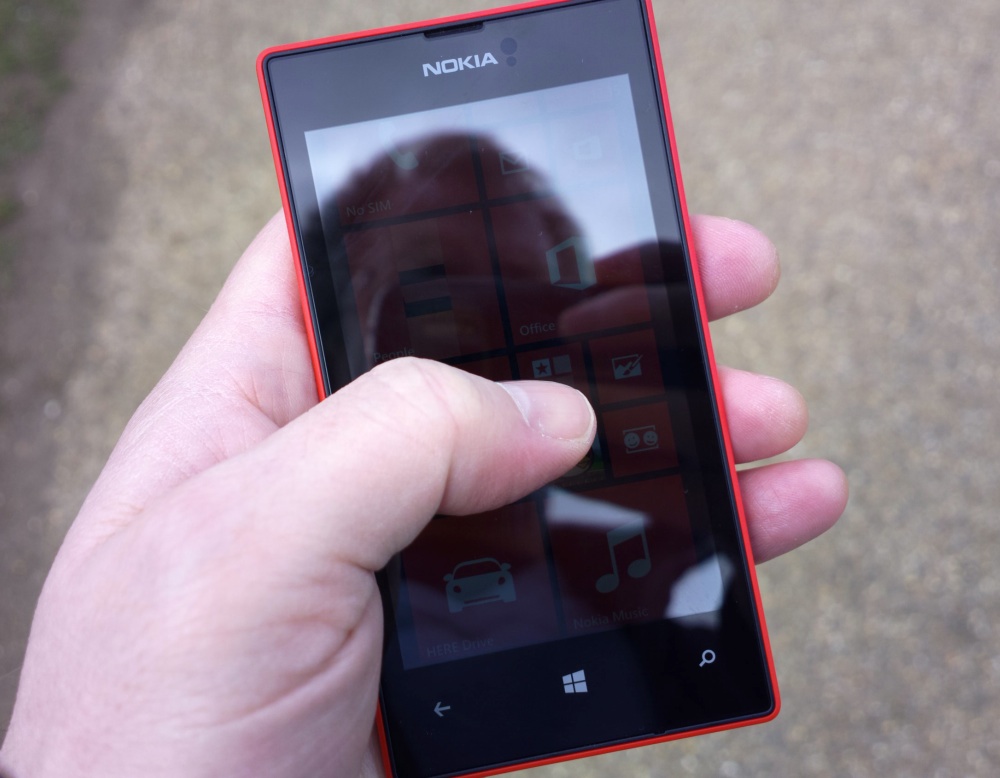 Below the screen are the traditional Windows Phone control keys, fashioned reflectively under the glass. Again for cost reasons, there's no backlighting of these controls, but I for one wouldn't care in the slightest - if anything, the insistence of control icon backlighting when watching media on the likes of the Lumia 920 is a nuisance, and that's one less thing to worry about on the 520. Users will very quickly get used to where the 'back' and 'Bing search' controls are without having them flagged up in light, plus the central Start icon is simple to hit.
The sides/rear of the 520 are one piece of contoured plastic, with apertures for:
volume up/down rocker
lock button
two-stage camera shutter key
microUSB data and charging
3.5mm headphone audio
loudspeaker
camera
The rear cover is prised off from the top, somewhat alarmingly and you do need good fingernails, but you do get used to it and most people in the target market will rarely need to do this anyway. The microSD and microSIM slots are arranged so that the battery has to be out first, which is fair enough, because Windows Phone isn't as geared for hot swapping cards as Symbian used to be.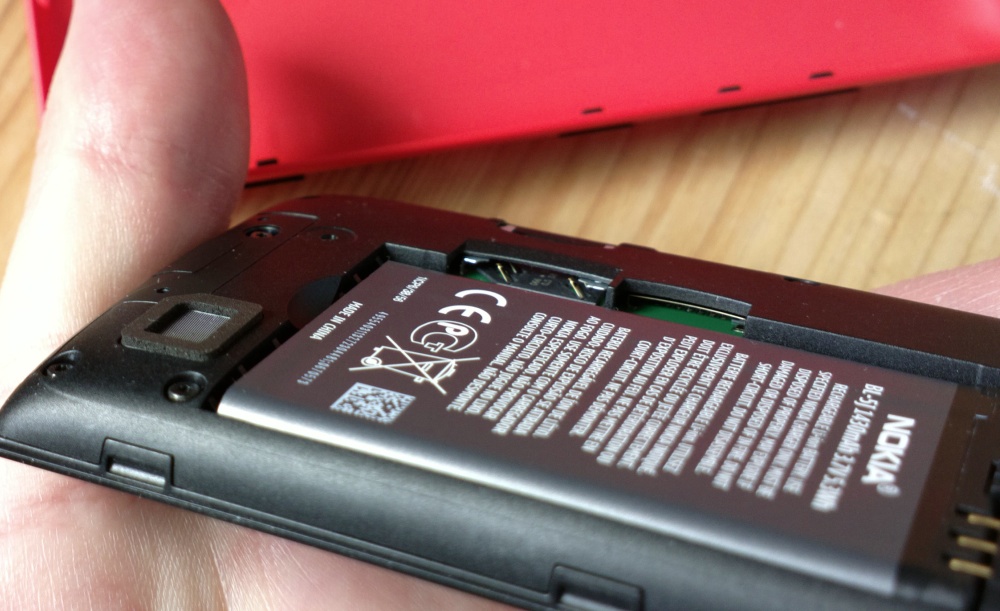 I was a little shocked by the almost 2mm gap between the rear face of the standard BL-5J battery and the plastic rear cover. This gap is filled by a slightly amateurish foam pad stuck onto the inside of the cover, to stop the battery moving around and/or rattling. It's tempting to say that Nokia could have used a much thicker battery here, but the cost issue raises its head here again, plus the battery bay is so tight against the phone's left hand edge that a thicker battery might have meant a re-design to move the battery closer to the centre.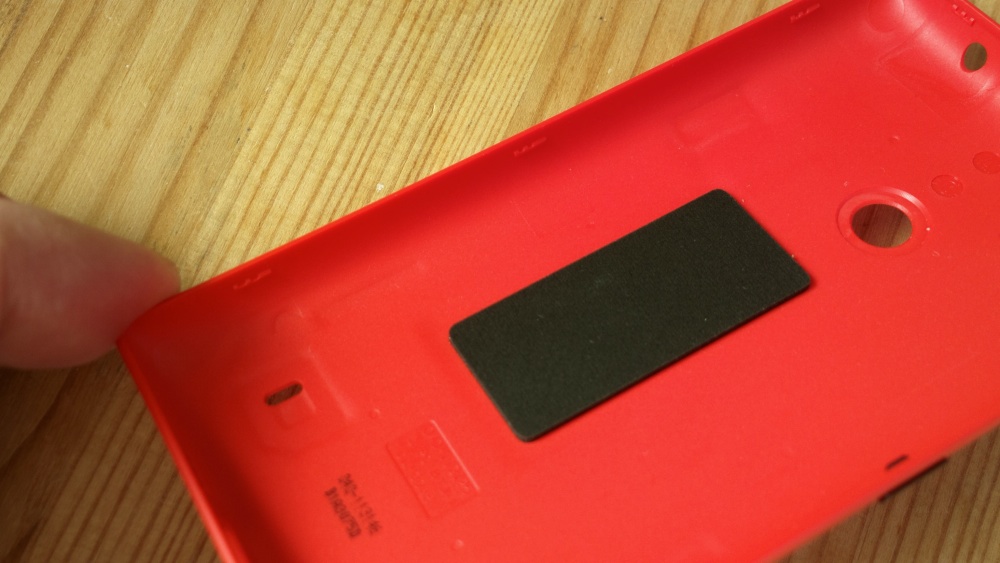 Compromises all round then, though the 1430mAh variant of the BL-5J should be fine for the target market and the phone will easily last a day of 'normal' use. Regular readers will know that I'm all for replaceable batteries, principally because buying a new cell after a year or two of abuse (rife, given the target market here - leaving a phone fully discharged for days on end, etc.) will give the phone a new lease of life and bring back the 'out of the box' battery life, whereas phones like the Lumia 720, with integral battery, will be languishing or will need an expensive visit to a service centre to sort out.

The loudspeaker aperture is small but the component behind is powerful, with podcast, radio, music or just speakerphone use not far off the volume produced by the flagship Lumia 920's speaker. The aperture is easy to block, mind you, in the hand or pocket, resulting in around a 90% loss in volume instantly.
Inside the 520 is the exact same engine as on the more expensive Lumia 620, i.e. a dual core Qualcomm Snapdragon S4 Plus MSM8227, running at 1GHz and with 512MB of RAM. This sounds modest by current Android standards, but is in fact very speedy, especially when allied to the super-responsive UI of Windows Phone. Aside from running a few of the very biggest games (which can require 1GB of RAM), there's nothing whatsoever here, in terms of user experience, that gives a clue that you're not using a Lumia 920 at four times the price.
Storage memory is the same as the 620 too, at Nokia's new Windows Phone 8 standard spec of 8GB of internal flash memory plus microSD. Windows Phone doesn't let you install applications or their data to card, mind you, so the best strategy is to buy a decent card, switch the camera to using this for all captured photos and videos (don't worry, the 520 prompts you to make this switch once it's booted up with a card in) and then the internal 8GB is free to be used by applications and their data.
Although some Windows Phone 8 users are having issues with filling their 8GB storage inadvertently, and in having this cluttered up with temporary files, Nokia at least is making moves to provide better tools to inform users, to clear out temporary files and to move downloaded maps onto microSD as well.
That Windows Phone 8 runs as fast here as on its sister Nokia devices at three times the price (or more) is a tribute to the Lumia 520 and Nokia's vision here for the marque.
Bundled with the usual Windows Phone OS and core applications/tiles is Angry Birds Roost (a pointer towards games, videos and other relevant content from Rovio), plus a clutch of Nokia extras:
App Highlights - Nokia's curated guide to the best third party apps and games
Creative Studio - an image filter collection
HERE Maps
HERE Drive (see below for a comment on this)
Nokia Music - free mix radio streaming and commercial music purchasing
PhotoBeamer - a QR code-based system for sharing photos immediately to any Internet-connected TV or monitor
Smart Shoot - a face-centric 'best photo' system
Transfer my Data - Nokia's Bluetooth wizard for extracting contacts, calendar, photos and more from an older phone
Plus a number of other Nokia freebies in the 'Nokia Collection' in the on-device Store, not least Cinemagraph, Panaorama, HERE Transit, and Nokia Reading.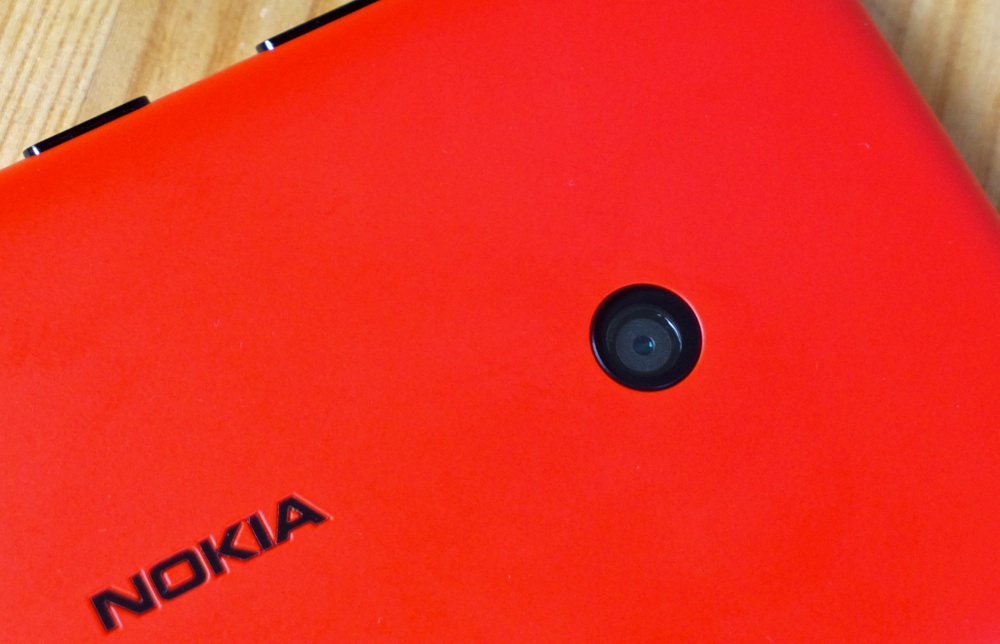 The camera's pretty good, considering the price, with a proper two-stage shutter key being a real treat for end users at this price and in a world of Android non-descripts with just on-screen capture icons. Anecdotally, the hardware here is supposed to be the same as that in the original Lumia 800 and 920, but there's obviously some difference, since this sensor is rated at 5 megapixels. Quality is decent though, producing results that wouldn't shame your average iPhone or Samsung Galaxy S series. Which is surprising, considering the price point here, and (again) a tribute to Nokia's efforts here.
Here are a number of image samples, taken in a variety of indoor and outdoor conditions, click on each to enlarge it or download the original 5 megapixel JPG file. I think you'll be impressed - I can't ever remember getting these good results from a (new) smartphone that was this cheap.
Not at all bad for a £100 pay-as-you-go smartphone. Look at the detail on the cat, for example, or my reflection being picked out in the 'activity' sign, or the relatively good results in appallingly low light conditions. It really is rare for Nokia to ship a disappointing camera in any of its smartphones (the Symbian-powered 700 was the only one I can think of) and the 520 won't disappoint anyone, other than in situations where almost all other phone cameras would also fail (low light, people moving, etc.)
Video capture is pretty good, at a maximum resolution of 720p and with full auto-focus. The sound side of things is acceptable, but there's no advanced 'Rich Recording' HAAC microphone(s), as on all the other Nokia Windows Phone 8 devices, again because of cost constraints in this ultra-budget smartphone. Will the target market miss the gig-capable audio capture? Possibly, but it's more likely that they wouldn't be expecting it in the first place, so it's rather a moot point.
Here's a short sequence of Lumia 520-capture video. Some of the outside footage had excessive wind noise (20mph winds), so I've masked it to save your ears with some music(!). As usual for checking out video, feel free to maximise the window and/or up the YouTube playback quality to suit your connection:
What about the rest of the 520's hardware? There are, as I intimated at the start, a few more compromises, made to reduce the bill of materials and enable the 520 to be launched at something of an insane price:
There's no front facing camera. Although some users apparently like taking self portraits with this on other phones, the main use for many is for video calling, especially using Skype, and not having this facility on the Lumia 520 will, at some point, be a big disappointment for new users. "Oh, my face isn't coming up. Eh? There's no camera on the front!" And so on.
There's no NFC (Near Field Communications). Much hyped, this technology remains in an 'about to take off' state - so not a huge loss for new 520 users right now, but they'll be disappointed if NFC becomes much more widespread in 2014 and they're stuck with an incompatible device.
There's no digital compass, something we've come to expect from all smartphones in 2013. In practice, it just means that, when opening HERE Maps, there's no auto-rotation to match the user's orientation, which I suspect many will be OK with. One other casualty of the lack of a compass is that the augmented reality HERE City Lens isn't available. Not that many of the target market would know this even exists, mind you...
There's no LED flash for the main camera. Not a huge deal, since LED-illuminated photos taken on other phones rarely come out very well (I refer the reader to one of my many Xenon flash treatises here), but with no LED, there's no way to use any of a number of 'torch' utilities, something which we all find useful at one point or another.
HERE Drive is presented on the 520 in its 'non +' version, i.e. not 'Drive +', which means that it only works in your 'home' country/network. It's triggered by your SIM card and, presumably, at some point in the future it will become possible to buy voice guidance licenses for other countries.
Taken individually, each compromise isn't a showstopper, but taken with the lack of CBD display, the set of minor annoyances become more significant.
For the target market (non-tech-savvy people who fancy a low cost smartphone) little of this will matter much, but anyone more educated who wants a cheap Windows Phone, either to play with, as a backup device, or as a main phone, will be eyeing up the 520's sister device, the Lumia 620, at this point, for which none - repeat none - of these compromises are present. Much depends on the deal being struck though, with special offers either taking the 520 and 620 close together in price (e.g. £99 and £119 respectively from last month in the UK on 'pay as you go') or leaving the latter at 50% or so more, possibly a dealbreaker for the target user here.
Taken holistically, though, the Lumia 520 is still cracking value for money, in terms of the future proof operating system, the built-in Office suite, the mapping and navigation services, the 150,000 third party applications available in the Windows Phone Store, and (as highlighted above) even the built-in camera.
Nokia will be using the coloured backs, which in theory, you can (or will be able to) buy individually, as a selling point, just as with the other Lumias. The vast majority of Android smartphones in the same price bracket are in staid white, grey or black and it's true that the Nokia Lumias really do stand out in the High Street.
That sales haven't been stellar so far has been more that those willing to pay £200 plus for a phone (or £25 plus on contract) tend to do a little research and there's probably a little bit of fear of the unknown then creeping in when they see Android dominating in their friends hands and market share - so many people play safe. Down at the budget end, so £100 on pay as you go in the UK, this likely will be someone's first smartphone and they're probably heading into it without any preconceptions, or prejudices. So an attractive, fast interface in a colourful and pocketable form factor that doesn't break the bank is a good deal all round.
The more Nokia push Windows Phone down into this price territory, the better it will do, I suspect - budget Android phones tend to be slow and clunky, whereas the 520, on the whole, flies. And with greater sales at the budget end will come marketshare increase and revenue, increasing awareness further up the price spectrum. Assuming that Windows Phone continues to grow, I suspect we'll be looking back in a year's time and realising just how much the Lumia 520 and 620 had to do with the ecosystem taking off across the world.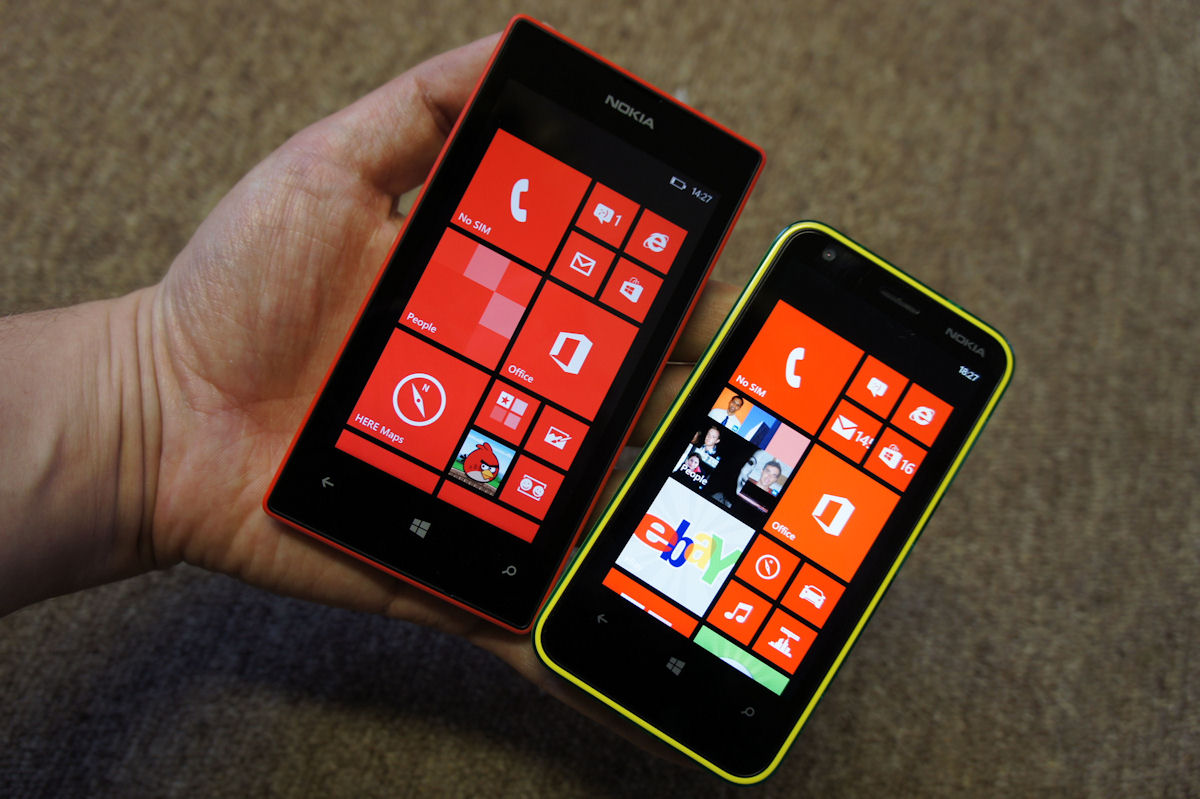 Reviewed by Steve Litchfield at