SafeWallet
The number one third party application on any platform, for many people, is somewhere to keep all the secret information that makes them unique. And that means an encrypted database, or password wallet, or whatever you want to call it. There are many on most platforms, but the majority tend to be poorly coded standalone utilities - what's needed are ways to get data in and out (to save re-entering information) and ways to backup/sync/access data across multiple devices and platforms. SafeWallet is one of the leading apps of this kind for Android and iOS, syncing all your reference data, passwords and PINs to the cloud and accessible online and offline (and on Windows desktops). It's listed for Windows Phone, but it's a very old and now broken viewer only.
Sky Go and Sky Go Extra
Sky is a commercial British satellite broadcaster (think HBO and several other cable broadcasters rolled into one). Its Sky Go app lets you remote control your Sky set top box (change channels, set up recording remotely) and stream select channels (entertainment, sports, movies) and on demand content. The Sky Go Extra app adds the ability to download content for later offline viewing. Both apps are already available to Android and iOS users and are a good example of the kind of local content apps that Windows Phone will need in order to grow its marketshare past 10%. You could replace Sky Go with any country specific broadcaster or content provider, but for the UK this is one very obvious missing app.
Barclays Bank
Bank apps are another example of must-have local apps. Windows Phone is starting to get better coverage of bank apps, with some countries (e.g. Netherlands) having almost the complete set of mainstream banks, but in other markets there are big holes. We've picked on Barclays in the UK here, but there are plenty of other examples.... and banking apps are really just a sub genre of what might be best described as local service apps. Apps that let you interact with local retailers, pay bills, or report meter readings (water, electricity, gas) also fall into this category. Such apps may not have the high profile of a globally distributed app, but are often more important for a consumer looking to get things done with their smartphone and, as such, are important switch barriers. It's an area where Windows Phone doesn't score very well when compared to its competitors.

Instagram
Let's get this one out of the way, because it seems to be the lightning rod for third-party apps on Microsoft's mobile platform. Yes, the refusal of Instagram to not develop a Windows Phone client (or provide a suitable API) is no different to their attitude to Android until the company made the decision themselves to support Google's platform. The lack of appearance helped catalyse the media myth of 'no app support on WP' which has continued to this day. So yes, let's have (official) Instagram, if only to shut everyone up.
Google Voice
Given the fun and games that Microsoft is having with YouTube, it's highly unlikely that Google's telephone replacement service will come to Windows Phone, but that's more down to business models and corporate relations. Google Voice is a popular service in America, with an answering machine service, text messaging, conference calling, call screening, and call blocking. If Windows Phone needs to stay in the hands of the influencers in the Valley, Google Voice would help lower the entry barrier.

Candy Crush Saga
Because everyone else has it, and I have to wonder why it's not on Windows Phone, which arguably has a better ARPU for freemium games than Android (although that's balanced out by having a much larger pool of players on Android). If there's a gaming title out there that should make the jump, it's the addictive little British matching game.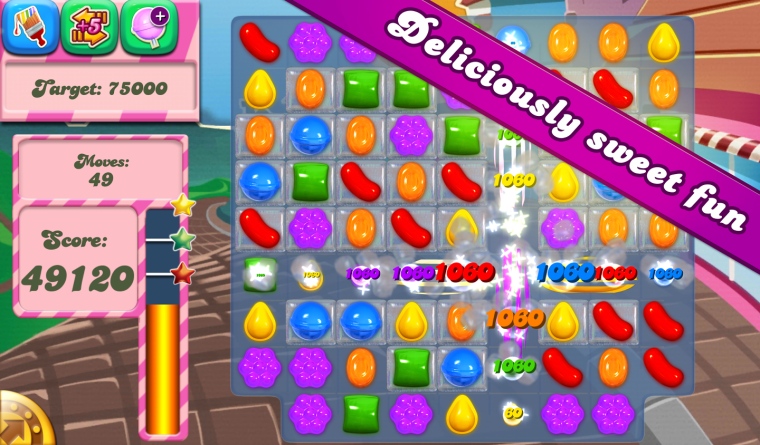 OK Cupid
A suggestion that might raise some eyebrows, but for certain affluent target audiences that Windows Phone is targeting, dating apps must be a consideration, and the daddy of them all (at least in popular culture) is OK Cupid. A strong app on Android and iOS is ready for porting to Windows Phone, and it would continue the push to a 'personal' smartphone for every user.
While we're here, let's simply say Grindr and move on. You either know, or you don't need to.
Blogsy
There are a lot of apps to help you share images online, and to post your updates to social networks (including the Windows Phone OS itself), but in terms of editing posts, working with your blog, and creating textual content, the options are much more limited. Beyond the official WordPress client, there's not a lot of choice for content creators, which is why I would welcome a creation focused blogging client such as Blogsy, which is a very popular and useful iOS blogging app.
Dropbox
Microsoft has shown how useful cloud file storage can be with SkyDrive, and while DropBox would be seen as a competitor, the number of people using DropBox means that its non-inclusion in Windows Phone is a barrier to switching to the platform for many users. A DropBox client, matching or exceeding the capability of SkyDrive, is as close to a requirement for many people that its loss is damaging to WP.
So, over to you, from your personal choices to the apps that would help define and promote the platform, what would you like to see in the Windows Phone Store?