You may remember that I did a detailed camera comparison between the Lumia 1020 and the larger Xperia Z1 here? My verdict was that the Z1 camera stayed with the 1020 in good light but that it fell badly behind in low light - on the whole I'd be expecting the Z1 Compact to fare in similar manner, since the hardware here is said to be identical - though it's worth noting that the camera firmware here is significantly updated from that in the originally tested Z1.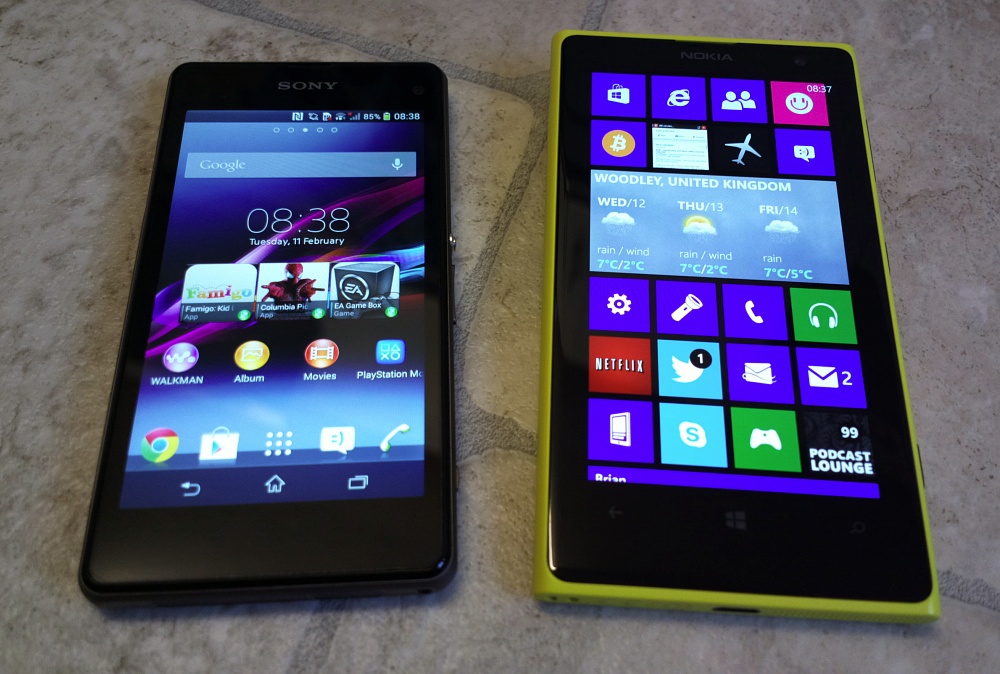 You may ask why the Z1 Compact is considered more of a camera flagship than the Z1, given that the imaging hardware is the same? Well, the Z1 is also sold on its larger, higher resolution display and bigger battery, whereas the Z1 Compact has compromises in each of those three main attributes yet the camera's the same. Aside from a few people who do, simply, want a smaller Z1, a lot of Z1 Compact buyers will be choosing this over, say, a Galaxy S4 mini, purely on the basis of the 20MP high spec camera. Certainly a much higher proportion of buyers than would be buying the Xperia Z1 for its photography skills.
In use, the Z1 Compact reminds me of miniature camera phone champions of the past like the Nokia N8 and 808 - even the old N86 8MP, which had deliberately cut down specs but provided a platform for a really excellent camera.
It's a few millimetres smaller than the 1020 all round, but both devices feel comparatively modest against the current trend for larger and larger screens. My Galaxy Note II dwarfs both and the likes of the Lumia 1520 and Xperia Z Ultra are in a whole different category of devices.
I suppose, with photography functions high up the list for both smartphones, the critical comparison here is image quality, but you'll have to wait untii my follow-up piece for more detail on this aspect.
In the meantime, as usual, I pick out winning categories in green, for interest sake - though don't take these too seriously. And note that many categories simply don't HAVE a winner, either because the differences are subjective or because the two are roughly equal overall.
I do pronounce an overall winner at the end, but with the Lumia 1020 and Xperia Z1 Compact running two completely different mobile operating systems and existing in two different ecosystems (and, arguably, at two different value points too), there's comparatively little chance that anyone's going to get the two confused or make a purchase based on a 'victory' on the page here. My upcoming imaging comparison may be more persuasive, of course(!)


Nokia Lumia 1020
Sony Xperia Z1 Compact
Date launched
July 2013
January 2014
Price (SIM-free in the UK, inc VAT)
£540
£400
Form factor, weight
Touchscreen polycarbonate monoblock, fully sealed, 130 x 71 x 10mm, 158g
Touchscreen monoblock with aluminium chassis and ceramic body panels, fully sealed, 127 x 65 x 10mm, 137g

Operating system, interface
Windows Phone 8 GDR3/Lumia Black, tile interface Start screen
Android 4.3, five homescreens, Sony's Xperia UI extensions and application bundle
Display
4.5" AMOLED with ClearBlack Display polarisers, 768p resolution, pretty good in sunlight
4.3" LCD, 720p resolution, average visibility outdoors, typical Sony backlit LCD in that 'blacks aren't black' - which may be annoying to some. There's Sony's usual annoying plastic screen and back protection, applied in the factory to stop shattering if dropped
Connectivity
Quad band GSM, Pentaband 3G, up to pentaband LTE, NFC, Bluetooth 4*
(* updated under Lumia Black)
Quad band GSM, pentaband 3G, octaband LTE, NFC, Bluetooth 4
Processor, performance
1.5GHz dual core, 2GB RAM, pretty fast at almost everything (though often hidden by Windows Phone transitions), 6s to load the nytimes.com desktop site
2.2GHz Snapdragon 800, 2GB RAM, screamingly fast at everything, 2s to load the nytimes.com desktop site
Capacity
32GB
16GB (11GB free out of the box), plus microSD expansion
Imaging (stills, good light)
41MP PureView 1/1.5" sensor, flexible software control over settings, dedicated camera shutter button and launch key, 3x lossless digital zoom
21MP 1/2.3" sensor, limited control over camera settings, obtuse interface with erratic 'auto' performance, dedicated shutter button but very fiddly indeed, can't launch camera from locked state, 2x lossless digital zoom
Imaging (stills, low light/indoors)

The much larger sensor, OIS, and Xenon flash all mean that the 1020 is just at home in poor light as in the sun. Go easy on the digital zoom and the oversampling produces noiseless results

Single LED flash, smaller sensor and no OIS mean that results are often poorer than you'd expect, given that there's a degree of noise reduction as part of the oversampling
Imaging (video)
1080p video capture, with 4x lossless zoom during recording and OIS helping, especially while zoomed
1080p video capture, 3x lossless zoom
Music and Multimedia
Decent mono speaker, 3.5mm headphones
Decent mono speaker as well, quieter but with better EQ, 3.5mm headphones

Gaming
Plenty of decent games for Windows Phone 8 these days.
A slightly bigger games catalog to choose from, though, if I'm honest, almost all my favourite mobile games are on Windows Phone these days (discuss!) A score draw overall!
Navigation
Nokia's HERE Maps/Drive suite is unrivalled, with the offline routing and maps. Plus live traffic, good public transport advice and innovative 'live sight' functions
Google Navigation is very comprehensive, but aside from limited caching of small areas, struggles mightily when out of data coverage
Battery, life
Sealed 2000mAh battery, just about gets me through a heavy day
Sealed 2300mAh battery, very good battery life (with the caveat that the device is brand new, this will obviously deteriorate in time)
Applications and ecosystem
Windows Phone now has just about every mainstream app and service covered, with great strides in the last few months. Niche/boutique apps are sometimes an issue if you're being picky. Also anything to do with Google services!
Android's Play Store is very fully stocked, second only to the iPhone Store for depth. Everything mainstream is here, plus some boutique/niche apps. Perfect access to both Google and Microsoft platform services
Upgrades and future
Windows Phone 8.1 is due out in a couple of months time, bringing (among other things) a revamp of notifications in the UI. Updates to the 1020 will continue into 2015, it is hoped.
Will probably get Android 4.4 in the next month or so, plus updates in to 2015.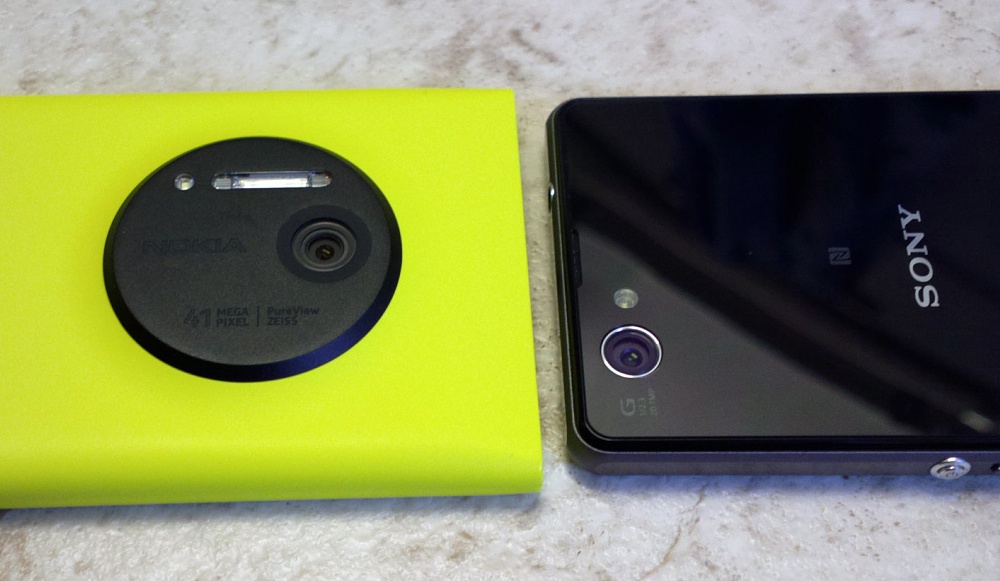 Adding up the green 'wins' gives a narrow win to the Lumia 1020 of 5 to 4, but I can only reiterate my suggestion above that most people will choose between these two phones based on price, mobile OS preference, or ecosystem. Of course, with both being camera-specialist (the 1020 perhaps more than the Z1 Compact), there's also the factor of raw camera performance, which is something I'll come back to in a dedicated head to head in a few days time.
The Z1 Compact is certainly the most cohesive and impressive Sony Xperia I've seen for a while, though it's ultimately flawed in terms of some of the hardware component choices.
Comments welcome, which of the above devices stands out to you?