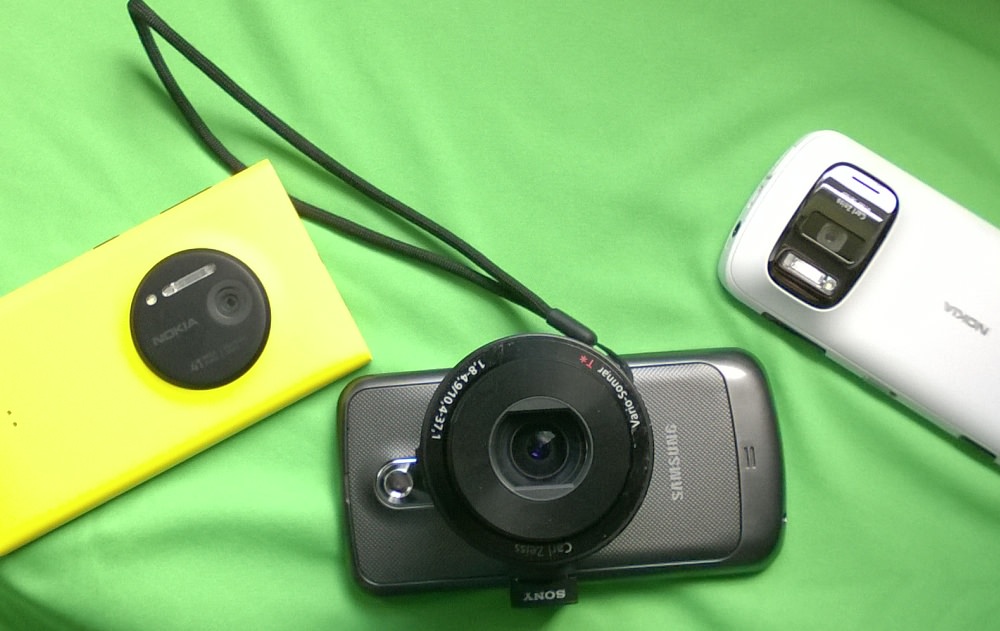 Don't confuse the Sony QX-100 with the budget QX-10 that I used for comparison recently. The QX-100 has a much higher spec:
| | |
| --- | --- |
| Sensor | 21MP, 1" BSI CMOS sensor |
| Lens | Carl Zeiss Vario-Sonnar T, 3.6x optical zoom, Steadyshot stabilisation |
| Shutter Speeds | Auto (4 - 1/2000) / Program Auto (1 - 1/2000) / Aperture Priority (8 - 1/2000) |
| Aperture (depends on zoom employed) | F1.8 (W) - 4.9 (T) |
| Focus range | AF approx. 5 cm (0.16') to infinity (W), approx. 55 cm (1.80') to infinity (T) |
| Shooting Modes | Intelligent Auto, Superior Auto, Program Auto, Aperture Priority, Video |
| ISO Range | ISO 160 - 25600 |
| White Balance | Auto |
| Memory Card | microSD, microSDHC, microSDXC, Memory Stick Micro (included) |
| Connectivity | USB 2, Wi-fi, NFC |
| Dimensions | 63 x 63 x 56 mm |
| Weight | 179g |
| Video | 1440 x 1080 @ 30fps |
Anyone remotely technical will realise that a lot of these specifications rise up to, and slightly beyond those of even the mighty Nokia 808 PureView and Lumia 1020 smartphones, meaning that these two devices have a real challenger on their hands. Admittedly, the challenge is coming from an accessory that clamps on the back of a rival smartphone, as opposed to a device that's as slim and light as the two Nokias, but it's still a challenge worth exploring.
There are some pros and cons for the Sony 'clip-on camera' approach, of course.
Pros
Cons

Can shoot independently of the attached Android or iOS phone, i.e. doesn't have to be attached

There's no flash integration, for really low light or moving subject shots

It's one more device to carry, and bulky

It's one more device to remember to charge

It's not quick to set up for an ad-hoc, impulse shot

Shot to shot time is high, for full resolution shots close to ten seconds
OK, mainly 'cons' then. But the Sony system will garner a few fans, I'm sure. In terms of specs, the sensor here is almost 50% larger than that in the Nokia 808 and twice as large as that in the Lumia 1020, though the use of optical zoom means that, when zoomed, the aperture decreases significantly, letting in less light.
So, an interesting accessory and an interesting set of tradeoffs. I'm expecting that images will on the whole be better and more detailed with the QX-100, but not to the degree that it's worth putting up with the 'cons' listed. But let's put it all to the test out in the real world.
Direct comparisons are complicated a little by the various shooting resolutions. The QX-100 shoots, for best quality, at 18MP in 4:3 mode. The Nokia 808 and Lumia 1020 are both set to oversample the high resolution underlying images (typically 38MP) to produce 5MP output that can be easily shared. Comparing 18MP and 5MP is obviously not fair to either device set-up - they're just different. Add in the (just over) 3x optical zoom compared to the (just under) 3x lossless digital zoom on the two Nokias and you've got a recipe for confusion.
As a result, I've varied the approach, appropriate for each test case, considering both the scene overview, looking at exposure, contrast and colour, and so on, and the maximum resolved detail, often by using zoom in each case as needed. The real world application of the latter test is, of course, when you can't get closer to take a photo of something - perhaps in a wildlife park or in a crowd of people at an event.
Also noteworthy is that the QX-100 and its 'PlayMemories Mobile' software has to be set so that 'Review image' is set to 'Original', so that the resolution asked for actually gets transferred over to the phone rather than just being stored on the microSD card within the camera. If speed is of the essence then 'Review image' can be turned down to '2MP' but this complicates the workflow a lot.
Finally, the sheer capability of the three camera phones/gadgets here means that I'm going to have to think laterally in order to find some test shots that stretch their capabilities and show up differences. So no sunny day shots, no easy snaps.... Everything below was shot in challenging light or situations.
With all this in mind, I headed out one evening to the Warner Bros Studio Tour, not far from my home...
Test 1
In moderate ambient lighting, the famous Harry Potter flying car, suspended from the ceiling high above, and needing a touch of zoom to frame properly. You can see how relatively low the light was, in that the weak stage headlamps come out overexposed in the photos. Here's the overall shot, focussed on the nearest bumper corner, which appeared almost identically on each test device: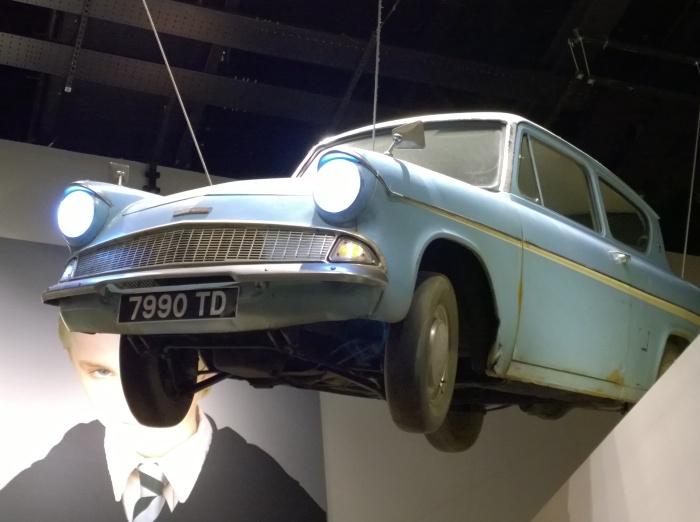 Here, for direct comparison, are crops from the images from the Nokia 808 (top), Nokia Lumia 1020 (middle) and Sony QX-100 (bottom) - click the links if you want to download the original JPGs: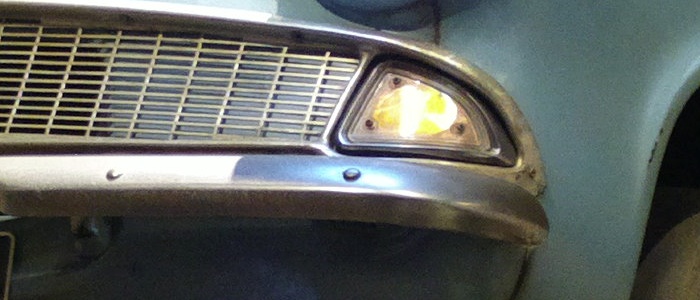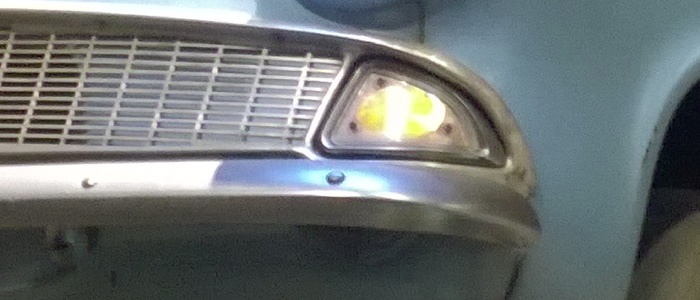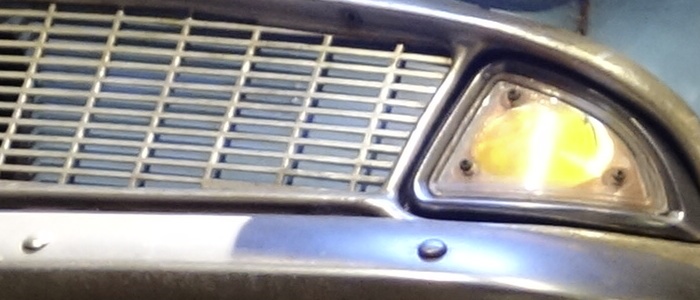 In low light, physics will nearly always win, and this is borne out by the QX-100, with its larger sensor and higher output resolution. Having said that, if more zoom had been employed (as you'll see below), the effective aperture would have been reduced, with negative effect. This shot also shows up well one of the use cases where the older Nokia 808's oversampling arguably just pips that in the newer Lumia 1020.
Test 2
In lower lighting, some Chinese lanterns. Here's the zoomed shot, i.e. this is already at 3x, the middle lantern was the focus point and was perhaps 60cm in diameter: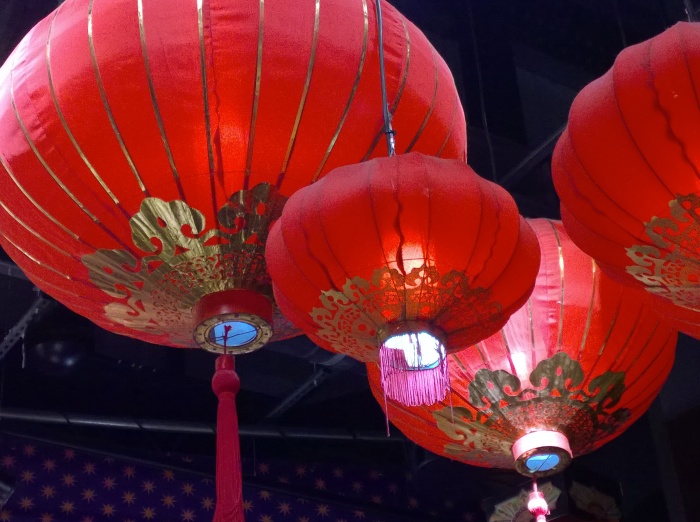 Here, for direct comparison, are crops from the images from the Nokia 808 (top), Nokia Lumia 1020 (middle) and Sony QX-100 (bottom) - click the links if you want to download the original JPGs. Note that in this case, for ease of comparing the patterns, I also did the QX-100 a slight disservice by downscaling its crop slightly so as to match the width of the other two: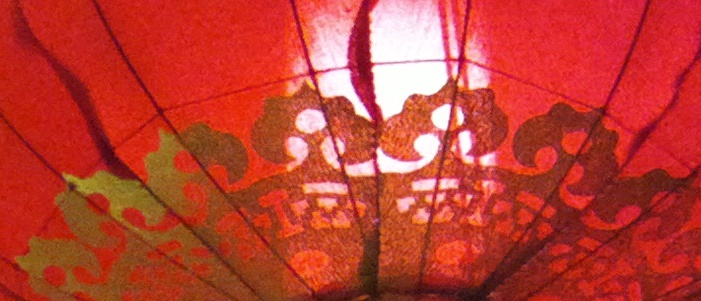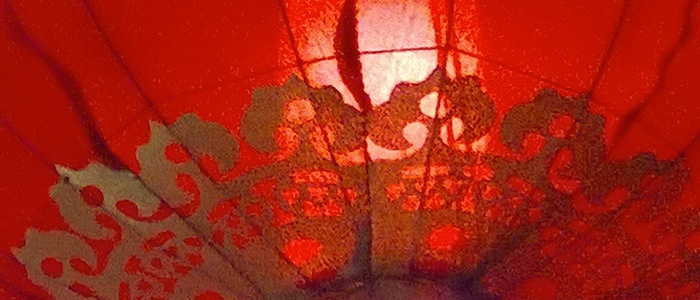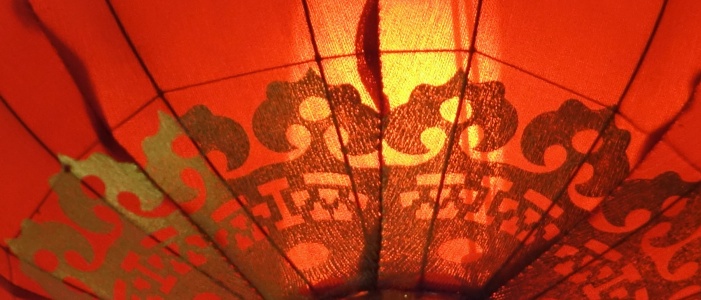 A semi-transparent, vividly-coloured shape, lit from behind, was never going to be easy to capture. At full digital zoom, the Nokia 808 loses its oversampling completely, of course, so we end up with something that's rather noisy and grainy. The 1020 should suffer the same, but is helped by its BSI sensor and newer image processing algorithms, while the optical zoom in the QX-100 nails the pattern and colours, and all with minimal noise - very impressive.
Test 3
In really low lighting, a mock Hogwarts portrait, around 6 metres away. Again, here's the zoomed in shot, i.e. this is already at 3x: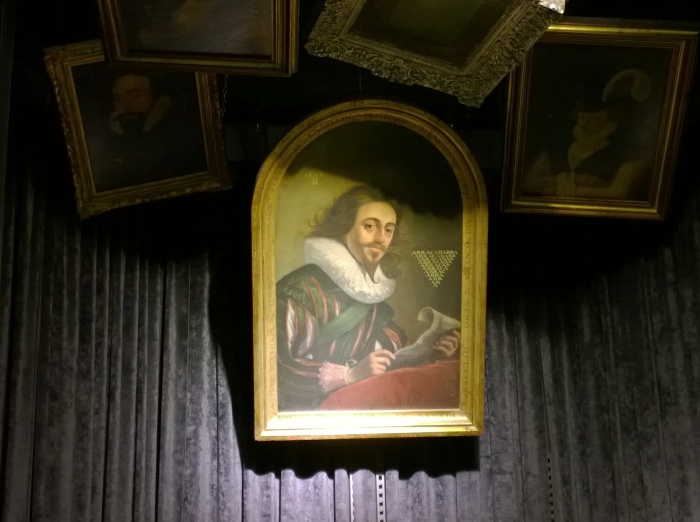 Here, for direct comparison, are crops from the images from the Nokia 808 (top), Nokia Lumia 1020 (middle) and Sony QX-100 (bottom) - click the links if you want to download the original JPGs: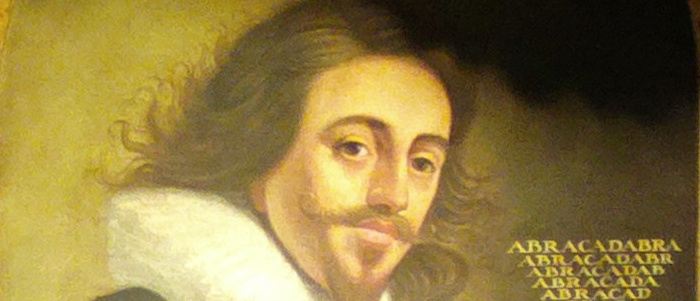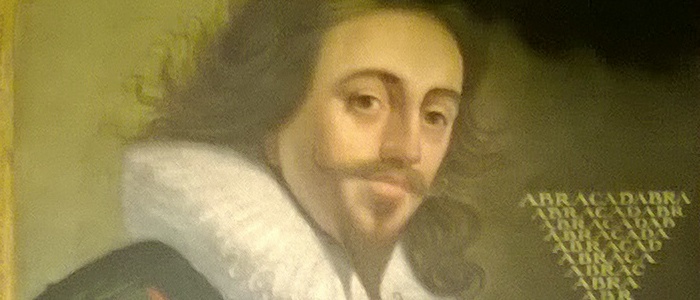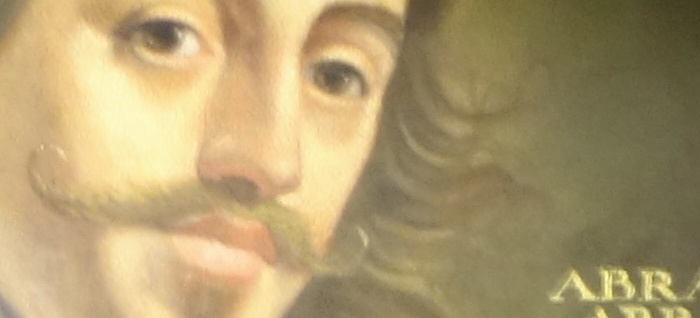 Despite the lack of ovesampling (because the zoom was all used 'up') in the Nokia 808, I'd give its photo the edge over the 1020 here. Possibly down to the larger sensor, possibly just the different subject matter. The QX-100's higher output resolution, after the 3x optical zoom, is dramatically 'closer', though you can see that the contrast and quality of the image is starting to go in such zoomed low light conditions.
Test 4
Outside, lit only by the fairly weak floodlights, was a giant poster. This time I moved closer so that no zoom was needed, and then cropped. Here's the full scene: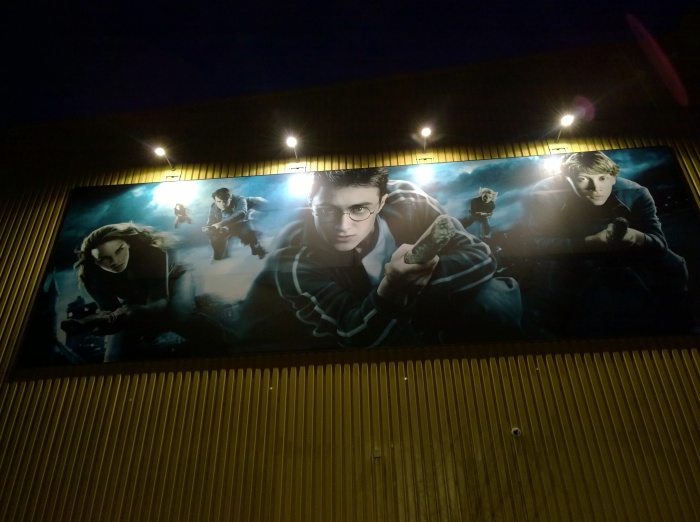 Here, for direct comparison, are crops from the images from the Nokia 808 (top), Nokia Lumia 1020 (middle) and Sony QX-100 (bottom) - click the links if you want to download the original JPGs: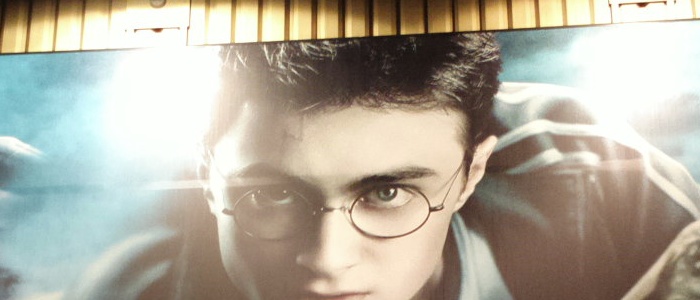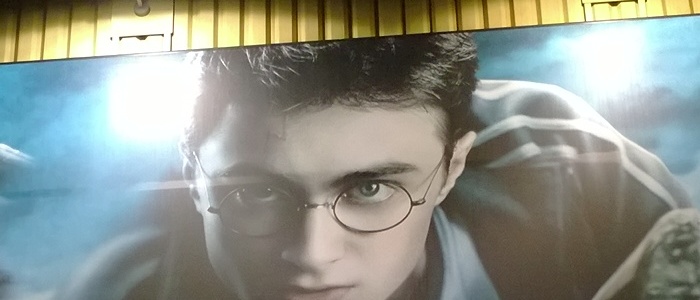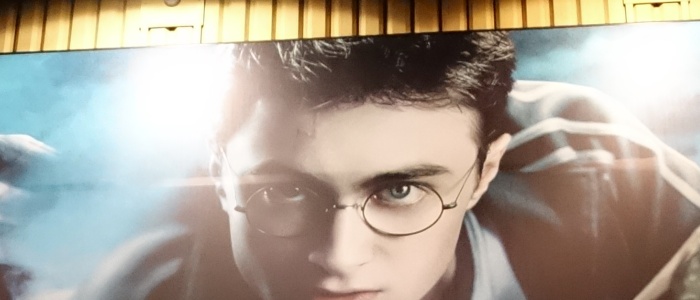 That the QX-100 and Nokia 808 images are almost identical is a tribute to how good the latter is, with the oversampling and larger sensors producing stunningly clear images, even in such low light. In truth, the Lumia 1020 isn't that far behind, with only a slightly odd colour cast giving us a three way draw here.
Test 5
Outside again, but an hour before, as the sun set, there's this shot of some statues. This time I was more interested in handling of exposure and overall atmosphere. So this time I've downsampled each to fit the page here and then cropped top and bottom for convenience of comparison, from the Nokia 808 (top), Nokia Lumia 1020 (middle) and Sony QX-100 (bottom) - click the links if you want to download the original JPGs: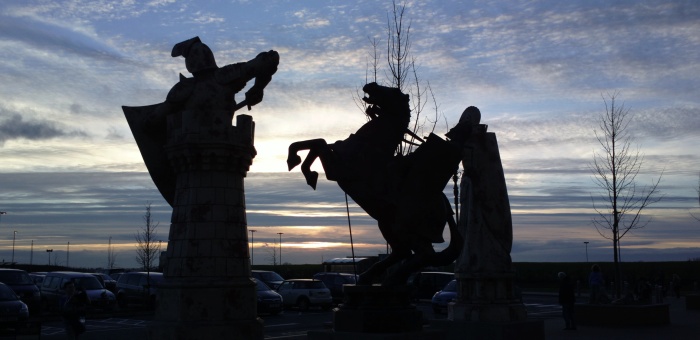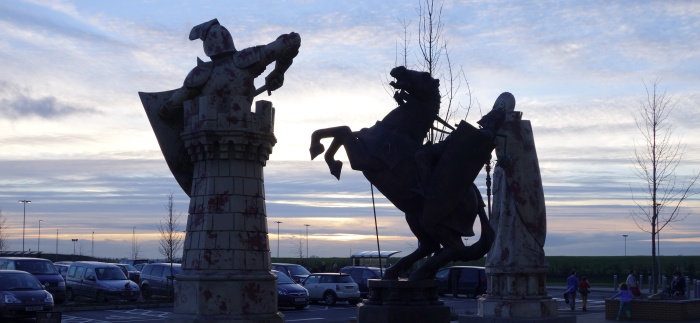 In fact, it's tough to draw conclusions here, since each phone's algorithms decided on a slightly different approach. The 808 flat out goes for more of a silhouette effect, while the 1020 and the QX-100 both try and deliver some foreground texture and detail. I prefer the Lumia 1020's rendition, from the bottom two, i.e. above the QX-100's, getting the colour of the outer two statues. The 808 and 1020 images could be reversed quite happily through tweaking the settings in the relevant Camera applications, mind you.
Test 6
OK, take the light right down to nothing, the (rainy) dead of night and just a few street lights, let's see how the three devices do. Here's the full scene, as seen by the Lumia 1020: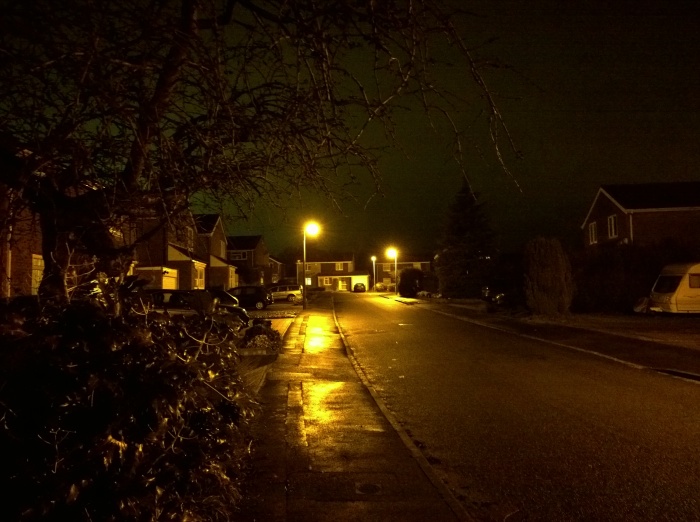 Here, for direct comparison, are crops from the images from the Nokia 808 (top), Nokia Lumia 1020 (middle) and Sony QX-100 (bottom) - click the links if you want to download the original JPGs. Again, I've downsampled the QX-100's a bit so that the framing matches better and you can compare more conveniently: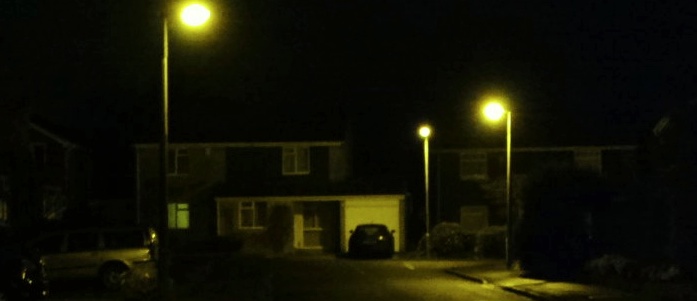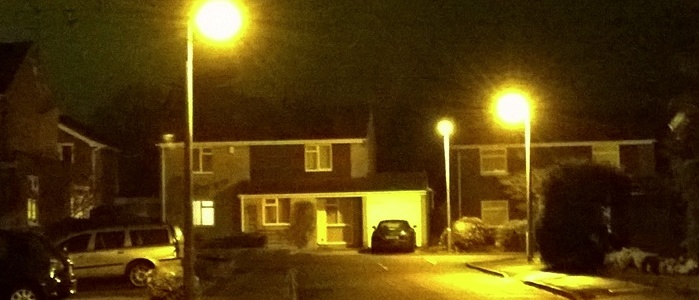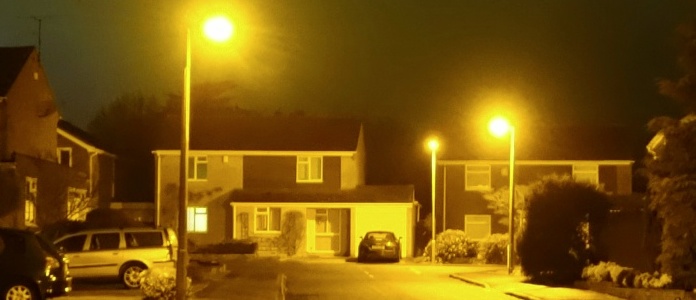 From top to bottom(!), the Nokia 808 gets the light level about right, it really was that dark, and with only minimal digital noise, but the overall photo is uninspiring in terms of colours and shades. The Lumia 1020 and Sony QX-100, both with OIS, allow a longer shutter time and, as a result, produce something that's lit more like a movie set (ironic, considering where I'd just been!). The 1020 does well, but there's noise that even the overdsampling can't get rid of, while the huge 1" sensor on the QX-100 produces a wonderfully clean image and, arguably wins this comparison.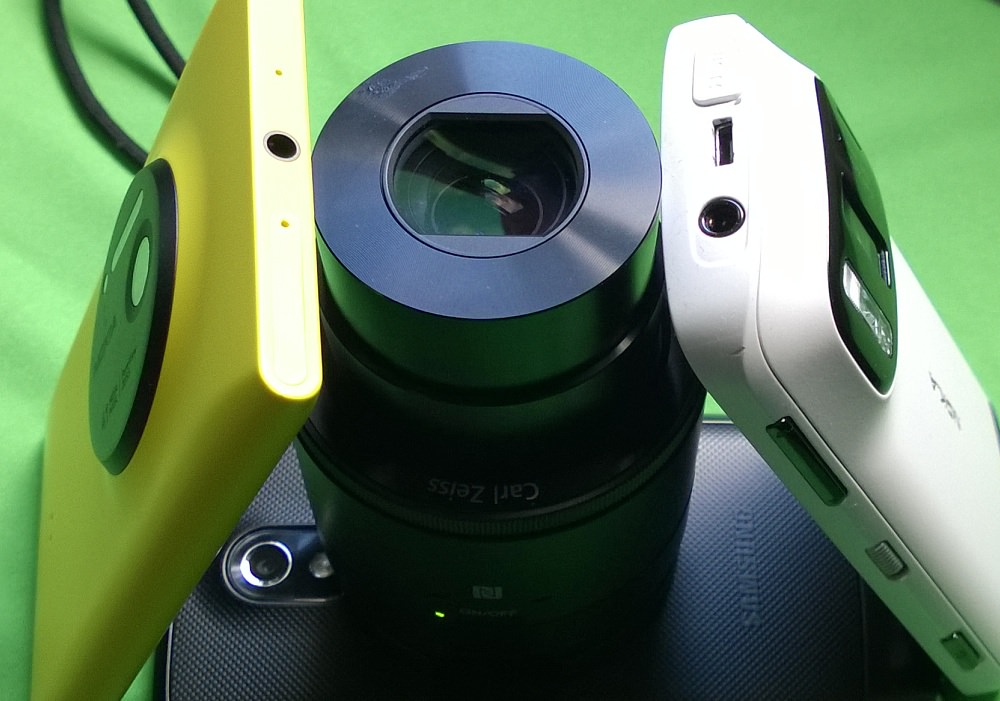 Verdict
Take the six text cases above and the Sony QX-100 comes out the winner by a small but noticeable margin. The huge sensor (bigger even than the Nokia 808's), allied to BSI technology, OIS and optical zoom, produces stunning images in indifferent light conditions - as you'd expect from the guts of a £500 high end standalone camera.
However, there are several big takeaways here for me:
The fact that I'm even comparing the Nokia 808 and Lumia 1020 with a high end standalone device (think 'micro four-thirds' units) is a huge compliment - that they only lost out by a 'small' margin is very impressive.
The QX-100 is a lovely piece of hardware, beautifully built and highly specified. But it's an unwieldy lump to have to get out, turn on and attach to an Android (or iOS) smartphone, not to mention using it and waiting an eternity for shots to be saved across by Wi-fi. And then putting the whole kaboodle away again afterwards. In comparison, the two Nokias were an utter breeze - just mash down on the shutter button to launch the camera app and snap. A couple of seconds at most.
The test cases here didn't include any that might need flash - because the QX-100 doesn't have one. So low light shots may well be fabulous, you might even get away with posed shots of people at parties and events - the big sensor means that shutter times can be quite short, etc. But there's no concept of illuminating subjects in very poor light ot or 'freezing' them mid-action with Xenon flash.
Would I consider a Sony QX-100 accessory (currently about £300 on Amazon UK) if I had a bog standard Android smartphone like a Galaxy S4 or an Apple iPhone 5? I don't think so - yes, the quality would be better in almost all use cases, but the compromises listed at the top of this article are just too many. Taking photos on a phone is all about 'the camera you have with you' - and I have a feeling that, with the best will in the world, the QX-100 is bulky and heavy enough to be left at home most of the time - and so won't be with you when you need it most.
Every time, during the tests, when I reached for one of the Nokia smartphones, I'd breath a sigh of relief and how quick and easy it was to get the shot... and I'd sigh with frustration every time I had to wrestle the phone+QX-100 combination out of my coat pocket. Which kind of says it all....