One item that will be of note to game developers for Windows Phone is Unity Technologies' continued support of Windows Phone as a platform. Announcing the fifth major version of their gaming engine, the cross-platform technology would support Windows Phone alongside iOS, Android, BlackBerry 10, OS X, Windows, Facebook, the Unity Web Browser Plug-in, and more.
Unity has matured quickly over the last year, and the addition of a 2D gaming engine has increased its appeal to developers. With the Unity system available for free to anyone except commercial organisations earning over $100,000 gross per annum, it provides a huge toolbox for game developers. Unity is able to deliver stunning results, while reducing the development time from blank project to deployment, and significantly helping with the cost of porting between platforms.

Microsoft has rolled out the numbers while reminding everyone that the Redmond based company has its own developer event coming up - which is a nice promotion, but Microsoft really should have placed more focus on GDC because that's where the game developers are, and they are unlikely to also be at its Build conference.
Anyway, Microsoft has focussed on the attractive Windows Phone metrics for developers. Gaming making up 30% of the downloads from the Windows Phone Store, the increasing rate of in-app purchases, and higher in-app revenue per install than other platforms. All of these numbers are attractive, but of course the big number - installs for the average title - remains a little bit more clouded. It's all well and good that titles like Dredd vs. Zombies can rack up over a million downloads, what the average developer wants to know is the return on an average game.
Microsoft is spending GDC focussing on the upcoming DirectX 12 release, which will cover Windows Phone, Windows 8, and Xbox One. Microsoft's focus on tying all its elements into one development stack may well be a step too far, but let's see what Build brings.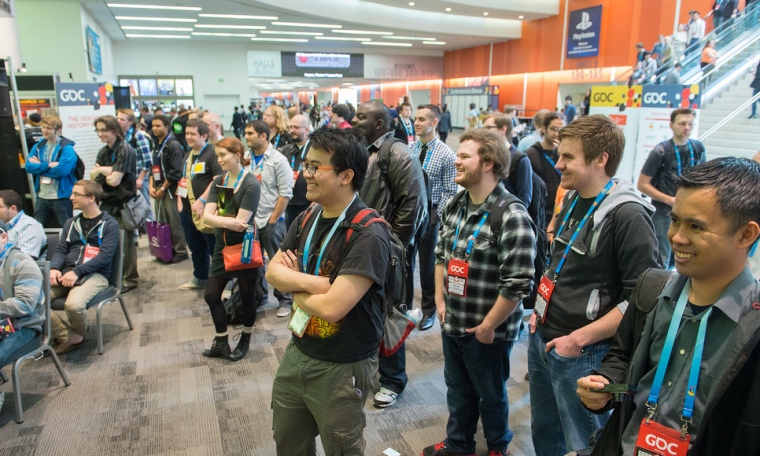 The halls of GDC (cc Flickr / Official GDC).

You'll note that one of the key messages here is how to develop for a chosen platform, in this case Windows Phone, in a cost-effective manner. Part of that is the resource of time, but another part is financial resources. And this is where Windows Phone has a rather large stumbling block.
To develop for Windows Phone you must be running Windows 8 (8, 8 Pro, or 8 x64), and if you want to run the Windows Phone 8 Emulator (which is pretty much a requirement for any serious level of development), you must be running at least Windows 8 Pro.
Supported operating systems: Windows 8, Windows 8 Pro, Windows 8 64-bit (x64) client versions
Hardware: 4 GB of free hard disk space, 4 GB RAM, 64-bit (x64) CPU
Windows Phone 8 Emulator: Windows 8 Pro edition or greater, a processor that supports Second Level Address Translation (SLAT)
That's not an easy system to find, and it's certainly not going to be one that you can find in the budget bin at your local computer emporium.

Apart from the relatively small installed base of Windows Phone, especially compared to Android, one of the biggest stumbling blocks for the individual/bedroom coders is this cost. While you can't expect every one of these smaller programmers to come out with a hit, the mobile gaming industry is littered with examples of big games coming from small places; the latest being the simplistic Flappy Bird, and of course you'll note that it never (officially - though, given the duplication in titles, it's darned hard to tell - Ed) arrived for Windows Phone. The high specifications required by the SDK limit the developers that can look at Windows Phone.

Yes, you still need a computer to develop for Android and iOS, but the Android SDK requirements are much lower, and while you do need to have an OS X machine to run Apple's XCode, the specifications are far lower, and any Mac from the last three years will be able to be comfortably used as a development machine.
Gaming on Windows Phone should be a no-brainer. Every mobile platform since the early PDA's of the 1990s has (arguably - Ed) been driven by leisure titles. With one of the most efficient mobile operating systems, Windows Phone should be doing far better than it is with game developers. GDC was a chance to really embrace the game developers community, and I can't help feeling that Microsoft has missed another opportunity to extend Windows Phone into an area that would have a genuine impact on the platform.