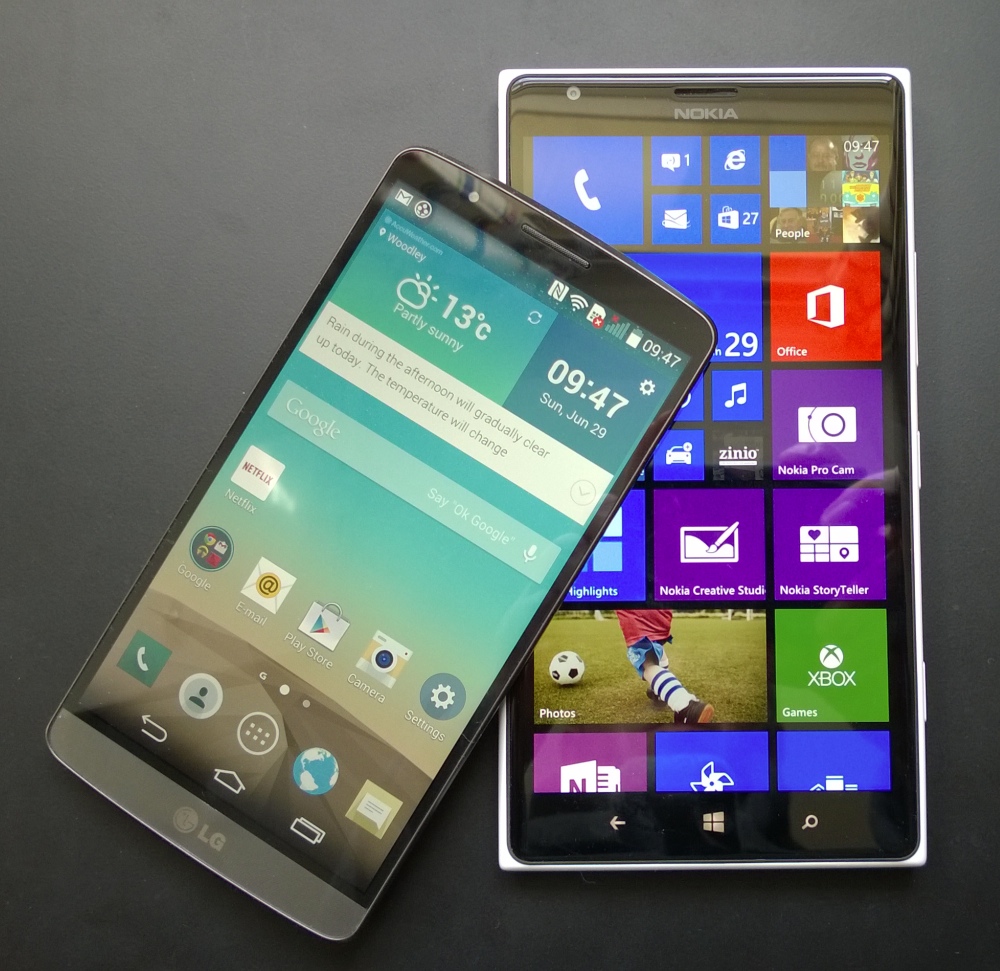 Anyone seriously into categorisation might put the LG G3 and Nokia Lumia 1520 into separate buckets - phone vs 'phablet', for example, though the truth is that both of these devices - the 5.5"-screened LG G3 and the 6"-screened Nokia Lumia 1520 - are simply big phones, with the G3 smaller at least in part because of the smaller top, side and bottom bezels.
I can just wrap my hand around the G3, to touch middle finger and thumb, my usual rule for whether something is truly useable when mobile, out and about. The 1520 fails this test, but then the display is a good half inch bigger and with quite superb contrast and colours in all light conditions, so it's swings and roundabouts. Hence this comparison feature.
As usual, I pick out winning categories in green, for interest sake - though don't take these too seriously. And note that many categories simply don't have a winner, either because the differences are subjective or because the two are roughly equal overall.


LG G3
Nokia Lumia 1520
Date launched
June 2014
October 2013
Current price (SIM-free in the UK, inc VAT)
£490 (will end up around the £400 mark after 3-6 months)
£350 (i.e. has come down a lot in the last nine months, this started at almost £600)
Form factor, weight
Touchscreen monoblock with removable back cover, 147 x 75 x 9mm, 149g

Touchscreen polycarbonate monoblock, fully sealed, 163 x 85 x 9mm, 209g
Operating system, interface
Android 4.4, extensible homescreens, LG's UI extensions and application bundle
Windows Phone 8 GDR3/Lumia Black, tile interface Start screen (review device running WP 8.1 Preview)
Display
5.5" IPS LCD, QHD resolution, average visibility outdoors, generally good colours and very crisp
6.0" LCD with ClearBlack Display polarisers, 1080p resolution, pretty good in sunlight
Connectivity
Quad band GSM, quad band 3G, decaband LTE, NFC, Bluetooth 4

Quad band GSM, Quad band 3G, up to pentaband LTE, NFC, Bluetooth 4
Processor, performance
2.5GHz Snapdragon 801, 2GB RAM, generally pretty fast, though driving the QHD screen takes a toll, it seems

2.2GHz Snapdragon 800, 2GB RAM, pretty fast at almost everything (though often hidden by Windows Phone transitions)
Capacity
16GB plus microSD expansion

16GB plus microSD expansion
Imaging (stills, good light)
13MP 1/3.2" sensor, imaging settings fairly fixed. Photos have highlights often blown out, plus some focussing issues, all with launch firmware. OIS helps in low light, but we're still talking about a sensor that's smaller, and with only software noise reduction to help out, so results can be poor.
21MP PureView oversampling 1/2.5" sensor, flexible software control over settings, dedicated camera shutter button and launch key, 2x lossless digital zoom. Great results, even zoomed or reframed. The larger sensor, oversampling and 3-axis OIS mean that the 1520 produces good results in poor light, too.
(example shot)
(example detail, 1:1 crop)

Plenty of great detail, here at around 10MP, but highlights are definitely over-exposed - there's some work to do for the user here.

This from the 5MP PureView oversampled version. A more detailed 16MP version is also available if needed.
Imaging (video)
(up to) 4K video capture, though 1080p is the default, plus 2-axis OIS.

1080p video capture, with 3x lossless zoom during recording and 3-axis OIS helping, especially while zoomed
Music and Multimedia
Decent mono speaker, 3.5mm headphones
Decent mono speaker, 3.5mm headphones
Gaming
Great selection of games, though there are some incompatibilities with the QHD screen - updates needed!
Plenty of decent games for Windows Phone 8 these days. If I'm honest, almost all my favourite mobile games are on Windows Phone at the moment, which is somewhat bizarre!
Navigation
Google Navigation is very comprehensive, but aside from limited (in size and time) caching of small areas, struggles mightily when out of data coverage.

The HERE Maps/Drive suite is unrivalled, with the 100% offline routing and maps that don't expire. Plus live traffic, good public transport advice and innovative 'live sight' functions
Battery, life
Removable 3000mAh battery easily gets through the day, plus could be swapped out if needed. Plus Qi wireless charging top-ups.
Sealed 3400mAh battery, easily gets through the day. Plus Qi wireless charging top-ups.
Applications and ecosystem
Android's Play Store is very fully stocked, second only to the iPhone Store for depth. Everything mainstream is here, plus plenty of boutique/niche apps. Perfect access to both Google and Microsoft platform services!

Windows Phone now has just about every mainstream app covered, with great strides in the last few months. Niche/boutique apps are often an issue, though... Also anything to do with Google services!
Upgrades and future
Given the G3's specification, it's very likely that LG will bump it up to Android 5.0 (L??), probably early in 2015. In the meantime, there will be various optimisation updates in 2014.
Windows Phone 8.1 is due out formally in the next week, bringing (among many other things) a revamp of notifications in the UI. Updates to the 1520 will continue into 2015, under Microsoft's banner, it is hoped.
Given the initial cosmetic disparity, form factors and operating systems, it's something of a surprise that it's tough to split these two flagships - many aspects above are either equivalent or just down to personal preference. However, the Lumia 1520 does have a definite edge when it comes to imaging and (arguably) navigation, while the G3 wins out on battery flexibility and range of applications.
Which would I rather own? The G3 is a lot more pocketable, though the 1520 has, I feel, potential which hasn't been unlocked yet in Windows Phone 8.x.
Your comments welcome, of course!