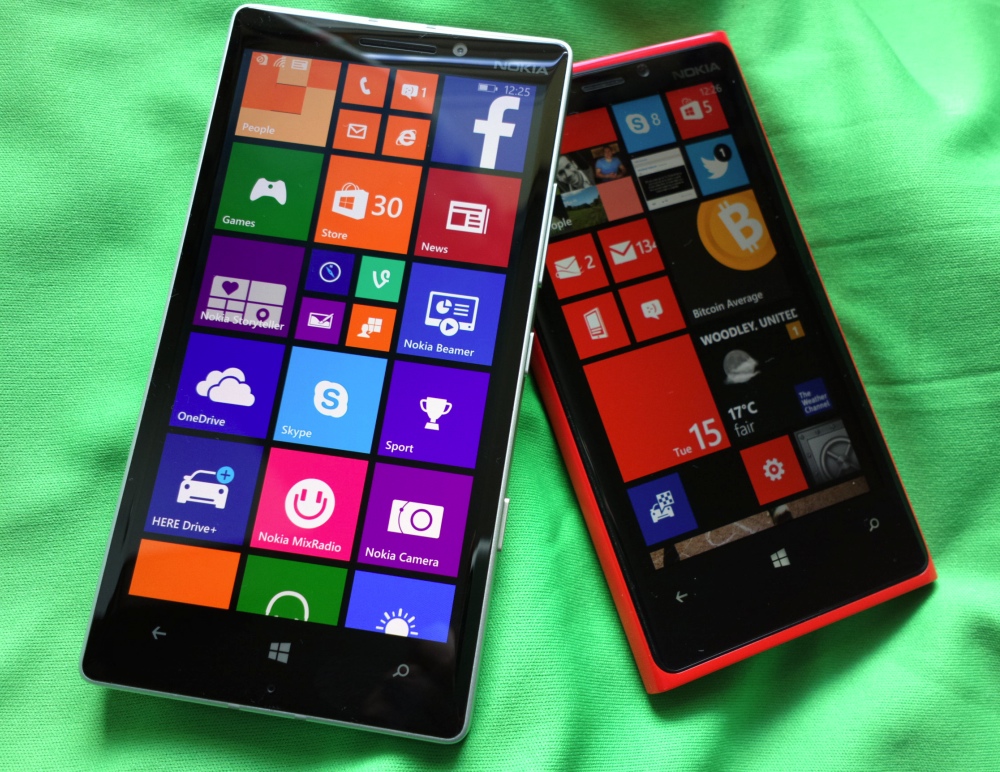 Of course, newcomers to the newly promoted, shiny Lumia 930 will just see the outrageous colours, the promotions, and so on. But AAWP old hands will know the 930's predecessor, the 920, very well indeed. This was a classic Windows Phone, eulogised by me here, and with the 930 now in for review it's fascinating to see what's changed and (hopefully) improved across the board.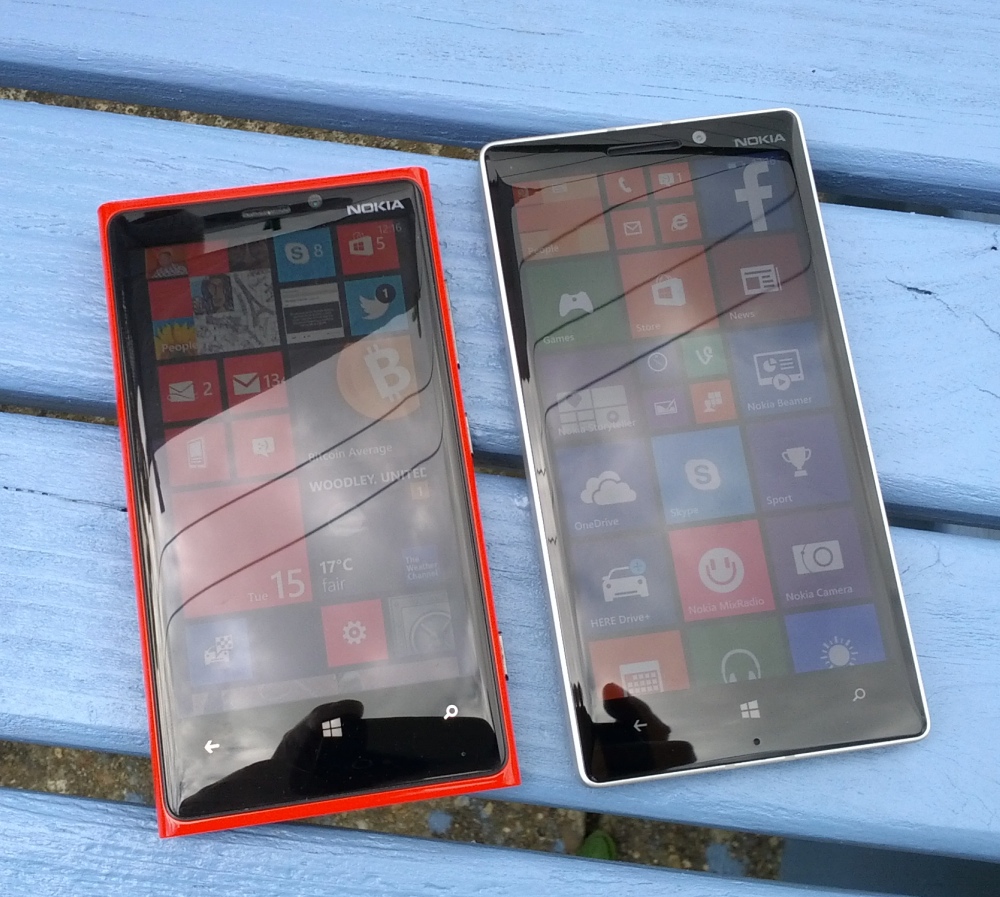 So, in advance of my full Lumia 930 review, here's a tabular comparison of specifications, impressions and performance, along with some comparison photos - the two do feel very similar in the hand...
| | | |
| --- | --- | --- |
| | Nokia Lumia 920 | Nokia Lumia 930 |
| Date first available | November 2012 | July 2014 |
| Current price (SIM-free in the UK, inc VAT) | £250 | £420 |
| Dimensions | 130 x 71 x 11 mm | 137 x 71 x 10mm |
| Form factor, weight | Polycarbonate shell, convex Gorilla Glass front. Weight is 185g | Aluminium frame, convex Gorilla Glass. Polycarbonate rear insert (for RF antennae). Weight is 167g |
| Operating system, interface | Windows Phone 8.0 but Lumia Cyan update available over the air in the next month | Windows Phone 8.1 Lumia Cyan |
| Display | 4.5" (768 x 1280 pixels) IPS LCD display with ClearBlack Display polarisers, true RGB, excellent in sunlight, Glance screen notificatons possible (though with some battery drain since the backlight is needed). | 5.0" (1080 x 1920) AMOLED with ClearBlack Display polarisers, excellent in sunlight. Glance screen not currently possible due to hardware technical limitations. I'm hoping that at least a 'peek' mode is enabled in a future software update! |
| Connectivity | Quad band GSM, Quad band 3G, pentaband LTE, Wi-Fi b/g/n, Bluetooth 4.0, integral wifi tethering, NFC | Quad band GSM, Quad band 3G, up to pentaband LTE, NFC, Bluetooth 4.0, Wi-Fi b/g/n/ac |
| Processor, performance | Good, dual core 1.5GHz Krait processor, 1GB RAM, limitation is Windows Phone's own transitions in terms of UI speed | 2.2GHz Snapdragon 800, 2GB RAM, As fast as the Lumia 1520, with same caveats over Windows Phone transitions |
| Capacity | 32GB internal storage, non-expandable, mounts as a disk and MTP device under Windows 7 and Windows 8, but not for Macs and other desktop OS. | 32GB internal storage, non-expandable, same as for Lumia 920 |
| Imaging (stills, good light) | Good 8(.7) megapixel stills from a BSI 1/3" sensor with 'PureView phase 2' optical stabilisation(OIS) on the whole camera assembly. LED flash. Dedicated camera button and a variety of camera 'extras' built-in. | 21MP PureView oversampling 1/2.5" BSI sensor, flexible software control over settings, dedicated camera shutter button and launch key, 2x lossless digital zoom, OIS. Great results, even zoomed or reframed. The larger sensor and oversampling mean that the 930 produces better results in poor light, too. |
| Imaging (video) | Excellent 1080p capture with the same optical stabilisation working to eliminate camcorder hand shake. 'RichRecording' included, but only in mono. | 1080p video capture, with 3x lossless zoom during recording and OIS helping, especially while zoomed. Four HAAC microphones mean perfect audio capture in stereo and with appropriate directional cancellation. |
| Music and Multimedia | Loudish mid-frequency mono speaker, average quality, A2DP, 3.5mm jack, DLNA. | Decent mono speaker, quieter than the 920's, I'd say - probably the same component as in the 1520. 3.5mm headphones (not included in the box) |
| Gaming | An average selection of games, with the oddity that some of the early WP classics are no longer available! (e.g. Tiger Woods PGA) | Same. Disappointing overall, though I still have some WP game favourites. |
| Navigation | The HERE Maps/Drive suite is unrivalled, with the 100% offline routing and maps that don't expire. Plus live traffic, good public transport advice and innovative 'live sight' functions | Same. Excellent! |
| Battery, life | 2000mAh, sealed in, microUSB or Qi wireless charging. | Sealed 2420mAh battery, easily gets through the day, microUSB or Qi wireless charging. |
| Applications and ecosystem | Windows Phone now has just about every mainstream app covered, with great strides in the last few months. Niche/boutique apps are often an issue, though... Also anything to do with Google services! | Same. Either satisfactory or frustrating, depending on what you want to run! |
| Upgrades and future | It's not clear yet whether the 920 will get Windows Phone 8.1 Update 1 at the end of 2014. I'd hope so - it has the necessary RAM etc. | The 2GB of RAM and chipset here should see the 930 updated well into 2015 and even 2016. |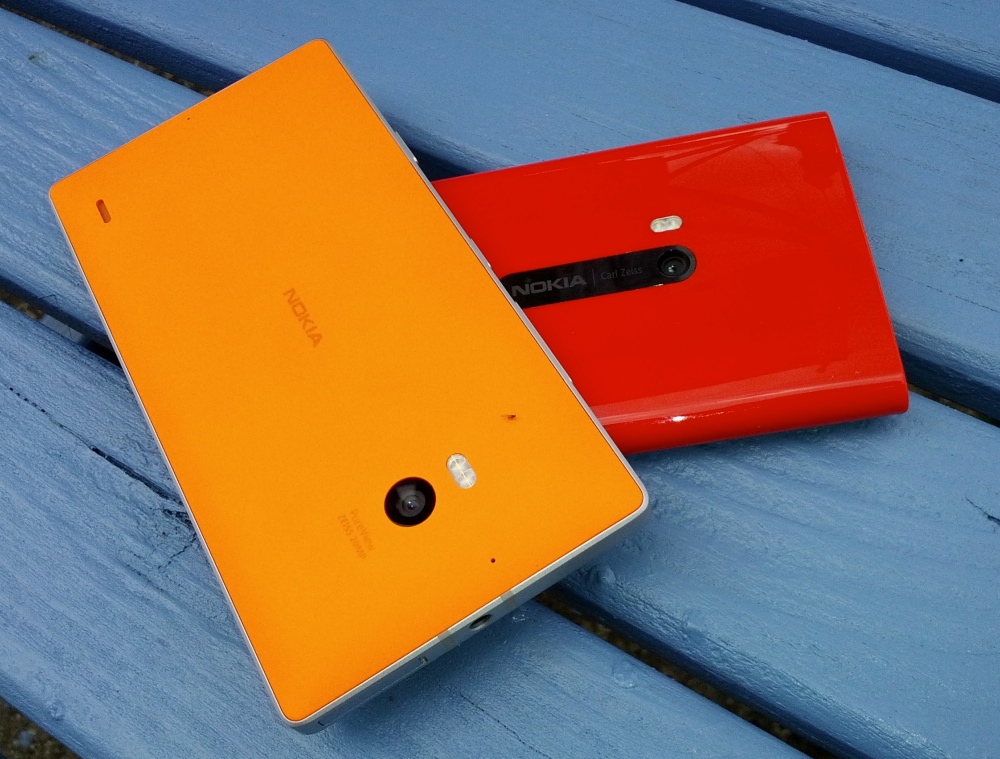 You'd think that the materials differences should make the Lumia 930 and 920 feel different in the hand, but the similarity in size means that they actually feel quite similar. I do prefer the metal and flat edges of the newer device overall. If not the SHOCKING orange colour! (Others are available, of course.)
Comments welcome if you've owned (or even currently still use) the Lumia 920 - is the 930 enough to make you upgrade? The device certainly seems to be a natural successor to the Windows Phone 8 stalwart.
My answer? It's not completely clear cut, but if you don't mind the loss of Glance screen (i.e. the always on clock/notifications icons, which arguably were a little bit of a misfit on the LCD-screened 920 anyway) then the 930 is definitely worthy of a look - the specifications are genuinely improved across the board, not least the higher spec camera. Although you won't notice much difference in day to day use, heavyweight operations like complex web browsing and anything intensely graphical will be faster (I'll do some benchmarks in the full review) - and most of all, the display and chipset are modern enough to mean that you'll continue to get Windows Phone updates for several years.