The plateau
As I've said before, the Nokia 808 PureView and Lumia 1020 are/were outliers - classic smartphones which should be kept and treasured, since their unique selling point of a huge/thick camera sensor is unlikely to be matched in the future. Ditto the freakish Samsung Galaxy K Zoom. But what about the rest - the traditional, conventional smartphone, with little significant camera bump?
The truth is that, as mentioned in the header paragraph, imaging performance in our smartphones is very definitely plateauing, at least in terms of standard photography. Yes, there are still interesting things that can be done with multiple shots, combining them, but this isn't suitable for all subjects - I'm talking here about taking a photo and moving on.
And so we have the Lumia 1520/Icon/930, the iPhone 6 Plus, the Samsung Note 4 all having a OIS-equipped 1/2.5" (ish) BSI sensor, so that's three different mobile platforms. Add in a whole brace of devices like the Galaxy S5, the Sony Xperia Z2/Z3, and so on, in fact, even as far back as the Lumia 920/925 and Galaxy S4, all with great performing 1/3" sensors. All of these take great photos in almost all light conditions, so much so that the extra quality and zooming abilities from the Nokia 808 and Lumia 1020 are rarely needed. It seems, at first glance, that the tradeoffs of size and tech made by the major manufacturers have been justified.
But the laws of physics are immutable - make camera sensors bigger and the thickness has to increase in line. So I really can't see the majority of top smartphones seeing any quality increase from now on, aside from digital processing tweaks and burst mode malarky.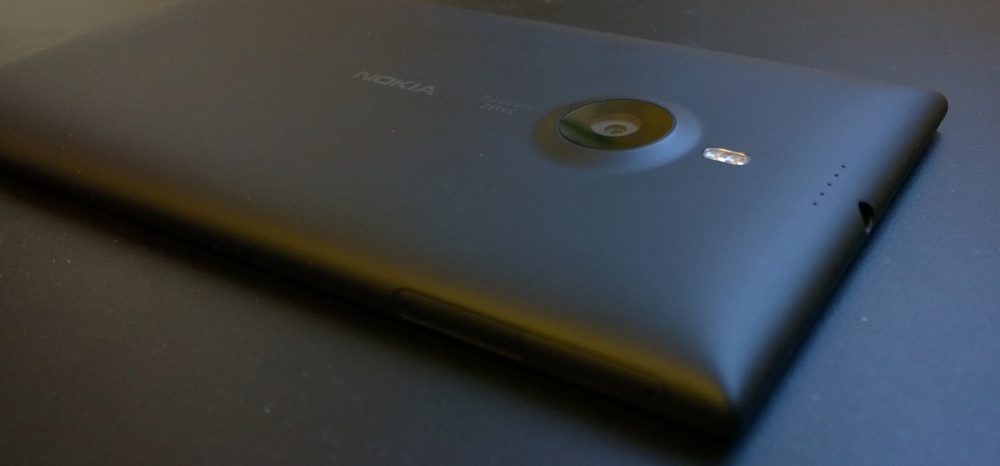 Freezing motion in low light
However, as often noted in these illustrious halls, taking snaps of people in low light - so indoors, at a party, evening outdoors, and so on, is still a problem. You can't increase quality with multiple shot techniques because of the movement - someone laughing, for example, will see parts of their face move from shot to shot. The traditional solution on cameras and on the Nokia 808/1020/K Zoom is to use a Xenon flash - ten times brighter and 100 times shorter in duration, meaning that the subject is perfectly frozen (though the 1020, as you'll see below, tries to be too clever at letting in ambient light, with resulting ghosting and blurring sometimes).
But the plateau talked about here only involves LED flash. Often dual LED, sometimes 'true-tone', usually heavily pulsed/optimised, but still LED flash and relatively weak. However, with the sensors on these modern devices here being pretty good now, I wondered if there was a user-driven tradeoff that might get LED-driven smartphone cameras close to the 'crispness' and freezability of Xenon.
Although what follows is almost equally as applicable to a number of current smartphones, as a test subject, I picked up the trusty editorial Lumia 1520, with the 1/2.5" OIS camera and definitely at the forefront of the plateau. On full 'auto' I noted that photos were routinely taken with fairly long exposures - 1/15s is very common, indoors in low artificial lighting. While this will give you a decent view of your room, any human subjects are going to be somewhat blurred if they move/react/laugh/whatever.
However, I reasoned, with the amount of oversampling and noise reduction involved in the 21MP PureView camera (to get down to the 5MP output), there should be some 'spare' capture capacity, some shutter bandwidth that I could play with. Why not use the excellent Nokia Camera interface to reduce the shutter speed manually, to ten times (or more) less, and rely on the software to increase ISO to compensate - yes, there would be more digital noise, but in principle a crisper image could be obtained, even with human subjects.
The fan test
But let's start with something controlled. A spinning fan, the archetypal demonstration of what Xenon flash can do. Here are sectioned crops from shots of the fan at about half a metre, at various shutter speeds. Oh, and starting with the 1020's Xenon-lit version, followed by shots from the Lumia 1520 with LED flash at 1/8000s, 1/4000s, 1/2000s, 1/1000s, 1/500s, 1/250s, 1/125s and 1/20s (the 'auto') choice by the phone software: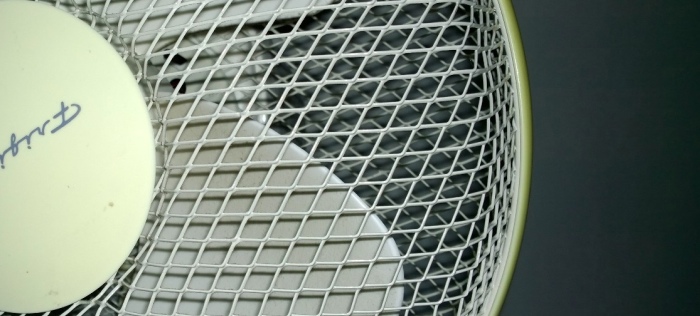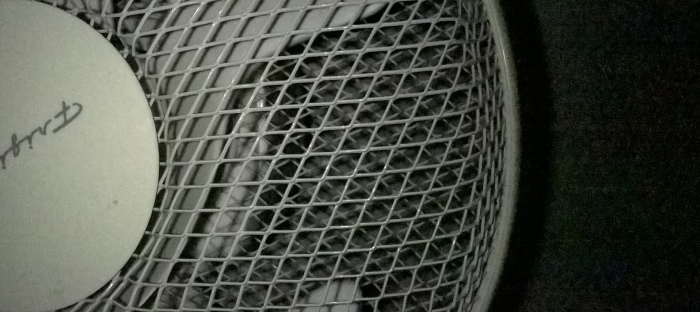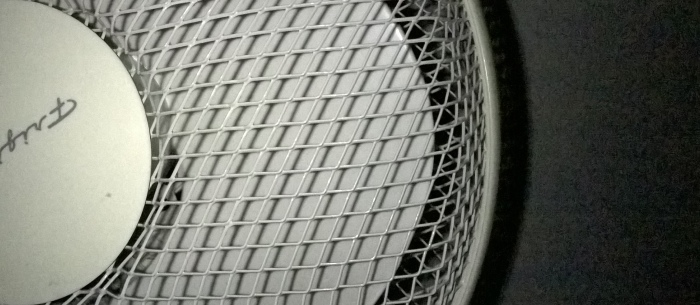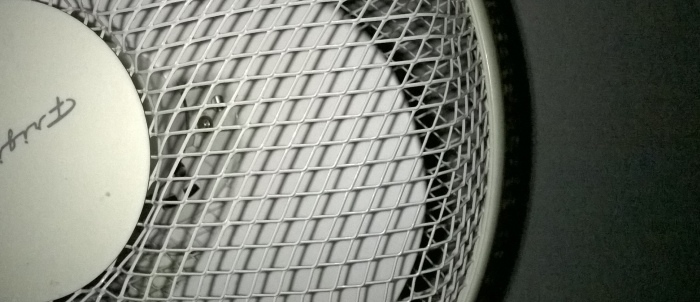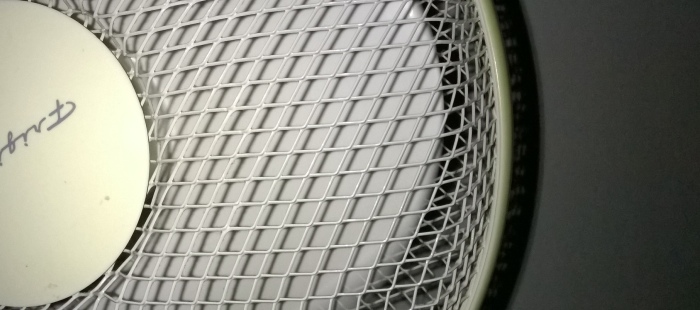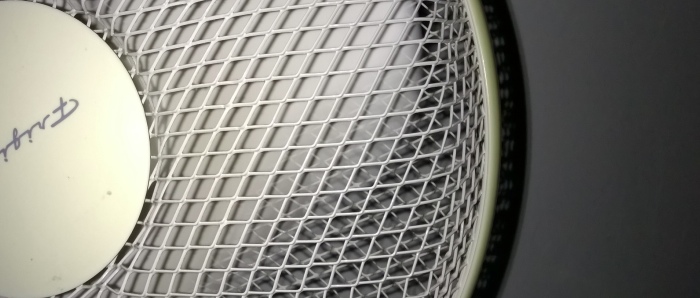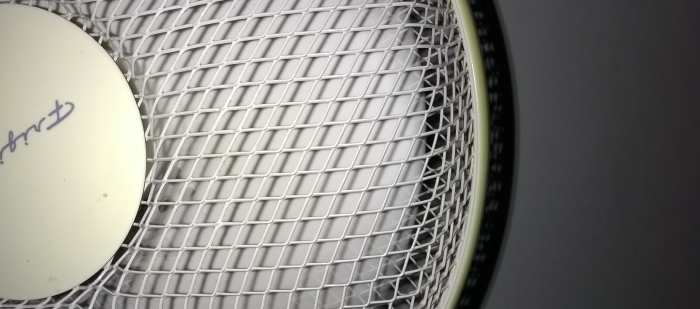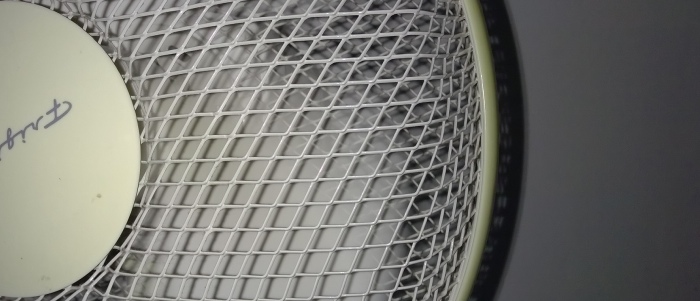 As expected, at very short shutter speeds, there's pretty good freezing of motion (though not as good as Xenon) but disastrous amounts of digital noise, while at the longer shutter speeds, the blades are blurred into indistinguishability but the overall colour and noise levels are very good.
There's clearly a trade-off to be made here, but I was interested in where to set shutter speed for real world 'people' shots. The fan test suggested 1/500s, which would freeze the most animated human, but don't forget that the fan test is artificial in terms of how fast the blades move and also I was only half a metre away. What would happen if I switched to a human subject and increased the distance to typical 'party'/pub distance?
The human test
To test this - and introducing an extra real world element - a normob taking the shot, I chatted and laughed (well, pretended) in front of the 1520 while my normob assistant took shots on full 'auto' and then on 1/125s*. The room was dimly lit, only the light behind me, and the distance was about 1.5m. The 1:1 crops of my face and surroundings below are from these photos, in that same order. I did get them to try 1/250s too, but the result was so noisy in these conditions that it was unusable.
(And yes, the first snap caught my eyes closed! - try asking a normob to retake though, and they lose patience and go off the idea of helping you!! And remember that these tests were NOT posed, i.e. I wasn't still, I was deliberately trying to move as a typical party/social subject would!)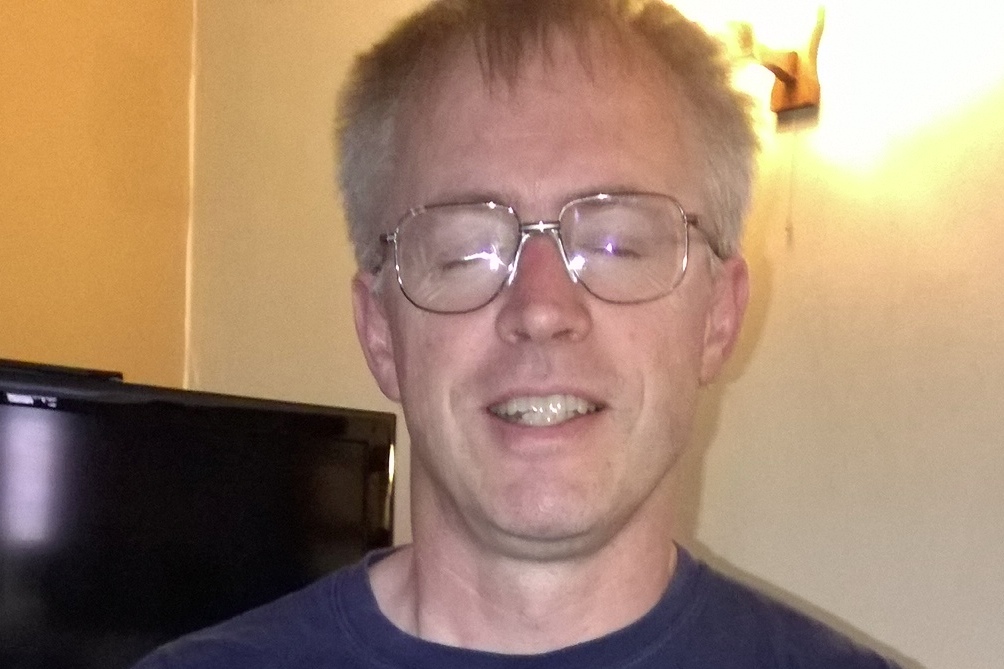 The 1520's Nokia Camera application does a great job of lighting the scene but there's slight motion blur on my face as I talked and moved - typical camera phone LED flash 'softness'.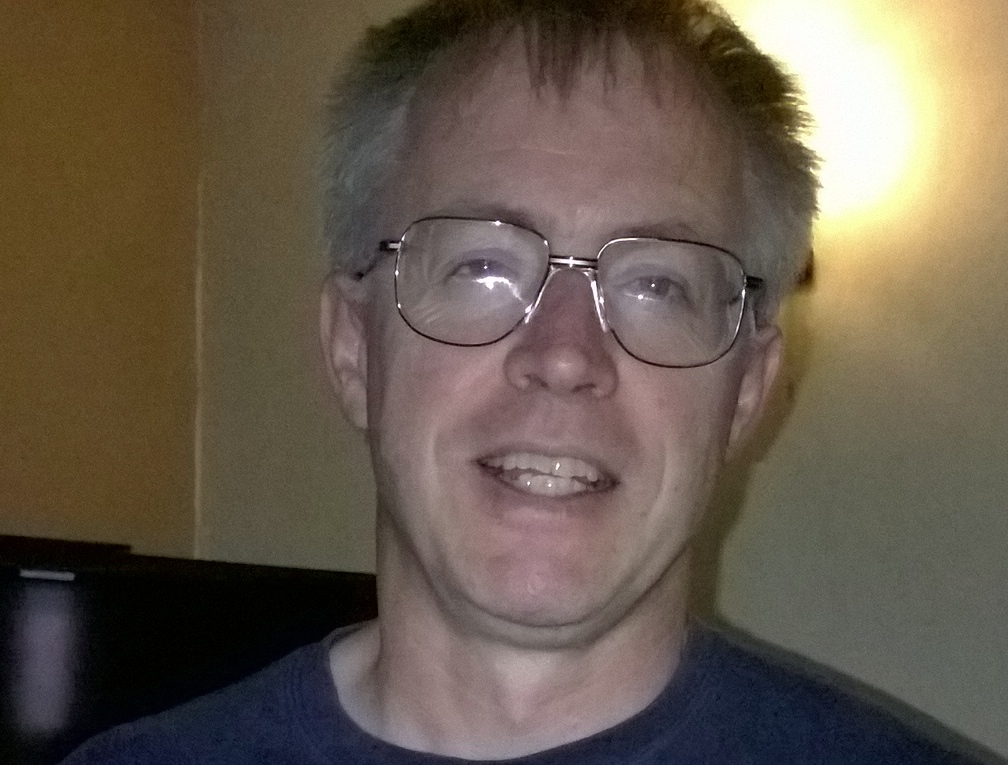 At 1/125s there's an appreciable hardness to the shot, despite my animated chatting, but the colours are less satisfying and there's now some digital noise....
So even this first step on the manual shutter speed ladder in the Nokia Camera interface has brought colours and noise to the point of no return. Yet not beyond it. With a typical photo processing application I enhanced the colour saturation and added a little sharpness, ending up with this 1:1 crop below: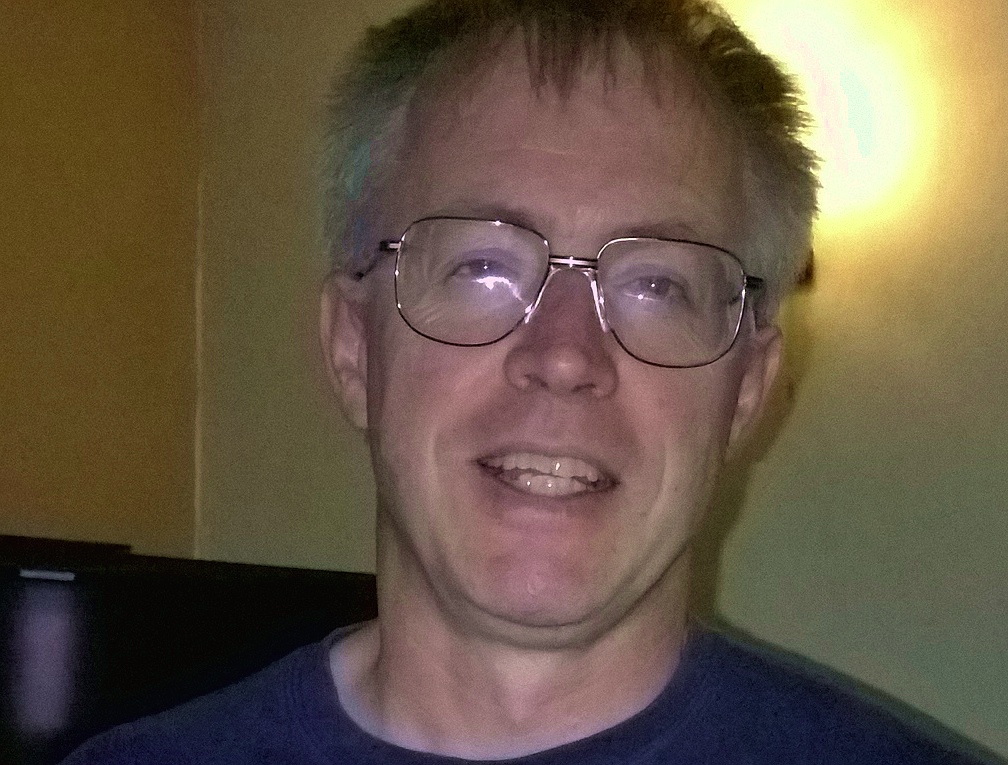 So quite a bit better and, I'd argue, possibly worth the couple of seconds investment in switching shutter speed indoors to a manual 1/125s. Possibly. It depends enormously on your subject and environment, obviously.
For comparison, I did get the normob to take the same shot on 'auto' on the Xenon-equipped Lumia 1020: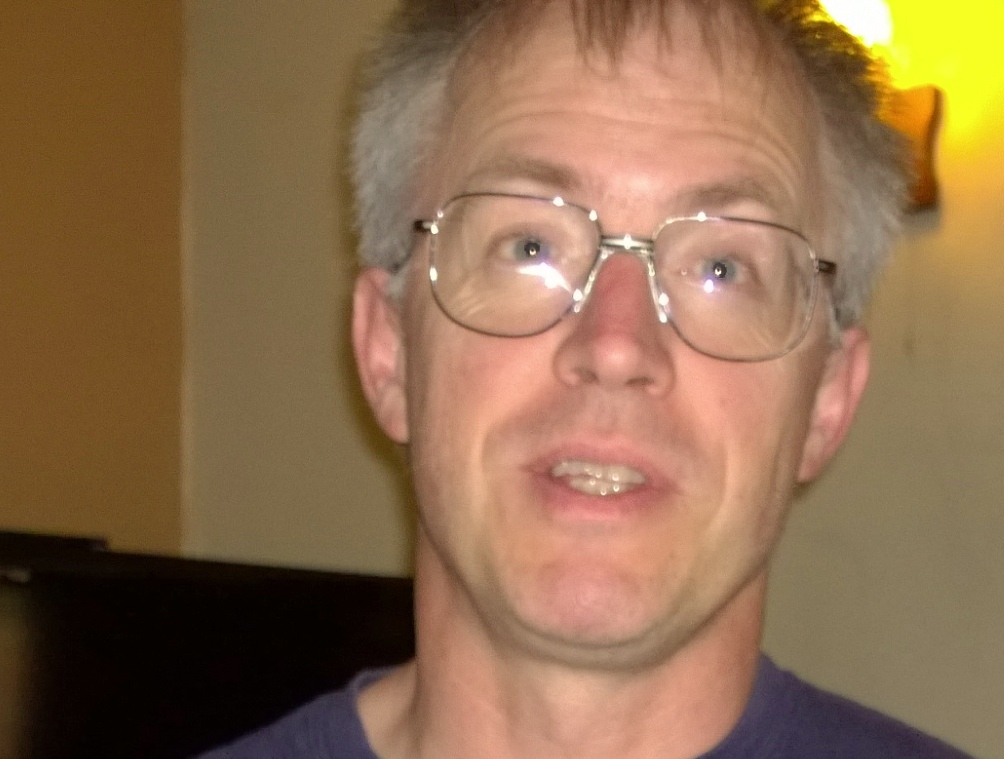 Not that crisp actually, I know I was trying to move and talk in these tests, but I've written before on getting crisper Xenon shots with the 1020 along much the same 'shutter speed' lines here. The Nokia 808 does better, look at the detail in its crop: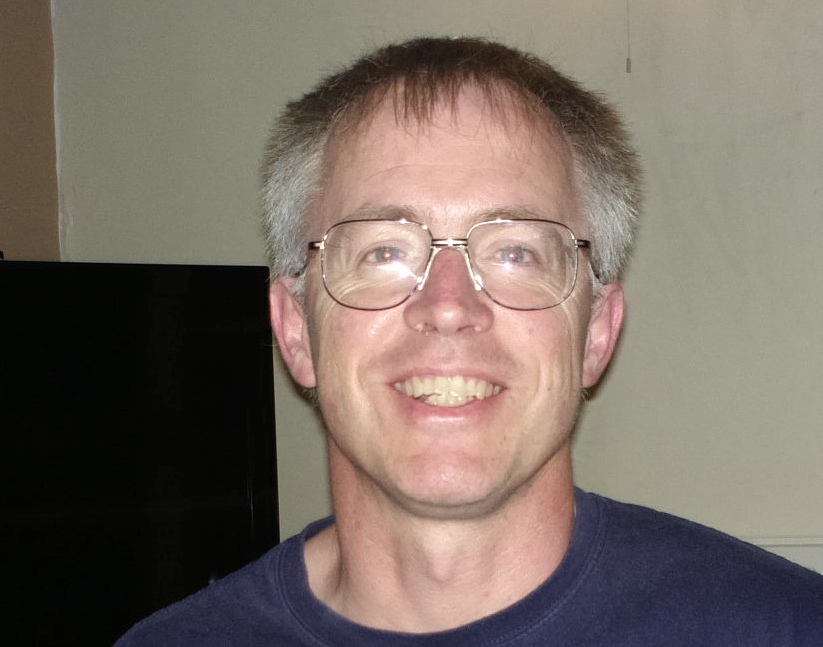 There's the characteristic Xenon-white-out lighting, but otherwise the 808's auto mode indoors still rules the roost by a million miles.
But this isn't a plug for the old Symbian handset, I'm simply trying to compare methods of shooting snaps of humans with phones indoors. And apologies for the inordinate number of snaps of my face you had to endure above!
My attempt above at using LED flash with 1/125s manual shutter speed and then retouching turned out acceptably, but I'm still not really satisfied.
Comments welcome from you lot - have you any 'special sauce' tips for snapping people indoors with Windows Phones or similar flagships from the Phone Photography Plateau, all with LED flash, without resorting to searching out an old Xenon-equipped mobile or reaching for the standalone camera....?