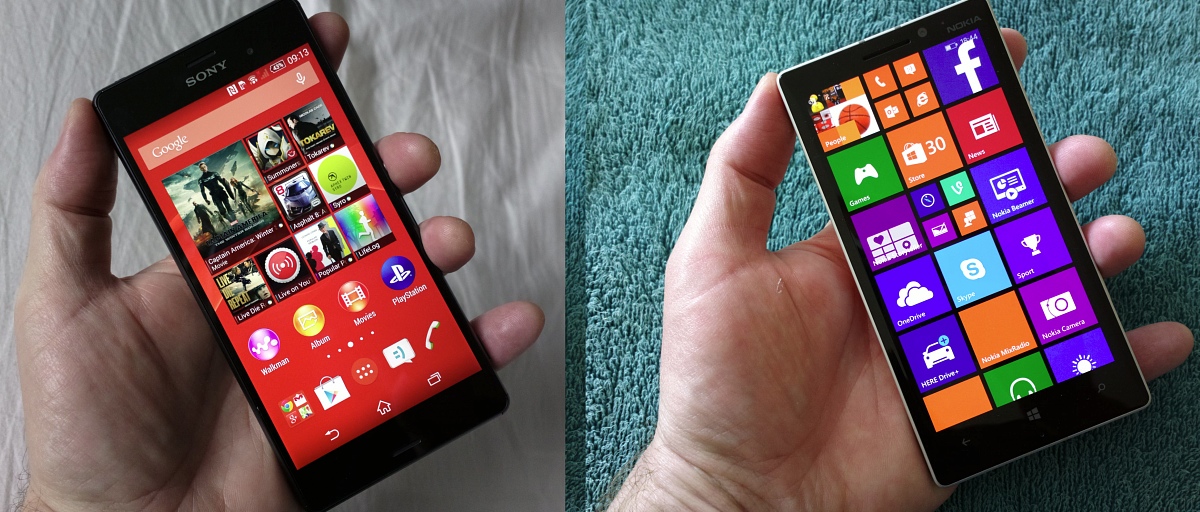 With me having the Sony Xperia Z3 in for testing, and bearing in mind our existing review of the Nokia Lumia 930, here's a tabular comparison that will hopefully an idea of how the two contenders stack up. As usual, I've shaded in green an obvious 'win' for either device...


Sony Xperia Z3
Nokia Lumia 930
Date first available
September 2014
July 2014
Current price, availability
£515 (SIM-free in the UK, inc VAT)
£410 (SIM-free in the UK, inc VAT)
Dimensions
146 x 72 x 7 mm
137 x 71 x 10mm
Form factor, weight
Unibody aluminium design, nylon-reinforced corners. Flat Gorilla Glass. Largish bezels, top and bottom. Weight is 152g

Aluminium frame, convex Gorilla Glass. Polycarbonate rear insert (for RF antennae). Weight is 167g
Operating system, interface
Android 4.4.4 with Xperia UI. Virtual controls on the screen, though these disappear (usually to small dots) in landscape mode for most supported applications.
Windows Phone 8.1 plus Lumia Cyan tweaks. Capacitive controls below the screen, so the whole display can be used for content all the time.
Display
5.2" (1080 x 1920) IPS LCD display, full RGB matrix, not bad in sunlight. Colours and contrast enhanced in media applications by X-Reality and other software optimisations.
5.0" (1080 x 1920) AMOLED with ClearBlack Display polarisers, pentile matrix, so not full 1080p on all sub-pixels. Visibility excellent in sunlight. Nokia's usual Glance screen not currently possible due to hardware technical limitations.
Connectivity
Quad band GSM, pentaband 3G, roughly octaband LTE (all depending on variants), Wi-Fi b/g/n/ac, Bluetooth 4.0, integral wifi tethering, NFC

Quad band GSM, Quad band 3G, up to pentaband LTE, Bluetooth 4.0, Wi-Fi b/g/n/ac, integral wifi tethering, NFC
Processor, performance
2.5GHz Snapdragon 801, 3GB RAM, very fast indeed. Xperia UI is quite lean, and the raw speed of Android comes across immediately.

2.2GHz Snapdragon 800, 2GB RAM, pretty fast, main speed limits are in Windows Phone's insistence on animations/transitions/resuming indicators.
Capacity
16GB internal storage, plus microSD expansion

32GB internal storage, non-expandable
Imaging (stills)
21MP, oversampling 1/2.3" BSI sensor, automatic or manual control over settings,

dedicated camera shutter button and launch key. Quality is a

cceptable, especially if you take the time to use manual settings. The default/automatic mode is clever, but the photos produced are ultimately disappointing in detail, over-sharpening, etc. Sony initially trumpeted the lossless zoom capability, but in practice it's a disaster in terms of both results and UI.
21MP PureView oversampling 1/2.5" BSI sensor, flexible software control over settings, dedicated camera shutter button and launch key, genuine 2x lossless digital zoom, OIS. Great results, even zoomed or reframed. The mature oversampling mean that the 930 produces better results in most conditions. As with the Z3, indoor shots are limited by the use of only LED flash.
Imaging (video)
Decent enough 1080p capture, digital stabilisation only, good stereo audio capture. 4K capture available in short bursts only (overheating issues).

Very good 1080p video capture, with genuine 3x lossless zoom during recording and OIS helping, especially while zoomed. Four HAAC microphones mean directional audio capture in stereo and at rock gig levels without distortion.
Music and Multimedia
Front mounted stereo speakers are pretty good, though not perfect fidelity, A2DP, 3.5mm jack, good headphones supplied, DLNA.
Decent mono speaker, 3.5mm headphones (not included in the box), A2DP, DLNA
Gaming
Terrific game selection now on Android, matched only by iOS.
An average selection of games, with the oddity that some of the early WP classics are no longer available! (e.g. Tiger Woods PGA)
Navigation
Google Maps and Navigation is very slick, covering all car, transit and pedestrian bases, but there's no offline routing and even small cached map areas 'expire' after a month.
The HERE Maps/Drive suite is unrivalled, with the 100% offline routing and maps that don't expire. Plus live traffic, good public transport advice and innovative 'live sight' functions.
Extras
The huge USP is that the Z3 is fully waterproof, 30 minutes in a metre of water, thanks to sealed openings and waterproof flaps over ports. Lots of Sony Store extras, to the point of bloat (to be honest). The Walkman music player application is nice, but everything else is duplicated to some degree by Google's own offerings, which are also included - a little confusing!
Nokia Camera/interface, various Nokia imaging additions, e.g. Living Images, Creative Studio, Storyteller, PhotoBeamer
Cortana/Voice
Google Now available with a swipe gesture from anywhere, recognition and actions similar to those in Cortana - and expanding at about the same rate? Google Now is available across most of the world right now.
Present in the USA, though you'd have to sign up for the Developer Preview programme to get this in the UK and China (etc.) at the time of writing.
Battery, life
3100mAh, sealed in, easily lasts a day, possibly two with moderate use, thanks to Sony 'stamina' modes in software. microUSB charging, but no Qi wireless option. There's a magnetic dock connector on the left, mating up with Sony's now standard desk dock.
Sealed 2420mAh battery, easily gets through the day, microUSB or - critically - Qi wireless charging on any convenient Qi stand.
Applications and ecosystem
Full covered, from A-Z, these days. Any application of any significance in the mobile world is available for Android.
Windows Phone now has just about every mainstream app covered, with great strides in the last few months. Niche/boutique apps are often an issue, though... Also anything to do with Google services!
Upgrades and future
Updates should continue into 2015 and beyond, starting with Sony's Android L builds.
The 2GB of RAM and chipset here, plus the Microsoft/Nokia ownership, should see the 930 updated well into 2015 and even 2016 with 'Windows 10'. Hopefully!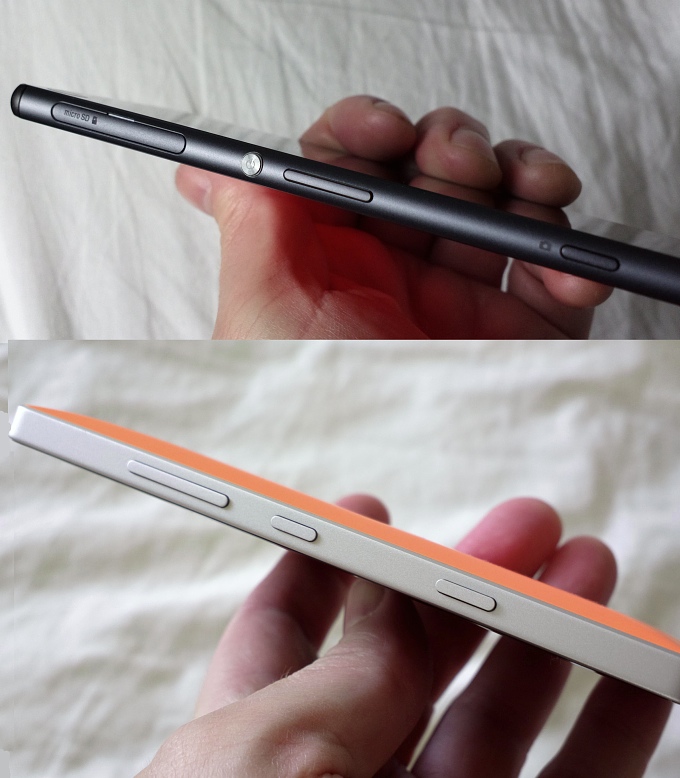 As you'll see from the green tints, a nominal 7-5 win for the Xperia Z3 (and yes, this is a Windows Phone site), but with the pros and cons for each device meaning that this could have gone either way, depending on what you want in a smartphone flagship.
A few of the Z3 'wins' surprised me, in that I think it's the first time ever I've plumped for an LCD screen over an AMOLED one. But the Z3's display is really quite impressive, being full RGB at 1080p, and 0.2" larger than the 930's. Maybe if the 930 had 'Nokia Glance' then I might have called it a draw - but without this vital tech, the Z3 wins out. I also had to award the latter a win for the waterproofing, which gives huge peace of mind.
Your comments welcome though - have I been too harsh on the Lumia 930? And is there room for a 1030, a true flagship, with bigger screen, better camera, Nokia Glance, and more...?